Best Places to Live in Bangalore for Nature Lovers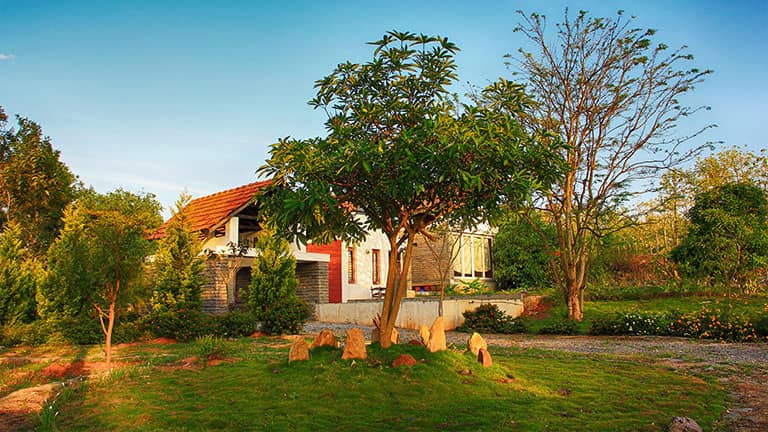 Bangalore has been called 'Garden City' for ages now, because of its lush green cover of trees, public parks, and wide roads. Bangalore enjoys moderate climate through the whole year with distinct dry and wet seasons, thanks to its elevation over 3000 ft (900 m) above sea level.
Although some may argue that the city has lost its greenery due to the rapid urbanization, Bangalore still manages to live up to its name (at least in a few places).
Different parts of Bangalore are well-known for various aspects, and there are some places which are much more peaceful and have plush green all around than others.
Here are some of the pleasant localities of Bangalore in which you can live, which are less populated and are closer to nature:
1. Yelahanka New Town
Located in the North of Bangalore, Yelahanka and its newest well-planned township called Yelahanka New Town is the center of much development. Due to its higher altitude (915 m or 3000 ft) above mean sea level, it experiences pleasant weather throughout the year and lush green neighborhoods, with public parks situated at every corner of a layout.
Avalahalli State Forest
Avalahalli Forest is the perfect escape for nature lovers and adventure seekers alike. It is an uninhabited forest reserve that's home to various species of flora and fauna a majority of Eucalyptus trees covering the entire place; and, the rest of the forest is rocky and dry making it the perfect destination for bike off-roading and cycling. Although there aren't any predatory animals here, you'll get to see many different birds like peacocks, woodpeckers, eagles, kingfishers, etc.
Distance – 7 Km
Things to do – Cycling, Trekking, Hiking, Bird-watching
Best time to visit – Early morning and Sunset
Puttenahalli Lake Bird Sanctuary
One of the first bird sanctuaries in the state, the Puttenahalli lake bird sanctuary is a 10-hectare water body where Biodiversity experts discovered almost 49 species of birds. You can sight approximately more than 7000 birds during the breeding season. You can find rare species like Pelicans, Storks, Herons, etc.
Distance – 2 Km
Things to do – Bird-watching, Walking, Jogging
Best time to visit – Early mornings between 6:30 am and 9:30 am
Fairly Dense Mixed Forest
You can have an out-of-Bangalore experience in this "fairly" dense jungle, that's actually an Agricultural College located inside the GKVK Campus. It's an open jungle which you can visit and have a pleasant and utterly serene time away from the hustle-bustle of the city.
Distance – 3 Kms (opposite Jakkur Layout)
Things to do – Walking, Jogging, Cycling, and Skating; also they have 2 children's park for kids to play in
Best time to visit – Any time of the day (Early mornings are the best for a fresh load of oxygen)
Bonus Tip – It's a great place to buy some fresh fruits and vegetables at their Canteen every evening
---
Also read: Top 10 most affordable places to live in Bangalore
---
2. Sarjapur Road
Sarjapur Road is a fast-developing locality of Bangalore which is the main connecting link for the key cluster IT areas of Bangalore. What makes the Sarjapur Road neighborhood extremely popular among families, IT professionals, and students alike is the availability of all essential amenities from education to hospitals to markets and hang-out places located at just a stone's throw away. Despite being a busy and connecting hub, Sarjapur Road is surrounded by trees everywhere, on both sides of the main road and in the inner neighborhoods.
Iblur Park and Lake
After having gone through a rough time a few years ago, the Iblur lake park is being revived; you can breathe some fresh air, and get away from the bustling crowd and daily rush of the city. Although the lake is still under construction and will be up in a couple of years, the park is well-maintained and as green as you expected.
Distance – 4.5 Kms
Things to do – Walking, Jogging, Yoga, Cycling (Zoom Pedal available), Kids play area
Best time to visit – Early mornings and evenings (before 7:00 pm because of too many mosquitoes)
Koramangala 3rd Block Park
Since Koramangala is adjacent to Sarjapur Road, it's hardly a short drive to the prominent public park in the 3rd block. It's popular among everyone from toddlers and kids to youngsters and the elderly. The park is filled with lots of trees where you can get an abundance of oxygen and even do all kinds of exercises. They have a dedicated place for Yoga, exercise equipment, jogging tracks, and an Acupressure Pebble Area.
Distance – 9 Kms
Things to do – Yoga, Exercise, Jogging, Walking, Kids playground
Best time to visit – according to their entry and exit times (Preferably early morning up to around 7:00 pm)
---
3. HSR Layout
The Startup Hub of Bangalore is a relatively new locality in South-East Bangalore. The layout is well-planned based on modern town-planning principles; HSR Layout is known for its quiet surroundings and parks and gardens located in different areas of the layout. As HSR Layout is home to many startups, there are many affordable options for accommodation and food.
Agara Lake Park
One of the most popular places to rejuvenate yourself at the end of the day is the well-known Agara Lake Park. It's also a treat for the eyes of the sunset lovers, and a calm and peaceful spot to just sit back and relax. It's a well-maintained park with many facilities, and you can even plan for a family picnic during the weekends.
Distance – 3Km
Things to do – Cycling, Walking, Jogging, Running, Bird-watching
Best time to visit – according to their timings (preferably early morning and sunset times)
ITI Layout Lake and Park
The lake has been transformed and cleaned from the dirty one it used to be because of garbage being thrown around. It is well-maintained to the point where you can find fish in the water and a beautiful pathway around the lake to have a peaceful walk.
Distance – 2 Km
Things to do – Walking, Jogging, Meditation
Best time to visit – Early morning
---
4. Banashankari 6th Stage
One of the largest localities in Bangalore is Banashankari which extends all the way from Mysore Road to Kanakapura Road; it's by far the only locality which is classified into Stage, Phase, and Block. Banashankari is divided into 6 stages, of which 6th Stage is the largest and most recent development. Banashankari 6th Stage is sprawled with greenery all around and is a very scenic place to live in, with many hills surrounding it.
Turahalli Forest
Within the city and not too far from the heart of Bangalore, the Turahalli Forest has managed to survive and is a favorite escape for nature lovers, peace seekers, and adventure enthusiasts. You can sight various species of flora and fauna, and a wide variety of birds. If you're looking for a fresh load of oxygen, quiet time away from the chaos and city noise, or to experience the beauty of Bangalore from the top of the hill, Turahalli forest is the perfect getaway.
Distance – 3 to 5 Km
Things to do – Walking, Jogging, Cycling, Hiking, Trekking, Rock-climbing, Bird-watching, Plant-watching, Viewpoint
Best time to visit – Early morning to watch the sunrise (you can even plan a one-day trip with family)
Pro-Tip – no matter how long you are planning to stay there, remember to take enough water and snacks
BDA Sculpture Park
An exciting place to visit with your kids and family, the Sculpture Park is precise as the name suggests, it's all about sculpture installations from all across the country. Apart from the fantastic views, you can also walk around and exercise in the park, and your kids can have a fun time too.
Distance – 3 Km
Things to do – Sculpture-viewing, Photography, Walking, Jogging
Best time to visit – Any time of the day (park closes by 6:00 pm)
---
5. J P Nagar
A well-established residential area in the Southern part of Bangalore, JP Nagar is surrounded by other prominent residential areas like Banashankari, Bannerghatta, Jayanagar, and BTM Layout. Despite all the development in this cosmopolitan locality, JP Nagar has many lakes and parks all around, making it a green location to live in.
Arekere Mini Forest:
Nestled amid the city chaos is a peaceful and relaxing Mini Forest which is home to many species of birds, insects, plants, and trees. All you have to remember when you arrive in this piece of paradise is to inch your way slowly along the birding and wildlife trail so that you don't miss any of nature's miracles, and look down before you look around, so you don't squish any insects or come across snakes.
Distance – 5 to 7 Km
Things to do – Wildlife enthusiasts, Plant and Bird watching, Wildlife and Macro Photography, Walking, Jogging, Running
Best time to visit – Early morning and Evening times
Doresanipalya Forest
Also known as JP Nagar Reserve Forest, Doresanipalya used to initially be part of the Bannerghatta National Park a few decades ago. Now, this nearly 90-acre island of green is hidden in plain sight surrounded by the concrete and chaotic city all around it. The Doresanipalya Forest is the lung of the town and known for its rich bio-diversity of trees, birds, butterflies, and insects.
Distance – 3 Km
Things to do – Butterfly-watching, Bird-watching, Walking, Jogging, Cycling, Badminton court, Volleyball Court, and Cricket pitch
Best time to visit – according to the forest timings
Pro-Tip – great place for Photography and video shoots, be it wildlife, macro or regular
---
Also read: Average Monthly Cost of Living in Bangalore
---
6. Jalahalli
Situated in the North of Bangalore, Jalahalli is one of the greenest and least congested areas in the city and is mainly divided into Jalahalli East and Jalahalli West. Jalahalli East has its land on the Jarkabandi State Forest; and, Jalahalli West has plenty of coconut groves and eucalyptus tree plantations. Also, due to the presence of big establishments like Bharat Electronics (BEL), Hindustan Machine Tools (HMT) and the Air Force Training Centre, almost 25% of the locality remains green and pleasant throughout the year.
Jarkabandi State Forest
This massive 494 acres of forest land, in the middle of the urban landscape, adds to the already green neighborhood of Jalahalli. The Jarkabandi State Forest is the only Sandalwood Reserve of Bangalore, where Sandalwood Trees cover almost 444 acres of forest land.
The forest is spread across 2 blocks – Block A and B, and is home to wild animals like leopards, sloth bears, jackals, porcupines, etc; more than 8 species of snakes; over 70 species of birds, among which there are 4 species of owls, bats, and pigeons; and also, a relatively large collection of various species of trees like neem, ficus, amla, native acacia, etc.
Distance – 3 Kms
Things to do – Bird-watching, Walking, Jogging
Best time to visit – although the forest as such is not open to the public, having a stroll during the early morning or evening times on the Jarkabandi Forest Road is a fantastic experience.
JP Park
One of the top parks in Bangalore (apart from Cubbon Park and Lal Bagh) is JP Park located in the junction of Jalahalli and Mathikere. Spread across 88 acres of land, this park is beautifully landscaped with sculptures and ponds, and you can spot various species of flora and fauna.
Distance – 3 to 5 Km
Things to do – Walking, Yoga, Jogging, Running, Outdoor Gym, Musical Fountain, Swimming Pool
Best time to visit – Mornings (5:00 am – 9:00 am) & Evenings (4:00 pm – 8:00 pm)
---
7. Bannerghatta
The moment this place is mentioned, one will automatically think of the Bannerghatta National Park, the most popular green destinations of the city. Apart from this park, the entire stretch of the Bannerghatta Road which is a State Highway (SH 87) is lined with trees on both sides making the 49 Km drive a cool and pleasant one.
Bannerghatta National Park
The famous zoo destination in Bangalore is home to many animals, butterflies, reptiles, and different types and species of flora. There are 101 species of birds in the Bannerghatta national park, and there is also a Safari Park where you can view the animals up close.
Distance – 5 – 7 Km
Things to do – Wildlife sighting, Photography, Walking, Zoo Safari
Best time to visit – according to the park timings (9:00 am – 4:30 pm)
---
8. Hesaraghatta Main Road
Hesaraghatta is one of the actively searched localities in Bangalore and is known for having less crowd and lots of greenery. Although it is on the outskirts of Bangalore, it's well-connected to the city via road including local buses, and rail. There are many public parks and recreational places where one can visit during the weekends with family.
Hesaraghatta Lake
The man-made freshwater reservoir spread over 1620 hectares is the Hesaraghatta Lake located in the North-West part of Bangalore. The grasslands surround the Hesaraghatta Lake which makes this place extremely beautiful and perfect for nature lovers. It's a favorite spot for bird-watching (more than 2000 birds can be spotted) especially during the winter season when migratory birds visit.
Distance – 8 Kms (from Hesaraghatta Main Road) and 21 Kms (from Bangalore City)
Things to do – Bird-watching, Boating, Windsurfing, Parasailing (during summer)
Best time to visit – Early morning hours
---
Also read: Ultimate Guide for Moving to Bangalore
---
Residents in Bangalore (Bangaloreans) can get tired and worn out due to the enormous workloads and fighting the insane traffic and pollution of the city every single day; and, everyone from kids to elders and students to professionals want to escape from the chaos and find themselves in a peaceful and fresh environment to rejuvenate.
That's why, we gave you a list of places in Bangalore which are not only just oxygen-friendly but also affordable; so, you can even consider moving there to be closer to nature.
Bangalore surely has a lot more to offer (it's called 'Garden City' for a reason). However, some of these places may just be hiding in plain sight, and it's going to take a bit of exploring to locate them. We're constantly on the lookout, and we'll keep updating this article as and when we find more such off-beat spots where you can experience serene and tranquility in the midst of Mother Nature.
Until then, go ahead and explore these little pieces of paradise in Bangalore! And, come back for more!
Get estimations from Top 3 Best Packers and Movers for your upcoming move!