What is the Average Cost of Living in Bangalore?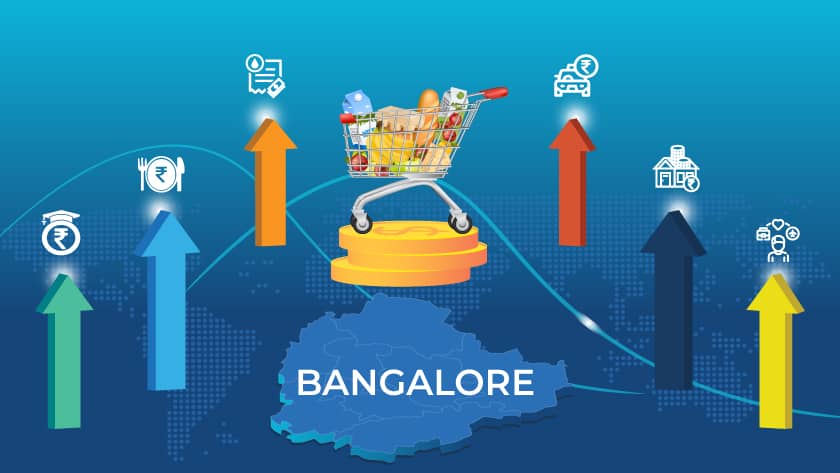 The Silicon Valley of India, The Garden City, The City with over a hundred lakes; Bangalore is known by many names and is ranked as one of the most livable cities in the country. 
Thanks to its exploding number of startups and tech companies, the city is never short of opportunities, and sees one of the highest migration numbers in India where people have been flocking in from all over the country to settle down here.
While the city has a lot of positives, like the weather, the greenery and its ever-dwindling number of lakes, one of the negatives is that living here isn't what you would call cheap; it does come with a price to live here, literally!
Average Living Expenses in Bangalore (Approx. Monthly Costs)
The average cost of living in Bangalore (if you choose a medium standard of living) can be Rs 25,000 for a bachelor, Rs 50,000 for Couples and upto (or above) Rs 70,000 for a family of 4.
The table below will give you a rough idea of the Bangalore Living Expenses based on your standard of living. You can read below to get an idea of the various factors considered to arrive at these average figures.
| | | | |
| --- | --- | --- | --- |
| People/ Standards of Living | Low | Mid-Range | High |
| Bachelors | Rs 17,000 - 23,000 | Rs 24,000 - 30,000 | Rs 32,000 - 50,000 |
| Couples | Rs 30,000 - 40,000 | Rs 45,000 - 60,000 | Rs 70,000 - 1,00,000 |
| Family | Rs 40,000 - 55,000 | Rs 60,000 - 90,000 | Rs 1.1 Lac - 1.7 Lac |
For Bachelors
When it comes to the cost of living in Bangalore for bachelors and freshers, the city is a haven of career opportunities.
However, even with a minimalist lifestyle and a coliving space, the minimum cost of living in Bangalore is Rs. 15000 to live comfortably.
For Couples & Families
If you are a couple looking to move into the city, the cost of living can be slightly high if you want to enjoy the city's vibe and do not prefer a bare minimum lifestyle.
In such cases, your minimum cost of living in Bangalore for a family will be no less than Rs. 30000 a month.
If you have children as well, your monthly expenditure will be significantly higher as education in Bangalore is not cheap. It would be best to look for a good place to live for families in case you are moving into the city with your kids.
According to Mercer's '2020 Cost of Living Survey,' Bangalore is Ranked fourth among the Most Expensive cities in India and is ranked 171 globally.
Factors that Affect the Monthly Cost of Living in Bangalore
So, what exactly determines the Cost of living in Bangalore?
There are many factors, from obvious ones like your lifestyle choices and rental costs to less obvious ones like Day Care and Medical Expenses.
Rental Costs
Rental costs have a big effect on the average cost of living in Bangalore. The rents in some places can be as low as Rs 5,500 for a room to as high as over Rs 1 lakh for a simple 2 BHK house. Moving into PGs and co-living spaces may be the best option for bachelor's as they cost less.
Factors that affect rental costs: Rental costs are affected by locality, built-up area and the amenities provided.
| | |
| --- | --- |
| House Type | Rental Costs |
| 1 BHK | 5,000 - 14,000 |
| 2 BHK | 10,000 - 24,000 |
| 3 BHK | 16,000 - 40,000 |
Here are some of the most affordable places to live in Bangalore that can be perfect for you.
---
Food and Groceries
Groceries and household items can be bought in nearby brick-and-mortar stores or supermarkets and are relatively cheap. That is unless you want exotic fruits and vegetables; those are expensive wherever you go.
Average monthly grocery cost per Adult
Regular Fruits and Vegetables: Rs 800 - Rs 1,500
Exotic Fruits and Vegetables: Rs 2,000 - Rs 5,000
---
Dining Out and Ordering In
Dining out or ordering in, even from the most inexpensive restaurants, can cost at least Rs 200 a person, and this can shoot up to way beyond a thousand depending on where you eat.
Average Restaurant Cost per head: Rs 100 - Rs 2,500
---
Transport
Public transport or travelling with your vehicle? This choice of yours will have a significant impact on the monthly cost of living in Bangalore. Using public transport will cost you less when compared to using your car or bike.
Personal Transport: Rs 3,000 - Rs 10,000
Public Transport: Rs 1,200 - Rs 3,000
---
Utilities 
This majorly depends on your lifestyle requirements.
Suppose you use AC's, geyser, and TV it will cost you more. However, the electricity is cheap in Bangalore compared to other metropolitan cities; so are the wifi and water prices.
Electricity Cost per Unit: Rs 4.15 - Rs 8.20
Water Cost per Kilo Litre: Rs 7 - Rs 45
---
Medical Expenses
Apart from drugs and pills, medical expenses are quite high in Bangalore.
You have affordable options with Government or missionary hospitals, but if you want private healthcare, it will most likely cost you a lot, even when it comes to dentistry.
A single (basic) consultation with a General Physician can easily cost you around Rs 400 - Rs 1,000 (this number can be more depending on the hospital you visit).
---
Lifestyle
Your lifestyle choices will have the biggest impact on Bangalore's Cost of Living. The average living expenses in Bangalore for a bachelor are not affected all that much since you will only take care of yourself. Still, the costs can climb significantly higher when it comes to families.
Lifestyle choices that Affect Costs
Choice of Locality
Eating habits: What you cook at home and how frequently you eat outside
Choice of transport: travel by car or bike or make use of public transport
Choice of groceries and household items
Choice of place of entertainment and shopping
---
Education and Day Care
While government education in the city is not that expensive, including Engineering and medical colleges, daycare and lower and primary education are quite expensive, especially if you want to enroll your kid in a good school. 
Average Yearly School Fee: Rs 10,000 - Rs 2,00,000
---
Entertainment
Shopping, even in the most inexpensive shops, is more expensive when compared to metros like Mumbai.
Malls and Multiplex Theatres are expensive as well. However, local theatres are pretty inexpensive.
---
How to Reduce the Monthly Cost of Living in Bangalore
You can reduce the cost of living in Bangalore by making the right choices in terms of lifestyle, your place of stay and your mode of transport on a daily basis. Here are some ways you can significantly cut down your monthly living expenses in Bangalore without hampering your necessities.
Choose the correct Locality to live in that is both inexpensive and close to your workplace.
Cook and eat at home rather than ordering or dining outside.
Use Public Transport like BMTC buses and Metro.
Use PGs that have food, electricity, and Wifi included.
Shop from the right places: 

Fruits and veggies - KR Market
Electronics - SP Road
Automobile spares and tyres - JC road
Household items, textiles and appliances - Chickpet
---
Conclusion
While the living cost in Bangalore is high and the city does have more than a few drawbacks (like traffic and woeful roads), it is undoubtedly one of the top three cities to live in India. So even though it costs more, it is totally worth it!
Also read: Pros and Cons of Living in Bangalore
FAQs about the Cost of Living in Bangalore
What is the minimum cost of living in Bangalore?
The minimum Cost of Living in Bangalore is around Rs 15,000 for a bachelor, Rs 27,000 for couples and Rs 40,000 for a family of 3.
Is cost of living high in Bangalore?
The Cost of Living in Bangalore is relatively higher than in other metropolitan cities in South India. Still, it is more or less the same or even lower depending on lifestyle choices compared to Delhi and Mumbai.