Best Packers And Movers In Paharganj - Compare Charges
6
Delhi
Reliable packers and movers in Paharganj Delhi for 100% Safe Local and Domestic relocation. Compare rates, charges, pricing of top packers and movers in Paharganj for household shifting, office moving, car transportation, antique moving and transporting anything within or outside Delhi from Paharganj. Here you will find Top packers and movers Paharganj, moving and packing service company in Paharganj, best movers and packers Paharganj, packers and movers Paharganj Reviews, professional packers and movers in Paharganj.
Get Quote From
3 Nearby Movers
Quickly Compare
& Save Min 25%
Professional Packers and Movers in Paharganj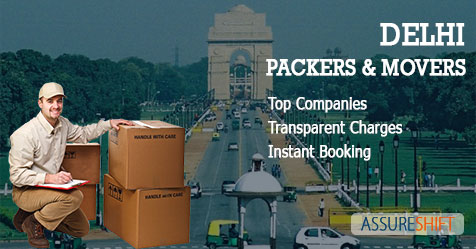 Assure Shift is India's trusted Packers and Movers in Paharganj. We, "Assure Shift" are able to provide you all type of services whether you're relocating from within the city, moving from one city to another or relocating internationally. The services comprise moving household locally within Delhi, local office shifting within the city, domestic home relocation from delhi, household shifting from Paharganj or within Paharganj and so on. For hiring reliable and professional Packers and movers in Paharganj you just have to give us your requirements like, your current location, destination location, the quantity of goods, quality of goods, date and time. As soon as we will receive your all these requirements, we will provide you three best match Packers and movers quotes. Now you just have to select one of the best matches according to your need just by sitting at your home. Also, we have made this process simpler by listing experienced and reliable packers and movers in Paharganj. Where we have mentioned company's profile, contact details, the area they are serving, reviews and ratings. You can directly contact the Packers and Mover you think suitable as per your needs.
High-Quality Relocations Service at Affordable Price!
The Packers and movers associated with us know how to keep your belongings safe and secure. They give shows full enthusiasm and with full efforts pack and move your belongings. We know that your belongings are not only price worthy but you have connected with them from your heart and so they become priceless. So our associated Movers and packers in Paharganj deliver end to end service from disassembling of goods, Packing, Loading, Transporting to the destination safely, unloading, unpacking and also they will help you to shift your luggage safely.
Delhi is the place where daily many packers and Movers Company open and close, so finding a safe and experienced Packers and movers Paharganj will become difficult, but with Assureshift you can hire a safe and reliable Packers and Mover just by sitting at your home. If you hiring a Packers and Movers Paharganj with us you don't need to worry of their genuinity because we already did that, we had cross verified all the genuine details of all the packers and movers company associated with us such as their Pan Card, Aadhar Card, Their ID Proofs and so on.
The services offered by Packers and Movers Paharganj:
local relocation services in Paharganj
House shifting from Paharganj within Delhi
Reliable domestic home relocation in or nearby area Paharganj
Local Office Shifting in Paharganj
Domestic Corporate Office shifting in or nearby Paharganj
Car/Vehicle Automobile relocation to another city
Hiring an experienced and safe Packers and movers are eligible for a stress-free and successful move. Here at Assure Shift, you can easily get all these things at one place also we are providing you the opportunity to compare the genuine Packers and movers in Paharganj according to your requirements and budget. There are many Packers and movers in Paharganj by searching a right one is difficult for you so we have to take this task to make your easy and safe. When you are shifting valuable and sophisticated goods you have to think twice while selecting a Packers and Movers company. In general, if we look, different economical companies have the different way to complete their task, so you can find a reliable, safe and experienced relocation company in your budget.
Nowadays Packers and movers charges also differ on the following factors:
Type of Service: The first and foremost thing matter is service you want to shift your luggage like Basic level service, High-level service or Best level service.
Distance: The Second thing which matters is the distance between your current and the destination location.
The Quantity of Luggage: The quantity of luggage is also very important to mention at the time of hiring a relocation firm to avoid the surprises in the bill. The quantity of luggage you can tell like, entire household luggage or few household items or household items, vehicles etc. may vary the charges.
Type of luggage: Most of the time peoples forgot to mention the type of luggage they want to move like antique items, sophisticated items, mirrors, Art pieces etc. which is very important to be mention at the time of hiring a moving company because it varies the charges at the end.
Company Selection: Last but not the least the charges may vary on basis of choice of your company you opt for like, top branded company or a local company which will not charge much and provides you the service as per your requirement.
And if you will not provide any of this information properly to your logistic or Relocation Company then the final billing can surprise you.
Your Packers and Movers service expert in Paharganj, Delhi
Assure Shift which provides you the full idea of how to hire a reliable and experienced Packers and movers in Paharganj. We are providing you a platform where you can check the profiles of Packers and Movers, Paharganj Delhi. Also, you can explore other details like contact details, service area they are rendering, reviews as well as ratings. For hiring one of the best-listed Packers and Movers Company provide us your requirements and within few minutes we will contact you with the three best match Packers and movers company's details. Just by sitting at your home you can hire reliable and safe Packers and Movers Company nearby you, in your budget. We will try to get back to the nearest Packers and Movers
Company for local shifting intercity or within Delhi. The relocation Services such as moving household locally within Delhi, local office shifting within the city, domestic home relocation from Delhi have their own set of features. The best  service depends on the number of factors such as the safety of goods; time, charges, equipment and material used etc., so we are trying to provide a service full of these factors and make the work best and easy for our clients to get the best services as per their requirements in your budget. Budget is the prior thing for everyone to hire a service so; here you can explore the standard charges for the Delhi.
So what are you waiting for now? want to relocate and looking for a reliable and professional packer and movers in Paharganj, we are here to make you ever move simpler.
Relocation Services in Delhi
Packers and Movers in Delhi City Areas