Delhi Packers and Movers Charges
Within Delhi Shifting Charges
Get approx estimation of complete door to door packing and moving rates. For accurate costing please give us your moving details, and get quote from 3 best match service providers.
General Consideration
Few Goods
Bed, Fridge or Washing Machine, Few Kitchen Items, and Cloths
1 BHK
Bed, Fridge, Washing Machine, TV, Kitchen Items, Small Table, Few Chairs, and Cloths
2 BHK
2 Beds, Fridge, Washing Machine, TV, Dining Table, Sofa, Study Table, Few Chairs, Wardrobe, Almirah, 1 AC or Cooler, Kitchen Items, and Cloths
3 BHK
2 Double Beds, 1 Single Bed, Fridge, Washing Machine, TV, Dining Table, Sofa Set, Study Table, Computer Table, Chairs, 2 Wardrobes, 2 Almirahs, 2 AC, Dressing table, Kitchen Items, and Cloths
4 BHK
2 Double Beds, 2 Single Bed, Fridge, Washing Machine, TV, Dining Table, Sofa Set, Center Table, Study Table, Computer Table, Chairs, Dressing Table, 3 Wardrobes, 3 AC, Aquarium or Show pices, Kitchen Items, and Cloths
Hire Cost-Effective Packers and Movers in Vasant Vihar, Delhi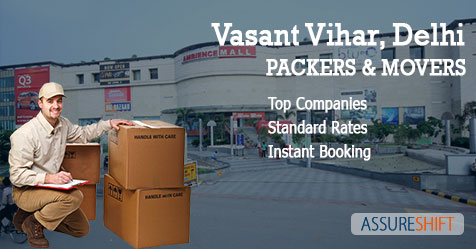 Are you looking for professional and experienced Packers and Movers in Vasant Vihar, Delhi doesn't worry when we are here. Shifting can be a difficult task to do and it will become a hectic when you don't have the proper knowledge or information. A reliable and safe Packer and mover Vasant Vihar, Delhi is not easy to find. Here at Assure shift, we will provide you the fast Disassembling, Packing, Loading, transporting, unloading, unpacking and assembling as well as shifting of goods. Yes, right our associated Packers and movers partners will also help you to shit your luggage. As we are associated with the top reliable Packers and movers in Vasant Vihar, Delhi, we are able to provide every type of relocation service such as home goods shifting locally within Delhi, local office shifting within the city, intercity home relocation from Delhi, household shifting from Vasant Vihar or within Vasant Vihar.  For hiring a trained and safe Packers and Movers Vasant Vihar you have to provide your requirements such as type of service you need, distance between the current and destination location, quantity of goods  and last quality of goods ( which include sophisticated items, antique items, art pieces, Mirrors, Glass items, electronics goods etc.).  After providing these requirements within few minutes we will provide you three best matches Packer and mover companies' details from which you just have to select one company as per your requirements and budget. 
All the Packers and movers associated with us are crossed checked on various parameters such as Pan Card, Aadhar Card, License and other registration certificates. They know how to keep your belongings safe and deliver them on time. The first of all understand the requirements of our valuable clients and then only make a full proof plan to execute the relocation service safely.
You can also select the best match Packer and Mover Vasant Vihar, Delhi from the list mention on this page. Where, we have mentioned all the relevant information of top Packers and Movers, such as company's profile details, contact information along with customer's reviews and ratings. Also, with us, you can compare prices of different Packers and Movers and save your money.
Pleased to help you out in any Relocation Services!
We are rendering best relocation services not only in Vasant Vihar, Delhi but all over in India. We, Assure Shift aims strive for customer satisfaction by fulfilling their logistic services requirements. With us, you can get a full idea of hiring a safe and Professional Packer and mover in Vasant Vihar, Delhi. With us, you can compare charges and book your Packing and Moving service provider which provide safe packing and secure transport intercity as well as outside Delhi.
Five Steps to Hiring a Packers and Movers in Vasant Vihar, Delhi
Provide Your Shifting Requirements:
First of all provide us your shifting requirements for examples current location, date, time destination location, quantity and quality of goods. For providing these details you can directly call us on 07090924486 or complete our quote task. After providing this information we will provide you three best match Packers and Movers in Vasant Vihar, Delhi.
Connect with Experienced Relocation Companies:
Now from received quotes you can contact with the most reliable and safe logistic company nearby you in as per your requirements in your budget. All the relocation company associated with us having a great reputation and provide the service as per the requirements of valuable clients.
Pay and Move:
Make payment of the movers for your move and they will then pack and move your goods to the desired location without any hassles.
In this way, you can a hire a best and professional Packer and Mover in Vasant Vihar, Delhi and safely relocate you beloved goods safely at the new location. The best part of hiring online relocation company is that they insure the safety of the goods against incidents. So, that you don't have to suffer for further loss during moving of the goods and even if any damages happen then they will recompense all the sufferers. So you must hire packers and movers to relocate safe and damage free. If you are not able to find the packers and movers around you or don't have the time for searching the reliable company then you should hire packers and movers online.
Now Selecting Right Packers and Movers is Easy, Tension Free and User Friendly
Professional and Trained Packers and Movers will always effort to provide you the high quality and unproblematic relocation service such as moving household locally within Delhi, local office shifting within the city, domestic home relocation from Delhi. Numbers of factors are there on which each and every service depends such as Time, Distance, Budget, Quality& quantity of goods and so on also these factors make the service worthy or worthless. So, at the time of hiring a packer and mover do share each and every detail with them to make the service easy and safer. Relocation or moving from one place to another is really tiresome but you can do it with ease and without any worry with the right Movers and Packers in Vasant Vihar, Delhi who work accordingly with your needs. After reading this article I hope that you now have a proper knowledge to hire a safe and reliable Packers and movers in Vasant Vihar, Delhi without any difficulty. You can also check the standard rates of Packers and movers of Delhi.  Also if you want to explore the list of all over Packers and movers, Delhi check the link.
11 Local Shifting FAQs
Difference between renting a truck and hiring professionals
If you rent a truck, you have to take complete responsibility for packing all the goods by yourself, searching for a dependable transport service and loading-unloading them. However, when you hire professionals, they will handle the entire relocation, and you will not have to do a single task; they will even use their own transport vehicle to shift the goods.
However, when you have to move less number of items and have friends who can help you with lifting and moving, renting a truck is the best option. But, when you have to move complete household goods and require expert help for shifting delicate items, it's best to hire professional moving companies.
How much time will be taken to complete the move?
Local relocation from one locality to another can be completed within a single day depending on the number of items and the size of the house you're moving.
Generally, moving companies can shift a standard 1 BHK within 4 – 5 hours; they will need at least 5 – 6 hours to move a 2 BHK, and a minimum of 6 – 8 hours or more for shifting a 3 BHK or bigger.
How AssureShift helps in finding best local packers and movers for household shifting?
AssureShift performs complete background verification of the moving companies; we check their company registration and owner ID documents, office workspace, and transport arrangements. We also take regular feedback from our customers, to understand the service quality provided by the moving companies and make sure it is maintained. If we receive any complaints against the movers, we take immediate action by temporarily suspending their profiles or permanently blacklisting them, depending on the severity.
Once you tell us your shifting requirements, we will refer the 3 top relocation service providers in [city] near you who provide the required services within your budget.
How will packers and movers help in local shifting?
The moving companies make your local shifting easier by taking care of the following:
packing all the household goods,
loading them into the transport vehicle,
transporting them from origin to destination,
delivery and unloading at your doorstep, and
unpacking of all the goods for home-arrangement.
Apart from these essential relocation services, they also perform disassembly of large goods before packing at the origin and re-assembly after unpacking them at the destination.
How to estimate charges for local shifting?
The movers calculate your shifting charges depending on:
The number of household items you have to move;
The amount of delicate and specialty items;
How much packing material will be needed;
What kind of vehicle is suitable to move all your goods in;
How to reduce shifting charges?
One of the primary factors that affect your relocation expenses is the quantity of goods you are moving. If you reduce the number of items by decluttering, your relocation charges can be reduced. You should also make sure that you plan the move well in advance and schedule the move on the right day.
It's best to take quotations from at least 3 movers so that you can easily compare the estimated charges and company profiles, and hire the most relevant moving company.
What things should we not shift with packers and movers?
The packers and movers will not shift certain items which may cause damage to the other household items or to the transport vehicle. The relocation service providers will not move these goods:
Valuable items like laptops, jewellery, important documents, etc.;
Essential items like toiletries, medications, extra pair of clothes, cleaning supplies, etc.;
Perishable food items which may get spoilt and ruin the other goods too;
Hazardous liquids like fuel, motor oil, kerosene or other flammable liquids, paints, paint diluter, batteries, etc.;
Explosive and corrosive items, etc.;
Should I pack household items by myself?
If you have just few items to move, and if you don't need labors for high-skilled packing, then you can pack by yourself and hire a truck to move them;
If you have to move many items or a big house, it's best to let the moving companies pack all the goods with expertise using top-quality packing material;
When you hire movers, the shifting charges do not reduce much even if you decide to pack all the goods by yourself, so it's best to let them do the packing properly.
What to do on moving day?
Before moving to your new home, make sure you take care of these tasks on moving day:
Keep your essential bag, valuables and important documents in a separate room to make sure movers don't take them;
Take pictures and inventory of all the items and furniture before the moving companies pack them;
Reserve the elevator, staircase and parking spot beforehand for undisturbed shifting;
Guide movers during disassembly, packing, loading, unloading, unpacking, and re-assembly of all goods;
How to identify fake packers and movers?
Fake moving companies will not have valid documents for GST registration, owner identification proofs, and so on.
They will not have a proper company website or online profiles in social media.
They will not have their own office workspace or may not have an office at all, and they may use rented transportation.
Fake packers and movers will not have professional behavior when you meet them, or they may be friendly in the beginning and change entirely during the relocation.
What you should do while hiring movers?
Select a few movers after verifying the company documents, and reading reviews and ratings about them;
Contact the shortlisted movers, explain your shifting requirements, and take cost quotations from 3 or more movers;
Request them to conduct a pre-move survey to get more accurate charges and to discuss the move in detail;
Compare the shifting charges along with the company profiles and hire the best-suited packing and moving company which fulfills your requirements and budget needs;
What the movers will do after being hired?
They will plan the entire relocation from start to finish;
They will check how many items should be moved, how much packing material is needed, which truck is suitable to fit all the items comfortably, how to do the loading and unloading, and so on;
They will handle the entire process of packing, loading, transporting, unloading, and unpacking all the goods;
They will also disassemble and re-assemble large goods in order to ensure complete safety while moving;
How to prepare the house before the movers arrive?
There are many tasks to keep in mind and be prepared before the movers arrive; here are a few important and basic ones:
Clear the pathway from door to truck for smooth loading;
Take measurements of the furniture and doorways to make sure they fit properly;
Use protective padding around the corners of the walls and doors;
How to decide how much to tip movers?
How much you should tip the movers completely depends upon what you are comfortable with. However, you should remember to tip the movers only at the end of the move, and hand over equal tips to each of them individually. A decent tip amount would be Rs 100 – Rs 150 for local shifting; or any higher amount which you are comfortable with.
How to find cheap and best packers and movers for local shifting?
It's not difficult to find a list of moving companies, but it is challenging to identify trustworthy options. Due to the absence of a proper verification authority, there are many fake and unprofessional movers who attract customers with the lowest quotes.
To avoid getting trapped, you should do thorough verification of the company's GST registration documents along with the owner's ID proof and make sure the details match. You can also check if they have a website, and contact them or visit their office space at the location mentioned. Make sure they have a professional office set up and take note of how they behave when you visit them in person.
It may be difficult to choose the right movers since the relocation prices offered are very different; some of them are expensive, some are averagely-priced, and others are extremely low. Cheapest relocation companies may provide extremely poor-quality services or they may start increasing prices halfway through the move. The cheap and best solution is to choose an averagely-priced company which offers good services according to your requirements at affordable rates.
Why hire local packers and movers from AssureShift?
Instead of looking for moving companies on unknown sources like Google or online directory websites, you can easily hire pre-verified movers through a reliable reference portal like AssureShift.
You will get a list of pre-verified packers and movers in [city] who have undergone a complete background verification of their registration documents and identification proofs.
You can tell your shifting needs and quickly get 3 quotes from relevant movers according to your requirements and budget, and hire the most-suitable moving company within a few minutes.
We regularly check the moving company performance to make sure they provide good-quality services to customers.
We encourage customers to write reviews, so that we can keep track of complaints and problems.
The movers with good reviews will be rewarded with top ranks; and, the movers having complaints against them will be penalized with reduced ranks and penalties like suspension or blacklisting.
We are dedicated to offer 100% customer satisfaction, and our expert customer care team are available at all times and provide quick resolution to the problems faced by customers.
We support our customers throughout their move, from the time they share the shifting requirements until they are relocated to their destination.
How many days before shifting should I start looking for a moving company?
The best time to look for packers and movers for local shifting is at least 3 – 10 days before the date of the move.
How to verify genuineness and professionalism of packers and movers?
To verify whether a moving company is genuine or not, you should check:
Does the packers and movers company have a valid GST registration certificate?
How long they have been in business?
How much experience do they have in performing your kind of move?
What do previous customers say about them in reviews and ratings?
Do they have their own transport vehicles?
Do they have insurance coverage for safeguarding your goods during transit?
To find out if the packers and movers are professional or not, check:
How did they behave with you when you visited their office?
How did they respond when you asked them to show their documents?
What procedure did they follow before providing with the shifting charges?
Did they provide you with written quotes?
Did they included hidden charges in the price list given to you?