Delhi Packers and Movers Charges
What are the Relocation Cost Affecting Factors?
The prices charged by the moving companies usually differ based on elements like distance, residing floor, number of items, etc. These prices are unique to both local and domestic relocation. We have written a detailed list of all the factors that affect your relocation charges.
Here are some of the factors that mainly affect the cost irrespective of where you are moving to within the city:
Number of Items: the size of the transporting vehicle will usually depend on the number of items you are moving. The more things you are shifting, the bigger truck you require, and higher the price you will have to pay.
Distance: the most vital component to decide relocation charges is the distance from the origin to destination. It's evident that the longer the stretch, higher the fuel consumption and hence, higher the cost of moving.
Day of moving: you need to think twice about the day of the month on which you decide to relocate. The most expensive time for you to plan your move is during the weekends and month-end as it is a hectic time for packers. It is better to move during weekdays or mid-month and save immensely on the inflated pricing charged by the movers.
The floor you are residing on: in both origin and destination, if you are living on the ground floor, the charges are minimal as a door to door shifting is easy. However, if you are residing on or above the first floor, expenses might be slightly higher as more labor and effort is required to shift the goods.
Lift Availability: if there is no lift available in your building, and you need to shift from or into the house on a higher floor, then charges may increase because the movers have to manage narrow staircases.
Packaging Quality: Chances of damaging goods are low when relocating items approximately within a 30 Km radius. Therefore, the packing must be concentrated on delicate goods, furniture, and large appliances. In this case, charges will differ based on the labor and packing material used.
Man Power: The entire team of movers is involved in the complete shifting process with each of them doing a specific job. For a local relocation, a big team is not required, but it may vary depending on the size of the house you are moving.
---
Within Delhi Shifting Charges
Get approx estimation of complete door to door packing and moving rates. For accurate costing please give us your moving details, and get quote from 3 best match service providers.
General Consideration
Few Goods
Bed, Fridge or Washing Machine, Few Kitchen Items, and Cloths
1 BHK
Bed, Fridge, Washing Machine, TV, Kitchen Items, Small Table, Few Chairs, and Cloths
2 BHK
2 Beds, Fridge, Washing Machine, TV, Dining Table, Sofa, Study Table, Few Chairs, Wardrobe, Almirah, 1 AC or Cooler, Kitchen Items, and Cloths
3 BHK
2 Double Beds, 1 Single Bed, Fridge, Washing Machine, TV, Dining Table, Sofa Set, Study Table, Computer Table, Chairs, 2 Wardrobes, 2 Almirahs, 2 AC, Dressing table, Kitchen Items, and Cloths
4 BHK
2 Double Beds, 2 Single Bed, Fridge, Washing Machine, TV, Dining Table, Sofa Set, Center Table, Study Table, Computer Table, Chairs, Dressing Table, 3 Wardrobes, 3 AC, Aquarium or Show pices, Kitchen Items, and Cloths
Hire Cost-Effective Packers and Movers in Vasant Vihar, Delhi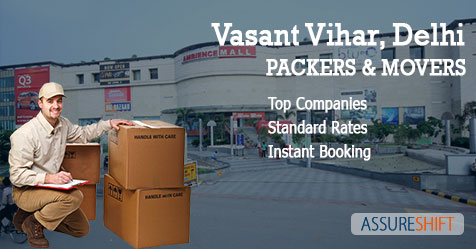 Are you looking for professional and experienced Packers and Movers in Vasant Vihar, Delhi doesn't worry when we are here. Shifting can be a difficult task to do and it will become a hectic when you don't have the proper knowledge or information. A reliable and safe Packer and mover Vasant Vihar, Delhi is not easy to find. Here at Assure shift, we will provide you the fast Disassembling, Packing, Loading, transporting, unloading, unpacking and assembling as well as shifting of goods. Yes, right our associated Packers and movers partners will also help you to shit your luggage. As we are associated with the top reliable Packers and movers in Vasant Vihar, Delhi, we are able to provide every type of relocation service such as home goods shifting locally within Delhi, local office shifting within the city, intercity home relocation from Delhi, household shifting from Vasant Vihar or within Vasant Vihar.  For hiring a trained and safe Packers and Movers Vasant Vihar you have to provide your requirements such as type of service you need, distance between the current and destination location, quantity of goods  and last quality of goods ( which include sophisticated items, antique items, art pieces, Mirrors, Glass items, electronics goods etc.).  After providing these requirements within few minutes we will provide you three best matches Packer and mover companies' details from which you just have to select one company as per your requirements and budget. 
All the Packers and movers associated with us are crossed checked on various parameters such as Pan Card, Aadhar Card, License and other registration certificates. They know how to keep your belongings safe and deliver them on time. The first of all understand the requirements of our valuable clients and then only make a full proof plan to execute the relocation service safely.
You can also select the best match Packer and Mover Vasant Vihar, Delhi from the list mention on this page. Where, we have mentioned all the relevant information of top Packers and Movers, such as company's profile details, contact information along with customer's reviews and ratings. Also, with us, you can compare prices of different Packers and Movers and save your money.
Pleased to help you out in any Relocation Services!
We are rendering best relocation services not only in Vasant Vihar, Delhi but all over in India. We, Assure Shift aims strive for customer satisfaction by fulfilling their logistic services requirements. With us, you can get a full idea of hiring a safe and Professional Packer and mover in Vasant Vihar, Delhi. With us, you can compare charges and book your Packing and Moving service provider which provide safe packing and secure transport intercity as well as outside Delhi.
Five Steps to Hiring a Packers and Movers in Vasant Vihar, Delhi
Provide Your Shifting Requirements:
First of all provide us your shifting requirements for examples current location, date, time destination location, quantity and quality of goods. For providing these details you can directly call us on 07090924486 or complete our quote task. After providing this information we will provide you three best match Packers and Movers in Vasant Vihar, Delhi.
Connect with Experienced Relocation Companies:
Now from received quotes you can contact with the most reliable and safe logistic company nearby you in as per your requirements in your budget. All the relocation company associated with us having a great reputation and provide the service as per the requirements of valuable clients.
Pay and Move:
Make payment of the movers for your move and they will then pack and move your goods to the desired location without any hassles.
In this way, you can a hire a best and professional Packer and Mover in Vasant Vihar, Delhi and safely relocate you beloved goods safely at the new location. The best part of hiring online relocation company is that they insure the safety of the goods against incidents. So, that you don't have to suffer for further loss during moving of the goods and even if any damages happen then they will recompense all the sufferers. So you must hire packers and movers to relocate safe and damage free. If you are not able to find the packers and movers around you or don't have the time for searching the reliable company then you should hire packers and movers online.
Now Selecting Right Packers and Movers is Easy, Tension Free and User Friendly
Professional and Trained Packers and Movers will always effort to provide you the high quality and unproblematic relocation service such as moving household locally within Delhi, local office shifting within the city, domestic home relocation from Delhi. Numbers of factors are there on which each and every service depends such as Time, Distance, Budget, Quality& quantity of goods and so on also these factors make the service worthy or worthless. So, at the time of hiring a packer and mover do share each and every detail with them to make the service easy and safer. Relocation or moving from one place to another is really tiresome but you can do it with ease and without any worry with the right Movers and Packers in Vasant Vihar, Delhi who work accordingly with your needs. After reading this article I hope that you now have a proper knowledge to hire a safe and reliable Packers and movers in Vasant Vihar, Delhi without any difficulty. You can also check the standard rates of Packers and movers of Delhi.  Also if you want to explore the list of all over Packers and movers, Delhi check the link.