Best Packers And Movers In Vasant Vihar - Compare Charges
6
Delhi
Hire Cost-Effective Packers and Movers in Vasant Vihar, Delhi
Get Quote From
3 Nearby Movers
Quickly Compare
& Save Min 25%
Hire Cost-Effective Packers and Movers in Vasant Vihar, Delhi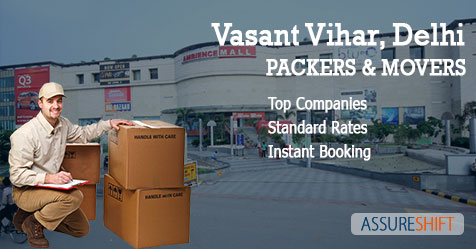 Are you looking for professional and experienced Packers and Movers in Vasant Vihar, Delhi doesn't worry when we are here. Shifting can be a difficult task to do and it will become a hectic when you don't have the proper knowledge or information. A reliable and safe Packer and mover Vasant Vihar, Delhi is not easy to find. Here at Assure shift, we will provide you the fast Disassembling, Packing, Loading, transporting, unloading, unpacking and assembling as well as shifting of goods. Yes, right our associated Packers and movers partners will also help you to shit your luggage. As we are associated with the top reliable Packers and movers in Vasant Vihar, Delhi, we are able to provide every type of relocation service such as home goods shifting locally within Delhi, local office shifting within the city, intercity home relocation from Delhi, household shifting from Vasant Vihar or within Vasant Vihar.  For hiring a trained and safe Packers and Movers Vasant Vihar you have to provide your requirements such as type of service you need, distance between the current and destination location, quantity of goods  and last quality of goods ( which include sophisticated items, antique items, art pieces, Mirrors, Glass items, electronics goods etc.).  After providing these requirements within few minutes we will provide you three best matches Packer and mover companies' details from which you just have to select one company as per your requirements and budget. 
All the Packers and movers associated with us are crossed checked on various parameters such as Pan Card, Aadhar Card, License and other registration certificates. They know how to keep your belongings safe and deliver them on time. The first of all understand the requirements of our valuable clients and then only make a full proof plan to execute the relocation service safely.
You can also select the best match Packer and Mover Vasant Vihar, Delhi from the list mention on this page. Where, we have mentioned all the relevant information of top Packers and Movers, such as company's profile details, contact information along with customer's reviews and ratings. Also, with us, you can compare prices of different Packers and Movers and save your money.
Pleased to help you out in any Relocation Services!
We are rendering best relocation services not only in Vasant Vihar, Delhi but all over in India. We, Assure Shift aims strive for customer satisfaction by fulfilling their logistic services requirements. With us, you can get a full idea of hiring a safe and Professional Packer and mover in Vasant Vihar, Delhi. With us, you can compare charges and book your Packing and Moving service provider which provide safe packing and secure transport intercity as well as outside Delhi.
Five Steps to Hiring a Packers and Movers in Vasant Vihar, Delhi
Provide Your Shifting Requirements:
First of all provide us your shifting requirements for examples current location, date, time destination location, quantity and quality of goods. For providing these details you can directly call us on 07090924486 or complete our quote task. After providing this information we will provide you three best match Packers and Movers in Vasant Vihar, Delhi.
Connect with Experienced Relocation Companies:
Now from received quotes you can contact with the most reliable and safe logistic company nearby you in as per your requirements in your budget. All the relocation company associated with us having a great reputation and provide the service as per the requirements of valuable clients.
Pay and Move:
Make payment of the movers for your move and they will then pack and move your goods to the desired location without any hassles.
In this way, you can a hire a best and professional Packer and Mover in Vasant Vihar, Delhi and safely relocate you beloved goods safely at the new location. The best part of hiring online relocation company is that they insure the safety of the goods against incidents. So, that you don't have to suffer for further loss during moving of the goods and even if any damages happen then they will recompense all the sufferers. So you must hire packers and movers to relocate safe and damage free. If you are not able to find the packers and movers around you or don't have the time for searching the reliable company then you should hire packers and movers online.
Now Selecting Right Packers and Movers is Easy, Tension Free and User Friendly
Professional and Trained Packers and Movers will always effort to provide you the high quality and unproblematic relocation service such as moving household locally within Delhi, local office shifting within the city, domestic home relocation from Delhi. Numbers of factors are there on which each and every service depends such as Time, Distance, Budget, Quality& quantity of goods and so on also these factors make the service worthy or worthless. So, at the time of hiring a packer and mover do share each and every detail with them to make the service easy and safer. Relocation or moving from one place to another is really tiresome but you can do it with ease and without any worry with the right Movers and Packers in Vasant Vihar, Delhi who work accordingly with your needs. After reading this article I hope that you now have a proper knowledge to hire a safe and reliable Packers and movers in Vasant Vihar, Delhi without any difficulty. You can also check the standard rates of Packers and movers of Delhi.  Also if you want to explore the list of all over Packers and movers, Delhi check the link.
Relocation Services in Delhi
Packers and Movers in Delhi City Areas