Compare & Hire Packers and Movers in Nagpur | 3 Free Quotes
305
Nagpur
Fill the form and get charges estimation from 3 best packers and movers in Nagpur near you in 1 Minute. Hire the right Nagpur packers and movers for your needs and avail 100% safe, fast, & affordable moving services.
Get Quote From
3 Nearby Movers
Quickly Compare
& Save Min 25%
Guide to Hire Best Packers and Movers in Nagpur with AssureShift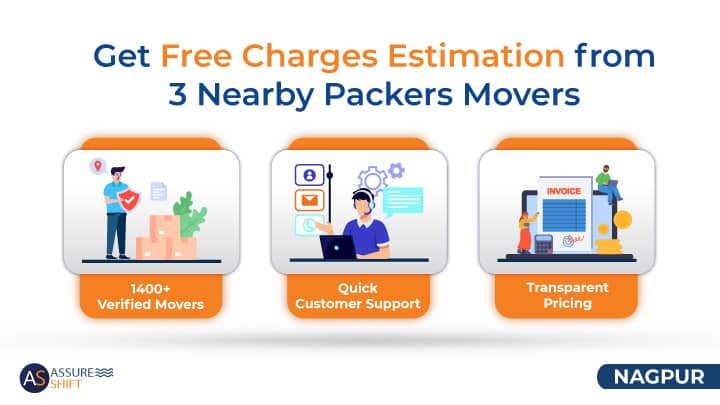 Welcome to AssureShift—your trusted ally to hire the most reliable and best packers and movers in Nagpur for a quick and safe relocation!
Whether you're moving a few blocks away or embarking on a move outside Nagpur, we understand that the process can be stressful, time-consuming, and often costly. AssureShift is here to simplify, streamline, and ensure stress-free moving with our top packers and movers Nagpur who are experienced and fully capable of taking care of the entire move from start to end at affordable relocation charges.
With a large network of more than 1200 certified packers and movers in 26 major cities across the country, we work to ensure you get the best relocation services at best value for money. All our Nagpur packers and movers undergo meticulous screening to ensure we associate with only trusted relocation companies. Our thorough verification process includes:
Checking the company's business/GST registration.
Confirming the office presence and location.
Verifying the company owner details.
Assessing transport arrangements of the movers.
Analyzing their past performance history to determine their capability in delivering satisfactory services.
In today's fast-paced world, hiring professional and top movers and packers Nagpur help you move your household goods or commercial items in a faster and efficient manner with high quality packing, timely transportation, and secure loading and unloading services. They ensure complete safety of your household items using proper packing techniques for different items and specialised transport vehicles. Our relocation companies in Nagpur provide clear cost quotes without any hidden fees and offer comprehensive details of the relocation services included.
Our associated movers and packers in Nagpur are well-equipped to carry out a wide spectrum of services, including House shifting services, Car and bike transportation, Office relocation services, Fine art and antique moving services, Plant relocation, Pet moving services, Industrial shifting services, Warehousing & storage facility, International moving services, and Logistics & cargo transportation among various others.
Fill the form to share your shifting requirements like origin, destination, moving date, list of moving items, etc.
Get instant cost quotes from 3 of our Nagpur movers and packers best-matched for your relocation needs.
Schedule a pre-move survey to get more accurate and detailed charges estimation of the complete relocation.
Compare price estimates, services offered, company profiles, and reviews and ratings to identify the best packers and movers services in Nagpur giving you the most value for your money.
Our customer support team is available to help you throughout the moving process. They will assist you with everything from selecting the right moving company to answering any questions you may have about the relocation and resolve any issues you face during the move. Our goal is to provide 100% customer satisfaction and to make sure that your move is as smooth and stress-free as possible.
Step into a world of effortless moving with AssureShift. Let our professional packers and movers Nagpur handle the heavy lifting while you embark on your new journey.
Why Choose AssureShift to Hire Packers and Movers in Nagpur
When we first started our operations in Nagpur, we had one vision: to simplify and streamline the shifting services for everyone. With this in mind, we have created a robust network of more than 100 packers and movers Nagpur, and over 1200 service providers across the country.
This growth has only been possible due to our commitment for providing and maintaining high-quality services, offering competitive prices with great value for money, and upholding the trust placed in us by our customers.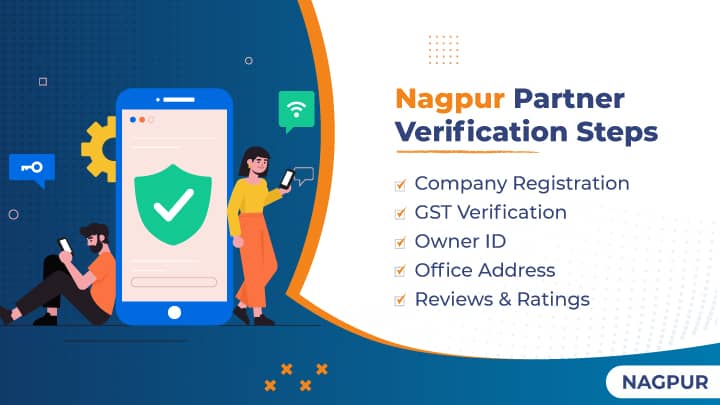 Choosing AssureShift for your relocation needs in Nagpur, you stand to gain numerous benefits:
Verification for Maximum Trust: At AssureShift, our main aim is to prevent customers from getting in touch with fake relocation service providers that can cause major losses on the financial as well as emotional fronts. Our partnered movers and packers in Nagpur are thoroughly verified before joining us, and follow the high standards of service we set.
Wide Network of Moving Companies: Avail services for your specific relocation needs from our vast network of more than 100 verified and top packers and movers in Nagpur for shifting within the city or to anywhere in India or abroad. We ensure our partner relocation companies are experienced and professional enough to cater to a wide range of services requirements, whether you require home shifting, car transportation, bike transportation, office relocation, or any other type of relocation for moving within or outside the city.
Seamless Booking Process: Our user-friendly platform ensures hassle-free process to hire the best Nagpur packers and movers within a few clicks. All you need to do is share your requirements by filling the inquiry form and we will directly refer to you 3 best and most reliable packers movers companies matching your specific needs and offer instant charges estimation. Compare the deals offered by each company and choose the best option for you.
End-to-End Support: Our support does not end with your booking. We are there with you from the moment you start your relocation journey with our moving service providers until you are comfortably settled in your new home.
We invite you to experience the AssureShift difference. No matter which city you reside in, we are here to turn the daunting task of moving into a smooth, hassle-free experience with the help of our trusted packers and movers in Chennai, Bangalore, Delhi, Hyderabad, Noida, Jaipur, and 20+ other cities across India. Trust AssureShift for your next move, because we don't just move household goods, we move trust!
---
Packers and Movers Nagpur Charges
The Nagpur movers and packers charges for shifting a standard 2BHK within the city can range from ₹6,000 to ₹15,000. For intercity relocation services provided by our outside-city packers and movers in Nagpur, they will charge around ₹17,000 to ₹30,000 for relocating a standard 2 BHK, with the exact costs depending on the specific factors considered for the move.
| Move type/ Distance | 1 BHK | 2 BHK | 3 BHK | 4-Wheeler | 2-Wheeler |
| --- | --- | --- | --- | --- | --- |
| Local Shifting | ₹ 4,000 - 9,500 | ₹ 6,300 - 15,500 | ₹ 8,200 - 19,400 | -NA- | -NA- |
| Nagpur to Bangalore | ₹ 17,000 - 26,000 | ₹ 20,800 - 33,600 | ₹ 24,200 - 38,900 | ₹ 9,500 - 14,700 | ₹ 5,300 - 10,500 |
| Nagpur to Mumbai | ₹ 14,400 - 24,700 | ₹ 17,500 - 30,000 | ₹ 22,000 - 35,200 | ₹ 7,400 - 11,000 | ₹ 3,700 - 6,300 |
| Nagpur to Hyderabad | ₹ 13,600 - 23,600 | ₹ 16,800 - 28,900 | ₹ 21,000 - 34,100 | ₹ 6,300 - 10,000 | ₹ 3,200 - 5,200 |
| Nagpur to Pune | ₹ 14,200 - 24,000 | ₹ 17,300 - 29,400 | ₹ 21,500 - 34,700 | ₹ 7,100 - 10,500 | ₹ 3,200 - 5,800 |
| Nagpur to Delhi | ₹ 15,200 - 25,200 | ₹ 18,400 - 30,500 | ₹ 22,600 - 35,700 | ₹ 8,200 - 11,500 | ₹ 4,200 - 6,800 |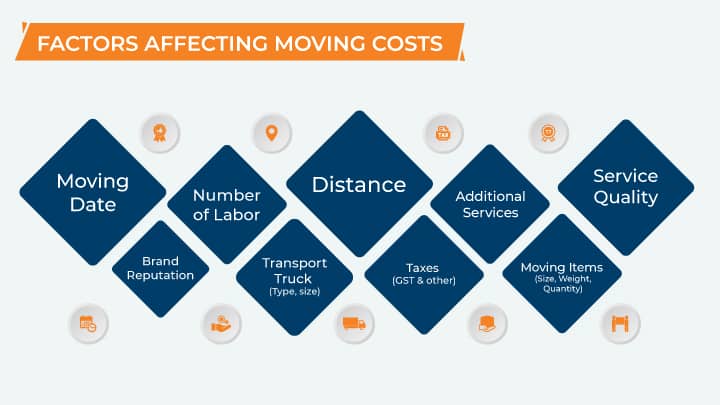 The exact packers movers charges in Nagpur can vary greatly depending on a number of factors like distance between the source and destination locations, total volume or quantity of goods to be relocated, size and type of truck used for safe transportation, special handling or packaging requirements, type of services you opt for, timing of the move, any additional services requested, like insurance, temporary storage service, etc.
---
How will AssureShift Help You in case of Any Concerns
At AssureShift, we don't merely connect you with best packers and movers in Nagpur; we ensure you are safe and stress-free throughout the entire process. Let's delve deeper into how we will support you, especially when concerns arise.
Satisfactory Referrals and Alternate Options: Our commitment to your full satisfaction begins right at the start. We provide references of packers movers in Nagpur who are capable of fulfilling your specific requirements by providing the necessary services of the expected quality. In case of any dissatisfaction with the referrals of moving companies given by us, you can contact our support team and ask for alternatives.
Comprehensive Assistance from Start to End: AssureShift is with you during every step of your move, from the moment you contact us for references until you have safely reached your new place. Our crew is always available if you have any questions at any stage of the move or run into unexpected difficulties during the relocation. We ensure that your experience is easy and hassle-free by becoming more than just a platform.
Regular Quality and Maintenance Checks: We keep a close eye on how well the packers and movers Nagpur are performing for each relocation. We make sure they comply with the highest industry standards through routine quality and maintenance inspections. These audits give us the ability to evaluate their levels of professionalism, effectiveness, and customer satisfaction, ensuring that you always receive top-notch service.
Taking Action Against Defaulting Movers: If any moving company doesn't reach the required criteria or we receive feedback of major inconveniences caused for customers, we take the necessary actions against the concerned mover. Our actions include warnings, suspension, and delisting from the portal, depending on the seriousness of the problem.
AssureShift promises safe, smooth, and satisfactory shifting services as you always envisioned.
---
Frequently Asked Questions (FAQs)
How does AssureShift ensure the credibility of the packers movers Nagpur?
AssureShift performs a thorough verification process for each of its relocation service providers, checking their documentation, credentials, and experience. This ensures that only trustworthy and best packers movers are part of our logistics industry.
Can I get a free cost estimate for my move?
Yes, absolutely. Our reliable services will provide a detailed cost estimate for free based on your specific moving requirements. This helps avoid any hidden or unexpected charges.
What services do the movers and packers in Nagpur provide?
Our professional packers and movers Nagpur offer a wide range of services, including household shifting, domestic relocation, office shifting, vehicle transport, international relocation, bike transportation, packing services, and storage services on time delivery.
Do the movers and packers offer insurance coverage for my belongings?
Yes, many of our partners offer insurance coverage for your belongings during the move. This is crucial in case of any damage or loss during transportation.
How can I reduce my moving costs?
There are several ways to reduce moving costs, such as planning and scheduling in advance, de-cluttering your belongings, getting multiple quotes, doing some packing yourself, and avoiding last-minute changes.
How do I choose the right packers and movers in Nagpur?
Consider factors like verification and credentials, reputation and experience, customer reviews and testimonials, pricing transparency, insurance coverage, quality of service, and range of services offered.
Do the movers and packers handle international relocations?
Yes, many of our partner companies offer international relocation services, managing all the complex logistics of transporting your belongings across borders for a seamless move.
What should I do to prepare my home for the movers and packers?
Before the movers arrive, you should ensure that all items are properly packed and labeled, delicate items are separately marked, and the paths in your home are clear for easy movement.
How long does it usually take for a home relocation?
The duration of a home relocation depends on various factors such as the volume of goods, distance, and the specifics of the destination (like floor level, availability of lift, etc). Your service provider will give you a more precise timeline after considering these factors.
Are there any items that movers and packers do not transport?
Movers and packers usually do not transport hazardous materials, perishable food, pets, plants, or personal items like cash and jewelry. It's always good to ask your service provider for a complete list of non-allowable items.
---
Relocating can be a hassle, but experienced professionals in the packing and moving industry are capable of making the task seamless. Packers and movers in Nagpur assist in not only the physical task of packing and moving, but also providing logistical solutions and safety for your belongings, ensuring a stress-free relocation.
AssureShift is a reliable platform that connects you with verified movers and packers in Nagpur who can help you move your home in the easiest way possible. Our Nagpur packers and movers offer an array of services including house shifting, furniture shifting, bike and car transportation, office shifting, corporate relocation, pet moving, storage and warehousing services, international transfers, logistics services, and various other relocation needs.
As a leading portal for hiring moving service providers without hidden costs, we only work with highly-skilled packers and movers Nagpur that undergo thorough verification of their reliability and efficiency. We carefully check the company registration and background, work experience, the company's Nagpur average rating and customer reviews. Because of this, you don't have to worry about dealing with fake Nagpur city packers movers when you are looking for a good service provider for your needs.
Our trusted Nagpur movers and packers use top-quality packaging materials like bubble wraps, packing paper, plastic wraps, packing foam, corrugated boxes, and so on, to ensure safe packing of household items. Their toolkit for secure loading unloading comprises of modern equipment like panel movers, forklifts, appliance dollies, furniture sliders, hand trucks and so on. For safe and affordable transport services and on-time delivery, movers packers generally use vehicles like mini-trucks, canter trucks, and large container trucks along with the option of shared and dedicated trucks for intercity shifting.
Preparing for a home move? Make sure to declutter unwanted goods first, pack an essentials box with the things required for immediate access, and notify the relevant utility service providers about your address change. Also, plan to schedule the shifting date at the most ideal time, e.g., prefer during off-peak times rather than weekends or holidays. Also, source packing materials yourself to reduce moving cost further.
When hiring packers movers companies, always verify the company's credentials, check customer reviews and ratings, assess the company's experience, and compare multiple quotes for cost-effectiveness. Clearly discuss your specific requirements and check to make sure they can cater to them.
For local shifting within Nagpur, opt for good local packers movers in Nagpur having a strong presence and knowledge of the city's nuances which will help in quick and easy local relocation. However, for safe domestic relocations, choose professional movers packers in Nagpur who have a broader network of branches in every city. For example, if you are moving to Surat from Nagpur, select a good intercity packers and movers in Nagpur having a branch of their relocation company in Surat. This way, you can avail safe transport services and timely delivery at your destination location as well as storage facilities if needed at affordable prices.
Get instant cost estimates, compare, and hire the best moving companies through AssureShift's user-friendly platform. Fill out the contact form and tell us your relocation needs. You'll get quick references and cost quotes from the 3 best movers and packers in Nagpur that are tailored to your specific requirements, whether you're moving are looking for local shifting services or planning to move to anywhere in the country.
Our Nagpur movers and packers also offer free pre-move survey that gives you accurate charges of the move. All you need to do is compare the the movers charges, company profiles, services they are offering, and customer reviews and ratings. This makes it easier to find and hire the right packer and mover in Nagpur who can fulfill all your needs within your specified budget.
Our customer service team is always ready to help at any point in the process. Don't be afraid to ask for help if you need it while you're moving. We work hard to make sure that moving is easy and stress-free for everyone who hires us. We regularly monitor service quality provided by our packers and movers in Nagpur, and take strict actions in case of lapses or issues caused to customer. Our commitment is to ensure your move is as seamless and worry-free as possible.
With a dedicated approach to quality, a vast network of verified movers, and unparalleled customer support, AssureShift ensures every relocation is a success. Choose our packers and movers Nagpur for a move that's less about stress and more about new beginnings.
Relocation Services in Nagpur
Domestic Packers and Movers in Nagpur