Surat Packers and Movers Hiring Guide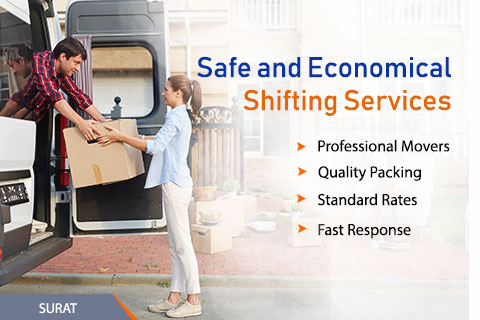 Wuhoo! You finalized your new dream house in Surat, which is known as the 3rd cleanest city of India. Now you must be eager to shift in your new home, and the quickest way to get there is by hiring the best Packers and Movers Surat who can perform your relocation quickly at reasonable rates. However, finding top Movers and Packers Surat is not an easy task due to the presence of several fraudulent Moving Companies; so, you should be careful while hiring Movers.
No doubt, after contacting AssureShift, you can get in touch with best-matched packers and movers in Surat, and quickly hire the right mover after checking and comparing the required and essential details of their legitimacy, and you can experience stress-free relocation within or outside Surat.
Packing and moving your entire household is one of the most physically as well as mentally challenging situations in life; you will have to pack goods, lift and move bulky items alone, find a reliable transport service, and unload and unpack everything at the destination. However, you can avoid all these difficult situations by finding professional packers and movers Surat who are experienced and capable of packing and moving your household items with complete safety as they use suitable packing supplies and modern equipment which helps them move goods properly at quite affordable rates.
To get in touch with good moving companies, you can also ask your family/friends for advice, if they have experienced their services previously or search for 'packers and movers near me' on the Google search engine with valid keywords. However, the main problem of hiring through unknown sources is that you will not be able to differentiate between fake and reliable relocation service companies in Surat. You'll have to invest more and more time to research about the legitimacy of moving companies since fraud movers will offer lowest quotes to trap customers while finalizing the deal, and then start charging additional prices halfway through the move or steal the goods and never contact them again. That's why it's essential to do a broad verification about the moving service provider in Surat.
But, no need to worry about your upcoming relocation as AssureShift provides you complete details of cheap and best packers and movers in Surat within few minutes after understanding your shifting requirements. We verify the company documents, transport arrangements, office set up, and their performance history. We take regular feedback from our customers who hired Movers and Packers in Surat through us to keep a check on the service quality provided and make sure it is maintained at a standard level. All you need to do to have a hassle-free relocation is to share your exact shifting requirements, and we will provide you references of the 3 pre-verified packing moving companies in Surat near you. You can compare the estimated rates quoted by the Packers and Movers along with their company profiles and hire the most-suitable Movers.
Our partner Surat Packers and Movers are specialized in providing a wide range of relocation services such as complete home shifting in Surat, relocating the entire office, local shifting in Surat, domestic relocation, packing and moving your bike, car transportation services, warehouse, cargo shipping, and many others. If you're moving within Surat, you can get trusted services at economical rates; and, for moving outside Surat, the best option is to hire a Moving company having their office at your origin as well as a new destination, so that you get safe and on-time doorstep services.
If you are moving into Surat, then we would like to welcome you to the Silk City of India, which is also known as 4th fastest growing cities due to the presence of Largest Industrial Hub for Artificial Fabrics which results in highest per capita income in the country. You will be surprised to know that Surat has been ranked as one of the cleanest in the country; you can have all the modern life facilities like most prosperous accommodation, mouth-watering street food, handmade art and craft, and beaches for hangouts, etc. We hope you will enjoy your life in your new city of diamonds.
---
How Packers and Movers Surat will help you
Usually, people make the mistake of thinking that hiring a Moving company means that they will only pack and move household goods. However, if you hire genuine shifting service providers in Surat they will help you in plenty of ways like providing pre-move survey, safe packing, disassembling heavy items, careful loading, reliable transportation, unloading, unpacking, and reassembling. They will also help you rearrange your things in your new place. Below mentioned are some of the advantages of hiring movers and packers in Surat.
They plan the entire relocation
If you pack and shift goods by yourself, you will have to plan and handle all the tasks from beginning to end like buying suitable packing supplies, hiring a truck and labor for loading and unloading all the things, and so on. However, even though you planned everything correctly, you will not be able to guarantee the safe delivery of your belongings.
However, once you hire the cheap and best Movers and Packers in Surat, they will take care of your entire relocation from beginning to end. They will come with a proper plan for your shifting; they will bring appropriate packing material, come up with a plan for the complete packing and moving, and also provide dependable logistics to shift your things safely.
No hectic work for you
The shifting companies in Surat take the entire burden of shifting your valuables from one location to another within the scheduled time. They work hard to provide you the best packing and moving service without leaving any tedious tasks for you.
They will not only pack and transport your goods, but also help you unpack and arrange them in your new residence, and you will be free from all the hard work during the entire relocation.
They provide standard quality packing and loading services
Expert movers and packers Surat use quality packing materials, as they have years of knowledge about the most suitable packing material for different items so that they don't get damaged during transit.
They are fully trained to calculate the quantity and quality of packing supplies needed to wrap all your belongings securely. They will bring the necessary equipment to provide full protection of your belongings so that they remain safe while loading and unloading them at your new address.
Extra security with insurance
One of the main advantages of hiring the best rated moving companies in Surat is that they provide insurance on your goods for double protection of your belongings in case they get damaged due to unexpected situations. But after hiring popular house removal companies in Surat, you can have complete peace of mind, as they will compensate you for any loss faced in case of damages during the entire shifting process.
Services provided by Packers and Movers Surat
Economic Home Shifting: House removal companies in Surat offer the best and affordable house shifting services. They are well-qualified in packing and moving your large household items from one location to another within the discussed time and budget. They handle the entire process by following safety measures like disassembling large goods, packing, loading, transporting, unloading, unpacking, and re-assembling your goods quickly so that you can settle down in your new residence without doing any tedious work.
Local Shifting within Surat: Local Packers and Movers Surat will help you relocate efficiently and quickly to any new locality within Surat at reasonable rates. They will ensure complete security of the items and provide all the required relocation services proficiently.
Interstate Shifting from Surat: Reputable long-distance movers in Surat are capable of packing and moving your belongings over long distances form Surat with extra care following standard methods to provide you on-time and damage-free delivery. They ensure proper packing, careful loading, reliable transportation, and also offer insurance coverage in case of damages during transit.
Affordable Bike Packing and Moving: Bike movers and packers Surat are expert to pack and shift your bike from one place to another within and outside Surat without a single scratch. They will pack your two-wheeler with bubble sheets and corrugated sheets before transporting them in bike carriers, to provide extra safety so that they remain unmoved and undamaged while conveying and they will deliver your precious bike at your new doorstep.
Reliable Car Relocation: Reliable car transport in Surat will deliver your treasured car at your new address safely within the scheduled time. They will guarantee full protection of your vehicle by moving them through specialized carriers or trailers. You can get trusted car transport in Surat at reasonable rates.
Commercial movers in Surat: Corporate relocation movers in Surat will ensure secure and smooth relocation of your workplace at an affordable price. They will follow standard measures to pack and move your office goods professionally.
Safe Warehouse/Storage: Movers and Packers Surat provide reliable and economical storage/warehousing services so that you can store your items until you find a place to move them. They take inventory of all the things before storing them, and they provide full security measures to make sure that any of your stuff does not get damaged or misplaced.
Trusted Logistic Services: Shifting services in Surat also provide logistics for businesses which require shipping of goods from warehouse to the clients safely. They manage perfect coordination to ensure items are delivered correctly and on-time.
---
Why AssureShift is the reliable platform to hire Moving Companies
AssureShift is a trustworthy online reference portal which helps you get in touch with reputable shifting service providers Surat who can be trusted to complete your upcoming move professionally. Our primary mission is to make sure innocent customers like you never get in touch with fraud guys who have established their business to make easy money. They confuse customers with wrong promises or low quotations and end up charging hidden costs or start increasing the shifting charges on the moving day. They may provide poor services that may result in damaging your belongings, or may even steal the goods.
These are the 4 ways in which we make it possible for you to hire trusted packers and movers in Surat:
We perform a broad background inquiry of the relocation companies in Surat before listing them. We check their registration documents, office set up, and transport arrangements along with the owner identification proof; we also check their background history before permitting them to list with us.
Apart from verifying documents, we frequently check the quality of service provided by them by encouraging our customers to give us regular reviews about the moving company whom they hired through us.
If we receive complaints from our customers about dishonest and immoral behavior from any of our recommended shifting service providers, we take strict actions against the movers, to stop it from repeating. We'll either temporarily suspend or forever block their profile from our website because we work to provide stress-free shifting at any cost.
Once you share your relocation details, we will quickly refer 3 top-rated relocation companies in Surat who can fulfill your moving requirements efficiently within your expected time and budget. Our proficient Packers and movers in Surat will contact you directly with their estimated shifting charges, and you can quickly compare these rates along with the company profiles. You will be able to hire the best-suited and affordable removal company in Surat for your move without investing much time and money required to hire Movers.
---
FAQs
Can we shift our bike along with entire household items?
Yes, you can shift your bike along with Household Items, but remember to hire full-service movers and packers in Surat, for safe relocation experience.
How many shifting estimates should I expect?
Once you fill the simple query form with complete details of your move like date of shifting, the number of items, origin, and destination, and your contact details, you will receive three moving quotes of the best packers and movers companies close to your location. Just compare and select the best-matched Moving service provider in Surat who will perfectly match your requirements and budget.
Is it mandatory to purchase insurance coverage?
Although purchasing insurance is not compulsory, we recommend our customers to protect their belongings during relocation as sudden accidents can happen at any moment. That's why it's always good to purchase insurance so that you can remain calm as your possessions will be safe from any loss.
Who the most popular Packers and Movers in Surat?
Agarwal Packers and Movers: Cinema Rd, Begampura, Surat, Gujarat – 395003
HCL Packers and Movers: Parvat Patiya, Surat Gujarat – 395010
Krishna Packers and Movers: Jalaram Nagar, Udhna, Surat, Gujarat – 394210
Ideal Cargo Packers and Movers: Vishal Nagar, Adajan, Surat – 395004
APM Packers and Movers: Vatva Road, Surat- 382440
Instead of becoming tensed about the move, hire a relocation expert to shift your goods efficiently, so that you can focus on the other essential tasks. You can trust AssureShift to help you hire the reliable and best Packers and Movers in Surat as we accurately verify the details and find out from our customers about how the service quality, to provide them standard relocation services at affordable rates. So, you can be free from all the hassle of shifting and settle down in your new home quickly.
9 Important Relocation FAQs
When should I start looking for packers movers?
It depends upon the type of shifting, for local shifting within the same city ideally you should start looking 4-8 days ago. Where as for shifting outside city ideally start looking 7-14 days ago. If your moving date is month end, or weekend you should begin your search little earlier.
How to find best packers and movers?
Share your shifting requirements with us and we will refer you 3 best match verified and trusted moving companies near to your locality. Talk to them, know charges estimation, compare their profile, ratings, and reviews and finalize the best option for you. Happy Shifting!
How can I reduce my shifting charges?
One of the primary factors that affect your relocation expenses is the quantity of goods you are moving. If you reduce the number of items by decluttering, your relocation charges can be reduced. You should also make sure that you plan the move well in advance and schedule the move on the right day.
It's best to take quotations from at least 3 movers so that you can easily compare the estimated charges and company profiles, and hire the most relevant moving company.
What are the things packers movers will take care off?
Our relocation experts will take care of all the process from beginning to end (Dis-assembly, packing, loading, transportation, un-loading, un-packing, assembly, and final placement). Generally, for domestic relocation outside city un-packing, assembly, and final placements are not included, and if you require those have demand.
How much time it will take to complete the move?
Local relocation from one locality to another can be completed within a single day depending on the number of items and the floor of the house it could take from 5-10 hours. For shifting outside city it depends upon the distance and from origin city to destination route transport availability, normally it takes from 4-8 days.
What is pre-move survey, and how much time it takes?
In pre-move survey packers and movers do a proper analysis of your relocation requirements like quantity of goods, type of goods, pickup and delivery demands. Survey inspector comes at your place and it takes around 10-20 minutes, whereas for shifting few items it can also be done over the phone call.
What items I should not shift with packers and movers?
The packers and movers will not shift certain items which may cause damage to the other household items or to the transport vehicle. The relocation service providers will not move these goods:
Valuable items like laptops, jewellery, important documents, etc.;
Essential items like toiletries, medications, extra pair of clothes, cleaning supplies, etc.;
Perishable food items which may get spoilt and ruin the other goods too;
Hazardous liquids like fuel, motor oil, kerosene or other flammable liquids, paints, paint diluter, batteries, etc.;
Explosive and corrosive items, etc.;
How to identify unprofessional or fake moving companies?
Fake moving companies will not have valid documents for GST registration, owner identification proofs, and so on.
They will not have a proper company website or online profiles in social media.
They will not have their own office workspace or may not have an office at all, and they may use rented transportation.
Fake packers and movers will not have professional behavior when you meet them, or they may be friendly in the beginning and change entirely during the relocation.
How much should I tip shifting labors?
In one word Yes, in India labor wages are very low and as a human being we should understand this. If they have done satisfactory job, you should appreciate that with your tip, consider tipping Rs.25 – Rs.50/Labor/Hour.
Note: In local shifting same labours will be picking up and delivering your goods, whereas in outside-city relocation there will be different labours at origin and destination and you should tip them accordingly.