Compare & Hire Packers and Movers in Surat | 3 Quotes 1 Min
344
Surat
Hire best packers and movers in Surat for 100% safe, fast, & affordable relocation. Compare 3 cost estimates and hire the right Surat movers and packers near you in just a few minutes.
Get Quote From
3 Nearby Movers
Quickly Compare
& Save Min 25%
Hiring Guide for Best Packers and Movers Surat with AssureShift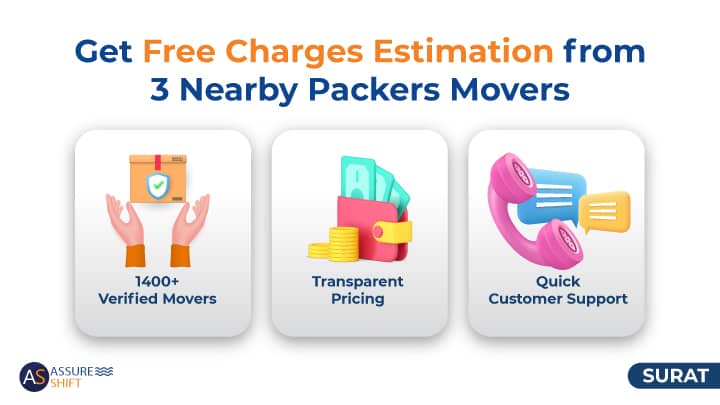 Welcome to AssureShift, your one-stop destination to hire verified and best packers and movers Surat offering complete relocation services from initial pickup to final delivery at your doorstep within the scheduled time.
At AssureShift, we have a network of more than 1200 verified packers and movers operating in 26+ major cities across the country. AssureShift is the leading packer mover hiring platform committed to connecting customers with the most efficient and trusted packers and movers in Surat, Kolkata, Jaipur, Delhi, Bangalore, Chennai, or any other city you live in, for your specific relocation needs.
AssureShift's in-house-specialists carry out thorough screening and verification of every Surat packers and movers before they are enlisted to ensure they can be trusted to handle your belongings with care and professionalism.
We verify the company's business/GST registration,
We physically check the office presence and location,
We carry out detailed scrutiny of company owner details,
We assess their transport arrangements, and
We do thorough review of their past performance history.
Our professional movers and packers in Surat offer numerous advantages like years of experience in the relocation industry, trained personnel to ensure your fragile and bulky belongings and prized possessions are handled with utmost care, systematic approach for quick and hassle-free moving, and provide end-to-end relocation services at pocket-friendly prices.
Our partner Surat movers and packers also offer a myriad of trustworthy relocation services including Home shifting services, Car transport, bike, Office shifting, Fine art and antique moving, Plant relocation, Pet moving, Storage and warehouse services, Packing and unpacking services, Furniture disassembly and reassembly, Logistics and transportation services, and freight services, among many others.
Our best movers and packers Surat can handle the complete relocation process from start to end starting with initial pick-up, disassembly, packing, loading, transport, on-time doorstep delivery, unloading, unpacking, and reassembly at your new location on time.
With AssureShift, it's extremely easy to find local movers service providers as well as domestic packers and movers for secure and hassle free shifting. To get a cost estimate quickly and hire the right movers for your move, all you need to do is:
Fill the form with your relocation details like origin, destination, moving date, items, etc.
Get references of 3 best packers and movers in Surat as per your shifting needs and budget.
Schedule pre-move survey and discuss shifting requirements to get accurate cost estimates.
Compare charges, services offered, and reviews ratings to choose the one that suits your needs.
Our dedicated customer support team is always available to assist you throughout the relocation, from helping you choose a packer mover to addressing any questions or concerns you may have at any stage of your move. Let AssureShift be your partner for a seamless transition to your new destination.
Why Choose AssureShift for Reliable Packers and Movers in Surat?
AssureShift promises smooth and stress-free relocation to customers with pre-verified and leading packers and movers in Surat. Our main aim is to prevent customers from getting in touch with fraud relocation service providers in the market. We are dedicated to affordability, quality, and customer satisfaction which is the reason for our substantial presence in Surat.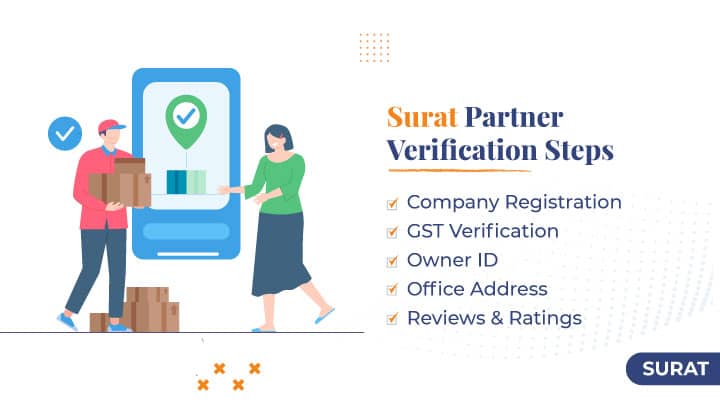 There are many reasons to choose AssureShift for your relocation in Surat:
Wide Network of Verified Movers: Our vast network of over 100 verified packers and movers in Surat ensures that you have access to a diverse range of service providers for all types of relocation needs and budgets making it easier to find the perfect match and best service providers for your specific moving requirements.
Seamless Booking Process: AssureShift's user-friendly platform and streamlined process enables you to easily fill the form to get instant cost quotes, saving you time and effort. You just need to compare the charges, services offered, and book the best-suited moving company in Surat as per your requirements and budget.
Transparent & Competitive Pricing: We understand the importance of affordability and we strive to provide competitive pricing without compromising on quality of services. We ensure our packers and movers Surat offer clear cost estimates with the complete details and list of services offered and the exact charges for each of the services being offered.
End-to-end Customer Support: Our dedicated customer support team is available at all times to help you at every stage of your move. From helping you to choose the right moving companies to answering any queries, we are committed to make sure you have a smooth and stress-free relocation.
---
Packers and Movers Surat Charges
Local packers and movers in Surat charges for shifting a standard 2 BHK within the city ranges between ₹ 5,800 to ₹ 15,800. The cost of domestic relocation services provided in Surat can vary from ₹ 12,500 to ₹ 35,000 for relocating 2 BHK from Surat to other cities. The exact packing moving services costs depend on the specific factors and exact requirements of relocation.
| Move type/ Distance | 1 BHK | 2 BHK | 3 BHK | 4-Wheeler | 2-Wheeler |
| --- | --- | --- | --- | --- | --- |
| Local Shifting | ₹ 3,800 - 10,500 | ₹ 5,800 - 15,800 | ₹ 8,000 - 21,000 | -NA- | -NA- |
| Surat to Bangalore | ₹ 13,000 - 21,400 | ₹ 17,100 - 29,500 | ₹ 20,400 - 36,400 | ₹ 6,500 - 11,700 | ₹ 3,700 - 8,100 |
| Surat to Mumbai | ₹ 8,500 - 18,900 | ₹ 12,500 - 31,500 | ₹ 15,000 - 28,300 | ₹ 4,000 - 6,800 | ₹ 2,200 - 4,400 |
| Surat to Hyderabad | ₹ 13,000 - 21,400 | ₹ 17,100 - 29,500 | ₹ 20,400 - 36,400 | ₹ 6,500 - 11,700 | ₹ 3,700 - 8,100 |
| Surat to Pune | ₹ 8,500 - 18,900 | ₹ 12,500 - 31,500 | ₹ 15,000 - 28,300 | ₹ 4,000 - 6,800 | ₹ 2,200 - 4,400 |
| Surat to Delhi | ₹ 13,000 - 21,400 | ₹ 17,100 - 29,500 | ₹ 20,400 - 36,400 | ₹ 6,500 - 11,700 | ₹ 3,700 - 8,100 |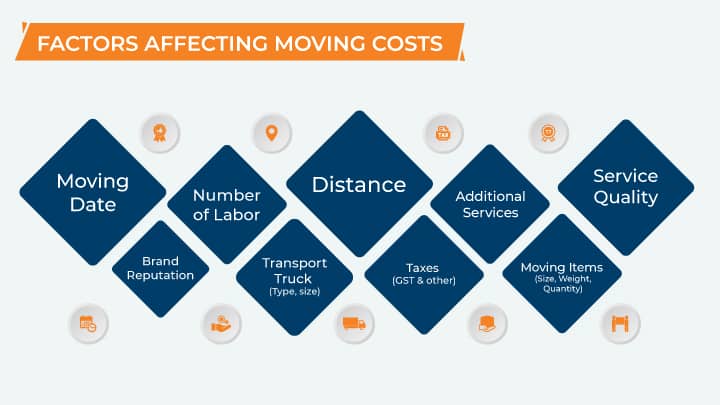 The total packers and movers Surat costs can fluctuate based on various factors like the quantity and weight of items to be shifted, distance of relocation, quality of packing required, manpower required, size and type of truck required, choice of shared or dedicated truck, and additional factors like floor of residence, availability of stairs and lift, distance between doorstep to truck, special packing and handling requirements, and so on.
---
How will AssureShift Help You in case of Any Concerns
At AssureShift, we don't just connect you with verified packers movers; we ensure you have a smooth, stress-free relocation experience from start to end. Here's how we help you in case you have any concerns:
Satisfactory Referrals: We make sure every referral we provide is capable of fulfilling your specific requirements within your requested budget. If you are not satisfied with the references of moving service provider given by us:
You can promptly contact us and let us know the issue or reason.
Our customer support team will provide you with better alternatives.
Comprehensive Assistance: With AssureShift, relocation is a journey in which we are with you every step of the way. Our support team offers:
Guidance on selecting the right movers services as per your needs.
Help with understanding the packers movers cost estimates and services offered.
Assistance with any concerns or queries during the relocation process.
Quality Review and Maintenance: We ensure the service quality of our associated professional packers movers is maintained for each customer at the standards set by us. We actively:
Carry out periodic checks on the quality of service provided.
Monitor customer feedback and make sure it's factored into our referral process.
Relevant Action Against Movers: If any of our associated moving companies do not meet our standards or breach our terms by behaving unprofessionally or causing major inconveniences to the customers:
We initiate strict actions which could range from getting the issue resolved by the over or issuing warnings to suspension.
In cases of severe grievances, we permanently blacklist the company from our platform to ensure such incidents do not recur.
At AssureShift, we believe in a transparent, reliable, and customer-centric approach. Rest assured, with us by your side, your concerns are always addressed with utmost importance and diligence.
---
Frequently Asked Questions (FAQs)
How much do packers and movers in Surat charge for local shifting?
The charges for movers and packers in Surat vary depending on various factors, such as the distance, volume of goods, packing materials used, and labor charges. On average, local shifting can cost anywhere between Rs 3,000 to Rs 20,000 or more.
Are packers and movers in Surat insured?
Most packers and movers in Surat offer insurance coverage for your belongings during transit, providing you with added peace of mind. It's important to check with your chosen moving company about their insurance policy before hiring them.
What services do packers and movers in Surat provide?
Moving service providers in Surat offer a wide range of services, including house shifting, car shifting, bike transport, office moving, storage services, and international relocation.
How much time do packers and movers in Surat take for a local move?
The time taken by packers movers in Surat for a local move depends on various factors such as the size of the move, distance, and the number of items to be relocated. Generally, a local move can be completed within a day, but it may take longer for larger moves or during peak seasons.
How can I reduce the cost of hiring packers and movers in Surat?
You can reduce the cost of hiring packers and movers in Surat by decluttering your belongings, comparing quotations from multiple moving companies, booking the services in advance, and scheduling your move during weekdays or off-peak seasons.
Can packers and movers in Surat help with packing fragile items?
Yes, movers and packers in Surat have the expertise and packing materials needed to safely pack fragile items, such as glassware, electronics, and artwork. They use high-quality packing materials and specialized techniques to ensure your fragile items are well protected during transit.
---
Surat Packers and Movers Reviews
Relocation Services in Surat
Relocating can be a challenge, and finding dependable relocation services providers in Surat with whom you can entrust your belongings is even more difficult due to the presence of fraudulent movers services in the market. AssureShift makes people aware of fraudulent movers by not only informing and educating them but also building a system that delivers only verified and reliable packers movers services in Surat.
AssureShift carries out a thorough process of verifying the moving company details before associating with them. They check the packers and movers company registration and licence, they visit the office and verify location proofs, they scrutinize the owner identification, and also look into the company's work history as well as customer feedback about their moving services in the past.
AssureShift connects customers with verified professional packers and movers in Ahmedabad, Mumbai, Pune, Bangalore, Hyderabad, Chennai, Lucknow, Bhubaneswar, Kolkata, Delhi, and 20+ other major cities in India.
Our associated packers and movers in Surat offer a comprehensive services like home relocation services, office shifting, car transportation services, bike transport services, antique moving, plant moving, pet relocation, storage and warehousing services, international shifting, cargo shipping, industrial relocation, and many more, along with the added benefit of insurance services, end-to-end logistics services, etc.
Our professional movers and packers in Surat use high-quality packing materials like bubble wrap, corrugated sheets, and specialized boxes. The shifting process is further streamlined with the use of advanced moving equipment like panel movers, hand trucks, forklifts, furniture sliders, appliance dollies, and so on to ensure zero damages during the loading and unloading services.
For quick and safe transportation, relocation companies use a variety of trucks depending on the volume of goods like mini trucks or pickup trucks for few household goods, canters ranging from 14 feet to 20 feet for a standard 1BHK or 2BHK house, and large-scale trucks which can span more than 22 feet for big 3BHK houses or larger.
It's important to be picky when choosing packers and movers. Check their qualifications, read reviews and ratings, and make sure the company has a good track record. Get quotes from multiple packers and movers in Surat to compare and identify the top service providers offering the best deal in terms of services offered and charges for the entire moving process. Also find out the if the movers offer insurance coverage for extra protection of your belongings from start to end of the shifting services.
When hiring moving service providers local shifting, look for nearest local movers and packers Surat near you for quick and reliable moving. However, for domestic shifting, make sure to identify and shortlist the most professional packers movers companies having a branch of their office in the destination city. For example, if you are moving from Surat to Kolkata, hire a service provider in Surat having an office branch of their packers and movers in Kolkata to facilitate easy door-to-door service with complete unpacking and reassembly at your desired destination.
After hiring movers as per your requirements, you simply need to focus on preparing for the home relocation and let the professionals handle the entire house shifting services from the time of pickup to final delivery. Following a few simple tips and tricks of preparing for the move can make the process even quicker and smoother; some important ones are to declutter and segregate unwanted items, prepare an essentials bag for the first few days in your new place, inform utility service providers for disconnection and reconnection/transfer of basic utilities, pack valuables and some basic items by yourself, plan the layout of your new home, and so on.
With AssureShift, getting relocation cost estimates and hiring reliable packers and movers in Surat is a breeze. Just fill the form with your relocation details, get quick cost quotes, and compare charges, services, and reviews before making your choice. We proudly extend our services across several localities in Surat, ensuring you're never too far from our reach. In case of any concerns, contact our customer support team and we will assure comprehensive assistance with immediate, effective issue resolution and take necessary actions to address any major grievances.
Hire packers and movers Surat from AssureShift and we will be your trusted partner making the entire process of relocation hassle-free, assuring a smooth relocation experience to your new destination.