Packers and Movers Faridabad Charges – Transparent Rates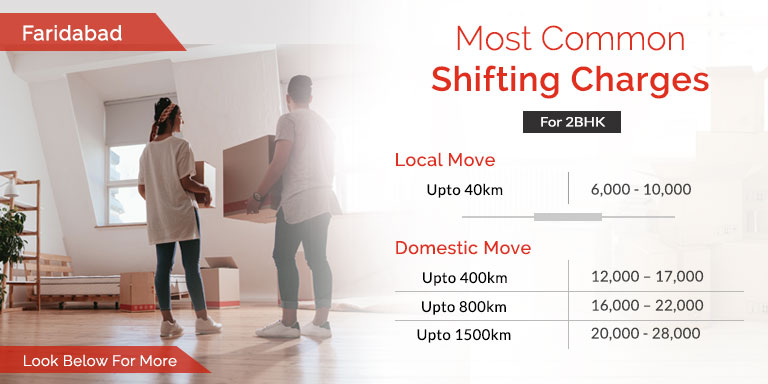 Planning to relocate within or outside Faridabad? No need to worry about packing and moving your entire household goods by yourself, as cheap and best Packers and Movers Faridabad are available to provide you best shifting services within your estimated budget and time. Hiring reliable Movers and Packers in Faridabad is one of the best and safe decision to pack and move your entire possessions safely, as they are trained enough to provide you quick and secure relocation services.
While hiring a reliable Shifting service provider in Faridabad, one thing might confuse you a lot, why several Movers charges vary significantly for the same moving services? That's why it's essential to have precise knowledge about the Packers and Movers Faridabad Charges to be sure you don't have to pay unnecessarily high prices, due to lack of knowledge.
If you're not aware how much top-rated relocation companies Faridabad charge to perform your entire relocation task professionally, you will have to face several difficulties, due to last moment panic and you can be cheated if you come in contact of fake and unprofessional Movers, and you may end up accepting high quotes.
That's why to help you understand the average movers and packers Faridabad rates, we have provided the complete details of professional Movers in Faridabad and overall cost for various shifting services and also the main factors which are measured while calculating the prices. So you can quickly compare and hire a Top professional movers and packers in Faridabad provider according to your relocation requirements and budget.
Table of Content
Home Relocation charges in Faridabad will vary on several necessities like the volume of things, transport facilities, packing charges, labor, etc. Local packers and movers in Faridabad will charge an average of 6000 – 9000 Rs to shift a regular 1 BHK. Whereas domestic movers and packers in Faridabad will calculate the relocation rates based on specific factors like distance, type of transport vehicle, number and quality of items, and so on. Read below to know the overall price of movers and packers Faridabad charges.
| | | |
| --- | --- | --- |
| Shifting size | Few Items | All Items |
| 1 BHK | Rs 3000 – 4500 | Rs 5000 – 7000 |
| 2 BHK | Rs 3500 – 6500 | Rs 6000 – 10000 |
| 3 BHK | Rs 6000 – 9000 | Rs 9000 – 15000 |
| 4 BHK | Rs 7000 – 10000 | Rs 13000 – 18000 |
1. Quantity of items- Transportation Charge
The number and volume of goods or the size of the new residence you are relocating will decide the type of truck required to move your goods safely. According to the category of transport automobile used, and the size, your local relocation charges will be decided whether it will be high or low.
Trucks are always available in an array of sizes starting from the mini-truck Tata Ace to the 7-ton 19 feet vehicles and the packers and movers charges per km range from Rs 2000 – Rs 11000.
2. Quality of goods- Packing Charges
Since the chance of damages is low during local moving in Faridabad, as careful packing is done only for the essential and fragile items like electronics and antiques so that they remain unmoved and undamaged during shipment. Regular or standard packing method is followed for wrapping the everyday household items like appliances, furniture, clothes, kitchenware, etc.
Depending on the quality of belongings and the quality of packing supplies required, the price for packing material in Faridabad will vary accordingly. Moving service company in Faridabad typically charge around Rs 1000 – Rs 5000 (according to the size of the house).
3. Men required – Labor charges
The total number of staff needed to perform your entire relocation task efficiently and quickly like packing, loading, transportation, unloading complete household possessions will be determined by the size of the house, and the quantity of items. The charges of labors will be estimated at approximately Rs 500 – Rs 600 per person and included in the packers and movers Faridabad price list.
4. Additional services – Optional
Home relocation services in Faridabad usually does not provide disassembling, reassembling and rearranging services; but, if you want your bulky goods to be disassembled before packing them to have damage-free move, you can request your hired Moving service provider for the same. They will make other preparations to provide these services, but you will have to pay extra charges to avail of these services.
5. Physical Effort – Additional charges
The packers and movers Faridabad cost will include an additional fee of Rs 500 – Rs 1500; if the labors will have to put any extra physical effort to complete your move like
House and lorry distance are more than 100 meters;
Lift is not available, and they will have to carry the packed boxes on 1st,2nd floor or above;
Roping is required to move bulky items which can't be shifted through the staircase or lift;
6. Tips- Optional
It's never compulsory to give a tip to your Movers but tipping your shifting service provider at the end of the relocation will make your good impression; you can cherish their hard work if you were satisfied with the service they have provided. A decent tip would be Rs 100 – Rs 150 per mover and can also go to a higher amount as per your convenience.
Note: Distance is not measured while calculating Local shifting in Faridabad charges, since the entire relocation task can be completed almost within one day, and the overall distance to be covered will be <50 Km. Whether your new residence is located within 5 Kms or 25 Kms away, the fuel consumption will also not vary too much, and the movers and packers Faridabad cost won't differ a lot. Remember to cross-check the complete details of the shifting company before hiring them, to have a trouble-free relocation.
While shifting to any new city from Faridabad, it's always the best choice to compare and hire expert domestic packers and movers in Faridabad, who can provide standard service at affordable price. While hiring genuine Moving company, you must have overall knowledge how much they will cost to perform your move as Intercity Moving company charges are quite higher as compared to Local Moving companies who provide services only within Faridabad. That's why we are available here to guide you stepwise, tell us your relocation requirement, and we will help you know pre-verified movers and packers Faridabad rates within minutes, or you can invest your time to checkout standard domestic packers and movers Faridabad rates mentioned below:
| | | | | |
| --- | --- | --- | --- | --- |
| From Faridabad to/ Moving items | 1 BHK | 2 BHK | 3 BHK | Few Household items |
| Bangalore | Rs 15000 – 21000 | Rs 19000 – 28000 | Rs 24000 – 31000 | Rs 7500 – 11000 |
| Mumbai | Rs 10000 – 13000 | Rs 12000 – 17000 | Rs 14000 – 20000 | Rs 6000 – 8000 |
| Pune | Rs 11000 – 15000 | Rs 14000 – 19000 | Rs 16000 – 22000 | Rs 6000 – 8000 |
| Hyderabad | Rs 14000 – 19000 | Rs 17000 – 25000 | Rs 21000 – 29000 | Rs 7500 – 10000 |
| Delhi | Rs 13000 – 17000 | Rs 16000 – 22000 | Rs 19000 – 25000 | Rs 7000 – 8500 |
1. Distance
One of the main factors of long-distance movers and packers Faridabad prices mainly depends upon the distance over which your items have to be shifted. The greater will be the distance; the higher will be the rates.
The city or the locality to which you are moving will also affect your relocation cost.
2. Vehicle type- Transit Charges
The long-distance movers cost in Faridabad will also depend on the type of means of transportation you have selected to shift your goods.
Shared truck: To shift your goods in a shared truck, you will have to share your selected vehicle between 2 – 3 households. Though the final delivery time may be much later as per your prospect, the prices will be quite affordable. The Faridabad packers and movers charges per km will be calculated according to the amount of space or volume occupied by your things.
Dedicated truck: If you don't want to share your vehicles, you can also opt for a single truck to shift your household goods safely in which the delivery time will be faster as compared to shared trucks. The added cost for a single vehicle will be almost around Rs 5000 – Rs 15000, based on the size of the home you are moving, and the total distance needed to be covered.
3. Packing material- Packing charges
Faridabad Relocation companies charges will also depend on packing supplies according to the total number of things you have planned to shift in your new home.
Regular packing of household belongings will cost Rs 5000 – 12000; and, packing of the sensitive items can add up to Rs 10000.
4. Staffs required- Labor Charges
According to the number of labors and effort involved to complete the shifting process for intercity relocation, the labor charges will be counted in the total movers and packers price in Faridabad to ensure complete safety of your possessions. The professional shifting service providers charge a minimum rate of around Rs 700 – Rs 800 per person.
5. Unpacking- Additional Charges
During domestic relocation, unpacking of the delivered items at the new destination will not be done by the Movers, but you can avail these additional services like disassembly, unpacking, reassembly, and rearrangement of all the stuff appropriately will add to the average moving costs, after paying extra charges
According to the extent of the house and the number of labors needed to perform the task, the overall cost for unpacking and rearranging your items will range from Rs 1000 – Rs 3000.
6. Insurance – Optional charges
Although it's not compulsory to purchase Insurance, if you buy insurance for your household goods, you can ensure complete safety during your entire relocation process. Even if not on the whole home goods, but you must purchase insurance for valuable items to make them safe from any significant damage.
The average cost of insurance will be 3% of the total declared value of your stuff.
7. Warehouse/Storage charges
While moving for long-distance you can store your house or commercial goods in the warehouse provided by the Moving company in Faridabad for as long as required, but to avail storage service in Faridabad at minimal charges which will be calculated on per day basis. They will maintain a complete record of the possessions from the time you will hand over your items, and they will provide you proper security provisions during the entire storage duration.
Although not all Shifting companies, most of them will provide first 15 days of free storage service in Faridabad and then they will charge you a minimum price of Rs 150 – Rs 350 per day for the extra days of storage service you require.
Note: Before hiring any outside-city Moving company in Faridabad, you must be sure your moving company has these essential qualities and can be faithful to perform your upcoming move professionally within your estimated time and budget.
| | | |
| --- | --- | --- |
| From Faridabad to/ Vehicle | 2-Wheeler | 4-Wheeler |
| Bangalore | Rs 5000 – 8000 | Rs 8000 – 11000 |
| Mumbai | Rs 3000 – 4000 | Rs 6000 – 7000 |
| Pune | Rs 3000 – 5000 | Rs 6000 – 8000 |
| Hyderabad | Rs 4000 – 7000 | Rs 7500 – 10000 |
| Delhi | Rs 3000 – 6000 | Rs 7000 – 8500 |
Factors Affecting Car and Bike Moving Charges in Faridabad
Size of vehicle: Bike and car transport services in Faridabad to move a regular-sized bike or car will be charged minimal rates, while bigger top-end model car or a heavy sports bike will cost quite higher prices due to the superior protective packing required to pack and move them securely. So that they may remain unmoved and undamaged during loading, transit and unloading process.
Distance: The total distance from the origin and new destination, to which the vehicle has to be packed and moved, will also affect the rates of bike or car transport in Faridabad.
Insurance: Purchasing insurance before relocating your vehicle may increase the overall Faridabad movers and packers price to pack and move your vehicle so that you can easily claim for refund in case of your bike/car gets damaged during transit.
| | |
| --- | --- |
| Office Capacity | Charges |
| Micro Office (6 people capacity) | Rs 6000 – 10000 |
| Small Office (20 people capacity) | Rs 12000 – 19000 |
| Medium Office (50 people capacity) | Rs 25000 – 40000 |
| Standard Office (100 people capacity) | Rs 55000 – 86000 |
| Corporate Office (>100 people capacity) | Contact for pricing |
Factors Affecting Office Shifting Charges within Faridabad
Quantity and quality of goods
Transportation Cost
Moving during peak season.
Type of office items like office furniture, network equipment, computers, pantry items, etc.
From Faridabad/ Office Capacity

Micro Office

(6 people capacity)

Small Office

(20 people capacity)

Medium Office

(50 people capacity)

Up to 400 Km

Rs 8000 – 12000

Rs 15000 – 23000

Rs 30000 – 50000

Up to 800 Km

Rs 12000 – 17000

Rs 21000 – 32000

Rs 42000 – 70000

Up to 1200 Km

Rs 20000 – 28000

Rs 34000 – 51000

Rs 67000 – 110000

Up to 1600 Km

Rs 36000 – 50000

Rs 61000 – 92000

Rs 120000 – 198000

Up to 2000 Km

Contact for pricing

Contact for pricing

Contact for pricing
Factors Affecting Commercial Shifting Charges outside Faridabad
Quantity of office items
Category of office goods to be packed and moved like office furniture, CPUs, network equipment, appliances, pantry items, etc.
The distance over which the working system is to be relocated.
Floor and lift availability
Transportation
Insurance
Plan your move earlier: Planning your upcoming relocation at least one or two months before will help you to have enough time in hand to complete all your pre-moving tasks. You can also find the cheap and best shifting service provider, and you can keep track of all the pending and completed task from beginning to endpoint.
Schedule your move during the off-season: Movers and Packers Faridabad are fully occupied, and they will charge higher prices during the holidays, weekends and end of the month as these are the peak time for them, therefore; it's good to schedule your move on the right day to avoid unnecessary high expenses.
Get rid of unwanted clutters: As we have mentioned above that quantity of your possessions is one of the main determining factors which can speedily increase your shifting charges. The cheapest way to shift in Faridabad is to get rid of all your unnecessary items and carry only the essentials into the new place to cut down your moving cost.
Get quotations from at least 3 Movers: It's always a safe decision to do broad verification before finalizing your deal with them. That's why you must contact at least 3 best-matched Shifting companies in Faridabad and request them to provide you written estimates so that they can compare their details and charges to get perfect moving and packing services in Faridabad at a quite affordable price.
Prepare Checklist: Make a moving checklist so that you can complete all the tasks at the right time before you move out of your old home to stay organized throughout the move.
AssureShift provides you with a list of trustworthy packers and movers in Faridabad who are capable enough to perform all kinds of relocation services at pocket-friendly rates. We ensure their authenticity by verifying the moving company documents and the capability of providing hassle-free packing and moving services.
1. Directly get in touch with nearby Packers and Movers
You can easily have a look at the list of packers and movers in Faridabad so that you can compare the top movers in your locality. You can separately view the profiles of all the relocation companies, office address, and their reviews and ratings all in one place. So, that you can quickly compare their legitimacy and contact them to get pricing quotes by explaining your shifting requirements.
2. Tell us your Requirements and get references
It's evident that due to relocation stress you might forget to discuss your entire requirements while speaking to all the Shifting service provider. Therefore; you can call us and tell your shifting needs once, and we will recommend you the three pre-verified shifting companies in Faridabad who suit your requirements and give you their reasonable charges.
Our recommended movers will contact you within a few minutes, and you can briefly discuss your complete relocation requirements in detail, then they will provide you estimates. Once you compare the shifting companies details and their charges, you can hire a suitable moving service provider, without investing your lots of time and money.