Compare & Hire Packers and Movers in Vijayawada
347
Vijayawada
Hire Best Packers and Movers in Vijayawada for 100% Reliable, Quick, & Affordable shifting services. Tell us your requirements to get Referrals of 3 Best-match Packers and Movers Vijayawada along with Cost Estimates in just 1 Minute. Compare charges, services, and reviews and ratings to finalize the best one for your needs.
Get Quote From
3 Nearby Movers
Quickly Compare
& Save Min 25%
Guide to Hire Best Packers and Movers in Vijayawada with AssureShift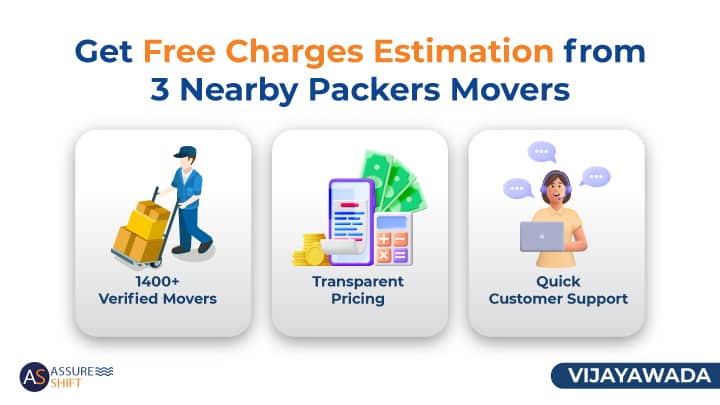 Welcome to AssureShift, your trusted partner to find & hire best packers and movers in Vijayawada for affordable and dependable services for all types of relocation needs.
At AssureShift, we have a broad network of packers and movers in over 25+ cities across India like Vijayawada, Hyderabad, Bangalore, Chennai, Delhi, Gurgaon, Noida, Ahmedabad, Kolkata, etc. No matter where you're relocating from or to, our relocation companies provide safe and reliable solutions tailored for your needs.
Every moving company that associates with AssureShift goes through a stringent verification process to make sure that we partner with only trustworthy, competent, professional, and reliable packers and movers Vijayawada. We meticulously check the moving companies business/GST registration, office presence and location, company owner details, and their past performance history.
Our associated Vijayawada packers and movers offer a diverse range of services to cater to all your packing and moving needs at affordable price whether you need local shifting, domestic relocation, or even international relocation. They offer end-to-end home shifting services, car transportation services, bike shifting services, office relocation services, fine art and antique moving services, plant relocation services, pet moving services, storage and warehousing services, industrial equipments shifting, commercial relocations like shop shifting, corporate relocation, cargo shipping, and many more.
Our professional movers and packers in Vijayawada provide cost-effective packing moving services at competitive rates and bundled services whenever necessary. They carry out complete packing and unpacking services from start to end, along with safe loading and unloading services and timely doorstep pickup and delivery.
Hiring packers movers in Vijayawada through AssureShift is a simple 3-step process.
With AssureShift, hiring the right movers and packers Vijayawada can be done in just a few minutes. To get a quick cost estimate:
Just share your moving details with us like origin & destination locations, type of move, shifting date, moving items list, etc.
We will analyse your requirements and provide you with referrals of 3 top movers and packers Vijayawada who best-fit your needs, along with their initial price quotes.
Compare the packers movers cost estimates, services offered by them, company profiles, and their customer reviews and ratings.
Finalize your deal with the best Vijayawada packers movers company who is the best match for your required services and budget.
If you face any issues with our packers and movers in Vijayawada or any concerns during the move, our dedicated customer support is always there to assist you. We take essential steps to support and guide our customers throughout the relocation, ensuring a hassle-free experience to relocate to the new location.
Choose AssureShift for a safe and hassle-free moving experience with leading packers and movers Vijayawada!
---
Why Choose AssureShift for Your Relocation in Vijayawada?
AssureShift has positioned itself as a leader in the relocation industry with over 1200 pre-verified packers movers service providers in tier-1 and tier-2 cities of the country.
No matter which city you are relocating from or moving into, with AssureShift, you get unrestricted access to a widespread network of moving companies in Lucknow, Patna, Noida, Chandigarh, Kolkata, Ahmedabad, Chennai, Bangalore, Delhi, and more.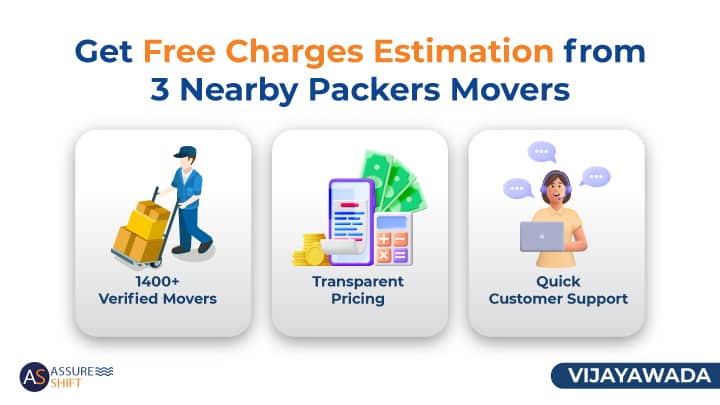 Comprehensive Directory at Your Fingertips: Our platform hosts a meticulously organized directory of packers and movers in Vijayawada. This means you don't have to browse through endless listings or ads of relocation service providers. With AssureShift, you can quickly and easily filter out packers movers companies according to your desired location, services required, and ratings and reviews.
Guaranteeing Trust with Thorough Verification: We understand that trust is absolutely necessary when you're handing over your cherished belongings. That's why every moving company on AssureShift undergoes a vigorous verification process to prevent customers from getting in touch with any fake packers and movers. Our dedicated team of experts check the moving company's business credentials, office location, and past service records to ensure maximum reliability.
Customized Solutions Just for You: Whether you need to move a household goods, require car transport, need to relocate office furniture, or require warehouse services during intercity shifting, etc., our packers and movers Vijayawada ensure that the services you receive are tailored to your unique packing moving needs.
Commitment to Quality Without the Price Tag: Our focus is always on ensuring top-notch service quality without burning your hold in your pocket. Our relocation service providers use premium packing materials, best-fit transport vehicle for safe transportation, specialized car carrier services, moving insurance service, and much more, without the premium price tag.
Transparent & Competitive Pricing: AssureShift ensures that the pricing from our movers is completely transparent with a detailed explanation of the exact shifting cost estimate as well as the list of services that will be provided. All our movers and packers in Vijayawada offer competitive prices without hidden costs, ensuring that you always get the best deal and value for your money in the market.
Supporting You Every Step of the Way: From the moment you think about relocating, until you're fully settled in your new place, AssureShift stands by you. Our dedicated support from start to end guarantees that any query, hiccup, or requirement is addressed promptly and efficiently.
With AssureShift, you're not just choosing a good service; you're opting for a hassle-free, trustable, and efficient relocation experience with experienced packers and movers in Vijayawada.
---
Packers and Movers Vijayawada Charges
The Vijayawada movers and packers charges for shifting a standard 2BHK within the city can range from ₹7,000 to ₹10,000. For intercity relocation services provided by our outside-city packers and movers in Vijayawada, they will charge around ₹20,000 to ₹70,000 for relocating a standard 2 BHK to a different city outside Vijayawada, with the exact costs depending on the specific factors considered for the move.
| Move type/ Distance | 1 BHK | 2 BHK | 3 BHK | 4-Wheeler | 2-Wheeler |
| --- | --- | --- | --- | --- | --- |
| Local Shifting | ₹ 4,000 - 7,000 | ₹ 7,000 - 10,000 | ₹ 10,000 - 18,000 | -NA- | -NA- |
| Vijayawada to Bangalore | ₹ 13,300 - 19,000 | ₹ 20,900 - 36,100 | ₹ 26,600 - 47,500 | ₹ 9,500 - 20,900 | ₹ 3,800 - 5,700 |
| Vijayawada to Mumbai | ₹ 19,800 - 29,700 | ₹ 30,800 - 71,500 | ₹ 40,700 - 90,200 | ₹ 19,800 - 35,200 | ₹ 4,950 - 8,800 |
| Vijayawada to Delhi | ₹ 17,100 - 25,650 | ₹ 26,600 - 61,750 | ₹ 35,150 - 77,900 | ₹ 17,100 - 30,400 | ₹ 4,275 - 7,600 |
| Vijayawada to Gurgaon | ₹ 17,100 - 25,650 | ₹ 26,600 - 61,750 | ₹ 35,150 - 77,900 | ₹ 17,100 - 30,400 | ₹ 4,275 - 7,600 |
| Vijayawada to Chennai | ₹ 13,300 - 19,000 | ₹ 20,900 - 36,100 | ₹ 26,600 - 47,500 | ₹ 9,500 - 20,900 | ₹ 3,800 - 5,700 |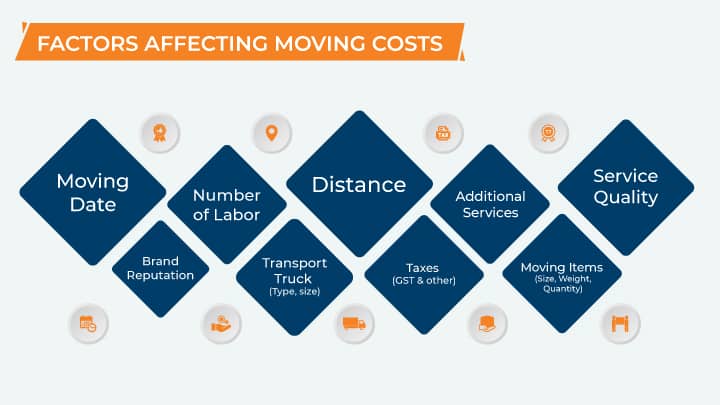 A number of factors can greatly affect the exact packers and movers charges in Vijayawada, including the distance between the source and destination locations, the total volume or quantity of goods to be relocated, the size and type of truck used for safe transportation, any special handling or packaging requirements, the type of services you choose, the timing of the move, and any additional services requested, like insurance, temporary storage service, etc.
---
How will AssureShift Address Your Queries & Concerns?
Moving is often associated with stress and uncertainties. At AssureShift, we prioritize your peace of mind above all. In the unforeseen event of any concerns or disputes, here's how we step in:
Prioritized Perfect Matches: Our referral system is designed to match you with the best-suited moving companies based on your specific requirements. In the rare instance that you're not satisfied with the options provided, we're committed to offer alternate references upon your request. Our goal is to ensure you find the most suitable service provider in your city.
Standing Beside You, Always: The moving process can be complicated and long. From the moment you decide to relocate to finally unpacking your belongings in the new location, AssureShift remains right by your side at all times. Whether it's a query or last-minute change in the shifting process, delays in pickup or delivery, or a sudden concern during the relocation, our dedicated support team is just a call or click away.
Ensuring Continuous Service Excellence: We pride ourselves on associating only with the best packers and movers in Vijayawada. To maintain high standards of service, we regularly review and monitor the packing and moving service quality provided by our partner packers movers. This continuous quality check ensures that you always receive top-notch services, and any decline in service quality is promptly addressed.
Taking Necessary Measures for Accountability: If a moving company fails to provide service quality at our set standards or is involved in any misconduct, we take relevant actions against them like giving warnings, temporary suspension, or even permanently de-listing them from our portal. This maintains the integrity of our platform and assures you that you're hiring professionals who can be relied on.
At AssureShift, we're dedicated to making your moving experience seamless and stress-free. With our proactive approach to addressing concerns and our unwavering support, we make sure you're in safe hands.
---
Frequently Asked Questions (FAQs)
How much are the approximate packers and movers charges in Vijayawada for local shifting?
The approximate charges for local shifting in Vijayawada can range from ₹4,000 to ₹18,000 based on several factors, like volume of items, quality of service required, distance of relocation, and the size and type of truck used.
How much do packers and movers Vijayawada charge for packing, loading, transport and unloading services?
The packing charges of Vijayawada packers and movers for packing a 2BHK can cost around ₹1,700 to ₹2,500, the labor charges can cost around ₹1,200 to ₹1,700, and for transportation the packers and movers prices in Vijayawada can range from ₹4,100 to ₹5,900. The exact charges may vary depending on the specific requirements and volume of items.
Is it compulsory to get insurance on my belongings?
While it is not compulsory to take moving insurance on your belongings, it is a better idea to do so in order to add an extra layer of protection and security to your goods in case of unexpected accidents or damages during the move.
How to calculate the relocation charges by yourself?
To calculate relocation charges, take these factors into account: Relocation distance, quantity of items, required service quality, the size and kind of the transportation vehicle, total amount of labor required, any additional services if requested, moving date, service fees and taxes, the movers' name and brand..
Can I reschedule or cancel my booking with packers and movers in Vijayawada?
Yes, you can reschedule or cancel your booking with packers and movers in Vijayawada. However, it's recommended to inform the service provider as soon as possible to avoid any cancellation charges. Each company may have its own policy regarding rescheduling and cancellation, so it's essential to check their terms and conditions before making any changes to your booking.
Do packers and movers in Vijayawada provide storage and warehousing facilities?
Yes, many packers and movers in Vijayawada offer storage and warehousing facilities. These services may come in handy if you need temporary storage before moving into your new home or office.
Can packers and movers in Vijayawada handle the disassembly and reassembly of furniture?
Yes, most packers and movers in Vijayawada provide disassembly and reassembly services for furniture. It's essential to inform the moving company in advance if you require these services so that they bring the necessary tools and expertise.
---
Vijayawada Packers and Movers Reviews
Relocating can be a complex process, but with experienced moving companies, this transition becomes significantly easier and smooth. Professional packers and movers Vijayawada take care of the complete home relocation process from packing to unpacking with on-time door-to-door service from your old location to the new one. You just need to prepare for the house shifting, by decluttering unwanted items, packing an overnight bag, labelling boxes, and notifying relevant parties about your move.
Choosing AssureShift to hire packers and movers in Vijayawada means opting for peace of mind. We offer a platform where you can find verified and trustworthy packers movers. We carry out thorough verification of each moving company to ensure 100% reliability and customisation for each customer's relocation needs.
Our Vijayawada packers and movers offer a wide array of services including House shifting services, Office shifting, Car and bike transportation, Fine art and antique moving services, Plant relocation, Pet moving, Warehousing service, International shifting, and many more.
For safe home shifting, the movers and packers in Vijayawada carry out pre-move survey before the move to discuss the exact requirements in more detail and provide accurate cost estimates. During the process, they use high-quality packing material like bubble wrap, corrugated sheets, and stretch films, for secure packing.
Appropriate moving equipment like hand trucks and panel movers are used for carefully loading and unloading bulky & large house-hold articles like furniture, appliances, etc. They also use best-fit transport vehicle, ranging from small tempos to large 18-wheelers, based on the volume of moving items and relocation distance.
When hiring a relocation firm, it's vital to verify their credentials, check reviews and ratings, compare multiple cost quotes, ascertain their experience, and discuss your specific shifting requirements. During the initial conversation, always ask questions like, "What's included in the quote?, Is there insurance coverage?, What's the expected delivery timeline?" During the pre-move survey, inquire about the packaging materials that will be used, measures taken for fragile items, how many team members will be on-site, ask if they offer moving insurance or storage insurance to safeguard the belongings, and so on. On the moving day, make sure to maintain clear communication, coordinate timings, and understand the resolution process for any arising issues.
When hiring movers for relocating within the city, make sure to look for local movers in Vijayawada who are nearest to your location so that you can get quick and safe doorstep services within few hours time. For hiring packers and movers Vijayawada for domestic shifting, make sure to look for a moving packing service provider that have their presence in both origin and destination cities. For example, if you are moving from Vijayawada to Faridabad, make sure the Vijayawada relocation company you're hiring has a branch office of their professional packers movers in Faridabad, so that you can avail unpacking and reassembly of goods after arriving in Faridabad.
To reduce the house shifting charges, consider flexible moving dates, compare multiple quotes from at least 3-5 movers, and minimize the number of items to be relocated.
With AssureShift, getting cost estimates from Vijayawada moving companies and hiring the best one for your needs is a simple 3 step process. All you need to do is provide your moving requirements, get contact details and instant quotes from top 3 packers and movers in Vijayawada, and compare the charges, services offered, and reviews and ratings.
Our packers and movers Vijayawada offer relocation services across all localities in Vijayawada Andhra Pradesh, including Benz Circle, Gunadala, Kanuru, Poranki, Tadigadapa, and so on.
Lastly, if any concerns arise, trust AssureShift to be by your side. From offering satisfactory referrals of packers and movers in Vijayawada, ensuring continuous service quality to taking relevant actions for accountability, your peace of mind remains our utmost priority.