Mumbai Packers and Movers Charges
Within Mumbai Shifting Charges
Get approx estimation of complete door to door packing and moving rates. For accurate costing please give us your moving details, and get quote from 3 best match service providers.
General Consideration
Few Goods
Bed, Fridge or Washing Machine, Few Kitchen Items, and Cloths
1 BHK
Bed, Fridge, Washing Machine, TV, Kitchen Items, Small Table, Few Chairs, and Cloths
2 BHK
2 Beds, Fridge, Washing Machine, TV, Dining Table, Sofa, Study Table, Few Chairs, Wardrobe, Almirah, 1 AC or Cooler, Kitchen Items, and Cloths
3 BHK
2 Double Beds, 1 Single Bed, Fridge, Washing Machine, TV, Dining Table, Sofa Set, Study Table, Computer Table, Chairs, 2 Wardrobes, 2 Almirahs, 2 AC, Dressing table, Kitchen Items, and Cloths
4 BHK
2 Double Beds, 2 Single Bed, Fridge, Washing Machine, TV, Dining Table, Sofa Set, Center Table, Study Table, Computer Table, Chairs, Dressing Table, 3 Wardrobes, 3 AC, Aquarium or Show pices, Kitchen Items, and Cloths
Mumbai Relocation Guide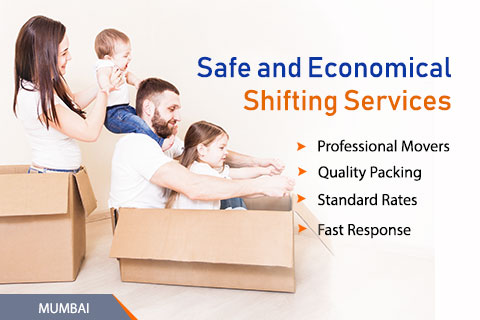 The first step you take in your new home is the first step you'll take in the new phase of your life. We're sure you can't wait to get there ASAP, and the best way to do that is with reliable and professional Packers and Movers in Mumbai. However, don't be in a hurry to hire any moving company you find on Google, as there are many fraudulent movers and packers Mumbai who prey on innocent people like you. You can rely on AssureShift to provide you an easy and quick solution to hire the best packers and movers in Mumbai.
Moving by yourself is extremely straining not only physically but also mentally. You have to pack your complete household and lift and move the heavy furniture and appliances all alone. Finding dependable transport for shifting house is another challenge to deal with. On the whole, shifting by yourself is risky considering the possibilities of damaging your goods, property and yourself for which you'll have to spend money later on.
Experienced and good packers and movers in Mumbai will undertake all the difficult tasks of packing and moving and ensure you have a safe and smooth move. They have years of experience in providing relocation services and a crew of skillful members who are fully capable of handling and moving any kind of items. You can find nearby packers and movers in Mumbai by asking your family and friends for suggestions or you can search for a list of packers and movers in Mumbai on the Google Search Engine or directory websites. However, Google wouldn't be able to guarantee the reliability of the packers and movers it suggests; so, you'll have to do a complete background verification of the moving companies before hiring them.
Instead, you can easily find a list of reliable moving companies in Mumbai whose documents have been pre-verified on a reference portal like AssureShift. We also do a routine check of the quality of service provided by our partner packers and movers by taking feedback from the customers and take necessary action against any unprofessional or fake relocation service providers in Mumbai. Share your requirements and get the reference of 3 best movers and packers in Mumbai within your budget. Our partner relocation companies in Mumbai are expert in providing packing and moving services in Mumbai for complete home shifting, local relocation within Mumbai, shifting outside the city, office relocation, moving your bike, car shifting in Mumbai, storage/warehouse services, cargo shipping, and logistics services among others.
If you're shifting house within Mumbai, you can find cheap and best local packers and movers Mumbai through AssureShift; and, if you're moving outside Mumbai, you can find reliable relocation services in Mumbai at affordable rates. However, if you're relocating to Mumbai, search for a good moving company located in Mumbai so that you get easy destination services at your new home. Also, we would like to welcome you to the City of the famous Vada Pav, Mumbai! The city is filled with the richness of history, culture, and living standards. All the major financial firms are located in this richest capital of India and it's the home of many billionaires and also has the largest and most expensive slums in the world. Many people from all over the country throng the streets of Mumbai carrying their dreams of leading a better life which is why it is rightfully known as the City of Dreams. We hope you make many exciting memories at the beautiful Sea Link of Mumbai and eat lots of yummy street food that this city is famous for!
Who are packers and movers? and, why you need them?
Packers and movers are companies who provide packing moving services to relocate your household from one place to another. They offer complete services for packing, loading, transporting, unloading, unpacking, disassembly and reassembly (if required), and they may even help you arrange your things at your new place. They provide best relocation services in Mumbai to move your things without any damages whatsoever. There are plenty of ways in which the movers can help you, but below mentioned are a couple of points out of them to help you understand the benefits of hiring packers and movers Mumbai
Less work for you: The relocation companies in Mumbai take the complete responsibility of shifting your things from one location to another. They make sure your goods are safely packed and moved without you having to do anything. They will not only pack and transport your things but also unpack and arrange them in your new home. You can forget about doing all the difficult tasks by yourself and plan fun things for you and your family to do.
Quick and easy shifting: The good packers and movers Mumbai have years of experience in performing household relocations. They use appropriate tools and techniques as part of their packing and moving services in Mumbai, and ensure you can reach your new home quickly. While the movers plan and take care of your relocation process, you can carry on with other important tasks, like managing utilities at both homes, updating your new address, planning for house-warming party, etc.
Guarantee safety of your goods: The Mumbai packers and movers use the best quality packing material to wrap your items with full protection and appropriate moving equipment to load and unload your goods. They complete the job with perfection and ensure the safety of your items is not compromised in any way.
Double guarantee with insurance: If you were moving by yourself, you would have to spend money from your pocket to fix or replace damaged goods or property. But, by hiring home shifting services in Mumbai you'll also get insurance on your items in case your goods get damaged in unforeseen circumstances. So, you can be at peace knowing that you'll be compensated for any damages and losses you face.
Where to search for professional packers and movers in Mumbai?
There are 3 simple ways in which you can find the best and cheap movers and packers Mumbai:
Recommendations from your trusted circle – you can easily get suggestions of good house shifting services in Mumbai by asking your family and friends. Based on their personal experience or what they may have heard from someone else, they will refer you to the good moving company in Mumbai.
Search on the internet – you could also find a list of nearby packers and movers in Mumbai by searching for packers and movers near me in the Google search engine or online directory websites. The problem, however, is that although you get a long list of suggestions, you can't know for sure which moving companies mentioned there are genuine and which are not. So, you'll have to do a thorough research about all packers & movers Mumbai before deciding to hire them.
Find reliable movers through reference portal – instead of going through the trouble of researching the list of Mumbai movers and packers, you can easily find and hire pre-verified and researched relocation companies in Mumbai. AssureShift is a reference portal where you can find trusted packer and movers Mumbai and you don't need to do any research. As soon as you share your requirements, we will refer 3 top packers and movers in Mumbai who provide your required services within your budget.
How to choose a reliable packer and mover in Mumbai?
The key to have a safe and stress-free transition from your old home to your new one is to find honest and reliable home shifting services in Mumbai. You can trust your life's belongings with them as they provide the best packing and moving services in Mumbai. However, you need to be aware of fraudulent moving companies who will either damage your goods while moving them or vanish with them entirely using the pretence of relocating. Therefore, you should follow a careful procedure, before you hire any moving company to help you relocate in the quickest time and within your budget. Therefore, you need to make sure the packer and mover in Mumbai who you're planning to hire is the right choice by checking the following details about them:
Registration documents and company details
Before you hire packers n movers Mumbai, you should ensure they are genuine and have valid documentation. You should check their company registration documents that show that the Govt of India has authorized them to provide house shifting services in Mumbai. You should check complete company details on the internet and verify the office address and phone numbers provided there. You could also visit their office and ensure they have a valid office space and use the proper packing and moving supplies.
Eligibility and experience to perform your move
Some packers movers Mumbai may say they provide many different kinds of services without having the necessary skills or experience. Moreover, people generally have unique shifting requirements and you should make sure the moving company you are planning to hire has the experience and will be able to carry out your move efficiently. Whether you have to move your art collection, require safe relocation of your pets and plants, or any other specific requirement you may have, make sure your service provider will be able to do it. Apart from using appropriate moving equipment and good quality packing supplies, they should also have strong and skilled crew members who are capable of handling, lifting and moving all your items safely.
What do their previous customers say about them?
One of the easiest ways to find out how the moving companies in Mumbai work in reality is to check what their previous customers have to say about them. To know this, you can search for the best packers and movers in Mumbai reviews on popular review websites like Mouthshut, Trustpilot and AssureShift. Alternatively, you can even ask your family and friends if they have any information about a particular moving company.
Services provided by packers and movers Mumbai
Complete household shifting in Mumbai – all professional packers and movers in Mumbai are highly experienced in moving household items; they provide all the packing and moving services and also help you arrange your new home. They even perform disassembly and reassembly of furniture and appliances by following proper guidelines and using the right tools.
Local shifting within Mumbai – Shift to your new place in minimum time and expense with our local movers and packers Mumbai. They will pack, load, transport, and unload your things at economic prices; and your cost of moving will depend on the number of items you want to move and time taken to complete the entire process.
Domestic Relocation – professional and reliable services from our domestic packers and movers in Mumbai help you have a hassle-free and safe relocation to your new city. They are experienced in using the right packing supplies and moving equipment to ensure full protection of your items while transporting them over the long distance and deliver all your belongings safely.
Efficient Bike Shifting – bike packers and movers Mumbai help you move your bike from one place to another without a single scratch. They pack your two-wheeler using bubble wrap and corrugated sheets, and transport them in specialised bike carriers. They ensure safe and timely door-to-door delivery.
Car shifting in Mumbai – Get your car delivered at your destination address within few days with trusted car movers in Mumbai. They will ensure your car safety by transporting them through special car carriers or trailers and you can avail best car transport in Mumbai at economic charges.
Cargo Shipping – Cargo packers and movers Mumbai can shift any type of parcel or cargo goods from one place to another via different modes of transport namely road, rail, air freight or sea freight. They ensure safe packing and shipping of your cargo goods in a quick and cost-effective manner.
Storage/warehousing – you can store your goods in the warehouse provided by the packers movers in Mumbai for as long as you need. Inventory is taken for all the products in storage, and proper insurance and security arrangements are provided.
Logistics Services in Mumbai – relocation service providers also offer logistics services and transport in Mumbai to businesses that involve shipping merchandise. Logistics providers oversee the entire process from picking up things at the warehouse and ensure items are delivered to the right place with expert coordination.
Corporate shifting – Transfer your office set up with corporate movers and packers Mumbai or to any other city in India with full safety and security. Insure your office furniture, IT equipment, and other goods with trusted and professional movers in Mumbai who'll take care of every minute detail while moving your entire working system.
International moving – Take professional help from trusted international packers and movers in Mumbai, and move smoothly without any worry. They have the necessary resources and expertise to help you move to a different country or to return to India. Save money by comparing charges.
How AssureShift can help you in your relocation?
There are many unprofessional and fake packing moving service providers in Mumbai due to the absence of a proper verification authority. To prevent customers from getting into the wrong hands, AssureShift has taken the responsibility of verifying the documentation of the movers packers Mumbai. We make it safe and easy for you to hire genuine packing moving services in Mumbai from a list of reliable and good relocation companies in Mumbai.
Below mentioned are the ways in which you can hire the right moving company through us:
In-depth verification of moving company documents
We do a complete background check of the mover and packers Mumbai before listing them on our website. We verify the company registration documents and owner identification proofs to make sure the details match and are genuine. We also check their office and transport arrangements to ensure the company is fully capable of providing the best house shifting services in Mumbai.
Feedback about the hired packers and movers
We find out details about the quality of service provided by the moving company hired by our customers by taking their feedback at the end of their move. We also get to know about the issues faced by customers and any complaints they have against the packer and movers in Mumbai whom they hired. Appropriate action is taken against the relocation companies in case of such problems where, depending on the severity of the complaint, the movers profile is either temporarily suspended or permanently blocked on our website.
Quick reference of relocation service providers to you
As soon as you share your requirements with us, within 2 – 3 minutes we'll refer 3 best nearby packers and movers who provide the services you require within your budget. Your shifting needs will be shared with those moving companies as well; and they will immediately contact you with their estimated house shifting charges in Mumbai. You can then quickly compare the quoted packers and movers in Mumbai prices and company profiles before choosing the best movers and packers Mumbai for your relocation.
Complete support from start to finish
We provide end-to-end support from the time you share your requirements until your move is finished. If you're not happy with the referred movers and packers near me, we could provide you with alternate options. No matter what issue you face with the moving company, you can contact us and we'll get your problem sorted.
FAQs
Why do the packers and movers charges differ during weekends and weekdays?
During the weekends and month ends, the home shifting companies in Mumbai are busy and fully occupied as many people prefer moving during this time; therefore, the movers and packers Mumbai rates are higher.
Therefore, if you schedule your move on a weekday or during the middle of the month, it'll save you a considerable amount of money and help you move in the least amount of time. Choosing an ideal time to move is a crucial decision to make before you get the quotations for home shifting in Mumbai.
How can I reduce my home shifting charges in Mumbai?
There are many things you can do to reduce your shifting charges, some of the basic ones are mentioned below:
Plan your move ahead of time so that you can find best and cheap movers and packers Mumbai;
Sort through all your household items and separate the things you don't use anymore so that you have fewer things to move;
Choose the right day to schedule your move during which packers and movers are not in high demand;
Negotiate with the movers before accepting their quoted charges as final;
What is a pre-move survey? Is it mandatory?
Pre-move survey is conducted by the relocation companies in Mumbai where they'll take inventory of all your items at your home and discuss the shifting requirements in detail. At the end of the survey, they'll be able to provide you with an exact home shifting price list. Pre-move survey can take place in 2 ways: (1) over the phone, and (2) by visiting your home in person.
All movers will take a brief survey of your items over the phone, and provide the estimated home shifting charges in Mumbai. During an in-home survey, you can discuss your requirements in detail and have an idea about how they will perform your move. Pre-move survey is not exactly mandatory, but it is a good option to get it done, so that you'll get accurate movers and packers rates and also be able to judge the reliability and capability of the movers before you hire them.
Should I tip the movers at the end of the move?
Movers work hard and do the difficult tasks of packing and relocating your entire life's belongings from one place to another ensuring complete safety. Although tipping the movers at the end of your move is completely your choice, if you're pleased with the service they provided, you could consider rewarding them for a job well done. You can decide the amount you want to tip them, and make sure you hand over the tips individually and appreciate their efforts. It's a lovely gesture and will definitely bring a smile on their face.
Who are the most popular Packers and Movers in Mumbai, Maharashtra?
Agarwal Packers and Movers Mumbai – Poona Street, Danabundar, Mumbai – 400009
Leo Packers and Movers Mumbai – Sharad Industrial Estate, Bhandup (West), Mumbai – 400078
Crown Packers and Movers Mumbai – Bhiwandi, Thane, Maharashtra – 421301
Om Packers and Movers Mumbai – Mulund Colony, Mulund West, Mumbai – 400082
DHL Packers and Movers Mumbai – Sainath Nagar, Powai, Mumbai – 400076
Royal Packers and Movers Mumbai – Jogeshwari Vikhroli Link Road, Andheri East, Mumbai – 400093
Transworld Packers and Movers Mumbai – Panvel, Navi Mumbai, Maharashtra – 410218
Balaji Packers and Movers Mumbai – Kapurdavi, Ganesh Villa, Thane West, Mumbai – 400607
Sai Packers and Movers Mumbai – Puna Street, Masjid Bunder, Mumbai – 400009
Interim Packers and Movers Mumbai – Andheri Kurla Road, Andheri (East), Mumbai – 400093
The better alternative to shift your entire household by yourself is by hiring professional packers and movers in Mumbai. You can easily find a list of cheap and best relocation companies in Mumbai through AssureShift. We thoroughly verify their company documents and owner identification proofs and provide you with a list of reliable packing and moving services in Mumbai.
All you need to do is share your requirements and we'll refer the 3 best packers and movers near me who provide your required services at affordable rates. You can compare the packers and movers in Mumbai charges and company profiles, and choose the best service provider who best suits your requirements and budget. You could also read the best packers and movers in Mumbai reviews to double check before you make your choice.
Now that most of the difficult work will be taken care of by the top packers and movers in Mumbai, you can forget about the hassles of shifting. They'll ensure that the first step you take into your new home will be with a happy smile. Happy moving!
9 Important Relocation FAQs
When should I start looking for packers movers?
It depends upon the type of shifting, for local shifting within the same city ideally you should start looking 4-8 days ago. Where as for shifting outside city ideally start looking 7-14 days ago. If your moving date is month end, or weekend you should begin your search little earlier.
How to find best packers and movers?
Share your shifting requirements with us and we will refer you 3 best match verified and trusted moving companies near to your locality. Talk to them, know charges estimation, compare their profile, ratings, and reviews and finalize the best option for you. Happy Shifting!
How can I reduce my shifting charges?
One of the primary factors that affect your relocation expenses is the quantity of goods you are moving. If you reduce the number of items by decluttering, your relocation charges can be reduced. You should also make sure that you plan the move well in advance and schedule the move on the right day.
It's best to take quotations from at least 3 movers so that you can easily compare the estimated charges and company profiles, and hire the most relevant moving company.
What are the things packers movers will take care off?
Our relocation experts will take care of all the process from beginning to end (Dis-assembly, packing, loading, transportation, un-loading, un-packing, assembly, and final placement). Generally, for domestic relocation outside city un-packing, assembly, and final placements are not included, and if you require those have demand.
How much time it will take to complete the move?
Local relocation from one locality to another can be completed within a single day depending on the number of items and the floor of the house it could take from 5-10 hours. For shifting outside city it depends upon the distance and from origin city to destination route transport availability, normally it takes from 4-8 days.
What is pre-move survey, and how much time it takes?
In pre-move survey packers and movers do a proper analysis of your relocation requirements like quantity of goods, type of goods, pickup and delivery demands. Survey inspector comes at your place and it takes around 10-20 minutes, whereas for shifting few items it can also be done over the phone call.
What items I should not shift with packers and movers?
The packers and movers will not shift certain items which may cause damage to the other household items or to the transport vehicle. The relocation service providers will not move these goods:
Valuable items like laptops, jewellery, important documents, etc.;
Essential items like toiletries, medications, extra pair of clothes, cleaning supplies, etc.;
Perishable food items which may get spoilt and ruin the other goods too;
Hazardous liquids like fuel, motor oil, kerosene or other flammable liquids, paints, paint diluter, batteries, etc.;
Explosive and corrosive items, etc.;
How to identify unprofessional or fake moving companies?
Fake moving companies will not have valid documents for GST registration, owner identification proofs, and so on.
They will not have a proper company website or online profiles in social media.
They will not have their own office workspace or may not have an office at all, and they may use rented transportation.
Fake packers and movers will not have professional behavior when you meet them, or they may be friendly in the beginning and change entirely during the relocation.
How much should I tip shifting labors?
In one word Yes, in India labor wages are very low and as a human being we should understand this. If they have done satisfactory job, you should appreciate that with your tip, consider tipping Rs.25 – Rs.50/Labor/Hour.
Note: In local shifting same labours will be picking up and delivering your goods, whereas in outside-city relocation there will be different labours at origin and destination and you should tip them accordingly.