Packers and Movers in Bhopal
162
Bhopal
Hire Best Packers and Movers in Bhopal for 100% safe, fast, & affordable shifting services. Get Cost Estimation from 3 top movers and packers near you for top-quality local shifting and domestic relocation.
Get Quote From
3 Nearby Movers
Quickly Compare
& Save Min 25%
Strong Leading Packers and Movers

Manish Cargo Movers Pvt Ltd an ISO 9001:2008 certified Best movers and packers professional packing and moving company in India. We have also provided a lot of information about household goods, office and local business shifting, and luxury car and bike transportation services providers all over India. We provide…
Guide to Hire Best Packers and Movers in Bhopal with AssureShift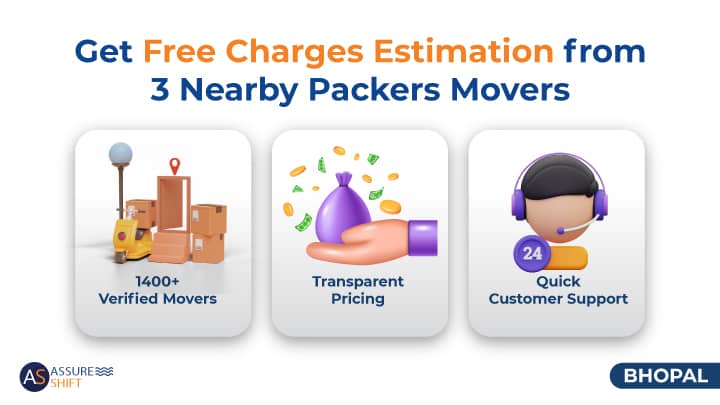 Welcome to AssureShift, your trusted partner for a seamless relocation experience with best packers and movers in Bhopal. We are a leading packers and movers directory in India offering access to more than 1400 verified moving companies across 30 cities in the country.
We simplify your search for reliable relocation services by connecting you with the professional packers and movers Bhopal who offer expert packing, secure loading and unloading, safe transportation, on-time delivery, and hassle-free unpacking.
At AssureShift, we follow a strict verification process for each packers movers company in Bhopal before they associate with us. This process includes verifying:
Business/GST registration,
Office presence and location,
Company owner details,
Transport arrangements,
Past performance history.
Our thorough screening process ensures that the Bhopal moving companies listed with us are capable of providing professional and quality services at affordable relocation charges to fulfil the needs of the customers as expected.
No matter what or where you are planning to move, you can find the right service provider that will take care of all aspects of your move, as per your specific needs. Avail quick and safe within-city shifting services from local movers and packers Bhopal, and get trustworthy and timely domestic moving services with intercity Bhopal packers and movers.
Our associated packing moving companies offer a diverse range of shifting services, including but not limited to Home shifting, bike and Car transportation, Office relocation, Fine art and antique moving, Plant relocation, Pet moving, Storage and warehousing, Furniture relocation, Loading and Unloading, Packing and Unpacking, and many more.
Hiring movers and packers in Bhopal through AssureShift is a simple process. All you need to do is:
Fill the form to submit your shifting requirements,
Get instant quotes from 3 best-match Bhopal movers and packers near you,
Schedule pre-move survey to discuss your shifting requirements in detail,
Compare the cost quotes, services offered, and check reviews and ratings,
Choose and hire the best suited moving company that match your needs.
Move with confidence, move with AssureShift - the go-to platform for the best packers and movers in Bhopal.
---
Why Choose AssureShift to Hire Packers and Movers in Bhopal
Hiring packers movers who can be trusted with your goods is crucial to ensuring a smooth and stress-free relocation. It's essential to do proper research of every moving company to avoid getting in touch with fake packers movers in the market. At AssureShift, we strive to make this process as easy and reliable as possible. Here's why you should choose us for hiring the best packers and movers in Bhopal.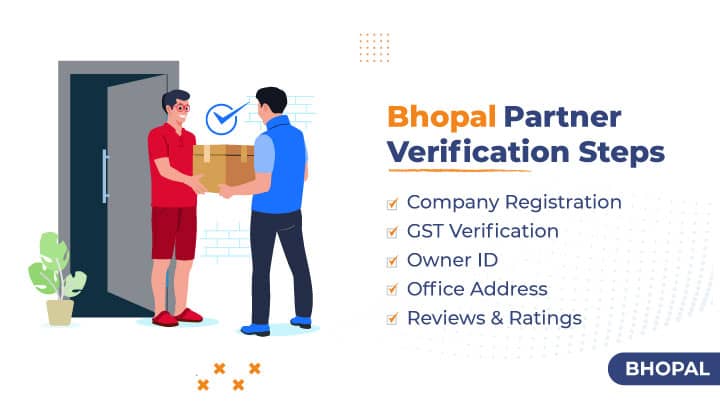 Well-organized Directory: We have a comprehensive list of Bhopal packers and movers which are organised as per their ratings, reviews, services offered, and affordability. It's simple to navigate through the moving company listings and you can easily compare multiple packers movers and choose the best relocation company for your particular needs.
Complete Verification and Transparency: Every packer and mover in Bhopal is thoroughly verified to ensure we offer only reliable and efficient moving service for each customer. We check each company's GSTIN/business registration, office location, owner details, and past performance. We also ensure transparency from start to end of the relocation including providing comprehensive details of packing moving services and clear cost quotations to eliminate the worry of hidden charges.
Balancing Quality and Affordability: We work towards making sure quality relocation services are available for all budget brackets. All our packers movers in Bhopal offer good quality services at affordable and competitive prices. Moreover, our platform allows for easy comparison of charges estimates, reviews, and packers movers services, ensuring you get the best deal.
Tailored Services for Your Specific Needs: Whether you're moving a 1BHK, 2BHK, 3BHK, or require bike and car shifting, or have special items like antiques or pets, or even if you need temporary storage services, our associated movers and packers are capable of customizing the relocation services and shifting process to fulfill each specific packing moving need.
Complete Support from Start to End: At AssureShift, we believe in full customer satisfaction and provide complete support to our customers from start to end, working to resolve any query or issue faced during the move. We help you choose the right service provider, assist with pickup and delivery delays, aid in damage claims, and many other issues.
With AssureShift, hiring the best packers and movers in Bhopal is quick, reliable, and hassle-free. Tell us your shifting needs and experience the difference!
---
Packers and Movers Bhopal Charges
For moving a standard 2BHK within the city, packers and movers Bhopal charges can range anywhere between ₹5,800 to ₹16,000. Domestic movers and packers costs in Bhopal for relocating a 2BHK outside the city can range between ₹14,000 to ₹30,000.
| Move type/ Distance | 1 BHK | 2 BHK | 3 BHK | 4-Wheeler | 2-Wheeler |
| --- | --- | --- | --- | --- | --- |
| Local Shifting | ₹ 4,000 - 10,900 | ₹ 5,850 - 16,600 | ₹ 7,700 - 21,800 | -NA- | -NA- |
| Bhopal to Bangalore | ₹ 14,000 - 23,600 | ₹ 17,100 - 29,300 | ₹ 19,800 - 30,200 | ₹ 6,300 - 10,000 | ₹ 4,100 - 7,600 |
| Bhopal to Mumbai | ₹ 12,200 - 21,700 | ₹ 14,400 - 24,500 | ₹ 17,100 - 31,200 | ₹ 5,400 - 8,500 | ₹ 3,200 - 6,100 |
| Bhopal to Hyderabad | ₹ 14,000 - 23,600 | ₹ 17,100 - 29,300 | ₹ 19,800 - 30,200 | ₹ 6,300 - 10,000 | ₹ 4,100 - 7,600 |
| Bhopal to Pune | ₹ 12,200 - 21,700 | ₹ 14,400 - 24,500 | ₹ 17,100 - 31,200 | ₹ 5,400 - 8,500 | ₹ 3,200 - 6,100 |
| Bhopal to Delhi | ₹ 14,000 - 23,600 | ₹ 17,100 - 29,300 | ₹ 19,800 - 30,200 | ₹ 6,300 - 10,000 | ₹ 4,100 - 7,600 |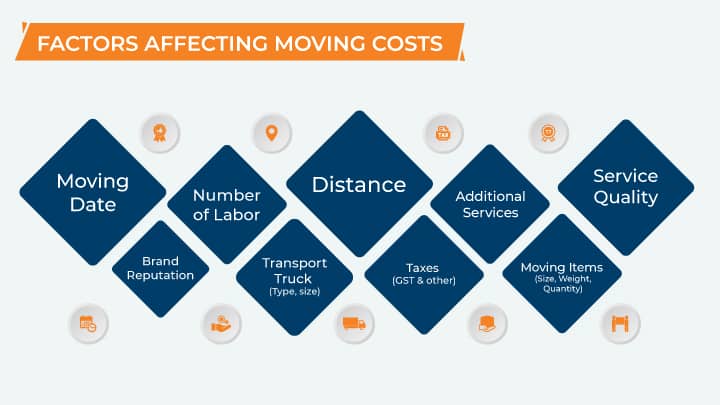 The exact cost of packers and movers Bhopal charges can vary depending on various factors like number of moving items, distance of relocation, service quality required, date of moving, size of transport vehicle used, choice of shared or dedicated trucks, number of laborers required, any additional moving services requested, complexities involved in the move like floor of residence, availability of lift or stairs, special handling requirements, etc., and the service charges and taxes.
---
How will AssureShift Help You in case of Any Concerns
Relocation can sometimes bring with it unforeseen issues and concerns. However, with AssureShift by your side, you have nothing to worry about. Our commitment to 100% customer satisfaction goes beyond just providing you with 3 references of packers and movers Bhopal. We are always available to assist you in case of any concerns at every steps of your relocation. Here's how we help:
Satisfactory Referrals and Alternate Options: We carefully recommend the most trustworthy packers and movers in Bhopal based on the specific requirements submitted and quality of services requested. However, if you are not satisfied with the referrals, we will provide alternate references upon your request to ensure you are fully satisfied with the services you receive.
Comprehensive Assistance from Start to End: Our customer support team is available to assist you at every stage of your move. Whether you have a question about the process, need help in choosing the right packers and movers, or require assistance with any issues during the move, you can contact our support team right away and get a quick response and effective resolution.
Regular Quality Review and Maintenance: We encourage our customers to give us feedback about the relocation service they received and use this to track the service quality provided by our packers and movers, their work performance, and the level of client happiness. This helps ensure our service providers maintain the high standards we set and provide you with the best possible moving experience.
Relevant Action Against Movers: We have a zero-tolerance policy towards any kind of unprofessional behavior or lack of service quality from our associated movers and packers. If we receive reports of misconduct or service issues from customers, we take immediate and appropriate action against the concerned movers packers company including warning, penalty, suspension, or even delisting them, depending on the severity of the issue.
In conclusion, when you choose AssureShift to hire Bhopal packers and movers, you are not just choosing a reliable partner who will stand by you at every step of the relocation.
---
Frequently Asked Questions (FAQs)
How much are the packers and movers in Bhopal charges for local shifting?
The charges for movers and packers in Bhopal range from ₹ 4,000 - 10,900 for shifting a 1BHK, ₹ 5,850 - 16,600 to relocate a standard 2BHK, and ₹ 7,700 - 21,800 for packing and moving 3BHK. The exact costs vary depending on various factors like distance, volume of goods, packing materials used, and labor charges.
What services do packers and movers in Bhopal provide?
Moving service providers in Bhopal offer a wide range of services, including house shifting, car shifting, bike transport, office moving, storage services, and international relocation.
Do packers and movers in Bhopal offer insurance cover?
Most packers and movers in Bhopal offer insurance coverage for your belongings during transit, providing you with added peace of mind. It's important to check with your chosen moving company about their insurance policy before hiring them.
How much time do packers and movers in Bhopal take for a local move?
The time taken by packers movers in Bhopal for a local move depends on various factors such as the size of the move, distance, and the number of items to be relocated. Generally, a local move can be completed within a day, but it may take longer for larger moves or during peak seasons.
How to minimize the cost of hiring packers and movers in Bhopal?
You can reduce the cost of hiring packers and movers in Bhopal by decluttering your belongings, comparing quotations from multiple moving companies, booking the services in advance, and scheduling your move during weekdays or off-peak seasons.
Can packers and movers in Bhopal help with packing fragile items?
Yes, movers and packers in Bhopal have the expertise and packing materials needed to safely pack fragile items, such as glassware, electronics, and artwork. They use high-quality packing materials and specialized techniques to ensure your fragile items are well protected during transit.
---
Bhopal Packers and Movers Reviews
Relocating can often be challenging, but with professional packers and movers in Bhopal, their expertise and experience ensures the process becomes significantly easier, efficient, and stress-free. However, it is essential to choose the right moving company who can be trusted and is capable of providing reliable and high quality relocation services.
When hiring relocation service providers, remember to verify their credentials and check reviews and ratings to make sure you get in touch with only experienced packers movers service providers having a good track record and satisfied customers. Compare multiple cost quotes (from at least 3-4 relocation companies) and discuss your specific requirements with each one clearly. During your first conversation, be sure to ask questions about their services, charges, insurance, and dispute resolution policies to maintain clear communication throughout the move.
When hiring moving service providers local shifting, look for nearest local movers and packers Bhopal near you for quick and reliable moving. However, for domestic shifting, make sure to identify and shortlist the most professional packers movers companies having a branch of their office in the destination city. For example, if you are moving from Bhopal to Surat, hire a service provider in Bhopal having an office branch of their packers and movers in Surat to facilitate easy door-to-door service with complete unpacking and reassembly at your desired destination.
With AssureShift, you need not worry about the reliability of the movers packers in Bhopal listed with us as we carry out stringent verification and background checks to authenticate them. Only after verifying their company & office registration, past reviews and ratings, and quality of services offered in the past, we associate with the best moving services providers in Bhopal.
Our associated Bhopal packers and movers offer an array of services, including home shifting services, office shifting services, corporate relocation, vehicle transportation services like bike shifting and car carrier services, start to end logistics services for businesses, pet moving, plant relocation, fine art and antique moving, storage and warehouse services, international relocation, cargo shipping, and many more.
AssureShift assures home relocation can be a hassle-free experience as our packers movers companies carry out initial pre-move survey to understand the exact packing moving service requirements and provide accurate estimates of the local shifting charges or domestic relocation prices. They also plan the complete moving process like the appropriate packing material required for secure packing, type of transport vehicle needed to ensure safe and timely delivery, steps to be taken if unpacking services are needed at the destination, and so on.
Our best movers and packers in Bhopal use top-quality packing materials like bubble wrap, packing paper, sturdy boxes, sealing tape, etc., for safe packing services. They also employ appropriate moving equipment like hand trucks, furniture dollies, sliders, moving blankets, and straps to ensure secure loading-unloading services.
Our professional moving services providers use different sizes of transportation vehicles like mini trucks, light-duty trucks, and heavy-duty trucks depending on the volume of goods to be transported. For local shifting, the Bhopal movers packers offer truck rental services at affordable price for quick DIY moving as well as transportation services for commercial needs. For moving to a new location outside the city, they assure safe domestic shifting with shared or dedicated trucks and assure on-time delivery to your doorstep.
To avail more affordable services for relocation, consider decluttering and getting rid of unnecessary items, pack smaller items yourself, schedule your move during off-peak times, and negotiate for better deals.
With AssureShift, you can hire the best moving service providers in Bhopal within a few minutes. Simply fill the inquiry form and share your shifting requirements to get instant cost estimates from 3 best and most reliable packers and movers Bhopal near you. Compare the movers service offered, relocation charges quoted, previous customer reviews and ratings, and choose shifting services that are the best-match for the relocation services you need and your affordability. Discuss about any additional information you need like add-on home shifting services, insurance coverage, storage services, etc., and finalize your deal with the particular packers and movers Bhopal who is the best fit for you.
AssureShift connects customers with verified professional packers and movers in Delhi, Mumbai, Pune, Bangalore, Hyderabad, Chennai, Lucknow, Bhubaneswar, Kolkata, Pune, and 20+ other major cities in India.
In case of any concerns or issues, AssureShift is always there to assist you. From providing satisfactory referrals and round-the-clock support to conducting regular quality checks and taking relevant action against service providers, AssureShift promises reliable service and assures you peace of mind throughout the shifting process. Hire top packers and movers in Bhopal with AssureShift and sit back and relax as they take complete responsibility of your relocation needs.