Office Relocation Services
Relocate your office with ease with our state-of-the-art office shifting services. Get skilled professionals, the latest equipment and top-of-the-line packers and movers from a number of options. Hire a reliable packer and mover with office relocation services in four steps. Fill out the form with your requirements to get quotes instantly.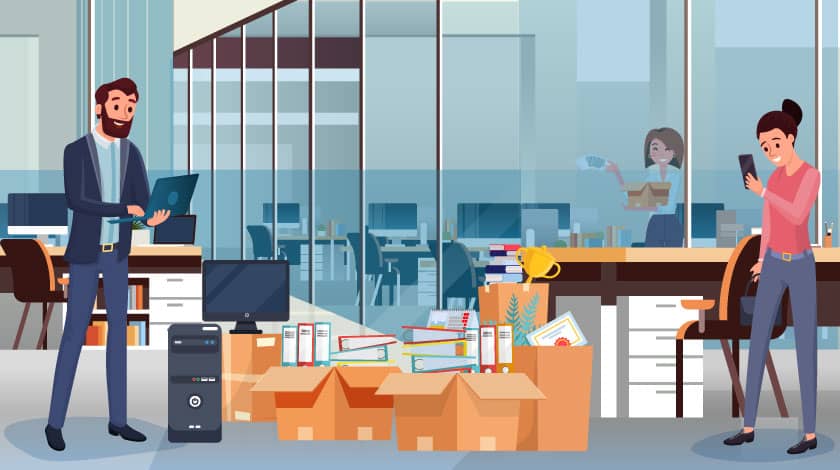 Office shifting is a large-scale operation that requires a lot of focus and manpower. Taking up this task on your will be difficult to accomplish since the manpower is focused on the daily office work, which brings you revenue. You will also need the equipment and know-how to pull it off.
The office shifting services that are provided by our partners offer that in abundance. You get end-to-end office relocation services that take care of the entire move, whether it is the inspection, in the beginning, the packing, loading, transport, unloading, unpacking and the final inspection.
You also get skilled professionals trained to handle IT equipment and carry out such a large-scale operation. If your concern is the volume of goods and their bulky nature, we possess modern equipment like forklifts, mini-cranes, trolleys, panel movers, dollies etc.
They offer high-quality packing materials like foam, bubble wrap, plastic foam sheets, corrugated boxes etc., to ensure the safety of the goods.
Fill the form to hire our partner relocation company's Office moving services as per your particular requirements, and you will get three references that match instantly. You will also get quotes and a free pre-move survey from the companies immediately. You can just compare the prices and hire the one that best suits your needs and budget.
You can also contact us through our customer support team if your face any issues or for queries at any stage of your move.
Hiring Guide for Office Shifting Services
Fill out the moving form with your requirement
Get 3 references of office movers with cost estimates
Compare price quotations, services offered, and reviews
Hire a company, and let them take care of the rest
Process of Office Relocation
Once you have chosen a packer and mover who offers office Relocation services, they will take care of everything until the goods are placed to your liking in your new workspace.
An inspection is carried out to assess the volume and type of goods to be moved. Fragile equipment, appliances and furniture are separated.
Electronic equipment and appliances, like computers, TVs etc., are disassembled.
Another inspection is carried out to see pre-existing damages on all items, which are later packed with the highest quality packing materials. 
The goods are then loaded onto the trucks using modern equipment like forklifts, mini cranes, and dollies to be transported. The critical equipment which is absolutely necessary for the day-to-day functioning of the office like computers, printers and other IT equipment, chairs and accompanying furniture is given the highest priority in the case.
The goods are transported to the destination and unloaded with the utmost care, ensuring no damages occur during the move or the unloading.
The goods are unpacked, assembled and placed wherever you want them to be placed.
A final inspection is carried out to check if any damages did occur during the relocation, after which you can clear your dues.
Preparation Tips for Office Moving Services
Plan the relocation early 
Pick the right dates to avoid important workplace events
Backup your data
Assign a Project Manager
Notify and prepare the staff for the move
Hire a Relocation Company
Have your Office deep cleaned
Declutter unwanted items
Notify your suppliers, distributors and clients 
update your addresses on Google and wherever needed. 
Create a list of your Inventory and organise the items
Label the boxes
Get an Office space organiser
Transfer utilities before moving
Hire Security for the move
---
Relocating your office is a large operation with many intricate tasks involved. Moving your office goods and equipment without hiring a professional service provider is stress-filled, extremely cumbersome and, in some cases, simply impossible.
Our partner moving companies offer professional office moving services that take care of every aspect of the move. Whether it is inspection, loading, transport, unloading, or unpacking, they have you covered.
To ensure a smooth and damage-free move, high-quality packaging materials like foam, corrugated boxes, bubble wraps, plastic foam sheets etc., are used. They also possess modern equipment like mini cranes, forklifts, dollies, trolleys etc., to handle goods of any scale or volume.
You just need to prepare for the move and hire packers and movers who offer office moving services, which you can do in just 4 steps. If you have any doubts, our customer support team is always available.