Tips to Save Money While Relocating Your Car to a New City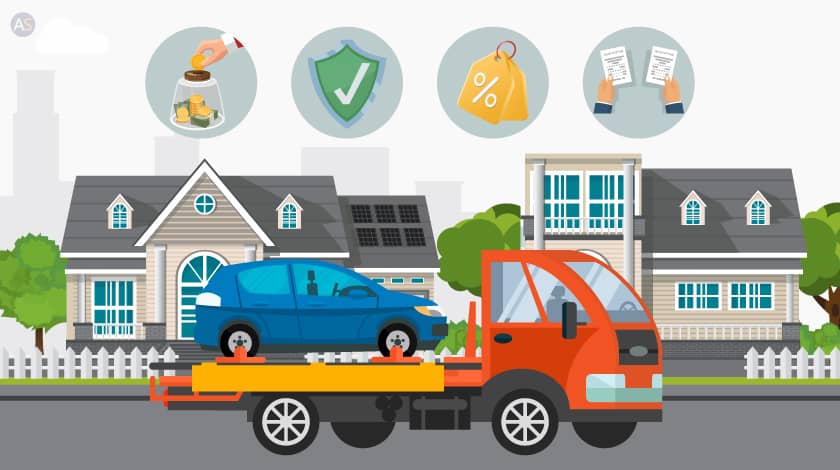 Relocating your car can be a daunting task, especially when it comes to the cost involved. Whether you're moving to a new city or transporting your vehicle for a long distance, it can quickly add up to a significant expense.
In this blog, we'll provide you with some practical and effective tips to help you save money while moving your vehicle, without compromising on the quality of service. From choosing the right mode of transportation to taking advantage of discounts and deals, we'll cover everything you need to know to keep your relocation expenses in check.
#1 Plan Your Move in Advance
Planning your move in advance can help you save a lot of money. It gives you enough time to research and find the best car relocation services at affordable rates. Moreover, you can choose a less busy time of the year to relocate your car as it can cost less.
#2 Drive by Yourself For Short Distance
If you're moving to a nearby city or a location that's within a reasonable driving distance, then driving your car yourself can be a cost-effective option to consider. By doing so, you can save on transportation costs and avoid the risk of damage that can occur during transportation.
However, If you're moving a long distance, it's safer and cheaper to hire a moving company than to drive yourself. Long-distance driving can be dangerous, and the expenses of driving can end up being more than the cost of hiring a moving company.
#3 Compare Quotes 
Don't settle for the first quote you receive. Instead, obtain quotes from at least three to four different car transportation services to get a better understanding of the average cost and what services are included in the price.
Not all car transportation services offer the same services, so it is important to compare the services included in each quote. For example, some companies may provide additional services like door-to-door transport, while others may only offer terminal-to-terminal transport.
#4 Ask for Discounts
When looking for a car transportation service to move your car, it's a good idea to ask if they offer any discounts that you may be eligible for. So, don't hesitate to ask for discounts and see if you are eligible for any of them.
Inquire about discounts upfront: When requesting a quote, ask if the car transportation service offers any discounts. They may have special offers or promotions that you are eligible for.
Mention your specific circumstances: Let the car transportation service know if you are a student, military personnel, or senior citizen. They may have special discounts for these groups.
Offer to pay in advance: Some car transportation services may offer a discount if you pay in advance.
Consider seasonal discounts: Some car transportation services may offer discounts during slower seasons when they have fewer bookings.
#5 Move During Off Season
Moving during the off-season is the most cost-effective way to relocate your car without breaking the bank. The peak moving season in India is usually between March and August, and during this time, transporters may charge higher rates due to high demand.
However, if you can plan your move during the off-season, which is from September to February, you may be able to save money on transportation costs.
#6 Prepare Your Car for Transportation 
Preparing your car for transportation can help you avoid unnecessary costs and damages. Clean your car thoroughly, remove all personal belongings, and empty the fuel tank to reduce the weight. Check for any leaks or damages, and take pictures of the car before transportation. This will help you claim compensation in case of any damages during transportation.
#7 Opt for Terminal-to-Terminal Shipping
Terminal-to-terminal shipping is a cost-effective option that can help you save money while relocating your car. In this option, you will need to drop off your car at the nearest terminal, and the transporter will pick it up from there and drop it off at the destination terminal. This option is ideal for those who can drop off and pick up their car from the terminals themselves.
#8 Check Insurance
Make sure to check with the moving company if they offer insurance coverage for your car during transportation. Taking insurance will save you money in case of any unforeseen damage or loss.
Make sure to ask the car transportation service about their insurance coverage and what it includes. 
Check and read the insurance policy carefully to understand what is covered and what is not. Look for coverage limits, deductibles, and any exclusions that may apply.
Verify the insurance company's reputation and ensure that they are financially stable.
If the car transportation service's insurance coverage is not sufficient, consider purchasing additional insurance from a third-party insurer.
Keep all the insurance documents, including policy, receipts, and any other relevant paperwork, in a safe. You may need to present these documents in case of any damage or loss during transportation.
Conclusion
Relocating your car can be expensive, however by utilizing the money-saving tips discussed in this blog, such as choosing the right mode of transportation, comparing quotes, planning ahead and booking early, and so on you can reduce your expenses without compromising on quality.
Finally, always do your research, read reviews, and ask questions to movers before hiring and select a reliable transporter to ensure a safe and secure transportation of your car. By following these tips, you can move your car to any location in India without exceeding your budget and have a stress-free relocation experience.