Tips for Moving With a Newborn or Infant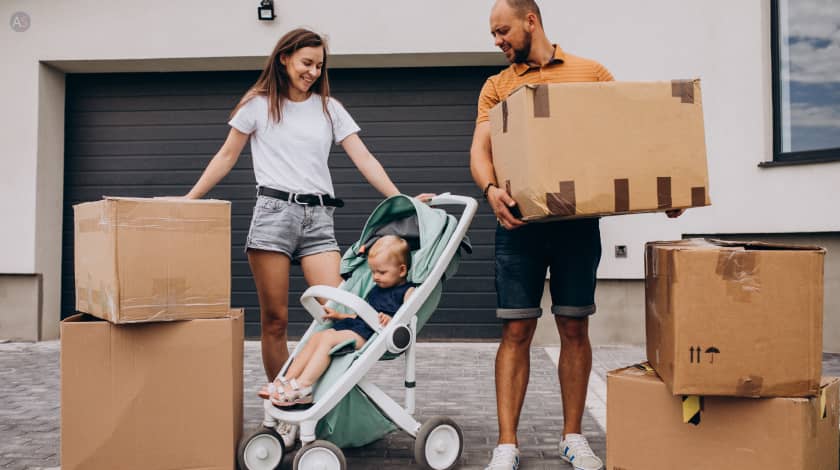 Moving can be a challenging experience, but it's even more daunting when you have a newborn or infant in tow. However, with a little planning and organization, you can ensure a smooth transition for your little one and the entire family. Here's a guide on how to relocate your home with infants, so you can tackle this process like a pro!
1. Plan Ahead 
Before beginning the packing process, take a moment to carefully plan your relocation. Develop a checklist outlining all the tasks you must complete and establish a timeline to maintain organization. Planning will help reduce last-minute stress and ensure a smooth relocation.
2. Choose the Right Time to Move
Consider the ideal time for your move. If possible, try to move during a time when your baby is more likely to be relaxed or asleep, like early in the morning or late in the evening. Avoid moving during nap times, as disruptions could lead to a fussy baby.
3. Find the Right Packers and Movers
Having a newborn or infant means you have your hands full. Enlisting the assistance of a professional moving company can alleviate some of the pressures of relocating.
Before hiring them, ensure you check the qualifications of packers and movers, as well as customer reviews. Make sure to have a conversation with your chosen movers about your unique requirements, such as baby gear, nursery essentials, etc.
4. Organize and Declutter
Before packing, declutter your home and decide what you will keep, donate, or discard. This will  make packing and unpacking easier and help you create a more organized living space in your new home.
5. Babyproof Your New Home
As you settle into your new home, make sure to address any safety concerns and baby proof the space. Install safety gates, outlet covers, and furniture anchors to create a secure environment for your little one.
5. Pack a Baby Essentials Bag
Prepare an essentials bag for your baby, including diapers, wipes, bottles, formula, a change of clothes, and favorite toys or comfort items. This bag should be easily accessible during the move and the first few days in your new home.
6. Keep Your Baby's Routine
During the moving process, try to maintain your baby's routine as much as possible. This includes feeding, napping, and bedtime schedules. A familiar routine will help your baby feel more at ease during the transition.
6.  Prioritize Your Baby's Safety
As you pack and prepare for the move, make sure you keep safety in mind. Keep hazardous items such as sharp objects, small parts, and cleaning supplies out of your baby's reach. On the moving day, create a safe space for your baby by setting up a playpen or asking a friend or family member to look after them.
7. Prioritize the Nursery
Set up the nursery as soon as you arrive at your new home. This will help your baby adjust quickly and provide a familiar space for them. Consider the importance of Vastu for home when setting up your baby's room.
8. Maintain Routines and Consistency
Keeping a consistent routine is crucial for your baby's sense of security during the move. Stick to their regular feeding, napping, and bedtime schedules as much as possible. This consistency will help your baby adjust to their new environment and minimize any potential stress.
9.  Take Care of Yourself
Moving can be physically and emotionally exhausting, especially with a newborn or infant. Don't forget to prioritize self-care during this time. Stay hydrated, eat well, and get plenty of rest. Taking care of yourself will ensure you have the energy and focus to care for your baby during this transition.
10. Seek Help from Friends and Family
Ask friends and family for support during the move. They can help with packing, childcare, or running errands, which will give you more time to focus on your baby and the moving process.
Conclusion
Moving with a newborn or infant is a challenging yet manageable experience with the right preparation and mindset. By planning ahead, prioritizing safety and routines, enlisting help, and being patient, you'll ensure a smoother transition for both you and your baby. Remember that adjustments take time, and soon enough, your new home will become a familiar and comforting space for your little one.