Why is Vastu Important for your Home & Office?
Vastu can be effective based on its relationship with the building to assure the flow of peace and harmony.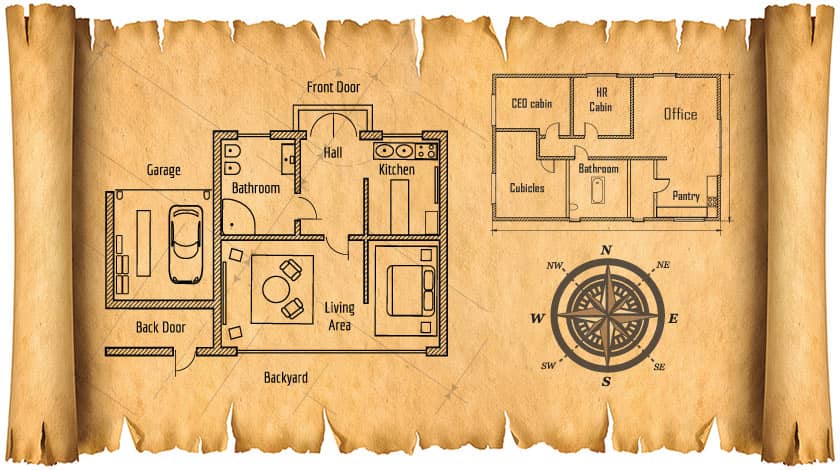 While investing in a house or office, or building, you look upon several factors like the cost, surroundings, area, and whether the property is constructed based on the rules of Vastu. Now the question that arises is, what is Vastu and how it benefits your home or office.
Vastu has a significant role to play in balancing our lives. Vastu Shastra is the science of architecture that promotes design concepts addressing direction-specific study associated with the foundation of a house, office, plots, or any other buildings, as specified by its nature. It helps build a perfectly balanced home with a flow of positivity, happiness, peace, and the eliminating  all negative elements.
Vastu includes mathematical calculations of a property's direction-based aspects. Vastu principles include the proper and ideal positions of rooms like the correct directions for placing exit and entry passages, placement of furniture items, and so on. Following Vastu Shastra can enhance your inner peace and calm as well as promote interest in knowledge. Therefore, we can undoubtedly say that Vastu is vital in our lives.
---
Is Vastu Really Important?
The main purpose of Vastu is to bring positive changes and advantages for the occupants residing in homes or people in their workspace.
Vastu has a crucial role while constructing buildings and ensures dimensional and other characteristics of rooms in connection with length, size, etc. This ensures that positive cosmic energy can flow to your place at its fullest.
Thus, this science proves to be relevant and productive even today, and its application has become inevitable. Once it's done, all fruitful benefits like eternal prosperity, positive cosmic energy, peaceful relationships, and so on make their way to your life.
The success of Vastu science depends on whether the principles associated with directions of rooms, placement of items are properly followed, and this can be done with the help of a Vastu expert. 
Importance of Vastu for Home
One of the most relevant reasons to use Vastu for your home is to bring cosmic energy into your living environment.
Following Vastu principles allow all five energy elements (fire, water, air, earth, space) of the ever-giving nature to harmonize in your place. This can bring positive benefits like:
Success in your chosen field; education or career
Peace and harmony in your marital or love relationship
Achieve success in business or professional life
Promote happiness and helps to stay healthy
Enhance financial happiness
Vastu Shastra boosts your spiritual understanding of living in complete harmony with the five elements of nature, which will gradually reward you with a blissful living experience. In order to ensure the flow of energy in your home, make sure that furniture and other household items are placed according to the manner suggested by the Vastu expert.  
Note: Do not add any furniture that is in a triangular or circular shape; instead, go for a square or rectangular one. Also, make sure to keep your furniture at a distance from the wall rather than sticking to the wall in order to allow the free flow of positive energy in the home.
Hire experienced movers to relocate your furniture and other households safely!
Significance of Vastu for Office 
Vastu shastra plays a vital role in everything you do in the office, from cash flow to business stability. An office that follows the Vastu principles can easily balance positive and negative energies and generate fortune and positivity. A Vastu-compliant office provides:
Enhances productivity and growth of your business
Boost creativity among your employees
The positive and vibrant ambience around the workplace
Accelerates financial prosperity
Promote harmony in the office culture
You have to pay attention to the direction of your workplace and analyze whether the property favors the elements of Vastu before purchasing any commercial property.
Note: The factors like office setup, office desk position, the direction of departments, proper placement of furniture, and others have to be considered for increasing positive ambience and vibrancy in your office place.
---
Simple Vastu Tips for You
The below-mentioned tips can help you to ensure happy and positive vibes for you and your family or at your workspace:
Vastu Tips For Home
The entrance of your home should be situated either towards the north or north-east direction as it is apt for sunlight to come into the house. Enough sunlight is required for feeling positive energy. 
According to Vastu, bedrooms should be located in the west, south-west, or the south. Constructing them in other directions can result in anxiety and sleeplessness. 
Your home should have a proper ventilation system. It would be ideal to have a north or an east-facing balcony. 
It is said that the kitchen is ruled by the fire element. So it has to be located in the south-east corner of your home. 
It would be wise to avoid a staircase in the middle of the house as it can block the sunlight from entering and make the home congested. The best position for the staircase is the south-west direction.
Vastu Tips For Office
In order to bring positive energy and good luck, the office building has to face towards the north, north-east or north-west direction.
According to Vastu, the main entrance door should be situated in the east or north direction. Remember not to place any objects close to the entrance or nearby that cause obstacles.
It would be better to place desks of the workplace in rectangular or square shape and avoid L shape for preventing confusion. The best direction to place your desk is in the south-west direction to ensure less stress.
Make sure to keep the central part of the office empty.
It is advisable to place all the electrical items in the south-east direction of the office to avoid negative energy.
---
Based on the information mentioned above, following Vastu principles can actually bring in positive life changes even though it occurs gradually.
This science of architecture can develop design concepts that boost nature's five elements for the happiness and well-being of every person living in the house. Therefore, Vastu Shastra's importance cannot be ruled out for someone wanting to build or purchase a new home or buy a commercial property.