8 Easy Tips to Pack Your Shoes when Moving Homes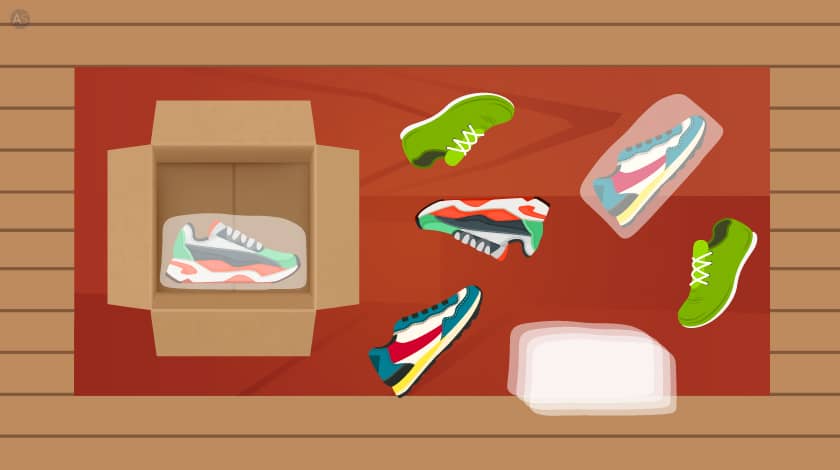 Shoes are one of the most frequently ignored items while packing for a move. If you are a shoe lover with a large collection, you must pack it properly so that you don't damage them. Shoes are not only expensive, but they also have sentimental worth, so take particular care while packing them to ensure they arrive in pristine shape at your new home.
In this blog, we will walk you through the process of packing shoes, from cleaning and sorting to packing, so you know precisely what to do to safeguard your beloved footwear.
#1 Sort Your Shoes by Style or Season
The first step when you have a lot of shoes is to sort them, for that take out all the shoes you possess and categorize them according to season like summer wear, winter wear and so on. Or sort them by category: heels, boots, made of leather, dress shoes, casual shoes etc. This will make it easier to pack them and keep them organized.
#2 Get Rid of Unused Shoes
The first thing to do is declutter. Look for unused shoes and segregate them based on their condition, that is, whether they are worn out, or are of the wrong size, outdated etc.
Among them, you can separately pack the ones in good condition to give for donation or charity, while tossing off the worn-out ones. This can save you a lot of space while packing.
#3 Clean & Dry Your Shoes
Before you start packing, it's important to clean your shoes and get them repaired if necessary.  If you have leather shoes such as boots you can recondition them. If your sneakers and synthetic shoes are dirty make sure you wash and dry them with mild soap and water before packing them.
Make sure there is no moisture before packing, to prevent mould during transit. You can also clean them using a brush to dust off any loose dirt on your shoes and wet a rag with some soapy water and gently wipe the surface clean to remove any stains or spots.
Note: Use an antibacterial spray on and inside your shoes to kill any fungal growth.
#4 Stuff Your Shoes With Packing Paper
Be equipped with sufficient packing materials like carton boxes, packing papers etc., for your move. Crumble old newspapers or use packing papers to preserve the form of your shoes, before putting them into carton boxes. Make sure you push it all the way to the toe and fill in the entire opening. This will prevent the shoe from deforming.
Note: For boots, stuff paper into the vertical shafts so they don't bend or flop over.
#5 Wrap the Pair of Shoes in Packing Paper
To prevent any scuffs on your new shoes, use packing paper or bubble wrap to protect them. Lay the packing paper flat on a table and set one of your shoes on the paper on its side and wrap the paper to cover all its sides and tape it.
Note: Avoid using newspaper to wrap your shoes since the ink could transfer onto them and leave stains.
#6 Tie Shoes With Laces Together
For shoes like sneakers, keep pairs intact by tying their laces together. This way, you won't be digging through the pile trying to find a shoe's match when you find yourself in need of a pair before you've fully unpacked.
#7 Put Your Shoes in their Original Boxes
The best way to pack your shoes for a move is to keep them in the original boxes. Simply scrunch up some packing paper around the shoes to keep them in place and they'll arrive at your new home in perfect condition.
Note: The best way to pack shoes is by using packing paper. Avoid using newspaper print can rub off and leave a mark.
#8 Add Tea Bags or Baking Soda to Eliminate Odors
Keep your shoes smelling fresh during transit. You can use tea bags or baking soda wrapped in gauze to help absorb the odours. Toss a handful of tea bags either directly in the shoeboxes or in the larger container. This way, your shoes won't stink when you open the box. You can also use dried citrus peels, like oranges, limes, or lemons.
Conclusion
Packing shoes when moving homes may seem like a small task, but it can make a big difference in the condition of your footwear when you arrive at your new home. By following the simple steps outlined in this blog, you can ensure that your shoes are well-protected during the move and that you'll be able to find them easily when you arrive.
Remember to clean, sort, use shoe bags or plastic bags, pack in a sturdy box, label clearly, place in an easily accessible spot, and unpack as soon as you arrive. With these tips, your shoes will be ready to walk through the door of your new home with you.