How to Pack and Move Outdoor Belongings: Expert Tips for a Smooth Move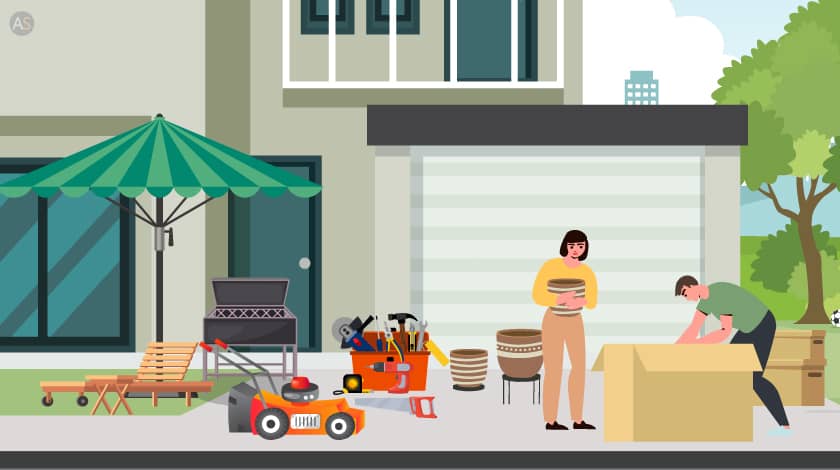 Are you planning a move to a new home and feeling overwhelmed by the thought of packing up all your belongings, including your cherished garden and its related tools and outdoor items? From patio furniture to gardening tools, packing and moving your outdoor belongings can be a challenging task. But don't worry, we've got you covered! 
In this blog, we'll share some expert tips and tricks to help make the process of packing and moving your outdoor belongings a breeze. So, let's get started!
Step 1: Preparing For the Move
Before you start packing, it's essential to prepare for the move. Once you have a clear idea of what you have, you can decide on what to keep and what to discard or donate.
Start by creating an inventory of your outdoor belongings. This can range from the small (e.g., secateurs, trowels, shears, and gloves) to the large (lawnmowers, compost bins, and garden furniture) and from the simple (rakes, hoses, wheelbarrows) to the complex (power tillers, seed drills) and plants.
Group your items based on their type, size, and fragility. Prioritize your items according to their value and necessity. Determine which items are worth moving based on their condition and usage frequency.
Consider the size and layout of your new outdoor space and if you have any items that won't fit or aren't practical for the new environment, you can discard or donate them.
Step 2: Gathering Right Supplies
Once you've decided what to keep, it's time to gather the necessary packing supplies. You can purchase or rent these supplies from a local hardware store or moving supply store. Here is a list of a few items you may need.
Heavy-duty cardboard boxes in various sizes
Plastic moving boxes
Packing paper
Bubble wrap
Moving blankets and old towels
Plastic bags
Markers to label boxes
Packing tape
Garbage bags
Step 3: Cleaning & Disassembling
This is an essential step you need to perform before packing your outdoor belongings to your new home.
Take the time to clean them thoroughly to avoid transferring dust and debris to your new home.
Disassemble any large items such as tables, chairs, and benches to make them easier to pack and transport.
Keep all screws and parts in a secure plastic bag and tape it to the item to keep everything together.
Note: For plants, prepare them for transport by watering them a day before the move and wrapping them in a plastic bag with holes to allow for ventilation.
Step 4: Packing
When packing your outdoor belongings, use the proper techniques to prevent damage during transport. Label each box with its contents and destination room to make unpacking easier.
Plant pots: wrap them in bubble wrap and pack them in cardboard boxes. 
Lawn furniture: disassemble them as much as possible and wrap each piece in bubble wrap. 
Long-handled yard tools: bundle together and secure with rope or tape.
Small tools: wrap in newspaper or bubble wrap and pack securely in small boxes.
Sheds and playground equipment: disassemble, keep parts together, and bundle.
Lawnmower or other fuel-powered equipment: drain all the fuel, clean thoroughly and wrap in plastic.
Grills: remove charcoal and propane tanks, and clean thoroughly before wrapping in plastic.
Hoses: drain all water, coil the hose, and place it in a box
Patio umbrellas: clean and dry the umbrella before securing it shut and cover it with plastic.
Step 5: Moving
Move larger plants into lightweight, disposable containers. This makes them easier to handle. If you are planning to move everything by yourself, you need to find an appropriate sized moving truck beforehand. After all the packing process, load these goods onto the truck with the help of your friends or family members. Load heavier items first, followed by lighter ones. Ensure fragile items are secured and won't move during transit. Ensure that you have secured your belongings for transport using ratchet straps or bungee cords. 
While if you are hiring a professional mover, they take care of every aspect of the move on your behalf, as they are well equipped and experienced in handling all your belongings safely to your new location safely.
Step 6: Care for your plants during the move
Your plants may need some extra care during the move, particularly if you are relocating to a different climate or during extreme weather conditions. Ensure that they receive adequate water, sunlight, and ventilation during transit to keep them healthy and stress-free.
Step 7: Unpacking & Settling In
Once you've arrived at your new home, it's time to unpack and settle in. Unload the truck and start unpacking your boxes.
Assemble your outdoor furniture and install any equipment such as sprinklers or outdoor lighting. Finally, take the time to maintain your outdoor belongings regularly to keep them in good condition.
Step 8: Acclimate your plants to their new environment
Give your plants some time to adjust to their new environment by gradually introducing them to the local climate, soil, and sunlight conditions. Monitor their health closely and provide any necessary care during this transition period.
Conclusion
Packing and moving your outdoor belongings can be a daunting task, but with proper planning and techniques, you can make the process a bit smoother. Remember to prepare for the move, gather the necessary supplies, use proper packing techniques, and secure your belongings during transport. With a bit of effort, you can enjoy your outdoor space in your new home in no time.