15+ Apps That Make Settling into a New City Easy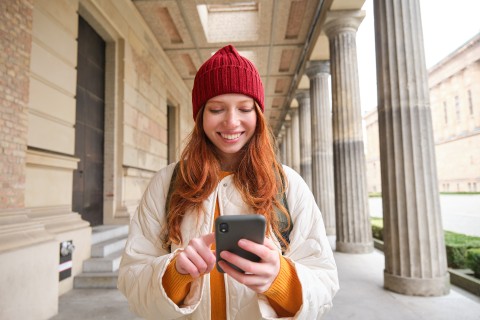 We live in a world where there's an app for almost everything - from keeping track of our health and fitness, managing our finances, to even learning new languages. When it comes to settling in a new city, there's no exception. This is particularly true in a country like India, where rapid urbanisation and digital growth have resulted in the proliferation of numerous helpful apps.
Also Read: How to Settle in Your New Home
Essential Apps for Settling into a New City
Consider moving to a city like Bengaluru, the Silicon Valley of India. Known for its sprawling gardens and vibrant tech scene, the city is a melting pot of cultures and experiences. But, without the right tools, you might find yourself lost in the maze of its bustling streets, or struggling to find a home that fits your needs.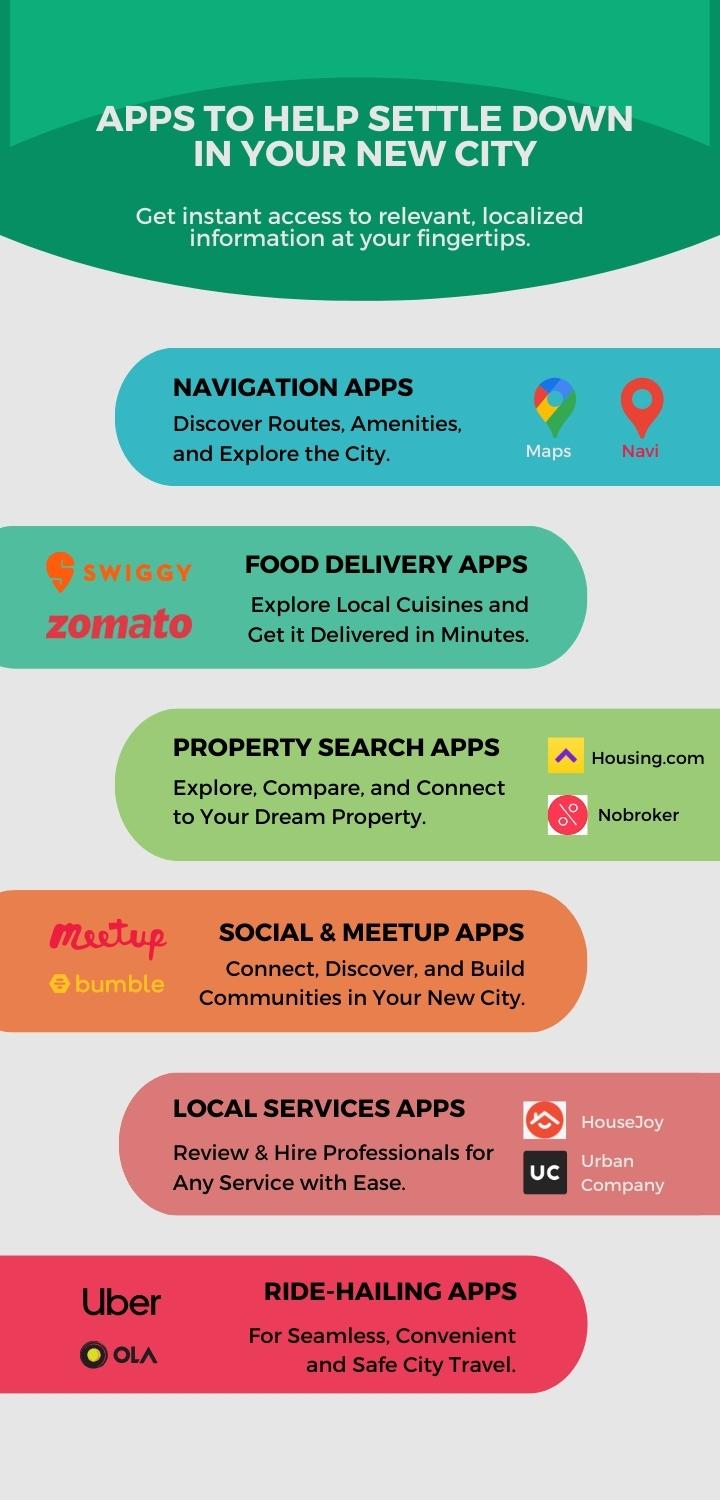 Apps for Your Personal Navigation
Some of the most common navigation apps used are Google maps, NaviMaps, Maps.me etc.
These app provides real-time GPS navigation, traffic updates, and details about millions of places, such as reviews, ratings, and contact information.
Discovering Routes: Navigation apps help you find the best routes to your destination, whether you're driving, walking, or using public transit. They can save you time by suggesting less congested routes or providing real-time traffic updates.
Finding Essential Services and Amenities: Apps often include the locations of essential services like hospitals, pharmacies, grocery stores, and more. This feature is crucial when you're trying to familiarize yourself with a new city.
Public Transportation Guidance: Navigation apps can provide you with information about public transportation schedules, routes, and even prices, making it easier to plan your travels.
Safety: Certain apps allow you to share your live location with trusted contacts, a feature that can provide a safety net in unfamiliar locales.
Exploring the City: Apps can suggest popular attractions, local parks, museums, and more. Some also offer user reviews and ratings, helping you choose which spots to visit.
Saving Offline Maps: Internet connectivity can sometimes be a problem. Most navigation apps allow you to download maps for offline use, ensuring you won't lose your way.
Integration with Other Services: Many navigation apps integrate with other services such as food delivery or ride-hailing apps, providing a seamless experience in a new city.
For a newcomer in a city, navigation apps can help find the fastest route to a destination, the schedule of public transportation, or the location of the nearest supermarket or hospital. You can even explore your neighborhood by viewing the local shops, restaurants, and landmarks marked on the map.
---
Apps to Get Local Delicacies Delivered to Your Doorstep
Some of the most common food delivery apps used are Swiggy, Zomato, Eatsure etc.
These food delivery apps offer a wide variety of food choices from a vast network of restaurants, ranging from street food to fine dining. You can explore the local cuisine, read reviews, and even track your order in real time. Moreover, it provides the option to schedule your meals, ensuring that you don't have to worry about your next meal while settling in.
Convenience: The primary benefit of food delivery apps is the convenience they offer. You can order meals from a wide range of restaurants and cuisines without leaving the comfort of your home.
Exploring Local Cuisine: Food delivery apps provide access to an array of local restaurants, making it easy for you to explore local cuisine and discover new favorite dishes.
Time-Saving: If you're busy with the process of moving, unpacking, or setting up your new home, preparing meals can be a time-consuming task. Food delivery apps can save you valuable time.
Meal Options for Dietary Restrictions: Whether you follow a specific diet (like vegan, gluten-free, or low-carb) or have allergies, food delivery apps make it easy to filter restaurant options and menu items based on your dietary needs.
Availability: Many food delivery apps operate round the clock, allowing you to order food whenever you need, whether it's late-night cravings or early breakfast.
User Reviews and Ratings: Most apps offer reviews and ratings for restaurants and specific dishes, helping you make informed choices about the quality and taste of the food.
Promotions and Discounts: Food delivery apps often provide special offers, discounts, and loyalty programs, helping you save money.
Also Read: Best Indian Cities to Move for Food Lovers
---
Apps to Simplify Your Housing Hunt
The most used property search apps are Housing.com, Nobroker, 99acres.com etc.
These property search apps allows you to filter properties based on your preference - location, type of accommodation, budget, and more. It provides detailed information about each listing, including amenities, photos, and the proximity to key places like schools, hospitals, and transport hubs. This app also helps to find shared accommodation for settling into a new city.
Wide Range of Options: Property search apps provide access to a wide range of housing options in your desired city. Whether you're looking for a small apartment, a spacious villa, a furnished flat, or a property within a gated community, these apps have you covered.
Location-Specific Search: You can search for properties in specific neighborhoods or areas within a city, helping you find a place close to your workplace, schools, or preferred amenities.
Virtual Tours: Many apps now offer virtual tours of properties. This feature can save time and effort, particularly when you're in a different city or unable to visit the property physically.
Comparing Properties: These apps allow you to compare multiple properties in terms of price, amenities, location, and more. This can help you make an informed decision based on your priorities.
Customized Alerts: Most property search apps have a feature that allows you to set up alerts for specific types of properties within your budget. This ensures that you don't miss out on any potential homes that meet your criteria.
Reviews and Ratings: Apps usually feature reviews and ratings from previous renters or buyers, providing insights into the property's condition, the landlord's responsiveness, the neighborhood, and more.
Ease of Communication: Apps often provide direct communication features with property owners or agents, making it easy to ask questions, arrange visits, or clarify details.
Also Read: Questions to Ask Your Neighbors about the Neighborhood
---
Apps to Build Your Social Circle
Some of the most commonly used apps for building your social circle are Meetup.com, Bumble, Hey!Vina etc.
You can join various groups, participate in their events, and gradually build your social network in the new city. It's a great way to integrate into the local community and feel more at home.
Finding Your Community: Meetup apps allow you to connect with individuals who share your interests. Whether you're into books, hiking, cooking, or technology, you can find groups that cater to your interests and hobbies.
Networking Opportunities: These apps offer great networking opportunities. Whether you're looking to make professional contacts in your field or just meet like-minded people, meetup apps can facilitate these connections.
Social Events: Meetup apps often organize social events, which are great opportunities to meet new people in a relaxed and fun environment. These can range from casual meetups in parks to organized parties or hobby clubs.
Local Insight: Meeting locals can provide valuable insight into the best places to eat, shop, or visit in your new city. This insider knowledge can help you settle in much quicker.
Support and Advice: Moving to a new city can be tough, and sometimes you may need advice or support from those who've been in your shoes. Meetup groups can provide that much-needed support and understanding.
Activity Partners: If you're into fitness, love to hike, or enjoy other physical activities, meetup apps can help you find activity partners to make these experiences more enjoyable.
Language Exchange: If you're in a city where a different language is spoken, some meetup groups focus on language exchange, which can be helpful to learn and practice the local language.
Also Read: How to Interact With Your Neighbors
---
One-Stop Solution Apps for Local Services
Some of the most commonly used services app are Urban Company, Housejoy, Flatchat etc.
These apps connect you with professionals who are vetted and verified, ensuring a reliable and quality service. You can browse services, check prices, and schedule appointments, all from your smartphone.
Directory of Services: Local services apps function as a directory, providing a list of service providers from various categories like plumbing, electrical work, house cleaning, pest control, and more.
Reliability: These apps often verify the service providers listed on their platform. This means you can trust the reliability and professionalism of the services listed.
Reviews and Ratings: Users of these services often leave reviews and ratings. This feature is invaluable when you're unsure about the quality of a service.
Price Comparisons: Many apps allow for price comparisons between different service providers, helping you get the best value for your money.
Booking and Scheduling: Most local service apps allow you to book services directly through the app and schedule them at your convenience.
Emergency Services: Many apps list emergency services like locksmiths, emergency plumbers, or electricians who can respond quickly when you're in a bind.
Localized Searches: These apps usually allow you to search based on your location, ensuring the services are available in your specific area.
Also Read: How Professional Cleaners Help During Relocation
---
Apps for Commuting
Ride-hailing service apps like Ola, Uber, Rapido take the stress out of navigating a new city. They provide a convenient, reliable, safe, and cost-effective way to travel around, making your settling-in process much smoother.
Ease of Navigation: If you're unfamiliar with the new city's roads and transportation systems, these apps can be a lifesaver. You can simply enter your destination, and the driver will take care of the rest.
Convenience: These apps allow you to book a ride with a few taps on your smartphone, eliminating the need to hail taxis on the street or navigate public transport.
Time-saving: Ride-hailing apps are particularly useful when you're in a hurry. They provide an estimated time of arrival, helping you plan your schedule better.
Safety: Most ride-hailing apps have safety features, such as sharing your ride details with trusted contacts, tracking your route, and driver verification.
Cost-effective: Ride-hailing apps usually provide a fare estimate before you book, helping you manage your travel expenses. Additionally, they often offer discounted rides or reward points.
24/7 Availability: These services usually operate round the clock, making it easy for you to travel at any time of the day or night.
Variety of Options: Most ride-hailing apps offer a range of vehicle options to choose from, depending on your needs and budget.
---
Why Using Apps Makes the Transition Easier
Imagine the first day in your new city. The roads are unfamiliar, the pace of life is different, and the local language may even be a barrier. Also, there are numerous things that one should be aware of while moving to a new city. You might not know where to find a nearby grocery store or even the most efficient way to commute to your workplace. This is where apps can prove to be a lifesaver, transforming your smartphone into a personal concierge that guides you through these unknown territories.
One of the main reasons apps make settling into a new city easier is their ability to provide instant access to relevant, localized information. Take, for example, an app like Google Maps. If you're new to Mumbai's intricate network of lanes and bylanes, this app can help you find your way around with ease, suggesting the most efficient routes and even offering options for public transport.
---
In today's digital era, settling into a new city doesn't need to be as daunting as it once was. As we've explored, apps like Google Maps, Swiggy, Housing.com, Meetup, and Urban Company can serve as your digital allies, helping to mitigate the challenges that come with relocation. From navigating your way through new streets, exploring local food delicacies, finding a home, building a new social circle, to even sorting out local services, these apps have got you covered.
However, it's crucial to remember that while these digital tools are incredibly helpful, there's no substitute for physical exploration and personal experiences. Here is some additional tips to adjust in a new city. So, step out and explore your new city, interact with locals, and embrace the surprises and opportunities that come along your way. After all, every city has its unique character and charm that's best experienced firsthand.