The Best Indian Cities for Foodies to Move into and Live in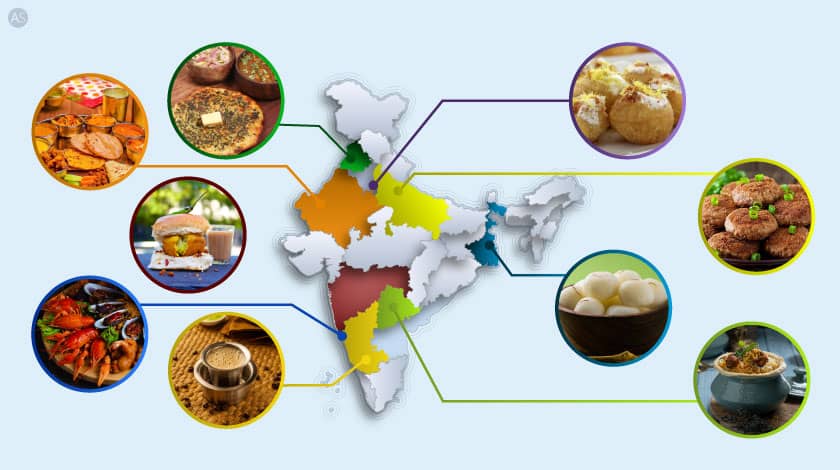 India is a country known for its diverse and delicious cuisine, and for foodies, it's a paradise. From the spicy street food of Mumbai to the rich and flavorful biryanis of Hyderabad, there are countless dishes to discover and enjoy.
Whether you're looking to indulge in traditional street food or fine dining, India is a food lover's paradise, and it can be difficult to narrow down the best places to go. But with so many cities and regions to choose from, where should a food lover start their culinary journey in India?
That's why we've put together a list of some of the top Indian cities for foodies. Keep in mind that these cities are not listed in any particular order, as each one has its own unique culinary offerings to explore. So pack your bags, and get ready for the culinary adventure of a lifetime!
Top Indian Cities for Foodies
Delhi
The capital city of India also vies for its position as the food capital of the country. Home to one of the best street food scenes in India, the city boasts a wonderful palette that consists of a variety of chaats, savouries, and sweets.
Its street food collection of Chole Bhature, Butter Chicken, and a host of chaats is quite something to behold. Take a stroll down Chandni Chowk or Paratha Gully, and you can immerse yourself in delicacies like Nihaari, Daulat ki Chaat, Moth Kachori, and Kesar Lassi.
Also read: Best places to live in Delhi
Mumbai
Another city famous for its local cuisine and street food is Mumbai, the financial powerhouse that never sleeps. Home to the fluffy Paav, a type of bread that does not contain yeast, Mumbai has some mouth-watering dishes you would want to dig into.
The first of those dishes is the Vada Paav, a local staple. Whether as breakfast or a chai time snack, this little dish fulfils its role regardless of the time. Paav bhaji, Misal and Poha are some other dishes that you need to try. The cherry on top, however, is Ice Golas, a crushed ice dessert that comes in many flavours.
Also read: Best places to live in Mumbai
Kolkata
The city that sits on the top of the list of street food cities in India, second only to Mumbai, is Kolkata. It is a city that never disappoints foodies, both in terms of variety and versatility of the cuisine. Whether it's Bengali, Chinese, North Indian, Rajasthani, or Mughlai cuisine, you will find some amazing eateries that serve them.
Mughlai paratha, phuchka, and cutlets in the city's narrow streets; Chinese food at Kolkata's China Town; and an array of some of the best Roshogolla, Jalebi, and Kachori at the famous New Market Kolkata are some of the places you must visit. The kicker is that it costs less than you can imagine.
Also read: Best places to live in Kokata
Bangalore
Bangalore's palate is a unique blend of traditional South Indian food and an array of multi-cuisine restaurants. It is a foodie's dream. You can pretty much find any cuisine in the world, and most of them taste authentic.
Even so, you will want to immerse yourself in the local food culture. Mouth-watering Masala Dosa and soft Idlis, accompanied by some crispy Vadas for breakfast, would be the perfect start to your day.
If you are talking about the specialties of the city, then Bisibele Baath and Bonda Soup are novelty that you must try as well. If there's one thing that the city is known for, it's Filter Coffee; an iconic version of coffee that has been the signature of the city from time immemorial.
Looking for something scrumptious? You can stroll down the food street in V.V. Puram for a bite of street food or hop into CTR in Malleshwaram for an all-consuming breakfast.
Also read: Best places to live in Bangalore
Lucknow
Another city that is vying for the seat of kings is the city of Lucknow, the city of Nawabs. The age-old city throws up some amazing delicacies and has every right to be on this list. The best of the Awadhi cuisine, whether it is spicy Kebabs, aromatic Biriyanis, or piping hot Kormas, is found on every street corner.
Eateries that are more than a century old line the streets of Hazratganj. You can have a chai at Sharma Ji's and make your way through there, or if you fancy something sweet, you can have a bite of their famous Kulfi.
Also read: Best places to live in Lucknow
Amritsar
Punjabis are generally outspoken, and so is their food. They don't mince matters when it comes to it. They believe great food begets great times, and their food is nothing if not great. Amritsar is a pilgrimage destination for religious folk and foodies.
Overflowing with the best Punjabi cuisine in the country, it is a destination that every foodie has to visit in their lifetime. Butter-laden Parathas, hot Jalebis, soft Kulchas and some amazing lassis are just some of the food that awaits you at Amritsar.
Jaipur
The home of Rajasthani food, Jaipur is among the top destinations for foodies. The pink city has something for everybody, from Kachoris and Kahkras to Kulfis and a variety of sweets. It doesn't matter if you are a savoury person or born with a sweet tooth, the city's endless eateries will satisfy your stomach with every flavour it craves.
Also read: Best places to live in Jaipur
Hyderabad
Who here hasn't heard of Hyderabadi Biriyani? If you haven't heard of it, you cannot call yourself a foodie. Eating this is like a right of passage; you are incomplete without having tried it at least once.
A blend of South Indian, Hyderabadi, and Mughlai cuisines, the city has some unique dishes to offer. Haleem during Ramadan, Guntur Idlis for breakfast and a variety of Uttappams will light a fire in your belly, literally.
If there is one thing that Hyderabadi cuisine is known for, it's spice. It is among the spiciest food you will ever eat, second only to Sauji/Saoji cuisine (Nagpur's signature cuisine that's very spicy and mostly non-vegetarian).
Also read: Best places to live in Hyderabad
Goa
Food is a way of life in Goa. The city is just built differently; it's the party city, the seafood capital of India, and an amazing vacation destination. The Portuguese influence and the subsequent marriage of Indian, Goan, and Portuguese cuisines have resulted in a unique cuisine that predominantly celebrates seafood.
Pork Vindaloo, Pork Feijoada and Prawn Balchao are some of the dishes born from the marriage of these cuisines. Goan Fenni, a cashew-based drink, is another speciality that is a must-try.
Conclusion
India is famed for its variety of cuisines, although there are many cities that are not listed here. If you are looking for the best of the best, then these are the Indian cities that offer a wide variety of delicious and authentic food options.
Whether you're looking to indulge in traditional street food or fine dining, India is a foodie's paradise. So pack your bags and get ready for the culinary adventure of a lifetime!