Hire Top Packers and Movers in Vadodara
346
Vadodara
Hire best packers and movers in Vadodara for safe and affordable relocation. Fill the form and get references and cost quotes from 3 professional movers and packers in Vadodara. Compare charges, services, profiles and reviews & ratings to finalize your deal with the best-suited packers and movers Vadodara within a few minutes.
Get Quote From
3 Nearby Movers
Quickly Compare
& Save Min 25%
Guide to Hire Best Packers and Movers Vadodara with AssureShift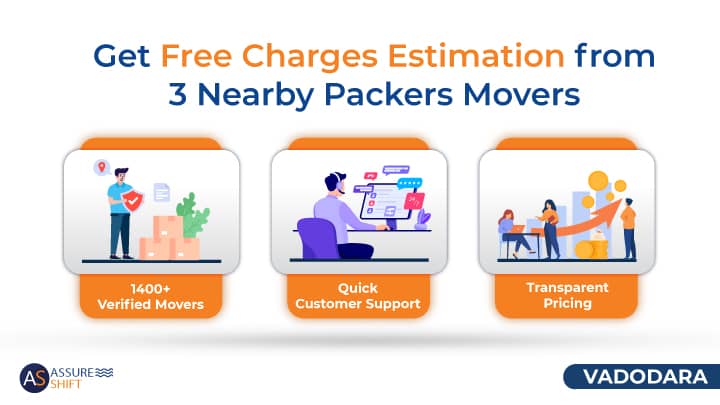 Welcome to AssureShift, a leading hiring platform to hire the best Packers and Movers in Vadodara!
We bridge the gap between customers and professional packers and movers Vadodara to make your relocation process stress-free, quick, and as seamless as possible.
With a large network of more than 1200 verified moving companies in 25+ major cities, including Vadodara, we ensure our relocation companies are capable of meeting our quality standards as well as fulfilling every customer's unique shifting requirements at the most affordable relocation prices.
All the movers and packers Vadodara featured on AssureShift undergo thorough screening and verification processes to ensure 100% reliability and professionalism.
Document Verification: Every company's business/GST registration is thoroughly checked.
Physical Verification: We ascertain the company's office presence and location.
Company Owner Details: Background checks are conducted on the identity of the owner to establish their true connection to the company.
Performance Review: Past performance records of the company are analyzed to ensure the quality and professionalism of the services provided.
Our best movers and packers in Vadodara, offer a wide range of moving services like Home Shifting, Car Transportation services, Bike Transport, Office Relocation, Fine Art and Antique Moving, Plant Relocation, Pet Moving, Storage and Warehouse Services, Logistic Services, International Moving, Insurance Services, and Unpacking & Reassembly, among many others.
To hire packers and movers in Vadodara from AssureShift, follow these 3 simple steps:
Submit Your Requirements: Let us know about your shifting needs like origin and destination, moving date, list of moving items, and so on.
Get Cost Quotes: Get instant cost estimates from 3 moving companies best-matched for your requirements and ask for a pre-move survey to discuss your needs in detail.
Compare & Choose: Evaluate the quotes and compare the services provided by each movers company along with their company profiles and reviews-ratings and finalize your deal with the best suited and most affordable packers movers offering best value for your money.
AssureShift stands out as a beacon of trust and reliability in the logistics industry. Throughout the whole moving process, our customer service team is there to help you with anything, from picking a moving company to answering any questions you may have. Our goal is to make sure that your time with us goes as smoothly and without stress as possible.
---
Why Choose AssureShift for Packers and Movers Vadodara?
AssureShift has become a known place to find reliable packers and movers Vadodara and the company has grown quickly in the city. Our success comes from our loyalty to excellent services and customer satisfaction.
We have a strong network of more than 1200 pre-verified moving service providers across the country who undergo complete screening and verification before associating with us. This gives you unlimited access to a wide range of reliable and experienced team of professional movers and packers in Patna, Kolkata, Lucknow, Jaipur, Bangalore, Delhi, Mumbai, Pune, and 20+ other cities.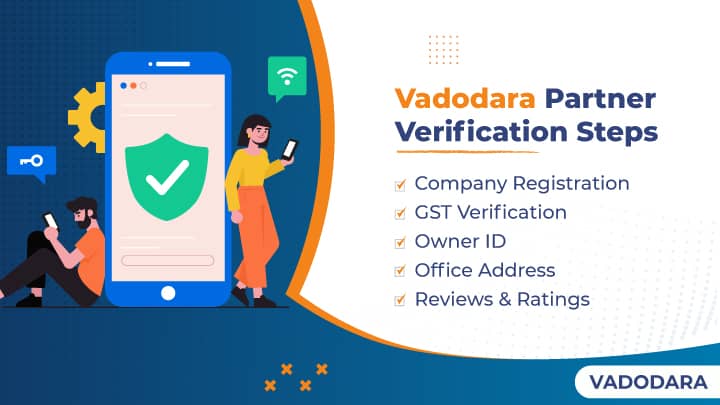 Your Ultimate Moving Directory: AssureShift has streamlined the process of browsing through countless packers and movers profiles. Our comprehensive directory is meticulously organized according to the company's location, services offered, quality of service, and customer ratings, making it easier than ever to find the right packers and movers in Vadodara for your needs.
Trust Built on Thorough Verification: We understand that trust is most important when entrusting your belongings to someone else. That's why every relocation company associated with us undergoes rigorous verification of their business credentials, physical office locations, as well as feedback given by their customers in the past. This way we are able to shortlist the best service providers in every city.
Customized Solutions Just for You: Irrespective of the size of the move or type, our top packers and movers in Vadodara are committed to cater to your specific needs. Whether you're relocating a sprawling villa, moving your pet, or require car transportation of a vintage Contessa, AssureShift connects you with an experienced team that can cater to your specific and unique relocation needs.
Pinnacle of Quality & Clear-Cut Pricing: With AssureShift, quality is a standard and what you see is what you get. We associate with movers who not only provide top-notch packing and moving service but also offer competitive prices and emphasize transparency in all dealings. Get the best of both worlds - quality and affordability - with our top movers and packers in Vadodara.
Your Moving Buddy from Beginning to End: Think of us as your relocation companion. Any queries, concerns, or assistance you need, our customer support team is always available to assist you and provide clear solutions to your queries and problems.
Choosing AssureShift is choosing peace of mind and the most reliable and efficient services. With us, you're not just hiring a packers and movers in Vadodara; you're embarking on a seamless relocation journey.
---
Packers and Movers Vadodara Charges
Packers and movers in Vadodara charges for relocating a standard 2BHK within the city can amount to ₹ 6,500 to 17,500. Whereas, for relocating the same 2BHK outside Vadodara, the movers and packers Vadodara costs can range from ₹18,900 to 35,700 which includes the packing costs, labor charges, and transport rates. The exact costs of Vadodara packers movers services will depend on a variety of factors as mentioned below.
| Move type/ Distance | 1 BHK | 2 BHK | 3 BHK | 4-Wheeler | 2-Wheeler |
| --- | --- | --- | --- | --- | --- |
| Local Shifting | ₹ 4,400 - 11,500 | ₹ 6,500 - 17,500 | ₹ 8,600 - 23,000 | -NA- | -NA- |
| Vadodara to Bangalore | ₹ 16,800 - 27,300 | ₹ 21,000 - 33,600 | ₹ 25,200 - 41,000 | ₹ 4,700 - 10,500 | ₹ 8,400 - 17,900 |
| Vadodara to Hyderabad | ₹ 14,700 - 24,100 | ₹ 18,900 - 31,500 | ₹ 22,000 - 37,800 | ₹ 4,200 - 7,900 | ₹ 7,300 - 14,700 |
| Vadodara to Pune | ₹ 17,800 - 28,300 | ₹ 22,100 - 34,700 | ₹ 26,200 - 41,000 | ₹ 5,800 - 11,000 | ₹ 9,000 - 18,400 |
| Vadodara to Delhi | ₹ 15,800 - 25,200 | ₹ 20,000 - 32,500 | ₹ 23,100 - 39,900 | ₹ 4,200 - 7,400 | ₹ 7,900 - 15,800 |
| Vadodara to Mumbai | ₹ 18,900 - 29,400 | ₹ 23,100 - 35,700 | ₹ 27,300 - 42,000 | ₹ 6,300 - 11,600 | ₹ 9,500 - 18,900 |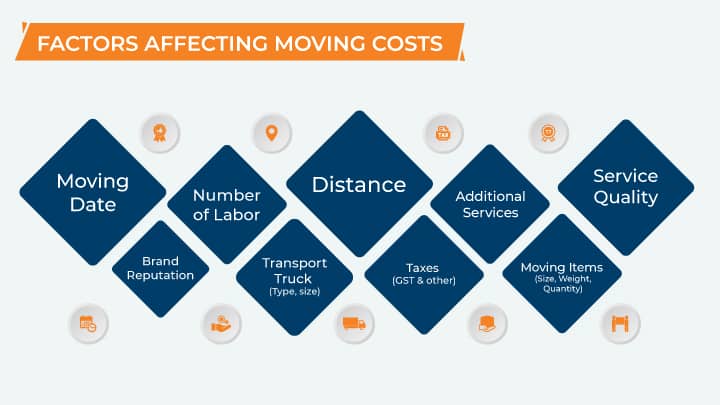 The precise relocation cost of packers and movers in Vadodara can be greatly influenced by the relocation distance, quantity and volume of goods to be moved, date of the move, quality and quantity of packing materials needed, list of relocation services requested, type and size of transportation vehicle used, choice of shared or dedicated truck during domestic relocation, special packing and handling requirements, additional moving service needed, floor of residence, number of labor needed to finish the work, etc.
---
How will AssureShift Assist You in Addressing Concerns?
Entrusting your precious belongings to unknown packers movers and waiting for the goods to be delivered to you can be hard, especially when you are not sure about their whereabouts. This is why at AssureShift, we work to ensure you have all the support you need from start to end of your move.
We Provide Full Assistance from the Time of Hiring till Final Settle-in:
Pre-move Consultation: Get advice on how to plan your move, what to expect during the relocation process, and how to choose the right packers and movers in Vadodara.
During the Move: If you have any concerns during the actual shifting process, you can contact our team right away. Whether it's coordination issues or seeking updates, we are here to assist you.
Post-move Support: After the move, if you face any issues with the packers movers or need assistance with damage claims, our commitment remains. We believe in complete customer satisfaction, and that extends beyond just the move.
We Provide Satisfactory Referrals that You are Happy with:
Best-Match Moving Companies: Based on the requirements you share, we refer packers and movers in Vadodara that align perfectly with your needs, ensuring you have a seamless experience.
Alternate References: If, for any reason, you aren't satisfied with the initial references provided, we go the extra mile to offer alternate options, ensuring you find the perfect fit.
We Regularly Review Service Quality & Maintenance:
Periodic Reviews: We regularly review the services of our associated movers based on customer feedback and our internal metrics.
Appropriate Actions: In our bid to enhance service quality, we recognize and award high ranks to top-performers, emphasizing the need for best practices in packing, moving, and customer service.
We take Relevant Action Against Defaulting or Unprofessional Movers:
Thorough Investigation: If we receive any negative feedback or complaints, we first conduct a detailed investigation about the issue from both customer and service provider.
Warning & Suspension: Initial measures involve issuing warnings to the moving company and temporary suspension to address the concerns.
Blacklisting: If a mover repeatedly falls short of our standards or engages in malpractice, they face strict action, including being blacklisted permanently from the platform.
---
Frequently Asked Questions(FAQs)
How much do a movers company in Vadodara typically charge for local shifting?
The cost of hiring local movers and packers in Vadodara for shifting within the city can vary from ₹4,800 to ₹14,300. The exact charges depend on several factors like size of the house, volume of goods, distance, complexity of the move, and additional services requested. It's best to get a personalized cost quotes from service providers for accurate pricing.
How early should I book a mover and packer service?
It's advisable to book your mover and packer service at least 2-3 weeks in advance to ensure availability of best packers and reliable relocation services and get the best movers cost. During peak season, it's best to book even earlier to get the best packers and movers companies.
Can the movers transport my vehicle?
Yes, most of our partner companies offer vehicle transportation services. They can transport cars, bikes, and other types of vehicles for local shifting, domestic relocation and home shifting. Car and bike transportation facilities are provided by the Vadodara moving services.
How are moving charges calculated?
Moving charges depend on various factors such as the distance of the move, the volume of goods, the type of services availed, and the time of the move.
What if my goods get damaged during the move?
Many of our partners offer insurance services to cover any damage or loss of items during the move. It's advisable to discuss this with the service provider before booking for the shifting process.
Do the movers provide unpacking and reassembling services at the destination?
Yes, many of our partner companies offer unpacking and reassembling services. You should confirm this with the service provider when booking.
Can the movers handle international relocations?
Yes, many of our partners offer international relocation services, which include customs clearance and freight forwarding.
Can I avail storage services during my move?
Yes, many of our partners offer temporary storage solutions if you need to store your belongings for a certain period.
---
Relocating can be a challenging task, but with the right assistance, it becomes smooth and hassle-free. Hiring packers movers is better than DIY moving as you can avail services like expert packing, safe transportation, loading and unloading the goods with utmost care, and ensuring an easy and quick transition to your new place in a timely and cost-effective manner.
AssureShift is a reliable site that puts you in touch with verified packers and movers Vadodara. Our Vadodara movers and packers provide an extensive range of services like Home Shifting services, Car Transportation, Bike Transportation, Office shifting services, Large corporate shifting, Fine Art and Antique Moving services, Plant Relocation services, Pet Moving, Storage and Warehousing Services, International Shifting, Insurance Services, Unpacking & Reorganizing, and many more.
We carefully check each moving service providers registration and background, experience, and professionalism to make sure they are trustworthy. Because of how carefully we authenticate and confirm the moving companies listing on our portal, you don't have to worry about dealing with fake packers movers service providers for your relocation needs.
Our professional movers and packers Vadodara follow a systematic process to carry out relocation for any shifting needs and guarantee best moving services. They start with an initial pre-move survey, secure packing services with quality materials, loading items using the right equipment and tools, safe transportation using appropriate transport vehicles, timely doorstep delivery and unloading, and finally unpacking the delivered items, reassembling them if needed, and final set up.
For packing, our expert packers and movers in Vadodara use bubble wrap, corrugated boxes, packing paper, and stretch film, among many others to properly secure the household goods during transit. Moving equipment like dollies, sliders, hand trucks, panel movers, and various more are used for safe loading and unloading. Additionally, trucks such as the 14-feet truck, 17-feet truck, and 19-feet truck are often used for transportation. When it comes to bike or car transport requirements, specialised car carriers are used to ensure damage-free relocation of your four- and two-wheelers. These advanced methods of relocating the entire household ensures the belongings are safe, timely delivery, and without any damages.
When hiring a packers movers in Vadodara by yourself, it's crucial to verify their credentials. Always check the company licence, office setup, reviews and ratings, and compare multiple quotes. Consider their work experience, and discuss your specific requirements. Furthermore, you can save on your moving costs by decluttering and packing personal items on your own.
When hiring movers for local relocation, make sure to look for local movers packers in Vadodara who are nearest to your location so that you can get very good service from your doorstep within few hours time. For hiring packers movers for domestic shifting, make sure to look for a moving packing service provider that have their presence in both origin and destination cities (for example, if you are moving from Vadodara to Mumbai, hire a Vadodara packers and movers service that has a branch office of their professional packers movers in Mumbai; this way you can avail unpacking and reassembly of goods after arriving in Mumbai).
With AssureShift, you can get instant cost estimates from reliable packers movers by sharing your requirements with us. We'll quickly connect you with 3 best movers and packers in Vadodara offering services tailored to suit your needs. They will carry out a pre-move survey via telephone or at your home to get a better understanding of the specific shifting requirements and give you the exact relocation cost.
Finally, you simply need to compare the packers movers charges, services offered, company reviews and ratings and value for money to hire the best mover that best matches all your needs.
Our partner packers and movers in Vadodara offer services in various localities of Vadodara including Akota, Alkapuri, Manjalpur, and Karelibaug, among others.
Throughout the whole process, our customer service team is always ready to help. If you have any problems during the move, AssureShift is always available to provide professional assistance, and we are dedicated to ensuring unparalleled customer satisfaction and stress-free moving with our best packers and movers Vadodara.