International Relocation Services
Hire the best reliable and accredited packers and movers for a secure and cost-effective international relocation to any locations worldwide. Share your requirements, get instant quotations from our top 3 international moving service providers. Compare references, pricing estimates, start-to-end services offered, reviews, and ratings to identify and hire the most suitable moving firm to ship your cargo with the utmost care.
Relocating to a foreign country is unquestionably difficult and requires extensive planning and long-term preparation. Hiring a professional packing and moving firm is the best option.
At Assure Shift, our verified and trusted moving experts will provide a comprehensive list of reliable services and guidance on all matters related to insurance, customs formalities, shifting households, offices, industrial facilities, pet relocation, or any cargo internationally.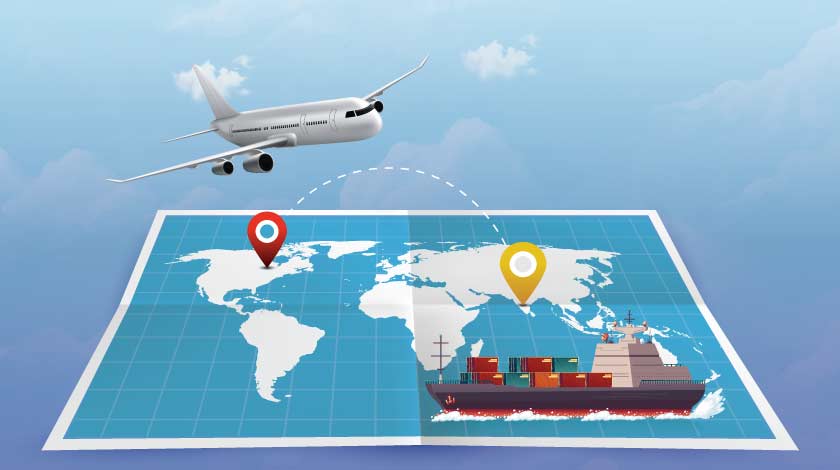 All you need to do is share your relocation requirements, and we will refer you to the 3 best suitable movers for your needs in your location. Arrange for a pre-move survey to get free cost estimates and compare the charges quoted by the movers with their services offered and reviews to identify and hire the best-suited company for you.
Our partners are experienced and skilled professionals, offering start-to-end relocation services, from conducting an initial survey, documentation, customer clearance, high-quality packing and unpacking, secure loading and unloading, trucking, storage, transporting, crating, air and ocean freight, customs clearance, door delivery, unloading, unpacking, and disposal of waste to doorstep delivery at the most reliable rates.
You can also avail of value-added services like insurance coverage, warehouse storage, pest control, etc.
If you face any problems at any stage of your move, you can contact our customer support team, who will provide you with a 24/7 quick and effective resolution.
Estimated Charges for International Relocation
| | | |
| --- | --- | --- |
| Move Size | Moving by Sea | Moving by Air |
| 1 BHK | Rs. 22,000 to Rs. 50,000 | Rs. 35,000 to Rs. 70,000 |
| 2 BHK | Rs. 52,000 to Rs. 73,000 | Rs. 80,000 to Rs. 1 Lacs |
| 3 BHK | Rs. 90,000 to Rs. 1 Lacs | Rs. 1.5 Lacs to 2 Lacs |
How to hire packers and movers for international relocation services from AssureShift?
AssureShift provides referrals of PRE-VERIFIED and trusted movers after performing an initial screening and filtering based on all our pre-set eligibility criteria.
Fill out the form to share your requirements.
Get referrals from the top 3 best international relocation service providers near your location and get free quotes.
Take initial charge estimations over the phone or schedule a pre-move survey to get the most accurate cost estimates and discuss requirements in detail.
Compare the charge quotations, services offered, and the company's reviews and ratings to identify and hire the most suitable moving company.
How are goods shipped by our international relocation packers and movers companies?
Our skilled international packers and movers have the workforce and experience to handle any shipment worldwide. Our specialised professional moving partners offer end-to-end moving services and abide by the following guidelines for each international cargo assignment.
Pre-Move Survey
Our international relocation service provider will send a survey officer to assess your belongings, provide a personalised overseas relocation estimate, and guide you by giving details and scheduling a suitable pickup date.
Best international standard quality packaging services
Our moving company will send a highly skilled team, which includes an in-house carpenter to assemble or disassemble any furniture if needed, to your location to pack your belongings.
The packing process is carried out with the utmost care and in accordance with international standards, employing high-quality packaging materials such as corrugated boxes (for books, pottery, etc.), corrugated rolls, bubble wrap, tissue paper, thermocol, crates/cases, and so on to protect your possessions from any external or internal damage during shipment.
Local Transportation
Our partner loads the packed belongings securely into the carriers from your location to the port or warehouse safely.
Custom Clearance at Origin
Our movers prepare and ensure all the export documentation is taken care of at the origin port/airport and that the commodities have not been tampered with during office checks.
Sea/Air Freight
Our movers propose international shipment by sea for large consignments since it is more cost-effective to transport heavy consignments. Air shipment is quick and best opted for high priority or lesser commodities. Freight charges are determined by the container size, weight, and volume.
Custom Clearance At Destination
Our professional movers will assist with the customs clearance and documentation at the destination. You will be notified with updates during each stage of the relocation process.
Door Delivery and Unpacking
Our movers take complete responsibility for delivering your consignment from the dock to your doorstep.
The goods are unpacked and organised at your new location. Our team will assist in assembling back the furniture and unpacking and disposal of all packing materials.
Note: You can inspect for damage during shipment and, if any, make a direct claim for reimbursement.
Preparation Tips for International Relocation
Declutter and dispose of unwanted items to save money.
Create a detailed and itemised inventory of each item.
Compare and select quotations from multiple relocation companies.
Have a background check of the moving company by verifying details like experience, company license, GST registration, owner's ID proof, reviews and ratings, etc.
Choose sea freight over air freight for larger consignments and cheaper charges.
Ensure paperwork and immigration formalities are completed on time.
Prepare for finance/money for international moving.
What are the items that cannot be shipped to another country?
Prohibited Items: Knives, weapons, explosives, ammunition, drugs and narcotics, Plants that need a special import Permit, any protected animal or species, dried plant, or historical artefact (ivory, snakeskin, leopard fur, pre-Colombian items, etc.), pornographic material, Absinthe, methyl alcohol, radioactive substances, vast quantities of alcohol or other consumer items.

Jewellery Items: Wear some jewellery items, but never pack jewellery with luggage.

Food Items: Avoid packing food items as there are high chances of spilling and getting messy.
---
International relocation is a very challenging process requiring lots of paperwork and formalities. Furthermore, our international moving services encompass vehicle shipping, ancillary services, risk coverage, expedite services and temporary storage of the goods. Therefore hiring a professional mover is the ideal solution.
Share your requirements, and our team will assist in finding a reliable and trusted partner for your international relocation at affordable rates.
Our partners provide end-to-end services, including initial survey, documentation, customer clearance, high-quality packing, secure loading, trucking, storage, transporting, crating, air or sea freight, customs clearance, door delivery, unloading, unpacking, and waste disposal.
Our partners offer tracking services as well as insurance in the event of transit damage. They will tell you once your goods have arrived in the new nation and will deliver it on time.
Get in touch with our customer support team if you have any concerns about your transfer at any time.