Hire Best Packers and Movers in Patna
316
Patna
Hire Best Packers and Movers in Patna at affordable prices for local shifting or interstate relocation. Fill the enquiry form and get references of top 3 best-match movers and packers in Patna along with cost quotes. Compare the charges, services, reviews and ratings and finalize one within minutes. Contact us to know more.
Get Quote From
3 Nearby Movers
Quickly Compare
& Save Min 25%
Guide to Hire Best Packers and Movers Patna with AssureShift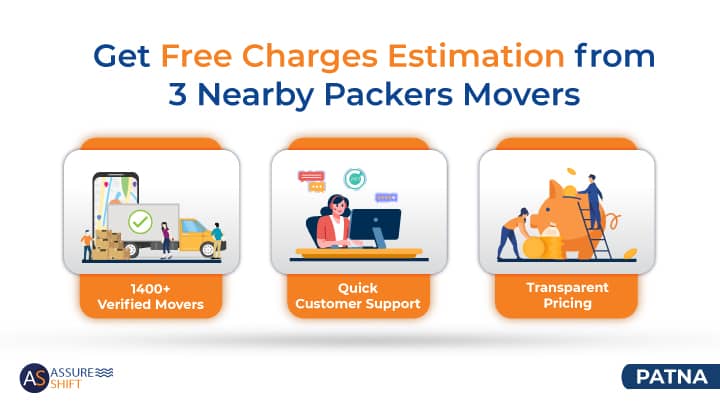 Welcome to AssureShift! We are the leading platform to hire pre-verified and professional packers and movers in Patna for smooth and hassle-free relocation at budget-friendly moving costs.
We have a network of over 1200 verified moving companies operating in more than 25 major cities throughout India like Patna, Bangalore, Mumbai, Delhi, Kolkata, Jaipur, Delhi, Lucknow, etc.
All our partnered packers and movers Patna have undergone thorough verification and background checks by our dedicated verification team to make sure that they are 100% genuine and will be able to satisfy the quality standards set by us.
We check the company's business/GST registration.
We confirm the office presence and location.
We authenticate the company owner's details.
We also examine the past work history to ensure quality and professionalism.
Our reliable movers and packers in Patna provide cost-effective and high-quality moving services, making the relocation process easier for everyone. They pack your belongings using quality materials to prevent damages. They handle the complete relocation process starting from disassembly and packing to unloading and unpacking. Our expert Patna packers and movers also ensure the work is completed within the planned duration with on-time pickup and delivery at your doorstep.
Our movers and packers Patna have an extensive service portfolio that include various relocation services for local shifting, domestic relocation, as well as international shifting. Some of these services are Home Shifting, Car Transportation services, Bike shifting services, Office Relocation services, Fine Art and Antique Moving, Plant Relocation, Pet Moving, Warehousing and Storage services, Commercial Goods Moving, and Logistics and Transport Services, among many others.
Getting started with the hiring process is extremely easy and time-saving with AssureShift. Simply fill out the enquiry form with your moving details, and we'll quickly connect you with 3 best packers and movers in Patna according to your specified shifting and quality requirements.
Within moments, you can get quick cost estimates from 3 affordable packers movers, allowing you to compare the company's profiles, charges estimates, list of services promised, and reviews and ratings, to find the best value-for-money offer. This way you can plan your budget and move quickly and much more efficiently.
Our professional customer support team is here to assist you throughout the moving process, resolving any problems or questions you may have from the initial enquiry until the final delivery of your belongings.
AssureShift is here to ensure you have a seamless and stress-free move with the best packers and movers Patna.
---
Why Choose AssureShift When Hiring Movers and Packers in Patna?
AssureShift is a one-stop shop for all your shifting needs. With AssureShift, you can be confident that your relocation in Patna will be handled with the highest expertise and care. Here are some reason why to choose moving companies from AssureShift:
Comprehensive Listings at Your Fingertips: Access our wide network of trusted and skilled packers and movers in Patna and across India, assuring a seamless and stress-free moving experience. Our top packers movers in Pune, Bangalore, Delhi, Lucknow, Noida, Kolkata, Ahmedabad, Surat, and 20+ other cities ensure safe and smooth relocation for moving to any part of the country.
Seamless Booking Ensuring Trust: Our user-friendly portal allows you to quickly input your moving details, get cost quotes from different packers and movers in Patna, and compare & book the best movers packers depending on your needs and budget.
Competitive Pricing with Quality Services: With AssureShift, you can get quotations from different packers and movers, allowing you to compare and pick the most economical costs for your moving needs without sacrificing service quality.
Customized Solutions for Diverse Needs: AssureShift recognises that every move is unique, therefore we connect you with leading packing moving companies that offer personalised solutions to fulfill the needs of diverse clients, assuring a smooth and efficient moving experience for each one.
Customer Satisfaction at Every Step: Our dedicated customer support staff is here to assist you throughout the whole relocation process, resolving any problems or questions you may have.
Hire packers and movers in Patna from AssureShift for a seamless relocation experience whether ou are moving within or outside Patna.
---
Packers and Movers Patna Charges
Packers and movers in Patna charges for shifting a 2 BHK within the city will range between ₹4,800 to ₹14,500. The domestic relocation rates for shifting 2BHK to a different city outside Patna can range from ₹14,000 to ₹30,000. The exact Patna packers and movers costs will depend on which city you are relocating to and the distance and demand of relocation on that route, among many other key factors. For precise cost estimates to move to your desired city, please reach out to our movers or provide us with your specific requirements.
| Move type/ Distance | 1 BHK | 2 BHK | 3 BHK | 4-Wheeler | 2-Wheeler |
| --- | --- | --- | --- | --- | --- |
| Local Shifting | ₹ 4,800 - 6,700 | ₹ 5,700 - 9,500 | ₹ 8,500 - 14,300 | -NA- | -NA- |
| Patna to Bangalore | ₹ 19,000 – 22,500 | ₹ 23,000 – 29,500 | ₹ 27,000 – 35,000 | ₹ 12,500 – 16,500 | ₹ 8,000 – 10,500 |
| Patna to Mumbai | ₹ 16,500 – 21,000 | ₹ 20,500 – 27,500 | ₹ 24,500 – 32,000 | ₹ 9,000 – 14,000 | ₹ 5,000 – 8,000 |
| Patna to Hyderabad | ₹ 16,500 – 21,000 | ₹ 20,500 – 27,500 | ₹ 24,500 – 32,000 | ₹ 9,000 – 14,000 | ₹ 5,000 – 8,000 |
| Patna to Chennai | ₹ 17,500 – 21,000 | ₹ 21,000 – 29,000 | ₹ 25,000 – 35,000 | ₹ 11,000 – 16,000 | ₹ 7,000 – 10,000 |
| Patna to Delhi | ₹ 15,000 – 20,500 | ₹ 19,500 – 26,000 | ₹ 22,500 – 32,000 | ₹ 9,500 – 13,000 | ₹ 4,500 – 7,500 |
| Patna to Kolkata | ₹ 14,500 – 19,000 | ₹ 17,000 – 25,000 | ₹ 20,500 – 28,500 | ₹ 8,500 – 12,000 | ₹ 4,500 – 7,000 |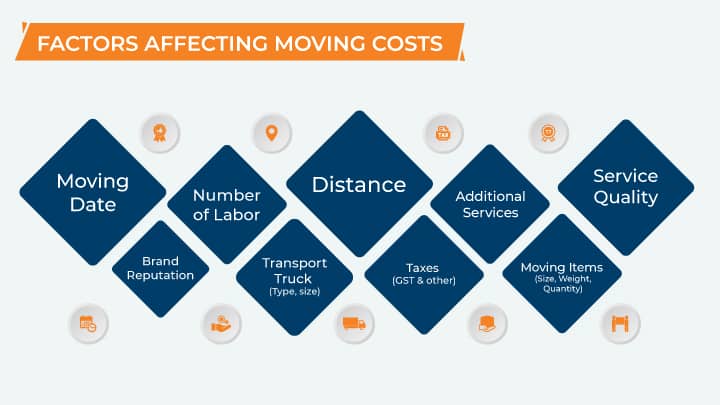 The accurate cost of moving within or outside Patna depends on the total number of goods to be relocated, distance between origin and destination, quality and quantity of packing materials used, size and type of truck opted, number of labourers required to complete the job, additional services requested like unpacking, reassembly, or special packing and handling techniques, shifting complexities like floor on which the house is located, distance from door to truck, etc.
---
How will AssureShift Assist You in Addressing Concerns?
At AssureShift, we firmly believe that our responsibility doesn't end once we connect you with the packers and movers in Patna. Instead, we continue to stay by your side from beginning of your relocation till the end, and even after you settle down. If you face any challenges or concerns during your move, here's how we're committed to assisting you:
Positive Referrals:

We strive to provide you with references that best fit your needs. At the same time, we acknowledge that sometimes, the referrals we provide may not be up to the mark for various reasons. In order to solve this, we provide:
Tailored Recommendations: Our primary goal is to ensure that the moving companies we refer align well with the requirements you share with us.
Alternate References: If, for any reason, you're not satisfied with the referrals you have received, we will provide alternative suggestions to ensure you find the perfect fit for your relocation needs.
Complete Assistance from Start to End:
With AssureShift, along with getting in touch with a reliable moving company, you can trust us to be there to help you at every stage of your move.
Pre-move Guidance: We have the required expertise and experience in the industry to provide you with useful advice and tips to help you prepare for your move.
During the Move: If you are facing an issue on the moving day, you simply need to give us a call and we will do our best to address each of your concerns in real-time.
Post-move Support: Even after you've settled into your new place, if you have any lingering concerns or issues related to the move, our team is just a call away.
Maintaining Quality Control Consistently:
We want every user to have a positive experience, irrespective of which moving company they choose. To make sure this is possible every time:
Regular Audits: We routinely check and audit the services of every packers and movers associated with us.
Feedback Collection: After your move, we'll reach out to gather your feedback. This helps us understand where our partners shine and where they might need some improvement.
Relevant Action Against Movers:
Holding our partners accountable ensures that every customer receives services that are exceptional as well as of consistent quality.
Strict Accountability: If any of our partner moving companies fail to uphold the standards we've set or if they indulge in any malpractices or fraudulent activities, we hold them accountable.
Corrective Measures: Based on the customer feedback and any reported grievances, we take corrective actions ranging from temporary suspension to permanent blacklisting, ensuring that the integrity of the site and our services is maintained.
With AssureShift by your side, you will never be alone in your relocation journey. We are committed to ensuring truly satisfied customers and to make every move smooth, efficient, and stress-free. Your peace of mind is our utmost priority!
---
Frequently Asked Questions (FAQs)
How much do a movers company in Patna typically charge for local shifting?
The cost of hiring local movers and packers in Patna for shifting within the city can vary from ₹4,800 to ₹14,300. The exact charges depend on several factors like size of the house, volume of goods, distance, complexity of the move, and additional services requested. It's best to get a personalized cost quotes from service providers for accurate pricing.
What services do packers and movers Patna offer?
Packers and movers Patna offer a wide range of local, international and domestic relocation services, including packing, loading, transporting, unloading, unpacking, and arranging items at the new location. They may also provide additional services like insurance, warehouse services, office shifting, vehicle transportation, and specialty moves for items like pianos or artwork.
Do movers and packers Patna offer insurance for the goods being moved?
Yes, many moving service in Patna offer transit insurance, which covers the damage or loss of items during transportation. Always ask about insurance options and their cost before making a booking.
Can I track my shipment while it's being moved?
Many professional packers and movers in Patna provide real-time tracking facilities. It allows you to monitor the movement of your belongings during transit. Be sure to check this feature with your chosen service provider.
How much time will it take for my belongings to be moved within Patna?
Typically, the time taken for moving belongings within Patna can be a single day. However, if there are large number of goods, premium quality of service is requested, or if the distance to destination is too high, the time taken to complete a move can exceed one day.
Are there any hidden charges?
Reputable packers and movers in Patna will provide you with a comprehensive quote detailing all charges. However, it's always a good idea to clarify whether the quote includes all costs, such as packing materials, transportation, labor, and any applicable taxes. If there are extra services requested by you, those might incur additional charges.
What should I do if my items are damaged during the move?
If your items are damaged during the move by your chosen moving service in Patna, immediately notify the company. Document the damage with photos and keep any broken pieces as evidence. If you've opted for transit insurance, contact the insurance provider and follow their claim process.
Can I reschedule or cancel my booking with the packers movers?
Policies on rescheduling or cancellation vary among different packers movers in Patna. Most companies understand that plans can change and offer options to reschedule. However, if you need to cancel, you might be subject to a cancellation fee, especially if the cancellation is close to the move date. Always check the company's specific policy.
What are some common moving scams to watch out for?
When hiring packers and movers in Patna, beware of companies that demand a large deposit upfront, provide unusually low estimates, or don't have a physical address. Other red flags include not providing a written estimate, not agreeing to an on-site inspection of your goods, and unprofessional behavior. Always choose a reliable and verified moving company like those on the AssureShift platform to avoid scams.
Can packers and movers in Patna help with intercity relocation?
Yes, most packers and movers in Patna offer services for both local and interstate relocations. They are equipped to handle the logistics and requirements of long-distance moves, ensuring your belongings reach the destination safely.
How far in advance should I book my packers and movers?
It's recommended to book your packers and movers in Patna at least two to three weeks in advance. This helps ensure availability and gives you ample time to plan and prepare for your move. If you're moving during peak season, you might want to consider booking even earlier.
---
Relocating can be daunting. But with professional packers and movers in Patna, the journey becomes easier, safer, and more efficient. They ensure that your belongings are packed with utmost care, transported securely, and ensure prompt delivery to your new place, providing peace of mind throughout the entire process.
Our partner packers and movers Patna provide a plethora of services at economical prices including home shifting, car transport, bike shifting, office shifting services, fine art and antique moving, plant and pet relocation, warehousing services, corporate shifting, commercial goods moving, and local relocation, domestic shifting, and international shifting.
Generally, experienced movers and packers in Patna use high quality packaging materials like bubble wrap, corrugated boxes, packing tapes, and protective coverings; when needed, they also provide premium packing services using wooden crates, corrugated boxes, multiple layer packaging, for more expensive and fragile items, and other essential quality services like transit tracking facility, etc. For loading and unloading, moving companies use appropriate equipment carefully like hand trucks, panel movers, furniture sliders, appliance dollies, ramps, straps, ropes, etc. For transporting household goods from origin to destination, our Patna packers and movers typically use trucks of different sizes like mini-truck, 14-feet, 17-feet, 19-feet, and even going up to 22 feet containers, which are chosen based on the volume and type of goods.
When looking for full service moving companies for local relocation, search for the nearest movers and packers Patna so that you can avail quick and safe relocation services within a single day. However, when planning for an interstate move outside Patna, make sure to check if the relocation company has a presence in both origin and destination cities. This will help you to get timely unpacking and reassembly services at your desired destination location. For example, if you are moving from Patna to Chandigarh, make sure your chosen Patna movers and packers has a branch of their moving company in Chandigarh as well.
Before choosing a moving company, it's crucial to verify their credentials, check reviews and ratings, and compare cost quotes from multiple firms. Also, you should evaluate the company's work experience, discuss your specific requirements, and find out which company will be the best fit to handle your shifting process.
Start planning for your move at least 2-4 weeks before the shifting date. Start organizing your moving items, prepare a moving inventory checklist to keep track of the tasks to be completed as well as the items to be relocated. Remember to update your address in important places like banks, etc., and make sure you have planned properly for packing and moving your valuable items.
To cut down on your moving expenses, declutter and sell or donate unnecessary items, pack some belongings yourself (like clothes, shoes, essentials kit, documents, valuables, basic kitchen supplies, etc.), and schedule your move during off-peak times like weekdays or middle of the month. Also, remember to always compare multiple quotes from at least 3-5 Patna packers movers as this will allow you to identify the most affordable movers service providers offering best value for your money for the complete relocation services.
With AssureShift, getting cost estimates from renowned relocation companies is a breeze. Just share your requirements, and we'll quickly provide you with cost quotes from 3 best packers and movers in Patna who are best capable of fulfilling your requirements. Once you get the quotes, you can schedule a pre-move survey to discuss your shifting needs in more detail and ask for accurate price charts along with the services that will be offered in writing. Compare these rates, services, company profiles, and reviews and ratings, and hire the best packers movers services matching your needs.
Our packers and movers in Patna serve many areas of Patna including Boring Road, Rajendra Nagar, Kankarbagh, Ashiana Nagar, Bailey Road, Bhaktiarpur, Fatuha, Indrapuri, Shivpuri, Paliganj, and more.
AssureShift is committed to supporting you throughout your moving journey. From providing satisfactory referrals of top packers and movers Patna, and continuous assistance and regular service quality checks, we stand by you, ensuring swift resolutions to any concerns you might encounter. Trust AssureShift for a smooth transition and stress-free relocation experience in Patna!
Domestic Packers and Movers in Patna