Hire Best Packers and Movers in Chandigarh | 100% Affordable Shifting
164
Chandigarh
Hire Best Packers and Movers Chandigarh for 100% safe, fast & affordable packing moving. Get Instant Cost Estimates from 3 nearby movers and packers Chandigarh in 1 Minute.
Get Quote From
3 Nearby Movers
Quickly Compare
& Save Min 25%
Guide to Hire Best Packers and Movers in Chandigarh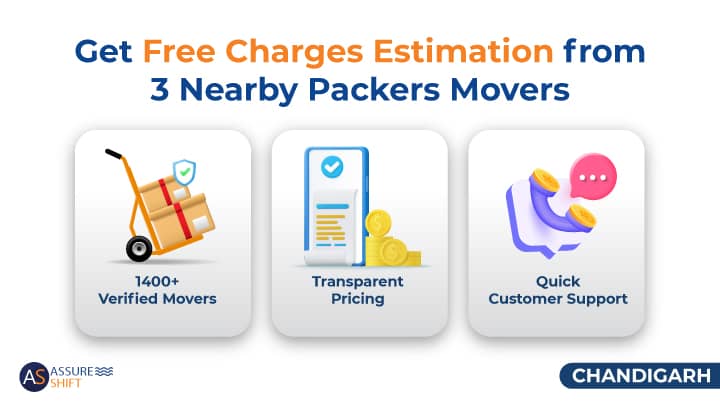 Welcome to AssureShift, your one-stop solution to hire the best packers and movers in Chandigarh for all your relocation needs.
With a strong presence in Chandigarh since 2017, we have partnered with over 200 verified packers and movers Chandigarh who are experienced and capable of catering to your specific packing moving requirements.
Our movers and packers in Chandigarh not only take the heavy lifting off your shoulders but also ensure that your belongings are handled with utmost care and professionalism. They have years of expertise in handling different type of goods and ensure minimal chances of breakage. They make the relocation process quicker, and use quality packing materials to make sure your belongings stay intact throughout the move.
At AssureShift, our primary goal is not only to make your relocation process easier but also more reliable and of top-quality standards. Every packers movers company that wishes to associate with AssureShift undergoes rigorous verification and background checks. Our verification process includes:
Checking the company's business/GST registration,
Validating the office presence and location,
Confirming company owner details,
Assessing the transport arrangements of the movers, and
Reviewing their past performance history to ensure quality and professionalism.
Our professional movers and packers in Chandigarh offer a wide range of relocation services including Home Shifting services, Car and Bike Transportation services, Office Relocation services, Fine Art and Antique Moving services, Plant Relocation, Pet Moving services, Warehouse Storage Services, Cargo Shipping, Insurance Services, and Local, Interstate and International Relocation, among various others.
We are committed to providing top-quality relocation services at affordable prices to ensure that each customer gets the best value for their money within the pre-decided budget.
Our platform makes it easy for you to find and hire the right movers and packers Chandigarh offering relocation services tailored to your specific requirements within just a few minutes. Follow these simple steps to hire the best service providers from AssureShift:
Submit Your Requirements: Fill the enquiry form with your relocation details like origin, destination, type of move, and tentative moving date.
Receive Quotes: Based on your given requirements, we will connect you with the top 3 packers and movers in Chandigarh along with their charges estimations.
Compare and Choose: Review the cost quotes and compare the services offered and movers reviews and ratings and select the relocation company that best fit your needs and budget.
After evaluating all the factors, finalize your deal with the best packers and movers Chandigarh and confirm the moving date, pickup and delivery times, and ask for any other specific or additional requirements you may need.
You can stay relaxed throughout the move and contact our support team if you face any problems or have queries. We offer complete support from the start of your relocation until the final delivery of your belongings and also help with any post-move support like damage claims, etc.
---
Why Choose AssureShift for Reliable Packers and Movers in Chandigarh?
When it comes to relocation services in Chandigarh, AssureShift is your reliable partner for all types of packing and moving needs. Our dedication to providing exceptional services and our extensive network of verified moving companies make us stand out in the industry.
Established in 2017, AssureShift has grown into a vast network of more than 1200 verified and best packers movers firms operating in 26 major cities across India including partnering with the top moving companies in Mumbai, Pune, Bangalore, Delhi, Hyderabad, Lucknow, Nagpur, and many others.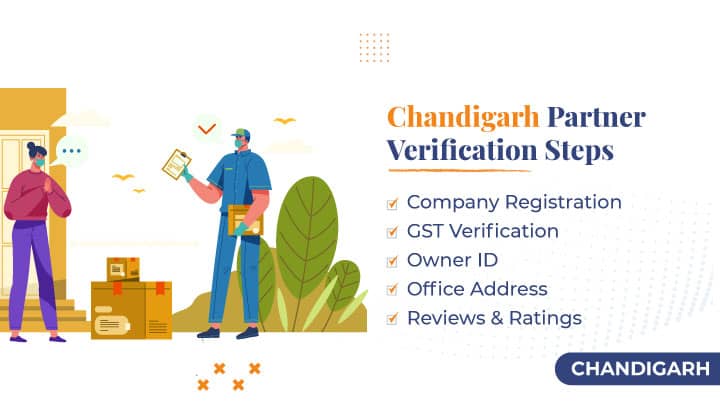 By hiring verified packers movers Chandigarh through AssureShift, you can enjoy the following benefits:
Wide Network of Verified Movers: Our extensive network of over 200 verified moving companies in Chandigarh ensures that you can find the perfect fit for your specific relocation requirements and enjoy stress-free relocation with trustworthy professional packers and movers.
100% Reliability: We follow a strict verification process to make sure that our partner Chandigarh packers and movers companies are completely genuine and reliable. This gives you peace of mind, knowing that your belongings are in safe hands without the possibility of getting in touch with fake moving companies.
Quality & Customized Services: Our partner companies are committed to providing high-quality services tailored to your specific needs. They not only make sure your belongings are handled with care and transported safely, but also customize the services according to your specific relocation needs.
Quick & Competitive Quotes: We believe in making relocation affordable for everyone and ensure our moving company partners offer industry standard charges that are reasonable and transparent. You can get quick and accurate estimates of moving costs from multiple service providers and finalize the best deal for your move.
Seamless Booking: Our user-friendly platform and dedicated support team make hiring packers movers simple and easy. All you need to do is share your requirements, and we'll connect you with 3 of the most suitable packers and movers Chandigarh according to your needs.
Complete Support: Our dedicated team at AssureShift is available to guide you through the entire relocation process and address any concerns you may have. We strive for customer satisfaction and work to ensure every customer experiences smooth and hassle-free moving.
---
Packers and Movers Chandigarh Charges
Local packers and movers in Chandigarh charges for shifting a standard 2 BHK within the city ranges between ₹5,700 to ₹15,000. The cost of domestic relocation services provided in Chandigarh can vary from ₹20,000 to ₹35,000 for relocating 2 BHK from Chandigarh to other cities like Delhi, Bangalore, Hyderabad, Mumbai, etc. The exact packing moving services costs depend on the specific factors and exact requirements of relocation.
| Move type/ Distance | 1 BHK | 2 BHK | 3 BHK | 4-Wheeler | 2-Wheeler |
| --- | --- | --- | --- | --- | --- |
| Local Shifting | ₹ 3,800 - 10,000 | ₹ 5,700 - 15,000 | ₹ 8,100 - 20,000 | -NA- | -NA- |
| Chandigarh to Bangalore | ₹ 18,800 - 26,700 | ₹ 23,100 - 34,100 | ₹ 23,500 - 35,500 | ₹ 5,500 - 9,900 | ₹ 2,800 - 5,600 |
| Chandigarh to Mumbai | ₹ 17,100 - 24,250 | ₹ 21,400 - 32,300 | ₹ 25,700 - 38,500 | ₹ 10,700 - 17,800 | ₹ 6,100 - 10,500 |
| Chandigarh to Delhi | ₹ 10,500 - 18,450 | ₹ 13,440 - 22,500 | ₹ 16,500 - 26,500 | ₹ 5,000 - 9,000 | ₹ 2,520 - 5,040 |
| Chandigarh to Hyderabad | ₹ 17,100 - 24,250 | ₹ 21,400 - 32,300 | ₹ 25,700 - 38,500 | ₹ 10,700 - 17,800 | ₹ 6,100 - 10,500 |
| Chandigarh to Kolkata | ₹ 17,100 - 24,250 | ₹ 21,400 - 32,300 | ₹ 25,700 - 38,500 | ₹ 10,700 - 17,800 | ₹ 6,100 - 10,500 |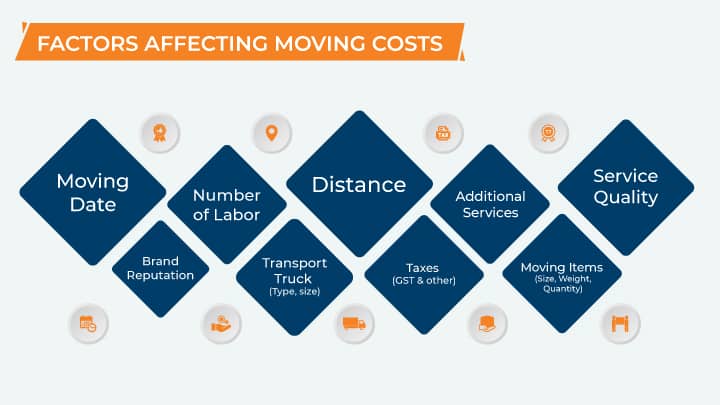 The exact costs of services provided by packers and movers Chandigarh depend on a variety of factors like quantity of items to be moved, quality of packing requested, distance of relocation, demand for shifting on the route to destination, size of truck required, type of truck (shared or dedicated vehicle) used for transportation, number of labor required, date of moving, if any additional services are requested like storage and warehousing services, moving insurance, unpacking and reassembly during domestic relocations, etc.
---
How AssureShift will Help You in case of Any Problems
At AssureShift, your peace of mind during the relocation process is our top priority. We understand that moving comes with its fair share of apprehensions, whether you are relocating a home, car, bike, office, or any other valuable assets.
To assure smooth and stress-free experience, we have implemented a number of measures that prioritize customer satisfaction and safety.
Satisfactory Referrals: Customer satisfaction is paramount to us. Hence, we always provide:
Referrals of trusted and verified packers and movers in Chandigarh that are best-suited for each customer's needs and budget.
Links to company profiles where the detailed reviews and ratings can be viewed, allowing you to make an informed decision based on past experiences of other users.
In case of any dissatisfaction with the referrals, you can contact our support team and ask for guidance in making the right selection or request for alternate options.
Comprehensive Assistance from Start to Finish: Your journey with AssureShift doesn't end once you choose a mover. We stand by you throughout the relocation by:
Providing guidance and help during the entire moving process.
Addressing any concerns or queries in real-time even after the move is completed.
Offering assistance in case of problems or misunderstandings with the moving company.
Regular Quality and Maintenance Checks: To ensure you receive the best services every time, AssureShift consistently:
Encourages customers to give feedback on the service quality received from our partners and highlight the positives as well as negatives.
Conducts routine quality checks on the services provided by all associated moving companies.
Monitors the feedback from users to ensure quality of service is consistent and make note of any negative aspects of their moving experience.
Taking Relevant Action Against Defaulting Movers: At AssureShift, accountability is key. Therefore:
If any mover is found lacking in the quality of service or not adhering to our standards, we will either warn them or temporarily suspend the profile.
We ensure any complaints against any packers and movers in Chandigarh are dealt with and addressed promptly.
Consistent negative feedback or complaints against any mover could lead to blacklisting from the AssureShift portal.
AssureShift is dedicated to help you have a seamless relocation within and outside Chandigarh, ensuring that all your concerns are addressed with utmost priority.
---
Frequently Asked Questions (FAQs)
How do I choose the best packers and movers in Chandigarh?
Look for packers and movers online with a good reputation, experience, and a wide network of verified relocation companies. AssureShift makes this process easy by providing you with a list of verified packers and movers in Chandigarh. You can compare their services provided, reviews, and charges to find the best fit for your relocation needs.
How can I get an estimate of the cost for my relocation in Chandigarh?
You can use AssureShift's quick charges estimation feature to get an approximate cost of your move. Just provide your moving requirements, and you'll receive quotes from multiple Chandigarh packers and movers. You can then compare the prices and choose the most suitable and best packers and movers service provider.
Are there any hidden charges in the moving cost?
AssureShift and its partner packers and movers strive to maintain transparency in their pricing. However, it's always a good idea to discuss all the moving services and charges with your chosen moving company to avoid any surprises later on.
Can Chandigarh packers and movers help with car or bike transportation services?
Yes, our partner packers and movers Chandigarh offer specialized transportation services for car shifting and bike movers services. They use appropriate carriers and follow necessary safety precautions to ensure the safe transportation of your vehicles.
What are the factors that affect the cost of packers and movers Chandigarh?
The primary factors affecting the cost of packers and movers Chandigarh include distance and location, volume of belongings, size of the truck required, type of truck used, quality of packing required, date of moving, additional services, and storage facilities.
Do packers and movers in Chandigarh offer insurance coverage for my belongings?
Many Chandigarh packers and movers provide insurance coverage for your belongings during the relocation process. It is recommended to discuss the insurance options and terms with your chosen service provider.
How can I prepare for a home relocation in Chandigarh?
To prepare for a home relocation in Chandigarh, you should plan and organize well in advance, declutter your home, pack smartly, notify relevant parties of your move, prepare an essentials box, and coordinate with your preferred service providers. Home shifting services will take care of the domestic relocation.
Do packers and movers disassemble and reassemble furniture
Yes, most packers and movers provide disassembling and reassembling services for large furniture items. However, it's best to confirm this with your chosen service provider beforehand.
What if my belongings get damaged during the move?
If you've chosen a service provider that offers insurance coverage, any damages or losses during transit will be covered. It's crucial to inspect your belongings upon delivery and report any damage immediately to the service provider.
Can I move my pets using packers and movers services?
Some packers and movers offer pet relocation services. However, you should check with your chosen service provider, as not all companies provide this service.
---
Chandigarh Packers and Movers Reviews
Relocation Services in Chandigarh
Hiring best packers and movers in Chandigarh ensure you have an efficient and hassle-free relocation. They offer an extensive range of shifting services for residential relocation, bike and car transport, office relocation, and so on. The movers service providers also use best quality packing materials and right transport vehicles to ensure secure packing and moving of all the items and also ensure timely delivery.
Our professional movers and packers in Chandigarh use the right techniques for secure packing of household goods with quality packing material like plastic wrap, bubble wrap, packing paper, packing peanuts and foam, sturdy boxes, etc. For safe loading and unloading, they will take care of the entire shifting process using appropriate equipment and tools like appliance dollies, hand trucks, furniture sliders, panel movers, moving blankets and pads, moving straps and ropes, etc.
Movers company in Chandigarh also choose the right transport vehicle to make sure your shipment gets delivered on time and in good condition. For local relocation, new Chandigarh packers and movers use smaller trucks like Tata Ace, Mahindra pickup, and other similar ones for quick and safe shifting. For domestic shifting, moving companies use trucks ranging from 14 feet to 22 feet containers for household goods, and suitable bike and car carriers for secure vehicle moving service.
To hire professional packers movers that are reliable and best-suited for your needs make sure to verify the relocation service providers credentials, check the company documents and their past reviews and ratings. Also get in touch with multiple movers and compare cost quotes, range of moving service offered, and company profiles of all the service providers to identify the best movers having a good experience and capability to fulfill your needs. Check if the moving company is offering insurance coverage and read the contract carefully before signing it and finalizing the deal.
To hire movers and packers Chandigarh for local shifting, look for local moving companies nearby for quick door-to-door shifting within a single day. For domestic relocation service, hire reliable packers service providers having a branch office in both the origin and destination cities so that you can avail unpacking and reassembly services at your doorstep in the desired location. For example, if you're moving from Chandigarh to Nagpur, make sure the moving services provider you're hiring in Chandigarh also have a packers movers office in Nagpur.
Proper planning and organization can ensure the entire process of your household relocation goes smoothly and less stressful. Make sure to start planning in advance and create a moving inventory list of all the goods you need to move and the pre-move tasks to complete. Pack all the basic essentials like change of clothes, toiletries, basic kitchen items, important documents, medications, etc., required to use for the first few days at the new home in an overnight bag. Also remember to notify the relevant parties of your move and update the address in banks, post office, informing the utility service providers, etc.
To reduce packing moving costs and avail affordable services, start planning the move in advance, declutter unnecessary belongings before the move to reduce the load, pack some basic items like clothes, shoes and kitchen items, schedule the relocation during weekdays or mid-month instead of weekends or holidays, compare cost quotes from multiple moving service providers, and don't hesitate to negotiate the movers charges quoted to get a better price deal.
With AssureShift, you can find best and verified packers and movers in Chandigarh who offer hassle free shifting for house shifting services, room shifting, furniture shifting, luggage shifting, car carrier services, bike relocation, office shifting, corporate relocation, warehouse services, international movers services, logistics services, and many other professional services.
For hiring movers in Chandigarh within a few minutes, you can simply fill out the enquiry form and tell us your moving requirements. Depending on what you need, we'll put you in touch with three of Chandigarh's best and least expensive shifting companies. Compare the shifting companies costs, their list of relocation services offered, reviews and ratings, and company profiles to find the right and most trustworthy services providers for your needs.
Get comprehensive support from start to end of the relocation with our dedicated customer support team. We are available to answer every query and resolve any issues you face with our partner packers and movers Chandigarh to ensure you enjoy safe and smooth moving.