Quickly Compare & Hire Packers and Movers in Ludhiana
272
Ludhiana
Compare charges, services, reviews and ratings to Hire Best Packers and Movers in Ludhiana at affordable prices for local shifting or interstate relocation. Fill the enquiry form and get referrals of top 3 best-match movers and packers in Ludhiana along with cost quotes.
Get Quote From
3 Nearby Movers
Quickly Compare
& Save Min 25%
Guide to Hire Best Packers and Movers Ludhiana with AssureShift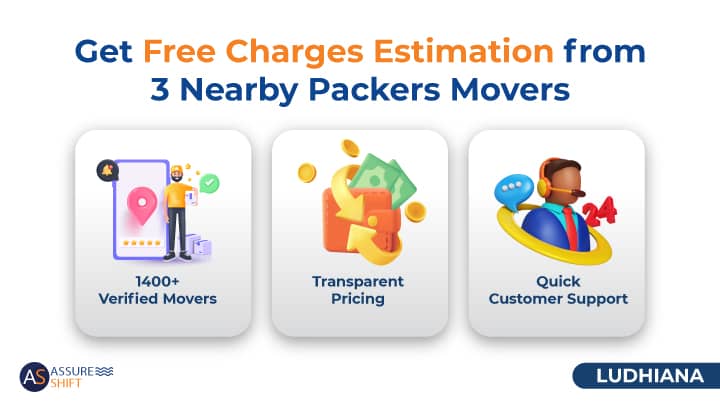 Welcome to AssureShift – the go-to destination to connect with the best packers and movers in Ludhiana for all your packing and moving needs.
When it comes to shifting, whether you are moving your home, car, bike, or office, we are here to make the process simple, smooth, efficient, and most importantly, reliable.
At AssureShift, we have seamlessly integrated a vast network of top, verified packers and movers Ludhiana and 25+ other cities in India, who follow a systematic approach to carry out your relocation in order to save you good amount of time and effort.
Our professional movers and packers in Ludhiana make sure every one of your belongings (be it fragile antiques, fine art, or bulky furniture) are treated with utmost care. They use quality packing material and skilled labor for 100% organized & secure shifting, and right-sized trucks to avoid multiple trips, ensuring cost-effective moving services.
Every moving company partnering with AssureShift undergoes a rigorous verification process:
Business Checks: We verify the company's business/GST registration certificate.
Physical Verification: We check their office presence and location at their given office address.
Owner Details: We carry out a thorough background check of the company owner's ID.
Performance History: Through an in-depth analysis of past performance, we ensure the movers are capable of providing the required quality and professionalism.
Our Ludhiana packers and movers offer a wide range of relocation services for different shifting needs for local shifting, domestic shifting, as well as international relocation, like Home shifting services, Car transportation services, bike transportation, Office relocation services, Fine art and antique moving services, Plant relocation services, Pet moving services, Warehouse storage services, Unpacking and rearranging, Furniture dismantling and re-assembly, Corporate shifting, Logistics services, Cargo shipping, Moving Insurance, and so on.
With AssureShift, hiring the right movers and packers Ludhiana can be done in just a few minutes. To get a quick cost estimate:
Fill the query form and provide details of your move like origin & destination, shifting type, moving date, number of goods, quality of packing required.
Get references of 3 best match packers and movers in Ludhiana according to your requirements along with their initial estimates.
Ask for a pre-move survey from all 3 packers movers to discuss your packing moving needs in more detail and get accurate moving costs (along with list of services that will be provided in writing) for your particular requirements.
Compare the written cost quotes, services offered, company profiles, and previous customer reviews and ratings, and identify the company offering best value for money in terms of the services and average price.
Finalize your deal with the relocation company that best suits your shifting needs and budget requirements.
If you face any sort of problems and have any queries during the course of your move, reach out to our customer support team who is dedicated to assist and resolve any concerns during the entire process.
Relocating is a significant milestone in one's life. At AssureShift, we ensure your new chapter begins without a hitch. Dive in and discover the best packers and movers Ludhiana for a seamless transition.
---
Why Choose AssureShift for Your Relocation Needs in Ludhiana?
With a network of more than 1200 pre-verified and reliable packers movers companies across 25+ cities in India, AssureShift ensures each customer has access to secure packing and moving services at budget-friendly rates. Moreover, we aim to prevent customers from getting in touch with fake relocation service providers who cheat and defraud them on the pretext of providing house shifting services.
Here's why AssureShift should be your top choice when hiring professional packers and movers in Ludhiana.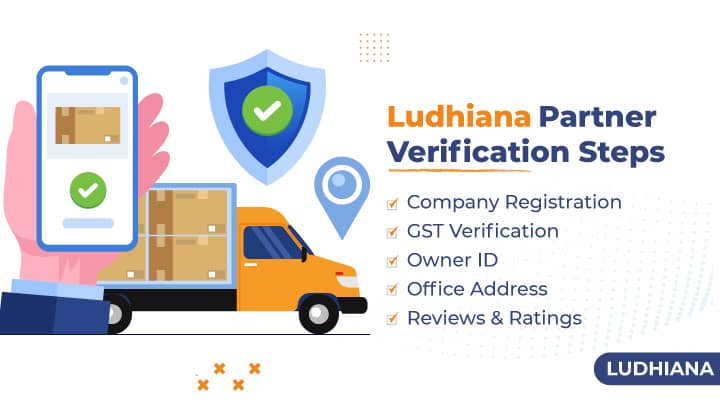 Streamlined Directory for Quick & Easy Access: We have curated a well-organized list of packers and movers Ludhiana based on the services they provide, customer reviews and ratings, affordability factor, and their location. This will help you quickly browse, compare, and choose the best moving company for your relocation needs.
Rigorous Screening for Your Peace of Mind: All our movers undergo thorough verification and background checks before associating with our platform. We check their company registration documents, owner ID, office presence, as well as past performance to make sure they're genuine and uphold our high standards.
Customized Solutions Just for You: Every packer mover service provider partnered with us is capable of catering to any size and type of moves. Whether you need to shift a studio apartment or a sprawling villa, or need to transport an i10 or a Harley Davidson, our movers and packers in Ludhiana will tailor their services to fit your exact needs.
Top-notch Service Without the Hefty Price Tag: Premium service need not always mean premium pricing. With AssureShift, you can avail quality packing services and relocation at affordable rates without compromising on the safety of your belongings at any stage of the move.
Transparent Quotations – No Hidden Surprises: Our movers price is competitive, transparent, and upfront. Our relocation partners will explain to you in detail about how much you will be paying and for what, making sure you have a smooth and stress-free shifting experience.
Dedicated Assistance Every Step of the Way: AssureShift's dedicated customer support team is available throughout your relocation to resolve any queries or issues. From the initial consultation when hiring packers movers until your belongings are delivered and unloaded at your desired destination – and even after you have settled in – you can reach out to our customer support team at any time you need.
In essence, AssureShift does not simply provide a service – we promise trust, quality, and convenience in every tier-1 and tier-2 city with the best packers movers in Bhubaneswar, Coimbatore, Faridabad, Kolkata, Noida, Hosur, Bangalore, Chennai, and many more along with Ludhiana.
---
Packers and Movers Ludhiana Charges
The Ludhiana movers and packers charges for shifting a standard 2BHK within the city can range from ₹5,400 to ₹14,300. For intercity relocation services provided by our outside-city packers and movers in Ludhiana, they will charge around ₹12,800 to ₹32,400 for relocating a standard 2 BHK to a different city outside Ludhiana, with the exact costs depending on the specific factors considered for the move.
| Move type/ Distance | 1 BHK | 2 BHK | 3 BHK | 4-Wheeler | 2-Wheeler |
| --- | --- | --- | --- | --- | --- |
| Local Shifting | ₹ 3,600 - 9,500 | ₹ 5,400 - 14,300 | ₹ 7,700 - 19,000 | -NA- | -NA- |
| Ludhiana to Bangalore | ₹ 17,900 - 25,400 | ₹ 22,000 - 32,400 | ₹ 24,400 - 36,600 | ₹ 10,200 - 16,900 | ₹ 6,000 - 10,000 |
| Ludhiana to Mumbai | ₹ 16,200 - 23,000 | ₹ 20,300 - 30,700 | ₹ 22,300 - 33,700 | ₹ 5,200 - 9,400 | ₹ 2,700 - 5,300 |
| Ludhiana to Delhi | ₹ 10,000 - 17,500 | ₹ 12,800 - 21,400 | ₹ 15,700 - 25,200 | ₹ 4,800 - 8,600 | ₹ 2,400 - 4,800 |
| Ludhiana to Hyderabad | ₹ 16,200 - 23,000 | ₹ 20,300 - 30,700 | ₹ 22,300 - 33,700 | ₹ 5,200 - 9,400 | ₹ 2,700 - 5,300 |
| Ludhiana to Kolkata | ₹ 16,200 - 23,000 | ₹ 20,300 - 30,700 | ₹ 22,300 - 33,700 | ₹ 5,200 - 9,400 | ₹ 2,700 - 5,300 |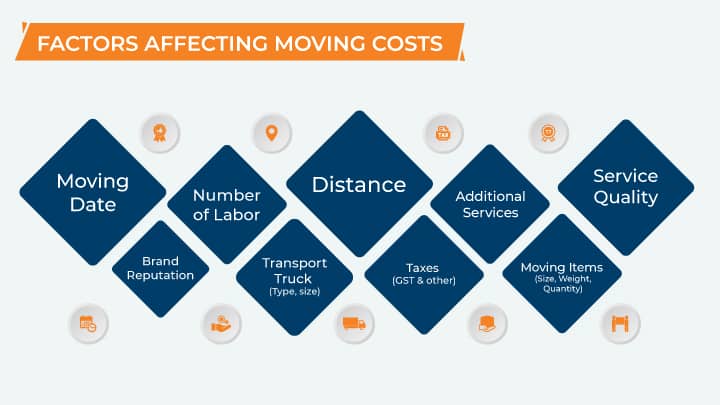 A number of factors can greatly affect the exact packers and movers charges in Ludhiana, including the distance between the source and destination locations, the total volume or quantity of goods to be relocated, the size and type of truck used for safe transportation, any special handling or packaging requirements, the type of services you choose, the timing of the move, and any additional services requested, like insurance, temporary storage service, etc.
---
How will AssureShift Assist You in Addressing Concerns?
At AssureShift, our commitment doesn't end once you hire packers and movers in Ludhiana. We stand by you throughout your journey, ensuring a smooth and satisfying relocation. If you face any concerns, here's how we ensure they are addressed promptly and efficiently.
Tailored Recommendations for Your Contentment: When you share your requirements with us, we refer packers and movers in Ludhiana that perfectly align with your needs. However, if, for any reason, you feel the references provided aren't up to the mark, we'll promptly offer alternate suggestions of moving companies.
Guided Support from the Beginning to End: There are many steps to moving, and each one can bring its own set of difficulties. Whether you have questions at the beginning, during the move, or after the move, our committed support team is there for you every step of the way. Whether you need tips to prepare for the moving process, assistance in selecting the right moving company, or help with any queries or issues during the move, our customer support team is readily available.
Consistent Monitoring for Assured Quality: At AssureShift, we regularly monitor and assess the quality of services provided by our associated moving companies. Through routine customer feedback and regular reviews, we ensure that the quality and performance standards we set are consistently maintained by each mover.
Taking Firm Measures to Ensure Accountability: Our movers are expected to uphold the values of AssureShift. In the rare event of discrepancies or issues, we take the necessary actions against the concerned relocation company. We issue warnings, temporarily suspend or, in case of severe issues, permanently delist the mover from our platform, to uphold our commitment to maintain the trust you place in us.
Your peace of mind is our utmost priority. With AssureShift, you're not just hiring a service, but you're gaining a partner committed to making your move as seamless and stress-free as possible.
---
Frequently Asked Questions (FAQs)
How much do a movers company in Ludhiana typically charge for local shifting?
The cost of hiring local movers and packers in Ludhiana for shifting within the city can vary from ₹3,600 to ₹19,000. The exact charges depend on several factors like size of the house, volume of goods, distance, complexity of the move, and additional services requested. It's best to get a personalized cost quotes from service providers for accurate pricing.
Do movers and packers Ludhiana offer insurance for the goods being moved?
Yes, many packers and movers in Ludhiana offer transit insurance, which covers the damage or loss of items during transportation, as well as all-inclusive insurance to protect goods throughout the entire move. Always ask about insurance options and their cost before making a booking.
How much time will it take for my belongings to be moved within Ludhiana?
Moving goods within Ludhiana may usually be completed in a single day. However, if the number of items to be relocated is large, if a high level of service is required, or if the distance to the destination is too great, it may take longer than a day to finish the transfer.
What should I do if my items are damaged during the move?
If your items are damaged during the move by your chosen moving service in Ludhiana, immediately notify the company within 24-48 hrs of delivery. Document the damage with photos and keep any broken pieces as evidence. If you've opted for transit insurance, contact the insurance provider and follow their claim process.
What are some common moving scams to watch out for?
When selecting a packer and mover, steer clear of firms that want a substantial upfront payment, offer remarkably low quotations, or lack a proper/valid office address. Additional warning signs include acting impolitely, declining an on-site examination of your items, and failing to provide a written quotation. To avoid scams, always use a trustworthy and verified moving business, such as those listed on the AssureShift platform.
Can I track my shipment while it's being moved?
Many professional packers and movers in Ludhiana provide real-time consignment tracking facilities. It allows you to monitor the movement of your belongings on the way to the destination. Make sure to check this feature with your chosen service provider.
What services do packers and movers Ludhiana offer?
Movers and packers Ludhiana offer a broad range of local, international, and domestic relocation services including packing, loading, transporting, unloading, unpacking, and setting up things at the new place. In addition, they might offer other services like insurance, office relocation, automobile transportation, warehousing services, and specialist transfers for things like artwork or pianos.
---
Ludhiana Packers and Movers Reviews
Professional packers and movers in Ludhiana make it considerably easier to relocate quickly and with minimal effort, without being worried about the safety of goods. These professionals move your household, office, vehicle, cargo, and various other type of goods safely, with efficient transportation and on time delivery at your new place.
Choosing AssureShift guarantees a trustworthy and reliable relocation with the most experienced packers and movers Ludhiana. We conduct thorough verifications of all every moving company before they associate with us to ensure 100% reliability, safeguarding your trust.
With our professional Ludhiana movers and packers, you can easily avail excellent services, at an affordable price, for a variety of moving needs for local shifting, domestic relocation, as well as moving overseas. Our extensive range of movers service include household shifting, office shifting, car transportation, bike transportation, commercial goods transport service, storage and warehousing services, plant relocation, pet moving, fine art and antique moving, and many more.
For secure house shifting, Ludhiana packers and movers company use quality packing materials like bubble wrap, corrugated boxes, and plastic wraps, among others. They use advanced loading and unloading equipment like panel movers, ramps, straps, forklifts, hand trucks, etc., to securely load and unload household goods before and after the relocation.
For safe transportation, the movers and packers Ludhiana use the right-sized truck according to the quantity and size of moving items, ranging from compact vehicles like mini trucks or LCV to larger trucks ranging from 14 feet to 22 feet in size. IBA approved packers and movers also offer the option of shared or dedicated truck during domestic shifting which will help in not only ensuring timely delivery but also keep the move in a pocket-friendly range.
Before hiring any random moving companies, make sure to verify the credentials of the moving company, check the company's reviews and ratings, compare cost quotes from multiple movers, assess the company's work experience, and discuss your specific requirements thoroughly.
When hiring local moving companies, prefer to shortlist the nearest local movers and packers in Ludhiana in order to avail quick and cheapest packers movers services. However, when hiring packers movers for domestic relocation services, make sure the Ludhiana packers movers you hire has a branch office in your destination city. For e.g., if you are moving from Ludhiana city to Jaipur, the presence of the moving company in both cities will ensure you can avail of essential movers and packers services in Jaipur> like doorstep unpacking and reassembly of your delivered items, without having to spend much.
To ensure you move at affordable rates, consider moving during off-peak seasons like weekdays or mid-month, research movers packers Ludhiana and book movers services well in advance, declutter unwanted items, pack valuables and move them with you to avoid major losses, and negotiate prices with the service provider to get the best deal.
With AssureShift, getting the movers price estimates and hiring the best packers and movers in Ludhiana is a simple and stress-free. You just need to fill the online form with your shifting details and within a few minutes, we will provide you 3 referrals of the best match relocation services providers matching your requirements and budget. Quickly compare the moving costs quoted, movers services offered, packing quality promised, and company profiles along with their reviews and ratings. Identify the right movers and packers in Ludhiana offering best value for your money and finalize your deal with them.
Our movers packers in Ludhiana serve various localities in Ludhiana including Model Town, Civil Lines, Rajguru Nagar, Transport Nagar, Dugri, and BRS Nagar, among many others.
Lastly, if you face any concerns during your relocation, AssureShift is always at your service. From providing tailored recommendations to guided support, quality checks, and ensuring accountability from our partner packers and movers Ludhiana, we are committed to ensuring your move is smooth from start to finish.