When is the Ideal Time to Look for Packers and Movers?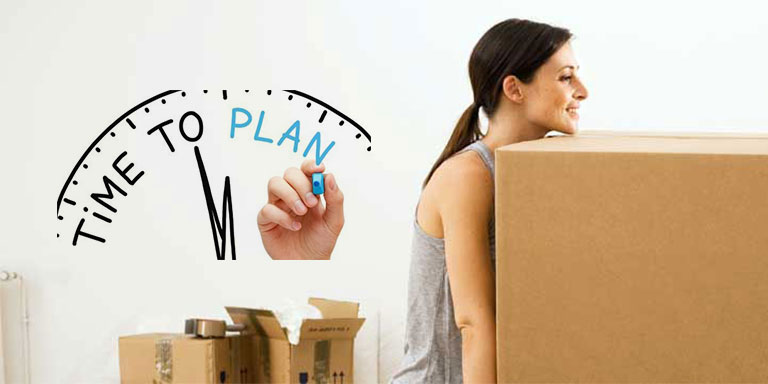 Moving to a new house is one of the most exciting moments in a person's life. However the task of home relocation involves a lot of hard work starting from packing, to shifting and unpacking all your household items. In order to ensure a stress free relocation what you need to do is avail the services of a reliable moving company. A reputed packers and movers company would offer you all kinds of relocation services such as domestic or international packing, shifting, storage, home moving, long distance moving, rental trucks and crates and much more. In this article we discuss how many days before you should look for a packing and moving company for local, domestic and international home relocation.
Local House Shifting
If you are moving locally to another home or apartment then the expert local packers and movers can make your shifting process an easy and enjoyable one. However, even though you are moving locally, there are a great many things which needs to be done. This is why you need to give yourself some preparation time and call your movers at least 10-3 days before the shifting. A reputed packers and movers company would start by visiting your home and taking a close look at the exact inventory of your move so that they can get the right amount of packing material required for all your items. They would even provide you with custom built crates for shifting fragile items like LCD television or artworks.  They would bring all sorts of moving supplies such as book crates, linen crates, wardrobe boxes, packing papers, shrink wraps, tapes and much more. A team of expert movers would carefully pack all your goods so that there is not the slightest damage in transit. On reaching your new home, they would unpack all the items and even reassemble them on request.
Domestic Household Moving
If you are considering long distance moving of your domestic household items, then a professional packers and movers can be of tremendous help. When you are going for a long distance household shifting you need to book the services of your moving company at least 20-6 days in advance. Packing all the items of your home and shifting them to a new city can be a daunting task. The professional packers and movers can help to reduce your anxiety by making your interstate shifting a simple and pleasurable process. They would visit you a week before your shifting and after understanding the nature of your move they would provide you with a quotation. They would handle every single aspect of your shifting from one city to another. However there are some things you need to do on your own. For example you should carry all the papers, keys, jewelleries and other precious possessions on your own. It is also a good idea to vacate your wardrobes and furniture before the moving crew visits your place.
Some of the long distance household moving services provided by a moving company includes:
Packing, wrapping and protection of furniture, electronic and electrical devices
Special packaging for television and artwork
Special packaging for lampshades/ chandelier, mirror and carpet
Disassembling and reassembling of your furniture and electronic equipment on request
Transit Insurance for your precious items
International Home Relocation
If you are planning to make your move around the world then the first thing you need to do is contact an international packing and moving company at least 45-20 days ahead of your move. Moving all your belonging across the border can be a very strenuous task which is best left in the hands of the experts. They would come up with extra strong packing and custom crates which have been specially designed for long distance by air or sea shipping. You would be provided with a transit insurance so that you can claim your money back if your items has suffered any kind of damage. An international moving company should be well acquainted with the changing regulations and the international custom requirements. For overseas move of your treasured possessions all you have to do is find a reliable international moving company and request an estimate. They would have all the experience and resources to make your international moving process a simple and affordable one.
Few Tips for Easy Home Relocation
Start organizing the move at least 2-3 weeks in advance and avoid leaving anything for the last minute
Decide on a moving strategy
Talk to your moving company and tell them about all your requirements and expectations well before you book their services. Make sure to make them aware of all the minor details about your bulky, overweight or fragile items
Get rid of all the things which you don't use any more. Take some time out to sort out the useless items and put them up for sale or donate them.
Look for moving companies few days before your move according to your move type. And get maximum response and best price quote for any relocation local, domestic, or international.