Tips for Packing & Moving Large & Heavy Items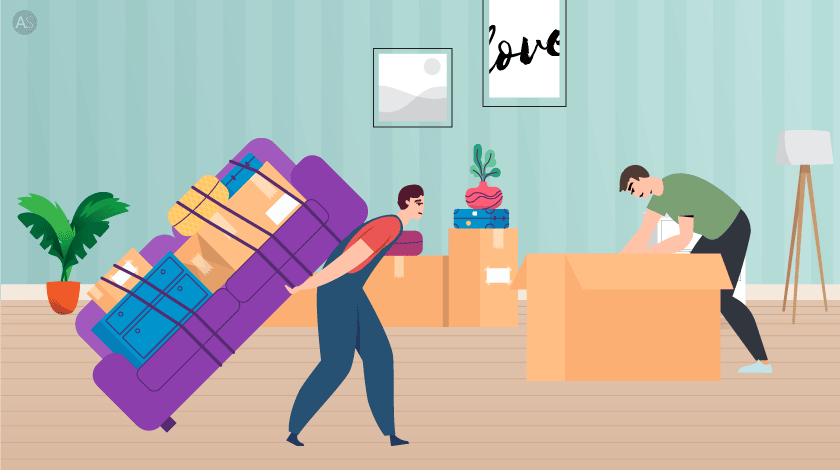 Moving large and heavy items can be a daunting task, but with the right tools and techniques, it can be done safely and efficiently. From disassembling large pieces to securely packing them for safe transport, these tips will help you ensure that your move goes smoothly and your belongings arrive at your new home in good condition.
In this blog, we have provided a few tips on how to properly pack and move large and heavy items, such as furniture, and appliances.
#1 Plan Ahead
Before you start packing, make a list of all the large and heavy items you need to move, such as furniture, appliances, etc.
#2 Gather Packing Supplies & Equipment
For moving heavy goods you need to invest in high-quality packing materials that can withstand the load of heavy objects. Some of the needed packing supplies and tools include:
Stronger boxes: Get hold of double-ply cardboard boxes and heavy-duty shipping boxes that can support the weight of your bulky things. Boxes made of plastic or wooden crates offer extra protection.

Thick wrapping: Use bubble wraps, foam padding, moving blankets, etc., to offer protection to the items against bumping on each other or toppling over during transportation. The thicker the wrapping, the smaller will be the risk of damage to the item and the floor.

Sturdy cushioning: Use cushioning materials like moving blankets, foam cushioning, corrugated cardboard, bubble wrap, and packing peanuts for transporting heavier objects. Using crumpled paper for heavier goods won't be sufficient protection since it will flatten out under their weight.

High-quality packing tape: Utilise heavy-duty packing tape to strengthen the moving boxes, and keep the wrappings in place.

Sliders & Dollies: help to slide and move heavy and bulky furniture or stacks of cartons.
#3 Disassemble Heavy Items
Disassembling large or heavy items will make them more manageable and easier to move. This will also reduce the risk of damage during transit.
For example, when you have to relocate your household furniture like sofas, beds etc., over a long distance, disassembling them will ensure each piece is securely packed individually and offer added protection while moving. For more detailed information, read this blog on how to easily disassemble your furniture.
#4 Prepare for Packing
The first step is to reinforce the moving boxes using heavy-duty packing tape to reduce the risk of them falling apart when lifted and carried around.
Note: Use smaller moving boxes for packing heavy items, as larger boxes will weigh too much if they're full of heavy objects and will be very difficult to lift and carry.
#5 Add Adequate Cushioning
Before you place your heavy items, ensure that you line the bottoms of the boxes with cushioning materials like large-size bubble wrap, packing peanuts, or corrugated cardboard for added safety.
After placing your heavy items, check for empty spaces in the box. Add cushioning materials like pieces of cardboard, foam sheets, packing peanuts, or huge bubble wrap until the objects are immobile. Similar to adding cushioning at the bottom, it's important to add it on top as well. Make sure the box is sturdy on top when closed, if not add extra packing peanuts or foam sheets.
#6 Seal the Box
Seal the packed box and cover it in many layers of bubble wrap and secure the wrapping with packing tape. Place it in another box slightly larger in size. Insert some cardboard or other suitable cushioning materials between the two boxes and tape the second box closed.
#7 Label the Box
Label boxes clearly with the contents and put HANDLE WITH CARE or HEAVY. Write the contents as well as the room to which they belong, this will help to make unpacking much easier.
How to Prepare Heavy Appliances for Moving
When moving your larger appliances, you need to take extra care as there are greater chances of causing damage if not packed and moved properly. Before the moving process disconnects them and removes any movable parts that could come loose during transportation, and securely pack them. Here are a few examples of heavy appliances and ways to pack them.
Refrigerators: Remove all food and ice cube trays and shelves. Drain the water in the icemaker and clean the fridge. Secure the doors closed to prevent movement during transit. For more information, visit this blog on how to move a refrigerator.

Dishwashers: Make sure the machine is empty, clean and remove the lower rack and pack it separately.

Stoves & ovens: Unplug the stove, remove and clean all the detachable parts like burner knobs, cookie sheets, baking pans etc., and pack them separately.

Washing machine: Unplug and detach the water hoses, protect the drum and washer and pack securely. For more detailed information, visit this blog on how to move a washing machine.
How to Prepare Heavy Furniture for Moving
Moving furniture can be made easier after disassembling them into small parts, they become lighter and easier to move. Here are a few steps on how to effectively move a large piece of furniture.
The first step is to disassemble your heavy and large furniture so they can be transported more easily.

Protect fragile parts with soft packing materials and then with bubble wrap to create protective layers.

Consider using thick cardboard pieces over delicate elements for added protection.

Wrap all disassembled pieces with thick furniture blankets and cover all remaining furniture pieces with protective blankets as well.

Tape the blankets to keep them from unwrapping.
Note: Use a high-low method when carrying taller pieces of furniture with one person carrying the top and another carrying the bottom. This method makes traversing stairs much easier.
Conclusion
Moving large and heavy items can be dangerous, especially if you're not experienced in doing so. In this blog, we have listed an overview of all the steps to pack and move a large piece of furniture or heavy appliances safely.
However these operations cannot be performed alone, so don't hesitate to ask your friends for help or you can easily hire a professional moving company who takes care of the complete move on your behalf from packing, loading, and transporting to unloading at your new location securely.