Steps to Follow for Easy Furniture Disassembly Before Relocation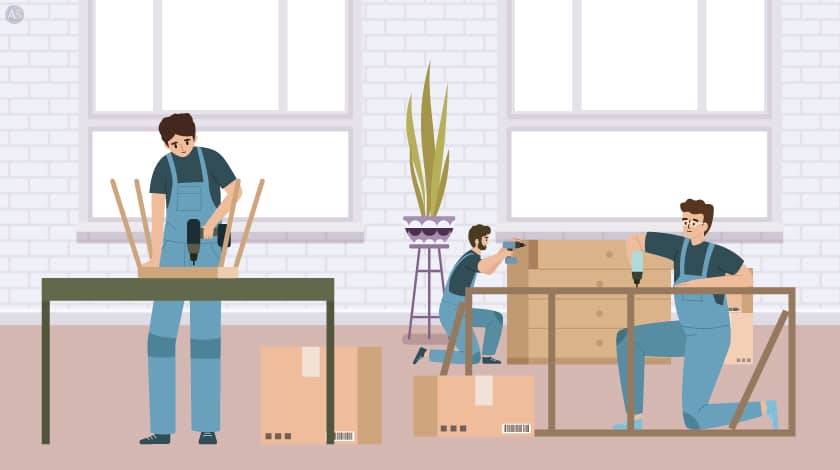 When you're shifting to a new house, you may need to move your large cabinets or beds through a small door, which is not possible. Lots of extra effort may be required to carry them. 
These problems can be minimized by disassembling heavy and large furniture, so that you can easily move them in small pieces. 
In this blog, we've outlined a few methods for disassembling commonly used furniture and a few safety measures to keep in mind when disassembling. This way you can save extra money by not hiring a bigger truck or a moving firm and moving your furniture without causing any injuries and strain on your body.
How to Disassemble Different Furniture Pieces
Household furniture include bed, table, wardrobes, dining table, chairs, sofas etc. here are a few ways you can easily disassemble them.
Bed
Step 1: To begin with, remove the bedding which includes all sheets, pillows, and covers. Wash all the linens and fold them before placing them in carton boxes.
Step 2: Remove the mattress and box spring and put them in a dry area to prevent damage. Pull out the bed slats and set them to the side.
Step 3: Loosen and remove headboard and footboard away from the frame. If there are any drawers, remove them.
Step 4: To remove the bed frame, start with the railings. If you have a metal one, you can leave them attached and intact. 
Sofa
Check if your sofa can be disassembled and then move it part by part. If your sofa is unibody, pivot and tilt it around the tight corners or doors.
Desks & Tables
Step 1: Empty all of the drawers in your desk or tables. During transit, they can easily slip out, causing them to tumble, chip, or break. Remove them and bundle them individually to make shipping easier and safer.
Step 2: Take away any glass elements. Place them in a box and wrap them with bubble wrap or packing paper.
Step 3: Unscrew the legs or other pieces of the desk or table (if feasible), especially if they are heavy.
Step 4: Use a moving blanket to wrap the larger parts.
Dressers & Wardrobes
Step 1: Clean and empty out all cabinets, shelves, and drawers.
Step 2: Remove them and wrap them in moving blankets (particularly if they are made of glass). Place them in separate boxes with proper labeling.
Step 3: Remove any doors by unscrewing or detaching them, or connect a strap to the wardrobe to keep its doors closed while being moved.
Step 4: Add a furniture blanket to the bigger parts and cover them.
Step 5: With another person's assistance, carry it utilizing the high-low technique.
Dining Tables
Step 1: Table leaves should be removed and covered in towels, linens, or moving blankets individually.
Step 2: Remove the legs and wrap them individually. For transportation, secure them to the underside of your tables.
Step 3: Corner protectors or corrugated cardboard can be used to protect table corners.
Glass tabletops
Apply strips of masking tape in different directions over the glass surface to increase strength and keep glass fragments together if your table breaks in transport. The tape will also assist avoid harm during unloading.

Wrap your tabletop in moving blankets, then bubble wrap. Moving blankets will prevent the bubbles from leaving a mark on the glass.

Place the covered tabletop in a telescoping box. To avoid movement, the box should be as near to your tabletop as feasible. 

Label your glass tabletop "fragile" and "handle with care."
Wooden tabletops
Applying wax to wooden tabletops before covering in moving blankets can help protect the surface from damage.

Apply a couple of strips of duct tape to the bottom of the table so it doesn't separate in transit.

To keep drop-side sturdy tables, lower the table leaves and fix them in place using masking tape.

Wrap your hardwood surface in moving blankets. Make sure the blankets cover the table's edges and corners, as these regions are most vulnerable to harm.

Shrink wrap your wrapped tabletop. Applying plastic directly to the wood might allow moisture to develop, which can harm the surface of the wood.
Chairs
Step 1: Remove the chair legs. Keep nuts, screws, and bolts in a resealable bag .
Step 2: Wrap legs in packing paper before shrink or bubble wraps to protect the wood from moisture.
Step 3: Wrap any extensions, bars, or rails with protective padding to protect them from damage. The chair's body should then be wrapped in packing paper before shrink or bubble wraps.
Doors
Step 1: Unscrew hinges to remove doors. 
Step 2: Wrap them in blankets or bubble wrap to protect them from breakage.
Fragile or Moving Pieces
Mirrors and glass furniture can break during a relocation if not properly packed and handled. So wrap them carefully in blankets and bubble wrap and label them as "fragile".
Safety Measures to Take During Disassembling
Disassembling heavy furniture makes moving around simpler and safer, lowering risk of causing damage to the floor, walls, and doors, as well as personal mishaps. Here are a few points to keep in mind when disassembling furniture for moving:
Protruding elements
Remove any projecting furniture elements, such as legs, arms, decorations, and attachments. In most situations, such extra pieces significantly increase the size of a furniture item, making it extremely difficult, even impossible to move without causing damage.
Glass parts 
When transporting furniture, remove the glass elements. Take those glass shelves, glass doors, or glass panels out carefully and gently and then wrap each one separately in packing paper before placing it in a soft protective blanket.
Fastening elements
Keep all screws, bolts, nuts, washers, and so on in plastic bags that shut tightly. Label such bags correctly for better identification following the transport.
Conclusion
It takes a lot of time and effort to shift to a new house and carry all your furniture. To transport furniture easily, or if the hall or door pathways are narrow, the furniture must be disassembled.
Here are some pointers on how to disassemble furniture and things to keep in mind while moving furniture. If this task proves to be too much for you to accomplish alone, you can get assistance from a carpenter or a professional moving company.