12 Effective Steps to Easily Move Your Furniture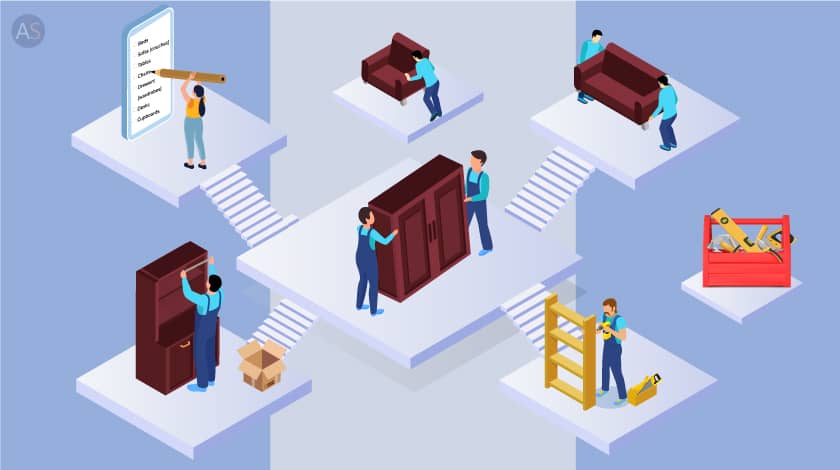 Moving furniture by oneself is complex by any means. However, you can easily undertake this task with proper planning and preparation.
You need a variety of tools and packing materials and know how to effectively disassemble heavy or oversized furniture to safeguard the objects while moving.
In this blog, we have listed 12 effective ways you can plan a furniture move to a new location.
How to Pack & Move Your Furniture Easily
Step 1. Make a Furniture Checklist
Visit each room and make a detailed list of all the furniture you possess. Categorize each furniture item you are planning to move to a new home in the list.
Beds
Sofas 
Tables
Chairs
Dressers 
Desks
Cupboards
Remember that each piece of furniture you pack and move raises the expense of the relocation, so be selective. Move furniture that you absolutely need and hold emotional value. Get rid of unused furniture so that you can save time and make the packing process quicker. 
Note: You can either sell, gift, donate, or dispose of the furniture pieces that you no longer require.
Step 2. Take Measurements of the Furniture & Doorways
Furniture disassembly is required when a piece of furniture is too large to pass securely through your home's entrances or when it is too heavy to be carried safely as one piece and must be disassembled to prevent damage or injury.
Measure the dimensions of all large furniture (height, breadth, and length), and then measure all entrances and hallways in the house, and then compare those measures to determine your moving steps.
Step 3. Refer Disassembly Manuals
Use a manual with detailed furniture disassembly steps to guide you to partially or fully disassemble heavy or large furniture. 
In case you don't find a furniture disassembly manual, try searching them online or call a carpenter or reputable furniture store personnel nearby and seek advice from them.
Step 4. Use the Right Disassembly Tools
You can easily disassemble your bulky or large furniture items with appropriate tools. There are some essential tools you'll need. There are some essential tools you'll need. 
Screwdrivers: get a set of screwdrivers with screws of various sizes.
Wrenches: used commonly for gripping, fastening, turning, tightening and loosening bolts and nuts in furniture.
Hammer: can be used to fix or remove nails.
Dollies: can be used to move heavy furniture without over-exerting yourself. With your belongings on wheels, it will be easier to move furniture.
Moving straps: increase your leverage while lifting heavy goods. They also relieve pressure on the legs and back when carrying heavy objects.
Work gloves: can protect your hands from damage if your furniture has sharp or jagged edges.
Sliders: can be installed on the bottom of your furniture, protects your floors from scrapes and allows your goods to glide across the floor more easily.
Step 5. Use Sealable Bags for Keeping Small Objects
Plastic containers, such as Ziploc bags, can be used to store all of the little fastening parts that are removed from furniture, such as bolts, nuts, washers, screws, and so on. Smaller objects are more likely to be forgotten or lost during the moving process.
Note: Remember to label the bags once you've stored all of the fastening pieces.
Step 6. Don't Hesitate to Ask for Help
It is not possible to move all of the furniture by yourself. Ask a family member, a friend, or a neighbour to assist you with a helping hand to move larger and heavier furniture items. This can decrease the risk of injury and ensure the safety of the furniture when transferring to the truck and loading them inside.
Step 7. Look into Moving Techniques
You will most likely need to raise weights with your body, so look for a few easy movement strategies to remember, such as bending your knees and avoiding twisting your body when lifting or carrying furniture. To assist you in maintaining balance, keep the object as near to your body as feasible. Above all, make sure you can see clearly in front of you.
Step 8. Disassemble Your Furniture 
The more you can disassemble each piece of heavy furniture, the better. This way, you can easily move and load the furniture pieces around and load them on trucks easily. Disassembling includes removing any detachable elements, such as cushions, knobs, legs, drawers, bed frames and so on. 
Step 9. Prepare Your Furniture for Packing
After buying the necessary packing materials, you need to prepare your furniture for packing. Take the time before packing to properly clean and dust all of your furniture. During the moving process, dust and dirt can harm your furniture. Furthermore, cleaning the furniture before moving ensures that you do not introduce any unwanted dirt into your new house.
Step 10. Protect all Detached Furniture Pieces
After disassembling all the large furniture, you need to securely pack them to safeguard the items during the relocation.
Packing paper: Use it as the first protective layer, primarily for smaller pieces that are especially delicate.
Bubble wrap: To avoid direct damage to wood surfaces, use sheets of bubble wrap over the initial layer of packing paper.
Shrink wrap: Use shrink wraps to keep dust, filth, and moisture away from dismantled furniture.
Furniture blankets: Use protective blankets as the outermost layer when packing furniture after furniture disassembly.
Plastic stretch wrap: Plastic wrap is ideal for upholstered furniture such as sofas and beds.
Note: Always use some foam or old newspaper to fill the gap in the furniture. And after the completion of packing, use a marker to label so that it can be easily identified after shifting. 
Step 11. Hire Professional Movers if You Get Stuck
By hiring professional moving firms, the entire relocation process will be taken care of from packing your furniture to unloading at your door-step securely. However they often charge an additional cost for furniture disassembly and furniture reassembly services.
Step 12. Load Your Furniture Carefully in Truck
After packing, you can load your furniture into a suitable truck. But there are key points to keep in mind, like loading the heavy items below and close to the truck's floor. And after that, you can load your other items. 
Conclusion
Once you have decided to move the furniture, the next step is to prepare the furniture for moving. This includes removing loose or movable items such as drawers, cushions, etc. and disassembling any larger pieces of furniture that can be taken apart to facilitate easy moving.
This blog gives you an idea of what packing materials and disassembling tools you need and how to prepare for a furniture move. You can also take the help of a professional moving company if you don't have the time or cannot invest more effort in the moving process.