What to Do If Your Mover Cancels Last Minute?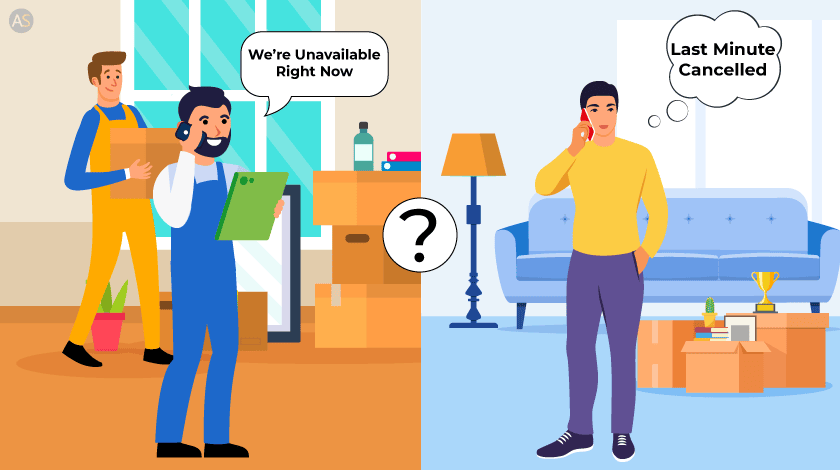 Planning and executing a move takes a lot of time and effort. All your efforts and time invested in finding a moving company for your relocation will be pointless if they cancel the move at the last minute or fails to show up on the scheduled move day. There can be chances that your cancellation could be due to any legitimate reasons or you might be dealing with a fraud mover.
Depending on the reason, we have listed a few steps you can take to resolve and handle the situation effectively.
Reasons Why a Mover May Cancel Last Minute
Unpleasant weather and natural calamities like floods, thunderstorms, etc., can make it difficult for the moving company to perform your move on the planned date.

Technical issues and traffic accidents such as the moving truck breakdown or an accident involving the moving vehicle. If your moving company doesn't have an alternative truck available, they won't be able to pick up your items on the scheduled day.

If moving personnel are unavailable due to illness, a family emergency, or other circumstances, and there is no one available to replace them, the moving firm will be unable to send a team to your location on the agreed-upon date.

Overbooking is the most common cause of move cancellations, particularly during peak moving seasons. 

You might be dealing with a fake moving companies that suddenly disappear at the last minute taking your deposit money. In such situations you will be unable to contact or track them on the move date.
What To Do When Movers Cancel at the Last Minute?
The first step is to contact your moving company, and if they have cancelled the move due to any genuine unforeseen reasons and are still willing to complete the job, you can reschedule the move to a later date.
You can look for a suitable moving date available in the near future and check with the moving firm for their availability, if they are ready you can proceed as originally agreed upon, although at a later date. You can also ask for a discount, for the inconvenience caused.
If your movers cancel completely and can't reschedule, or you are unable to wait until they have an accessible date, or if you just do not want to work with them any longer, you need to find another alternative that works for you and here is how you can do it.
Search online and contact other moving companies in your area and check their availability, read reviews and ratings and ask for quotations.

Reach out to friends, family, or coworkers for recommendations. They may have had a positive experience with a mover in the past and can refer you to them.

If you are unable to find a mover, consider renting a truck and doing it yourself. Make sure to pick the right truck size, check the rental company's policy regarding last-minute cancellations etc.

If your mover cancels without a valid reason and fails to fulfil their end of the contract, you must check and review the terms and conditions of your contract to see if you are eligible for a refund.

After contacting the mover numerous times and if they do not respond, the moving firm you hired is a scam. You can take appropriate actions against them such as file a complaint to the police and concerned authorities.
Read more: How to Resolve Disputes with Movers or Take Legal Action Against Them?
Conclusion
Before hiring a moving company make sure they are verified and perform a proper background check, for customer reviews, credentials and the quality of services they provide. If your mover cancels your move last minute, reach out to them and enquire the reason for the cancellation.
It is, however, important to remain calm and come up with a plan quickly. Several options are finding alternative movers, reaching out to friends and family, negotiating with the original mover, renting a truck and doing it yourself, or postponing the move to a later date. By taking quick action and exploring all of your options, you can minimize stress and ensure a successful move.