Temporary Housing Solutions: How to Find Accommodation During Relocation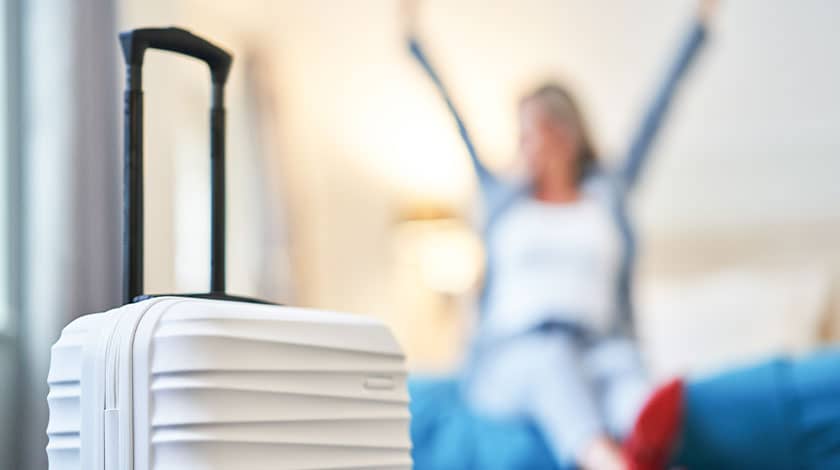 Moving to a new city is an exciting but challenging experience. One of the most critical aspects of a successful move is finding a temporary accommodation during the transition period. Temporary accommodation not only provides a comfortable space to settle in but also gives you the time to explore your new surroundings and find a permanent home that suits your needs.
However, finding low-cost temporary accommodation can be difficult, especially if you are unfamiliar with the local market and options. This simple guide will assist you in locating temporary housing during your relocation.
Types of Temporary Accommodation
When looking for temporary accommodations in India, you have multiple budget-friendly choices to pick from that cater to various preferences, budgets, and durations of stay, such as:
A. Hostels and Guesthouses
Hostels and guesthouses are ideal options for budget-conscious travelers, students, and young professionals. These accommodations typically offer:
Shared or private rooms: Choose between dormitory-style shared rooms or private rooms, depending on your preference and budget.

Affordable prices: Hostels and guesthouses generally provide lower rates compared to other temporary accommodations.

Common amenities: Shared spaces like lounges, kitchens, and bathrooms can help you save on expenses.

Social atmosphere: Hostels often foster a lively and friendly atmosphere, allowing you to meet new people and make connections.
B. Serviced Apartments
Serviced apartments are a suitable choice for those who prefer a home-like environment with added services. These accommodations usually feature:
Furnished spaces: Serviced apartments come with furniture, appliances, and other essentials, reducing the need to purchase or rent these items.

Housekeeping services: Regular cleaning and maintenance services are typically included in the rental cost.

Flexible lease terms: Many serviced apartments offer short-term leases, making them ideal for temporary stays.

Additional amenities: Facilities like gyms, swimming pools, and business centers may be available, depending on the property.
Also Read: Pros and cons of moving into fully-furnished homes
C. Budget Hotels
Budget hotels cater to travelers and relocators seeking a comfortable yet cost-effective stay. These hotels usually offer:
Basic amenities: Budget hotels provide essential amenities like air conditioning, Wi-Fi, and en-suite bathrooms.

Affordable rates: Reasonable prices make budget hotels an attractive option for temporary stays.

Location: Many budget hotels are conveniently located near public transport, shopping centers, and popular tourist attractions.

Short-term stays: Budget hotels are well-suited for stays ranging from a few days to a few weeks.
D. Shared Accommodations and Paying Guest (PG) Options
Shared accommodations and paying guest (PG) options are popular among students and working professionals seeking an affordable living arrangement. These options typically feature:
Shared living spaces: Tenants share common areas like living rooms, kitchens, and bathrooms, helping to lower costs.

Room options: Choose between shared or private rooms based on your budget and personal preferences.

Inclusive utilities: Many shared accommodations and PGs include utility bills in the rental fee, simplifying budgeting.

Community living: Living with other tenants can provide a sense of community and foster friendships.
Also Read: Pros and cons of moving into a shared house
E. Short-Term Rentals
Short-term rentals, often found on platforms like Airbnb, are suitable for those seeking more privacy and flexibility during their temporary stay. These rentals generally offer:
Variety: Short-term rentals come in various sizes and styles, including apartments, houses, and private rooms.

Flexible duration: Rent a short-term rental for as little as a few days to several months, depending on your needs.

Furnished spaces: Many short-term rentals come with furniture and appliances, making your stay more comfortable.

Unique experiences: Staying in a local's home can provide a more authentic and personalized experience.
Online Platforms to Find Temporary Accommodation
Several websites and mobile apps cater to different types of accommodations and preferences. Some of the popular listing and aggregator platforms for finding your ideal temporary home are listed below.
Listing Websites and Mobile Apps
Listing websites and apps allow property owners to advertise their accommodations directly to potential tenants. Here are some popular platforms:
99acres: This real estate portal offers listings for various types of properties, including short-term rentals, serviced apartments, and paying guest accommodations.

MagicBricks: MagicBricks is another comprehensive platform for finding properties, with options for budget stays and temporary accommodations.

OLX: OLX is a popular online marketplace where users can post free classified ads for rentals, including short-term and shared accommodations.

Housing.com: Housing.com is a user-friendly platform for finding properties, including temporary accommodations, PGs, and short-term rentals.
Aggregator Websites and Apps
Aggregator platforms curate and organize listings from various sources, making it easy to compare options and find the best fit for your needs:
OYO Rooms: OYO Rooms is a popular hotel aggregator that offers budget-friendly accommodations, including hotels, guesthouses, and serviced apartments.

Airbnb: Airbnb is a global platform for finding unique short-term rentals, such as apartments, houses, and private rooms in residential properties.

NestAway: NestAway focuses on shared accommodations and paying guest options, catering to students and working professionals seeking budget-friendly stays.

ZoloStays: ZoloStays is another platform specializing in co-living spaces and PG accommodations, with a range of affordable options across major Indian cities.
Tips for Using Online Platforms Effectively
Filter your search: Use search filters to narrow down your options based on your preferences, such as location, budget, and duration of stay.

Read reviews: Check reviews and ratings from previous guests or tenants to get a better understanding of the property and the host.

Contact the host: Communicate with the property owner or host to clarify any doubts, discuss pricing, and negotiate terms.

Verify details: Ensure that the property listing includes accurate information regarding amenities, facilities, and any additional charges.

Stay safe: Follow the platform's safety guidelines and make transactions through the website or app to avoid potential scams.
Offline Methods to Find Temporary Accommodation
While online platforms have made it easier to find temporary accommodation, offline methods can still be effective in your search for low-cost temporary housing in India.
Newspapers and Classifieds
Local newspapers and classifieds can be a treasure trove of rental listings, including short-term accommodations and budget-friendly options. To find such listings, you can:
Browse daily newspapers: Check the property or rental sections of local newspapers for accommodation listings.

Search online classifieds: Websites like Sulekha and Quikr have dedicated sections for property rentals, which may include temporary accommodations.

Visit local stores: Some local stores may have bulletin boards with rental listings or newspapers with classified sections.
Real Estate Agents and Brokers
Agents and brokers can help find temporary housing. They know the local market well and may provide solutions depending on your needs. To work with an agent or broker:
Find a reputable agent: Ask for recommendations from friends, family, or coworkers, or search online for well-reviewed agents in the area.

Discuss your requirements: Clearly communicate your budget, preferences, and duration of stay to the agent or broker.

Negotiate fees: Be prepared to negotiate the broker's fee, which is typically a percentage of the rental amount or a fixed sum.
Recommendations from Friends, Family, and Coworkers
Finding temporary housing through personal referrals is also a good idea. Local friends, relatives, or coworkers can recommend cost-effective options. To gather recommendations:
Reach out to your network: Share your accommodation requirements with friends, family, and coworkers to see if they know of any suitable options.

Join social media groups: Participate in local community groups on social media platforms like Facebook or WhatsApp, where members may share rental listings or suggestions.

Ask for referrals: Request referrals from your network to property owners or hosts who may be offering temporary accommodation.
Visiting Potential Neighborhoods and Looking for "For Rent" Signs
Walk or drive around the neighborhood: Spend time in the area you're interested in, looking for "To Let" or "For Rent" signs on properties.

Talk to locals: Engage with local residents or shopkeepers who may have information about available accommodations.

Note down contact details: Jot down the contact information displayed on "To Let" signs and reach out to the property owner or agent to inquire about the rental.
How to Save Money on Temporary Accommodation
Negotiate the rental fee with the landlord or host. 

Sharing housing with roommates may considerably lower your living expenditures. 

Choosing a lower-cost-of-living neighborhood can help you save money on housing and daily costs.

Early booking might help you get better discounts on temporary housing. 
Tips for a Comfortable Temporary Stay
1. Checking Safety and Security Measures
Secure premises: Check if the property has adequate security measures, such as locked gates, CCTV cameras, and security personnel.

Safe neighborhood: Research the neighborhood's safety record and crime rate to ensure a secure living environment.

Emergency preparedness: Familiarize yourself with emergency exits, fire safety equipment, and local emergency contact numbers.
2. Verifying Amenities and Facilities Provided
Basic amenities: Confirm that the accommodation provides necessities like Wi-Fi, air conditioning, and hot water.

Kitchen facilities: If you plan to cook, ensure the accommodation has a functional kitchen with necessary appliances and utensils.

Laundry facilities: Check if there are laundry facilities on-site or nearby to save time and effort on this chore.
3. Understanding the Terms and Conditions of the Lease
Rental duration: Ask questions to the owner to be clear about the lease term and any flexibility in extending or shortening your stay.

Payment terms: Understand the rental payment schedule, accepted payment methods, and any additional fees or deposits required.

Rules and regulations: Familiarize yourself with the property's rules, such as noise restrictions, pet policies, and guest policies.
4. Maintaining a Good Relationship with the Landlord or Host
Open communication: Maintain open and honest communication with your landlord or host to address any issues or concerns promptly.

Respect the property: Treat the accommodation with care and report any damages or maintenance issues to the landlord or host.

Be a good neighbor: Interact respectfully with neighbors and adhere to community rules to create a harmonious living environment.
Conclusion
Finding the right temporary accommodation while relocating to a new city can significantly impact your overall moving experience. This easy-to-follow guide has provided you with valuable insights into the types of accommodations available, various online and offline methods to find them, money-saving tips, and advice to ensure a comfortable stay.
By applying the information and strategies shared in this blog, you will be better equipped to secure a suitable temporary home within your budget. We wish you a successful and seamless relocation experience as you embark on this exciting new chapter of your life.