10 Important Tips to Avoid Fraud Packers and Movers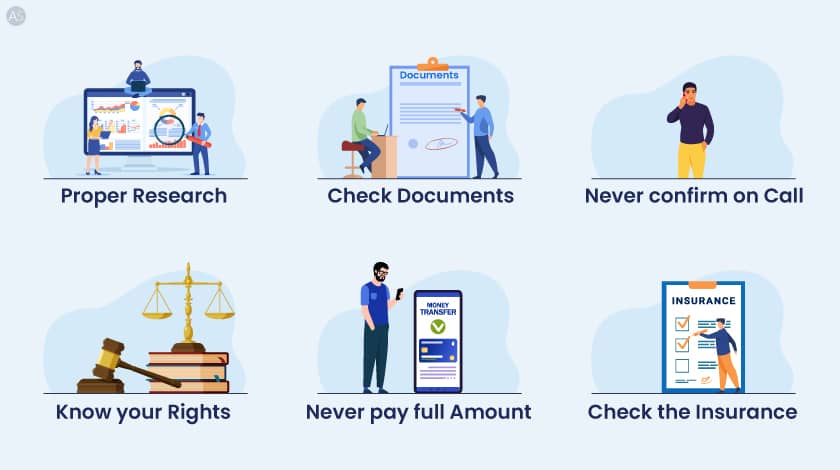 The number of fraud instances in the relocation industry is growing daily. There are various ways moving companies run these little scams. Sometimes they ask for additional payment before delivering products, sometimes, they don't provide insurance for damaged goods even after having paid for it. There are other common issues like partial theft of goods during transportation and failing to deliver goods on time.
It is difficult to spot a fake or fraudulent moving company since they have gotten smarter over the years, mimicking established players in the industry to the point where they are indiscernible, but here are a few tips on identifying and avoiding packers and movers scams in India.
1. Verify all their Legal Documents
If you are looking for trustworthy packers and movers, or if you are shortlisting a moving company for your relocation. It is critical to confirm the company's legal documentation, which includes the following:
GST registration certificate
Company incorporation certificate
Pan card of the company.
2. Visit The Moving Company's Office
A genuine moving company will have a properly registered office address which also implies reliability and trustworthiness. 
A visit to their physical office can remove most of the uncertainties from your mind, such as checking their facilities, how they interact with potential consumers and offer services or even their fleet of trucks for that matter.
3. Check the Website of Packers & Movers
Check out their website before making any commitments with packers and movers. When you search their website by physical address or phone number online and if you don't find the necessary information, they may be a scam packers and movers firm. Some fake companies will also have websites, so you need to do further checks before you decide they are genuine.
4. Check Negative Review & Ratings
The reviews and feedback made by customers of moving firms on their websites, social media accounts, or other review websites are quite helpful in making decisions. So are Google ratings. Explore these websites and read the customer reviews before deciding on the moving company. Refrain from using any mover that has no review at all.
Note: Always be cautious of fake online reviews.
5. Ask for Quotes in Writing or Email
You have the right to request the moving quotes in writing. It will prevent unexpected expenses from your moving firm later in the process. The signed relocation estimate will tie you and the firm to reasonable service requirements.
Make sure the consignment note and the bill receipt that you receive from the packing and moving services consist of the following:
Name of the company, license details, and insurance details.

Contact information.

Date of receipt, date of packing, and delivery date.

The consignor and Consignee addresses.

Cost of packing, transit, loading, unloading, installing, uninstalling, and more.

The total cost of the order.
Note: Ensure that every element of the moving cost is properly listed in the invoice.
6. Check for Any Hidden Charges
Always ask for an open invoice from your packers and movers before finalizing the deal with them. This will help to identify any hidden charges that need to be paid in the future from the moving firms.
7. Say Big No to "Low-Budget" Movers
Moving companies offering low and attractive estimates can turn out to be a big trap. They use this technique to target innocent customers. Genuine moving companies that provide excellent moving services charge as per the industry standards and are worth the price.
8. Check for Insurance Coverage
Fraudulent packers and movers label their insurance service as an additional fee and force it. However, they pocket the money and don't truly insure your products for delivery.
9. Door to Door Service
Most trustworthy and dependable packers and movers offer door-to-door relocation services. False moving firms, on the other hand, may charge exorbitant amounts of money to transfer your goods to your doorstep and later unload them on the highway or may ask you to arrange local transportation.
10. Take Recommendations from Friends & Family
Take recommendations from people who have moved in the past. Since online reviews are often found to be fake or made-up, you may choose the companies by taking references from trusted sources like friends, neighbours, relatives etc., that have relocated in the past and have had a satisfactory experience.
More Tips on How to Interact with Packers and Movers
1. Avoid Cash Payments in Full
It's better to avoid making full payments in cash as there is a risk of fraud or scams in such modes of payment. Use your debit or credit cards to make payments as it goes straight into their banks, identifying their authenticity. If you face any problem during the moving process, you can easily trace them through their bank details.
2. Avoid Detailed Discussions Over the Phone
A telephonic discussion is the first step in finding dependable and competent packers and movers. However, it is advised to meet and speak with the professionals in person so you can carefully examine them before making a judgment and finalizing the move.
How to Hire Genuine Packers & Movers Easily
Avoid all of this effort with just a click. You can easily hire experienced and professional packers and movers from AssureShift. AssureShift is an online directory with 100+ verified moving companies providing moving services in all parts of India. 
All you need to do is fill in the enquiry form with your moving requirements, the platform will recommend three reliable movers that meet your budget and possess a vast amount of experience in the industry, thus saving precious time that can be better spent elsewhere.
You can hire a mover from AssureShift in just 4 easy steps:
Fill out the query form with your requirements.

Get 3 moving company references and estimates.

Compare the charges, services offered, and reviews.

Hire the packer mover offering the best value for money.
How & What Legal Action To Take Against Fraud Packers And Movers?
Given below is a brief step-wise guide to resolve disputes with movers; for more detailed information, click on the link and read the blog.
First, make an effort to resolve the issue amicably with the moving company. Check out all of the terms and conditions specified in your contract very carefully. Ask the management to take the necessary action to compensate you for any lost or damaged belongings when you speak with them.

If the moving company refuses to resolve the issue, you can post a bad review of the online website, this can affect their reputation and can affect their organization.

Gather all of your supporting documents, such as invoices, cost estimates, insurance, contracts, inventories, etc., as credible proof to prove your case. Also, take photos of your products before and after delivery.

Fill in the Consumer Complaint form to make a claim for your damages under Section 12 of the Consumer Protection Act of 1986.

You can file a separate lawsuit in court under FIR under Section 421 of the Indian Penal Code (IPC) under FRAUD.

If these do not satisfy you, you may bring a separate civil lawsuit to court. The procedures will be held in court where you have to retain a lawyer and submit the company a legal notice.
Conclusion
With adequate research and screening steps, you can easily spot and avoid fraud and scams by movers and packers. 
In this blog, you can get an idea of how to quickly identify a fake moving company and what actions can be taken against them.
Hiring a professional and verified mover through AssureShift can make your moving process much easier. Before signing the contract, make sure you read all the terms and conditions.