The Hidden Dangers of Moving Heavy Furniture Without Help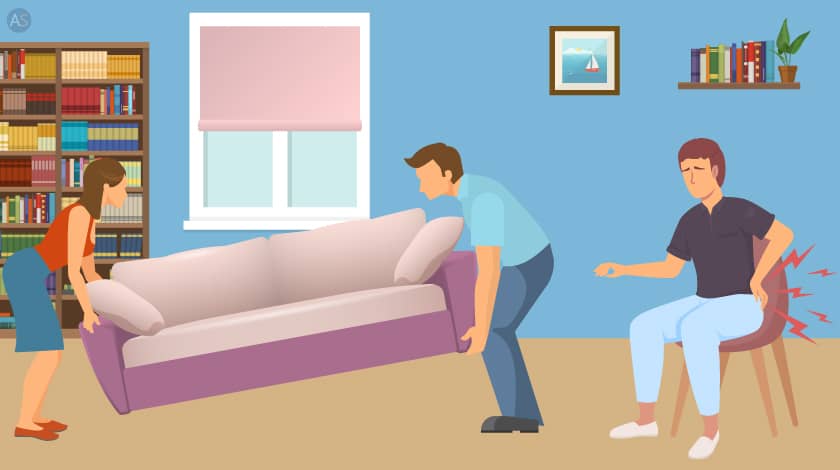 DIY seems like a cost efficient and easy way to proceed with. However, Moving furniture could be a difficult task, people often ignore the downsides of moving heavy furniture by themselves.
Also Read: How to dismantle furniture safely
One of the most helpful and crucial tips for moving heavy furniture by yourself is to push the furniture wherever possible instead of pulling it. 
Moving straps could be handy while moving heavy furniture. Padding the furniture and using a blanket is always advisable as it will always safeguard the items from scratches. In narrow alleyways shoulder and forearm straps could be used for easily moving the items.
Affordability
When it comes to affordability people might assume that DIY heavy furniture might be a cost cutting solution. However, while moving heavy furniture you might need equipment to carry your furniture.
Buying tools for moving, packing material and transport arrangements could actually cost you more than hiring a moving company. 

The best advice would be to calculate the estimated amount DIY and make a comparison with the moving company charges. 
Property Damage 
In case you are not well aware of moving techniques and still want to proceed with DIY, in such cases there are always chances of damaging your property.
Proper precautions and techniques are necessary for moving your furniture without any kind of damage.

When there are chances of any kind of damage, it is advised to cover the furniture in the edges.
Also Read: Know All About Moving Insurance
Physical recovery
Moving heavy furniture on your own could give you sore muscles and this could aggravate your muscle soreness. Moving your furniture to a new place is a heavy physical activity and one must be aware of the physical casualties one might have.
Time Consuming
Moving heavy furniture on your own could be a time consuming task. Meanwhile hiring a day laborer or movers could simplify the task and will be more time efficient.
Stressful 
Moving furniture on your own could be a stressful task, especially when you don't have much idea or expertise in moving furniture. Moving stress could hamper your daily routine and could interfere with your work.
Conclusion
Moving heavy furniture on your own while moving might sound like a valorous task to accomplish. However, there are several downsides to it. One should always assess their circumstances and take proper decisions before moving to a new place.