Compare & Hire Packers and Movers in Mohali
274
Mohali
Hire Best Packers and Movers in Mohali for 100% safe, fast & affordable relocation within or outside the city. Fill the form to get Instant Cost Estimates from 3 nearby packers and movers Mohali in 1 Minute. Compare charges, services, reviews and ratings to hire the best movers and packers Mohali for your needs and budget.
Get Quote From
3 Nearby Movers
Quickly Compare
& Save Min 25%
Guide to Hire Best Packers and Movers Mohali with AssureShift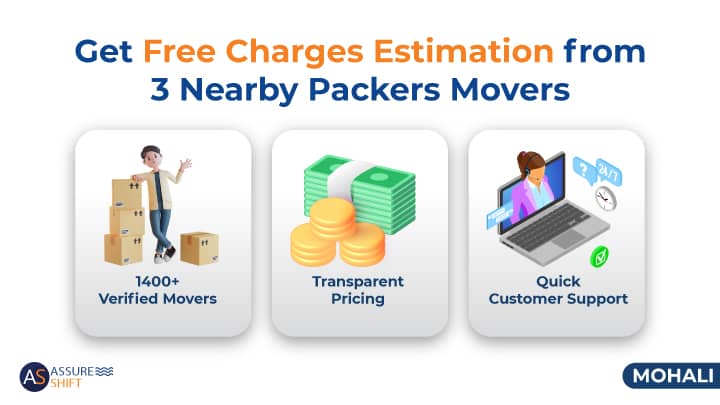 Welcome to AssureShift - your trusted ally in the relocation industry to hire best packers and movers in Mohali for hassle-free relocation at the most affordable rates.
At AssureShift, we understand that whether it's shifting your entire household, relocating your office, or transporting your precious bike, we strive to make the process easy, reliable, and stress-free. With a vast network of over 1400+ packers and movers in India, we are delighted to announce the commencement of our services in the vibrant city of Mohali with some of the leading and most reliable packers and movers Mohali!
At AssureShift, before associating with any moving service providers in Mohali, we carry out a stringent verification process by:
Confirming the relocation service providers business/GST registration.
Inspecting their office presence and location.
Verifying the company owner details.
Review their past performance history to ascertain their capability in providing quality and professional services.
Our professional movers and packers in Mohali have the experience of handling various items, and ensuring safe packing, transport, and delivery using top quality packing materials and methods to prevent any damage during transit. Our relocation service providers ensure swift and systematic moving from packing to unloading, saving time and reducing stress.
Our network of movers and packers Mohali offers a wide range of services for local shifting, intercity shifting and international relocation. Our Mohali packers and movers services include (but are not limited to) House shifting services, bike and Car transportation services, Office relocation services, Logistics services, Fine art and antique moving services, Plant relocation services, Pet moving services, Storage and warehouse services, Commercial shifting, and Temporary or long-term storage facilities, among many others.
Hiring packers and movers in Mohali through AssureShift is extremely simple and easy:
Fill the form with your packing and moving requirements like origin, destination, items to be moved, and contact details.
Get references of 3 Mohali movers and packers that best match your required services and budget.
Quickly get the movers cost estimates for your needs and ask for a free pre-move survey to get accurate prices.
Compare the charges, services offered, and company profiles to hire the best packers movers service provider offering best value for money.
AssureShift stands with its customers every step of the way. In case of any issues or discrepancies during the move, we are here to support and address any concerns promptly.
Embarking on a new journey should be exciting, not daunting. Let AssureShift be your companion in this adventure, ensuring a seamless and efficient move to your new destination with the best packers and movers Mohali.
---
Why Opt for AssureShift for Hiring Packers and Movers Mohali?
With AssureShift, when it comes to making a significant transition like relocating, you get the necessary support as well as gain a companion committed to making your move as smooth as possible. Here are compelling reasons to make AssureShift your go-to platform for hiring packers and movers Mohali.
No matter which city you are moving from or into, you get unrestricted access to a widespread network of moving companies in Nagpur, Noida, Patna, Kolkata, Chandigarh, Ahmedabad, Bangalore, Delhi, Chennai, and 20+ others.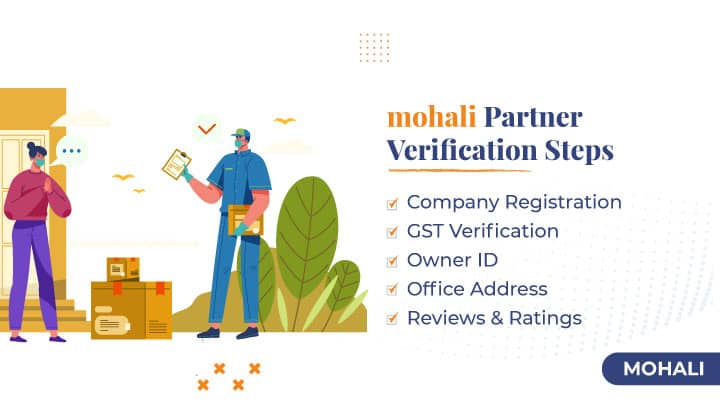 Structured Directory for Easy Access: No more wading through endless listings to find the ideal movers and packers in Mohali. We have a well-organized directory that provides you with quick and easy access to all the information you need, like services offered by the company, their past reviews and ratings, and affordability factor, ensuring you get in touch with the best service providers in Mohali.
Ensuring Trust with Thorough Verification: You can never be too cautious, especially when it's about your valuable belongings. Our complete verification process for all associated moving companies in Mohali guarantees maximum trust avoiding customers from getting in touch with fake service providers. We check everything from business registrations to past performance, ensuring your belongings are in safe, reliable hands.
Customized Solutions for Your Unique Requirements: At AssureShift, our movers and packers in Mohali offer tailored relocation services to meet your specific needs. Whether you require home shifting services, office shifting, car transport, or international cargo shipping, you can find the leading packers movers in Mohali offering moving services that are the right fit for your needs.
Top-Notch Services That Don't Break the Bank: High-quality packing moving services doesn't have to come with a hefty price tag. With AssureShift, you can enjoy quality services at affordable price that's competitive and transparent. Experience a move that's smooth, efficient, and friendly to your wallet and make an informed decision confidently, assured without any unpleasant surprises.
Unwavering Support, Every Step of the Way: From the beginning to the end of your move, get complete support from AssureShift no matter what the concern or query. If you have any doubts about the move or face any problems like delays or insurance claims, our customer support team is always ready and willing to assist at every step of your move.
Choose AssureShift for a moving experience with our best packers and movers in Mohali. Be assured, be moved.
---
Packers and Movers Mohali Charges
Local packers and movers in Mohali charges for shifting a standard 2 BHK within the city ranges between ₹5,400 to ₹14,000. The cost of domestic relocation services provided in Mohali can vary from ₹12,800 to ₹32,400 for relocating 2 BHK from Mohali to other cities like Delhi, Bangalore, Hyderabad, Mumbai, etc. The exact packing moving services costs depend on the specific factors and exact requirements of relocation.
| Move type/ Distance | 1 BHK | 2 BHK | 3 BHK | 4-Wheeler | 2-Wheeler |
| --- | --- | --- | --- | --- | --- |
| Local Shifting | ₹ 3,700 - 9,600 | ₹ 5,500 - 14,400 | ₹ 7,800 - 19,200 | -NA- | -NA- |
| Mohali to Bangalore | ₹ 18,000 - 25,500 | ₹ 22,200 - 32,500 | ₹ 24,500 - 36,700 | ₹ 10,400 - 16,200 | ₹ 6,200 - 10,200 |
| Mohali to Mumbai | ₹ 16,300 - 23,200 | ₹ 20,500 - 30,800 | ₹ 22,500 - 33,800 | ₹ 5,400 - 9,500 | ₹ 4,800 - 7,500 |
| Mohali to Delhi | ₹ 10,200 - 17,700 | ₹ 13,000 - 21,500 | ₹ 15,900 - 25,300 | ₹ 4,900 - 8,800 | ₹ 2,500 - 4,900 |
| Mohali to Hyderabad | ₹ 16,400 - 23,300 | ₹ 20,400 - 30,800 | ₹ 22,400 - 33,800 | ₹ 5,300 - 9,500 | ₹ 4,800 - 7,300 |
| Mohali to Kolkata | ₹ 15,800 - 22,700 | ₹ 20,500 - 30,900 | ₹ 22,500 - 33,800 | ₹ 5, 000 - 9,600 | ₹ 4,300 - 6,000 |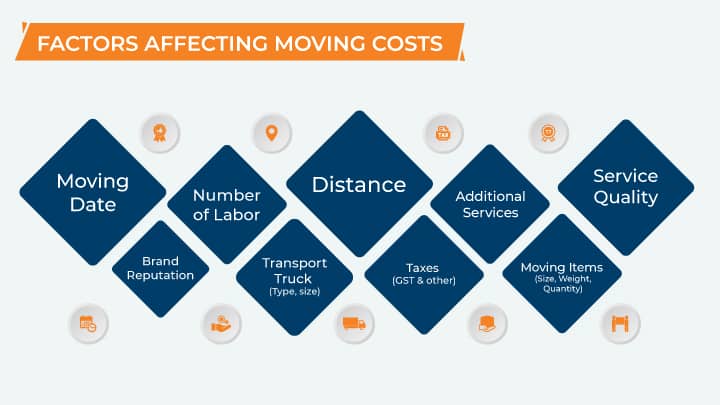 There are many things that can greatly affect the exact packers and movers charges in Mohali. These include the distance between the origin and destination, the total quantity of goods to be moved, size and type of truck used, any special handling or packaging needs, the quality of services you choose, date and timing of the move, and any extra services you ask for like disassembly, reassembly, insurance, storage, etc.
---
How will AssureShift Assist You in Case of Queries or Concerns?
Relocating is an enormous task and AssureShift is committed to making the shifting process as seamless as possible for you. This is how AssureShift stands by you throughout the entire process of your relocation, ensuring your concerns are addressed promptly and efficiently.
Satisfactory Referrals to Ensure You Get the Best Match: At AssureShift, we prioritize your needs and diligently work to refer the best-match and most reliable packers and movers in Mohali as per your requirements. Our strong network of highly professional and trusted relocation companies ensures you have access to the top packers movers companies. If you are not content with the references provided, we provide alternate references promptly upon your request, ensuring you find the right fit for your moving needs.
Guidance & Assistance from Start to End of the Process: AssureShift is not just a platform to find best movers and packers Mohali; we provide unwavering support from start to end of your shifting process. You can rely on us for assistance in getting instant quotes, scheduling surveys, and ensuring your move is executed smoothly and efficiently. We are here to assist you in making informed decisions and navigating any challenges that may arise during the relocation.
Regular Quality Control to Maintain High Standards: Quality control with consistent monitoring and assessing the performance of our Mohali service providers within our network to ensure they uphold the highest standards of service and professionalism. Regular feedback from users helps us in this endeavor, ensuring the movers maintain and improve their service quality.
Relevant Action Against Movers Ensuring Accountability: AssureShift takes the accountability of the referred moving companies seriously. If any movers packers company within our network is found to be in violation of our service standards or is involved in any unethical practices, relevant and strict actions are taken like temporarily suspending or permanently blacklisting the company profiles from our portal.
AssureShift stands with you through the entire process, ensuring your concerns are addressed, and your moving experience is smooth, efficient, and satisfying. Your peace of mind is our priority, and we are committed to ensuring you receive the high-quality service with our professional packers and movers in Mohali.
---
Frequently Asked Questions (FAQs)
How much are the approximate packers and movers charges in Mohali for local shifting?
The approximate charges for local shifting in Mohali can range from ₹3,700 to ₹19,000 based on several factors, like volume of items, quality of service required, distance of relocation, and the size and type of truck used.
How much do packers and movers Mohali charge for packing, loading, transport and unloading services?
The packing charges of Mohali packers and movers for packing and labor charges for moving a 2BHK can cost around ₹ 1,920 - 5,040 and for transportation the packers and movers prices in Mohali can range from ₹ 3,600 - 9,400. The exact charges may vary depending on the specific requirements and volume of items.
Is it compulsory to get insurance on my belongings?
While it is not compulsory to take moving insurance on your belongings, it is a better idea to do so in order to add an extra layer of protection and security to your goods in case of unexpected accidents or damages during the move.
How to calculate the relocation charges by yourself?
To calculate relocation charges, take these factors into account: Relocation distance, quantity of items, required service quality, the size and kind of the transportation vehicle, total amount of labor required, any additional services if requested, moving date, service fees and taxes, the movers' name and brand..
Do packers and movers in Mohali provide storage and warehousing facilities?
Yes, many packers and movers in Mohali offer storage and warehousing facilities. These services may come in handy if you need temporary storage before moving into your new home or office.
Can packers and movers in Mohali handle the disassembly and reassembly of furniture?
Yes, most packers and movers in Mohali provide disassembly and reassembly services for furniture. It's essential to inform the moving company in advance if you require these services so that they bring the necessary tools and expertise.
---
Hiring an experienced and reliable moving company immensely eases the shifting process. Their expertise in packing, handling, and transporting any kind of goods ensures the safe and timely delivery of your belongings, making the relocation stress-free and efficient.
AssureShift adds an extra layer of reliability by thoroughly verifying each and every packers and movers in Mohali. We connect you with trusted movers who undergo complete verification of their company registration, office setup and past work performance and their commitment to providing top-notch services.
Our Mohali packers and movers offer complete packing-unpacking services, loading-unloading, transportation service, and moving insurance;, for local shifting services, domestic shifting, and international relocation of a variety of goods. Our reliable packers and movers Mohali shifting services include an extensive range of relocation services like house shifting services, office shifting, bike transportation services, car transport, logistics services, storage and warehousing services, commercial transportation service, pet and plant moving, fine art and antique relocation, international cargo shipping, and more.
The process followed by our expert Mohali packers movers is systematic, starting from an initial pre-move survey to provide accurate cost estimates, secure packing of items, careful loading, safe transportation, timely doorstep delivery, and quick unloading and unpacking at the desired location.
Our experienced movers and packers in Mohali use high-quality packing material like bubble wrap, corrugated sheets, and robust boxes, among many others according to the nature and fragility of moving items. Appropriate moving equipment like hand trucks, panel movers, moving dollies, straps, and ropes are used for secure loading and unloading of goods. and various sized trucks, such as 14-feet, 17-feet, and 19-feet trucks, ensure safe and efficient moving.
Hire professional packers movers by verifying their credentials, checking reviews and ratings, comparing multiple quotes, assessing the company's experience, and discussing your specific requirements.
Be prepared for the moving day by creating a checklist of pre-move tasks to be completed, decluttering unwanted items, and picking a day during off-peak times to schedule the move and reduce the overall moving charges. Detailed planning and preparation before the move ensures hassle-free house shifting at economical packers movers price estimates.
With AssureShift, hiring movers and packers in Mohali who are verified and can be trusted is quick and easy in 4 simple steps. Fill the form and get references of top 3 moving companies along with instant and transparent cost estimates. Quickly compare the packers and movers Mohali charges, services offered by each moving company, and their reviews and ratings, and hire the best packers and movers for your needs.
To hire packers and movers for local shifting, look for local packers and movers in Mohali that are nearest to you so that you can get quick relocation services at your doorstep. For domestic shifting, look for a moving company that has their presence in your current city as well as the destination city where you are planning to move. For example, if you are moving from Mohali to Coimbatore, hiring professional movers services in Mohali that has a branch office of their moving company in Coimbatore will help you avail quick unpacking and reassembly of goods after arriving in Coimbatore.
Our best packers and movers services is available across various localities in Mohali including Phase 5, Phase 9, SAS Nagar, Sector 70, and Sector 125.
AssureShift stands by you from start to finish. In case of any concerns or issues, rest assured of prompt assistance and satisfactory resolutions, underlining our commitment to making your move smooth and worry-free with our best packers and movers in Mohali. Your peaceful and efficient relocation is our topmost priority.