Packers and Movers in Dehradun
169
Dehradun
Hire best packers and movers in Dehradun for 100% safe, fast, & affordable relocation. Compare 3 cost estimates and hire the right Dehradun movers and packers near you in just a few minutes.
Get Quote From
3 Nearby Movers
Quickly Compare
& Save Min 25%
Guide to Hire Best Packers and Movers in Dehradun with AssureShift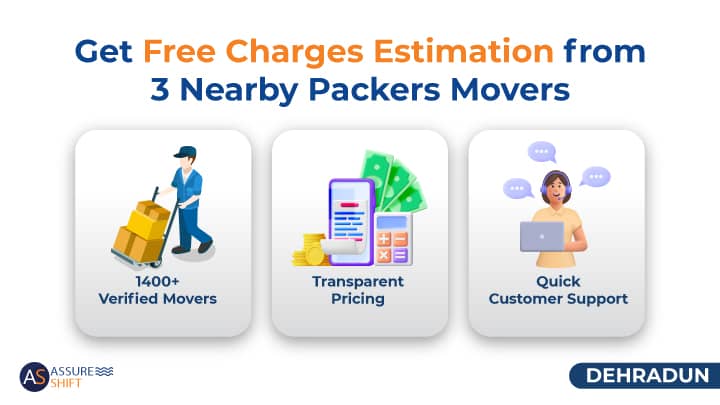 Welcome to AssureShift, the leading packers movers hiring portal in India! We are here to connect you with reliable packers and movers in Dehradun who offer professional and trustworthy relocation services, and it's our utmost priority to ensure you experience a smooth and hassle-free move.
We understand that it is difficult to trust someone with your precious belongings. That's why at AssureShift, we ensure 100% reliability by verifying each and every packers and movers Dehradun before associating with them.
Business Verification: We scrutinize the business/GST registration of the moving companies.
Physical Inspection: Our team verifies the office presence & location to make sure they are legitimate.
Owner Details: We run thorough checks on the company owner's details for added security.
Past Performance: We delving into the movers service providers' history, to make sure they have a track record of quality and professionalism.
Whether you are moving your home or office, our movers and packers in Dehradun ensure complete safety of all your fragile or bulky belongings with secure packing and safe transportation at affordable packing moving charges. They efficiently carry out the entire process using a skilled and well-trained crew ensuring no time or resource wastage. As the pros take care of your complete shifting process, you will be able to spend your time focusing on other important tasks.
Our partner Dehradun movers and packers are well-experienced to carry out a wide range of packing and moving services like Household Shifting, Bike and Car Transport, Office Shifting, Corporate Relocation, Fine Art and Antique Moving, Plant Relocation, Pet Moving, Storage and Warehousing, International Relocation, Transport and Logistics services, and many others.
You can quickly and easily hire the best packers and movers Dehradun for your specific shifting needs in just a few minutes and at the most affordable rates. All you need to do is:
Post Enquiry: Submit your relocation details like origin, destination, moving date, list of items, etc.
Get Quotes: Within moments, get references of 3 top packers movers in Dehradun along with their cost quotes.
Choose and Hire: Evaluate the movers charges, services included, reviews, and ratings, and hire the best suited moving company!
So, if you're on the lookout for the best packers and movers in Dehradun, you've landed in the right place. Let AssureShift simplify your moving experience.
---
Why Choose AssureShift to Hire Packers and Movers in Dehradun
Looking for local shifting within the city or domestic relocation outside Dehradun? Hiring movers who can be trusted with your belongings and have the necessary skills and experience to carry out your move is crucial, as there are many fake service providers who cheat customers by stealing their belongings on the pretext of providing relocation services.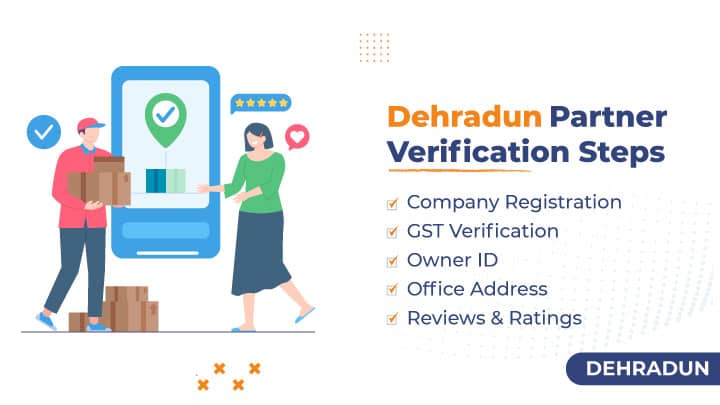 Here's why AssureShift should be your go-to choice when hiring packers and movers in Dehradun:
Well-organized Company Listings: Browsing through countless websites to identify a trustworthy service provider can be overwhelming. At AssureShift, we provide an organized list of Dehradun packers and movers to make it easy and effective to find the best relocation company within minutes. We organize the company listings according to customer ratings, budget-friendliness, services offered, and locality of operation. You can simple filter out the moving companies according to your requirements and identify the best-suited one.
Thorough Verification for Maximum Trust: We don't just list movers and packers in Dehradun; we ensure every movers company in every city, i.e., all our partner packers and movers in Chandigarh, Delhi, Lucknow, Kolkata, Nagpur, Indore, Bangalore, and 20+ other cities, undergo rigorous verification before joining us. This includes checking their business/GST registration, inspecting physical office location, and evaluating past customer feedback and service history. Only the professional packers and movers that fulfil the criteria will be allowed to join with us and will be expected to provide industry standard services for all customers.
Quality, Affordability, Transparency: At AssureShift, we believe in providing quality services at competitive pricing for every budget and without any hidden surprises. We collaborate with moving companies in Dehradun that offer best-in-class shifting services without having to burn a hole in your pocket. Our service providers also offer detailed explanation of the services included as well as transparent cost estimates with the exact charges for each service included in the quote.
Services Tailored for Your Needs: Whether you need to relocate an entire home, office space, vehicle, or just need to transport a few items, our listed packers movers in Dehradun offer customized solutions to cater to your specific requirements, ensuring every move is a seamless one.
Complete Support from Start to End: We are available at every step of your relocation to answer any questions, concerns, or even if you need help with the hiring process. From the moment you begin your search for the right moving company and until your goods are safely delivered, AssureShift offers unwavering support for any query or concern.
When it comes to hiring trustworthy packers and movers Dehradun, you can rely on AssureShift to provide you the quality and efficiency you are looking for. Let us be your moving companion and experience hassle-free relocation like never before!
---
Packers and Movers Dehradun Charges
The Dehradun movers and packers charges for shifting a standard 2BHK within the city can range from ₹6,000 to ₹15,000. For intercity relocation services provided by our outside-city packers and movers in Dehradun, they will charge around ₹17,000 to ₹30,000 for relocating a standard 2 BHK, with the exact costs depending on the specific factors considered for the move.
| Move type/ Distance | 1 BHK | 2 BHK | 3 BHK | 4-Wheeler | 2-Wheeler |
| --- | --- | --- | --- | --- | --- |
| Local Shifting | ₹ 4,000 - 9,500 | ₹ 6,300 - 15,500 | ₹ 8,200 - 19,400 | -NA- | -NA- |
| Dehradun to Bangalore | ₹ 17,000 - 26,000 | ₹ 20,800 - 33,600 | ₹ 24,200 - 38,900 | ₹ 9,500 - 14,700 | ₹ 5,300 - 10,500 |
| Dehradun to Mumbai | ₹ 14,400 - 24,700 | ₹ 17,500 - 30,000 | ₹ 22,000 - 35,200 | ₹ 7,400 - 11,000 | ₹ 3,700 - 6,300 |
| Dehradun to Hyderabad | ₹ 13,600 - 23,600 | ₹ 16,800 - 28,900 | ₹ 21,000 - 34,100 | ₹ 6,300 - 10,000 | ₹ 3,200 - 5,200 |
| Dehradun to Pune | ₹ 14,200 - 24,000 | ₹ 17,300 - 29,400 | ₹ 21,500 - 34,700 | ₹ 7,100 - 10,500 | ₹ 3,200 - 5,800 |
| Dehradun to Delhi | ₹ 15,200 - 25,200 | ₹ 18,400 - 30,500 | ₹ 22,600 - 35,700 | ₹ 8,200 - 11,500 | ₹ 4,200 - 6,800 |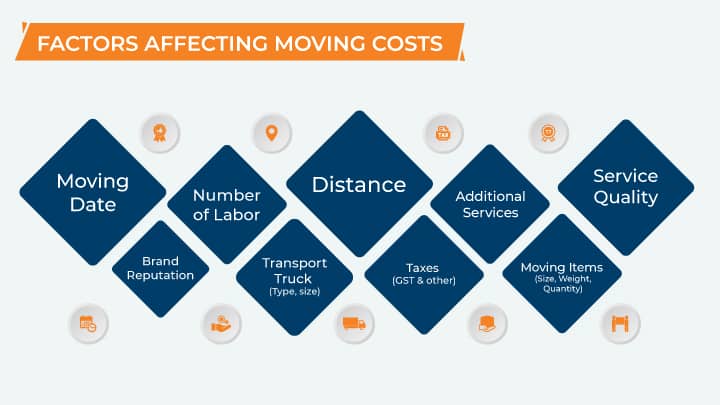 The exact packers movers charges in Dehradun can vary greatly depending on a number of factors like distance between the source and destination locations, total volume or quantity of goods to be relocated, size and type of truck used for safe transportation, special handling or packaging requirements, type of services you opt for, timing of the move, any additional services requested, like insurance, temporary storage service, etc.
---
How will AssureShift Help You in case of Any Concerns
Relocation can be challenging and sometimes lead to unforeseen issues even with the most experienced movers. At AssureShift, we prioritize not just your move, but also your peace of mind. Here's how we assist when concerns arise to ensure a smooth moving experience for you.
Satisfactory Referrals and Alternatives: AssureShift understands the importance of trustworthiness as well as capability and we refer only those movers who can fulfill your needs and a proven track record of efficiency and professionalism to assure maximum customer satisfaction. If you're not satisfied with the references we provide, you can contact our customer support team for more help in deciding the right company or ask for alternate referrals better-suited for your needs.
Comprehensive Support from Start to End: From the time you initiate your search for the best packers and movers in Dehradun, to the moment your belongings are safely delivered to your destination, we stand by you to answer every query and concern. Whether you have any doubts or facing any issues with our partner moving company, our team is always available to offer consistent assistance and quick resolution to make your relocation hassle-free.
Regular Quality and Maintenance: To maintain our standard of excellence, we don't just stop at verification. At AssureShift, we actively conduct regular checks on the service quality of our partner movers for every relocation. We gather feedback from customers at the end of their move, evaluate the performance of our movers, and ensure that the high standards we set are upheld consistently.
Relevant Action Against Movers: In the rare instance that any of our listed movers fail to meet the expected service quality or indulge in unprofessional behavior, we ensure corrective measures are in place. Based on the severity and nature of the issue, we take actions ranging from warnings to temporary suspension and even complete delisting from the portal. This ensures that our platform fulfills the trust and reliability of all our users.
In conclusion, AssureShift isn't just a platform – it's a promise. A promise of reliability, professionalism, and unwavering support. Anytime a concern arises, you can count on us to quickly and effectively resolve any issues because complete customer satisfaction is always at the forefront.
---
Frequently Asked Questions (FAQs)
How does AssureShift ensure the credibility of the packers movers Dehradun?
For each of its relocation service providers, AssureShift goes through a thorough verification process to evaluate their qualifications, documents, and expertise. This guarantees that only the most reliable and skilled packers and movers in Dehradun are listed on the portal.
Can I get a free cost estimate for my move?
Yes, absolutely. AssureShift's partner packers and movers in Dehradun will provide detailed cost estimates for free based on your specific moving requirements. This helps avoid any hidden or unexpected charges.
What services do the movers and packers in Dehradun provide?
Our professional packers and movers Dehradun offer a wide range of services, including household relocation, local shifting, intercity relocation, office moving, bike and car transport, international relocation, packing and unpacking services, storage services, and many others.
Do the movers and packers offer insurance coverage for my belongings?
Yes, many of our partner packers and movers Dehradun offer insurance coverage for your belongings during the move. This is crucial to maintain safety of your goods during transport and helps in claiming compensation in case of any damage or loss.
How can I reduce my moving costs?
To reduce moving costs, plan the move in advance, schedule the relocation date on weekdays or mid-month, de-clutter your belongings, compare multiple quotes, pack some basic items like clothes, kitchen items, etc., by yourself, and avoid last-minute changes to the moving plan discussed with the movers.
How do I choose the right packers and movers in Dehradun?
When choosing the right packers and movers Dehradun, verify their credentials, check their reputation and experience, go through customer reviews and testimonials, ask them for transparent prices, ask them quality of service they will provide, and check if they provide insurance coverage or not.
Do the movers and packers handle international relocations?
Yes, many of our partner companies offer international relocation services, managing all the complex logistics of transporting your belongings across borders for a seamless move.
How long does it usually take for a home relocation?
Generally, home relocation can be completed within a single day for local shifting. The exact duration of a home relocation depends on the volume of goods to be moved, distance of relocation, and movign complexities like floor level, availability of lift, etc. Your service provider will give you a more precise timeline after considering these factors.
Are there any items that movers and packers do not transport?
Movers and packers usually do not transport perishable food, hazardous materials like oil, paint, batteries, fuel, etc., or personal items like cash and jewelry. It's always good to ask your service provider for a complete list of items that they will not trasnport in the truck.
---
Dehradun Packers and Movers Reviews
The countless tasks associated with relocating can be daunting. But with the expertise of relocation experts, this process becomes seamless and efficient. These professional moving service providers assure safety, time-saving, and stress-free relocation at pocket-friendly moving costs, making the entire process of relocation smooth.
When looking for a reliable mover, it is crucial to check their business registration and certifications, scrutinize the feedback given by previous customers, opt for companies having a solid track record, and make sure they are capable of catering to your unique needs. It's also important to always evaluate and compare costs from multiple companies instead of choosing a cheap packers and movers as low-cost quotes can be a sign of fraud moving service providers.
At AssureShift, we eliminate the need for laborious research and the possibility of getting in touch with fake moving companies by offering a list of pre-verified packers and movers Dehradun. All our relocation experts go through a stringent verification process that involves checking their GST registration, past customer reviews and ratings, prior work history, and physical office setup and location. This way we ensure that each customer avails best service with transparent pricing and no hidden costs. You can find and hire local packers movers for moving within Dehradun as well as packing and logistics companies for intercity shifting outside Dehradun.
Our expert packers and movers in Dehradun provide a comprehensive range of services for everyone from individuals to family members and even corporate and Government Employees or Military personnel. The professional services provided for various relocation needs include home shifting services, car transportation services, bike relocation, office relocation, transferring corporate businesses from one place to another, fine art and antique moving, plant relocation, pet moving, storage and warehousing, logistics and transport for commercial goods, local shifting services, interstate moving solutions, overseas moving with international quality relocation solutions, cargo shipping, insurance service, and many more.
Experienced movers and packers in Dehradun offer end-to-end house shifting services with utmost care and door-to-door services at affordable shifting charges. They carry out complete packing, loading, transport and on-time delivery, unloading, as well as unpacking services. They also offer value-added services like disassembly and reassembly, insurance coverage, and consignment tracking with timely updates, etc.
Our professional Dehradun packers and movers use high-quality packing materials like plastic wrap, bubble wraps, corrugated sheets, packing peanuts, and so on. During the relocation, moving equipment and tools like hand trucks, sliders, and furniture dolly ensure secure loading and unloading. They use various trucks that will be the best-fit as per the quantity and nature of goods like Mini Trucks, Tata Ace, Large Goods Vehicles ranging from 14 feet to 20-22 feet trucks, as well as specialised bike and car carriers to guarantee safe transportation of all your possessions.
When interacting with potential packers movers, open communication is key. Inquire about their services provided, moving charges, and insurance coverage options to get a clear idea of what you are paying for. During the pre-move survey, discuss details of packing material that will be used, logistics arrangements, how potential challenges during the shifting process will be handled, and seek clarity on the process. Ensure clear coordination on moving day and ask them about the conflict resolution methods for post-move issues.
Prepare for your move by decluttering unnecessary items, organizing essential documents, and informing relevant parties of your address change like utility service providers, banks, post office, etc. To ensure you avail household shifting services at affordable local shifting charges, start researching and hire local movers in advance, avoid peak times of relocation like weekends and holidays, and negotiate with the moving and transport company to get the best price deals. For domestic relocation, make sure to hire a service provider who has a presence in the destination city, i.e., if you are moving from Dehradun to Bhubaneswar, hire a packers movers in Dehradun having a branch of their moving company in Bhubaneswar so that you can avail unpacking and reassembly services at Bhubaneswar without any problem.
AssureShift's straightforward hiring process makes it extremely easy and quick to hire the best service provider and get instant cost estimates in just a few minutes. Just submit your relocation details and get references and contact details of the best-match movers and packers in Dehradun. Compare the cost quotes, movers service included, past customer reviews and ratings, and pick the best packers and movers in Dehradun for your needs!
Our packers and movers Dehradun offer services in various localities of Dehradun like Rajpur Road, Clock Tower, Ballupur, Jakhan, Transport Nagar, GMS Road.
AssureShift is committed to solving every problem of relocation from finding the right moving services for your needs, to assisting you with initial inquiries as well as post-move concerns. Our unwavering support ensures your relocation is nothing short of perfect and with our rigorous verification and commitment to quality, you can rest assured that your move is in the safe hands.