List of 36 Items that Movers Won't Move in the Truck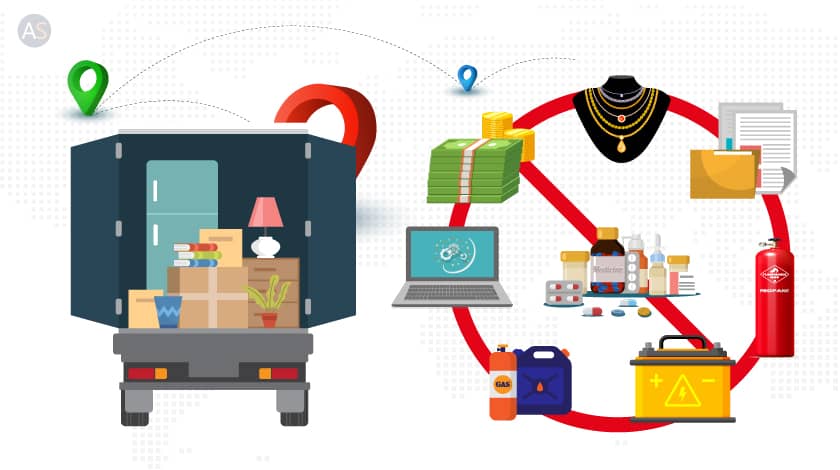 When shifting to a new place with the help of a moving company, there are certain things to keep in mind.
Moving companies handle everything from packing to careful transportation and delivery, giving you the peace of mind that comes with entrusting your valuables to professionals.
However, there is an extensive list of goods that every relocation company will refuse to transport in their trucks, irrespective of the payment/tips involved.
This blog covers the list of objects that cannot be transferred with a moving company; you may quickly sort through and get rid of these items by "donating, disposing of, or giving away" before beginning your move.
Why Movers Don't Transport Specific Objects?
Safety considerations.
Each professional moving company has a list of prohibited items, including non-transportable objects they refuse to move, such as illegal items, explosives, etc. 
When it comes to personal belongings, Although movers offer insurance, transporting certain valuables can significantly increase liability so many companies generally don't transport them.
Some of the items that will not be moved by the relocation experts are mentioned below.
Take note and remember to segregate these when you're preparing for the move:
A. Personal Belongings
Photo albums
Passports 
Official IDs
Cheque books
Stocks & Bonds
Medical Records
Financial records
House-related Documents
Tip: Keep these documents in a folder or briefcase and carry such irreplaceable items with you even though professional movers work hard to take excellent care of your belongings.
B. Keys and Gadgets
House keys
Vehicle keys
Office keys
Mobiles
Laptops
Tablet/iPad
Tip: Keep your keys and personal gadgets under your surveillance and away from unknown hands.
C. High-Value Items
Money
Jewelry
Collectable art
Family Heirlooms
Coin and stamp collections
Tip: Use a small safe or locked box to store your financially valued or sentimentally precious valuables and transport them with you.
D. Food Items
Fresh foods
Frozen foods
Refrigerated foods
Open cans of non-perishable food
Tip: Pack edibles in a large cooler and drive it by yourself or consume/dispose of such eatables before moving day as moving rotten food can grow mold and ruin other moving goods in the truck.
Non-Perishable Food: Canned goods, rice, pulses, etc., can be moved easily by the movers, especially if they are unopened or packed properly in air-tight containers.
E. Inflammable Goods
Car batteries
Deodorants
Hair sprays
Nail polish and remover
Alcohol & Cigarettes
Fireworks
Kerosene / LPG Gas
Weapons and ammunition
F. Corrosive Items
Cleaning supplies
Paints and thinner
Pool chemicals
Bleach, acids, ammonia
Motor oil and anti-freeze
Note: Relocation companies refuse to carry any liquids or fumes that can ignite during the move or are highly flammable under certain conditions (such as exposure to an open flame or heat). If you are relocating across a great distance from the origin, dispose of all chemicals and buy new ones after moving into your new home.
Conclusion
Remember (or, make a note of) this list of objects that a professional moving team would refuse to move, and get organized for the moving process better.
Ultimately, the list of items that movers will and will not transfer can also vary depending on their company rules and safety level. So, make sure to inquire about the same when you contact a moving company and before hiring one.