Home Buying Guide: How to Buy a House in 9 Easy Steps & Mistakes to Avoid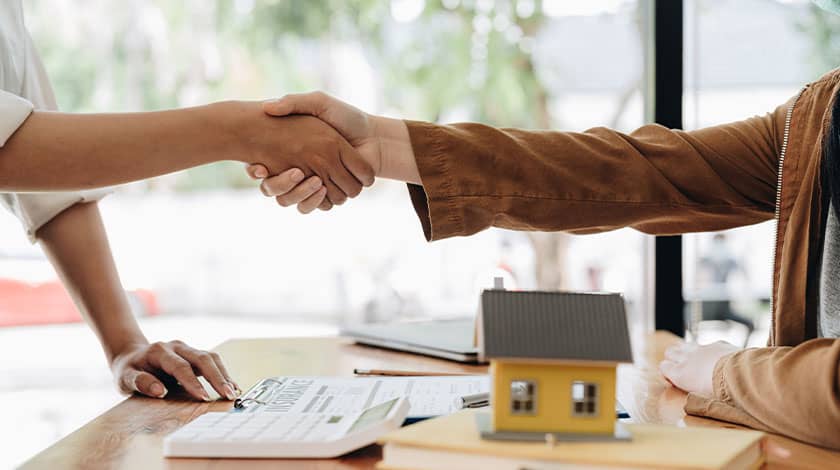 Home buying in India is a significant step, both financially and emotionally. The decision to buy a house requires thoughtful planning and deep understanding. In this blog, we aim to simplify your home buying process, from the initial search, setting a housing budget, planning the home financing to finalizing the deal.
Whether you're a first-time home buyer or an experienced one, this comprehensive home buying guide offers crucial insights and steps to buy a house to assist you through your home-buying journey.
Table of Contents:
Mistakes to Avoid When Buying a Home
---
How to Buy a House in 9 Easy Steps
#1 Think about Your Housing Needs
The initial step in the home buying process is to figure out what you're looking for in a house. It's essential to understand your present and future requirements clearly. Here's a simplified list of things to think about: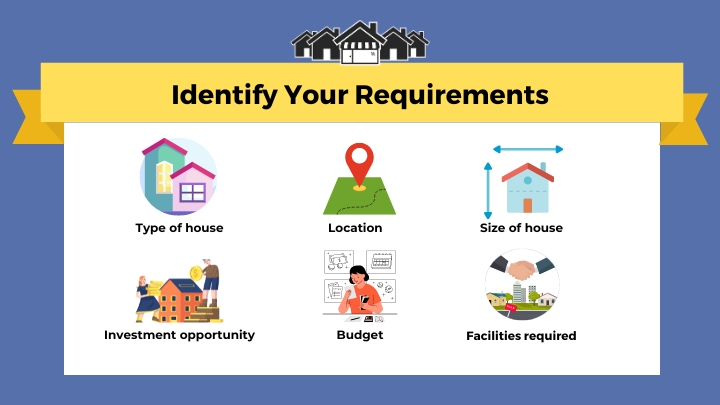 What Type of House do You Need: Are you looking for a standalone house or an apartment in a residential complex or a villa? Your choice would depend on your lifestyle, family size, and preference for community living.

Think about the Location: Decide where you like your home to be. Would you like to be in the busy city center, or do you prefer the peaceful suburbs or even the rural areas? Take into account the neighborhood, the proximity to work location, your kids' school or to get essential services.

Which Size of House are You Looking for: Figure out how many rooms you need, and the carpet area for use, based on your family size and way of living. Do you need extra rooms for a home office, guests, etc.?

Think About the Amenities You Need: Consider the facilities you want like parking, a playground for children, a gym, or a swimming pool.

Plan Ahead for the Future Needs: Think about what you might need in the future. For example, if your planning on having more children or having elderly parents move in, make sure the house can handle these changes.

Think About How Much You can Afford: Find a house that fits your budget without causing financial stress or unmanageable debt.

Look for Investment Opportunities: If you're purchasing the house as an investment, think about its potential resale value and the chances of the property value increasing in the area you've chosen.
Also Read: Why to Invest in Real Estate?
---
#2 Research and Choose a Good Location
A property in a prime location can provide better returns in terms of rent and resale value. Key factors to consider when choosing the right location are: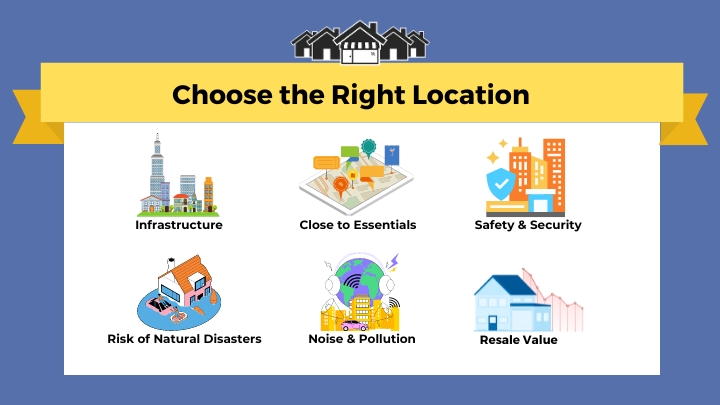 Check the Infrastructure: Look for good roads, public transport links, reliable water and electricity supply. Also, check if there are any plans for improvements in the area, as this could increase your property value later.

Look for Nearby Essentials: Make sure the location is near important facilities like supermarkets, hospitals, schools, parks, and leisure centres. These can make your life more convenient and enjoyable.

Check Safety of the Location: Check the crime rate and visit at different times to get a feel for the general atmosphere and security.

Check Access to Transportation: Check how well the location is linked to other parts of the city. Easy commuting can greatly improve your daily life, so think about how close you are to public transport, motorways, and main roads.

Noise and Pollution: Areas near industrial zones, busy roads, or railways might be noisier and more polluted. If you value peace and quiet, choose a location away from these noise and pollution sources.

Think about the Resale Value: Think about the potential resale value of the house. Locations that are growing quickly or are in high demand tend to have better resale values.

Risk of Natural Disasters: Consider the area's risk of natural disasters like earthquakes, floods, or cyclones. It's best to avoid areas that are prone to these kinds of events.

Look for Social Amenities: The availability of restaurants, shopping centres, cinemas, and other leisure options can greatly improve your quality of life.
Also Read: Best Cities for Affordable Real Estate Investments
---
#3 Check Your CIBIL Score & Set a Budget
Setting a realistic budget is a crucial step as it helps you narrow down your options and ensures you only consider properties you can afford. You can also think about whether it is better for you to buy a home or rent one. Here are a few points to consider: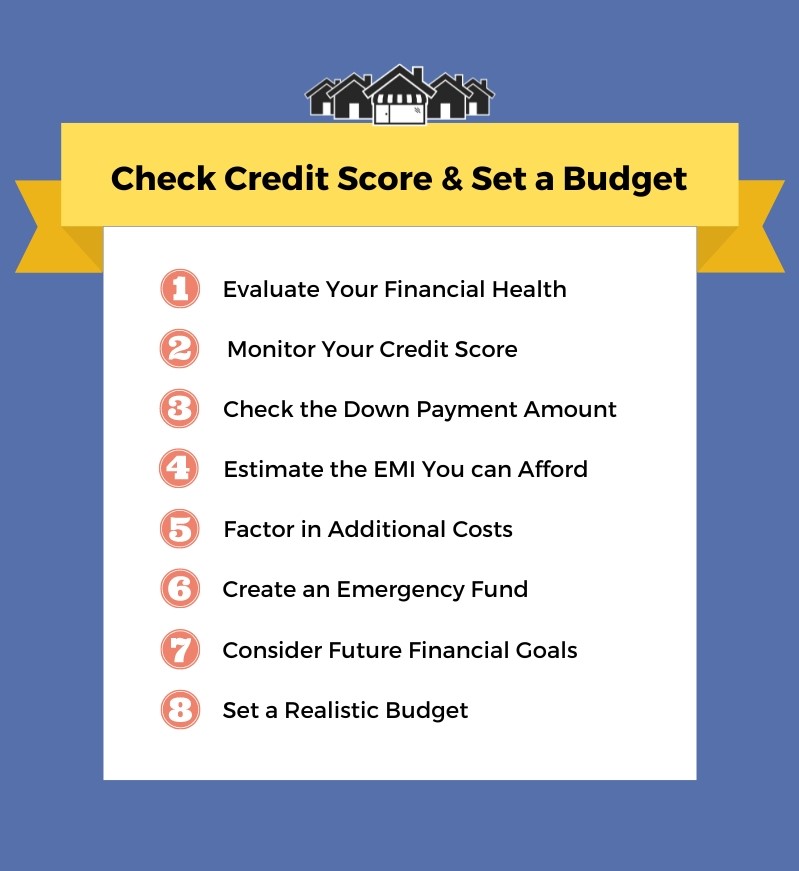 Evaluate Your Financial Health: Start by assessing your current financial status. This includes your income, savings, investments, debts, and other financial obligations. Knowing your financial capacity can help you determine how much you can afford to pay for a new home.

Monitor Your Credit Score: Lenders use credit scores to assess the risk associated with lending you money. Ensure that you have a good credit history and if not, work on improving it. Higher credit scores are associated with lower risk, helping you secure a loan with favorable terms and lower interest rates.

Check the Down Payment Amount: The initial payment or down payment, is typically a significant percentage of the property's price (often 20% or more). Your savings should be sufficient to cover this amount without depleting your resources completely.

Estimate the EMI You can Afford: If you're planning to take a home loan, understand how much you're eligible for and comfortable repaying. It's crucial not to overburden yourself with hefty EMIs that could strain your monthly budget. As a general rule, your EMI should not exceed 30-40% of your monthly income.

Factor in Additional Costs: Buying a home isn't just about the property's price. Remember to factor in additional costs during property registration such as stamp duty, property registration charges, GST, and others costs like home loan processing fees, interior decoration or renovation costs, moving costs, society maintenance charges, etc.

Create an Emergency Fund: Keep an emergency fund that covers at least six months of your living expenses. This serves as a safety net for you in the event of unforeseen financial difficulties.

Consider Future Financial Goals: Make sure your home purchase doesn't hamper your ability to achieve other financial goals like retirement planning, children's education, or other significant future expenses.

Set a Realistic Budget: While it's great to aspire to own a luxurious dream home, it's important to be realistic about what you can afford. Buying a home that's beyond your means can lead to financial distress in the future. Your income, savings, current debts, and expenses will all factor into this.
---
#4 Plan for Home Loan & Financing
For most individuals, getting a home loan is a significant part of purchasing a property. The first step in home financing is determining how much you can afford to borrow. Here are some essential points to consider when it comes to home financing: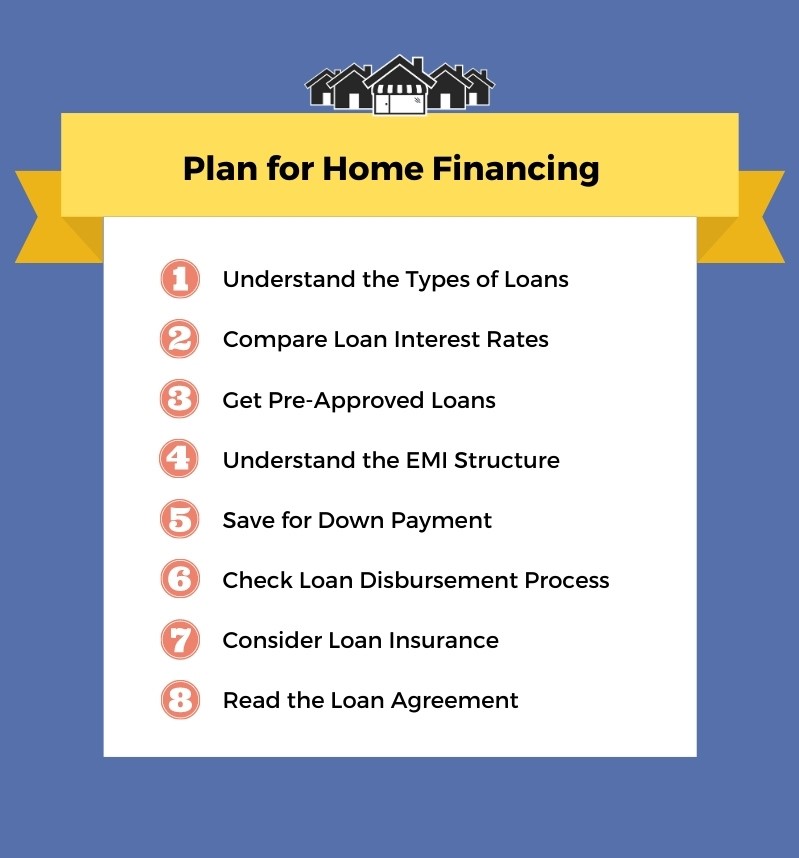 Understand the Different Types of Loans: There are different types of home loans available in the market, including fixed-rate loans, adjustable-rate loans, interest-only loans, and more. Understand each type to determine which is best for you.

Compare Interest Rates & Lenders: Shop around, compare interest rates, processing fees, loan tenure, prepayment penalty, and terms and conditions of various lenders. 

Its also important to understand the debt-to-income ratio (DTI), that determines your ability to manage and repay the money you borrow. This is calculated and reviewed by lenders when you apply for a home loan or mortgage.

DTI = (Total monthly EMI payments ÷ Gross monthly income) x 100

Get Pre-Approved Loans: Getting a pre-approved loan can give you a clear idea of your budget and can also increase your negotiation power with the sellers or builders, as it signifies your financial readiness.

Save for the Down Payment: Prepare for the down payment, which is a certain percentage (often 10-20%) of the total property cost that you need to pay upfront. The rest can be financed through the loan.

Understand the EMI Structure: Understand how your EMI is structured. EMIs consist of the principal amount and the interest. The interest component is higher initially, gradually the principal component increases.

Loan Disbursement Process: Familiarize yourself with the home loan disbursement process. In India, home loans are usually disbursed in installments, based on the construction stages, and not as a lump sum.

Consider Loan Insurance: A home loan insurance plan covers the outstanding loan amount in case of the borrower's unfortunate demise during the loan term. This ensures that the burden doesn't fall on your dependents.

Read the Fine Print: Before signing any loan agreement, make sure you read and understand all the terms and conditions. If you have any questions or doubts, don't hesitate to ask your lender.
---
#5 Verify Legal Documents of the Property
Legal due diligence is an essential step where you have to do a detailed verification of the property documents so that you can be sure that the property you are purchasing is free from any legal disputes, and all regulatory compliances have been met. Here are some key points to consider: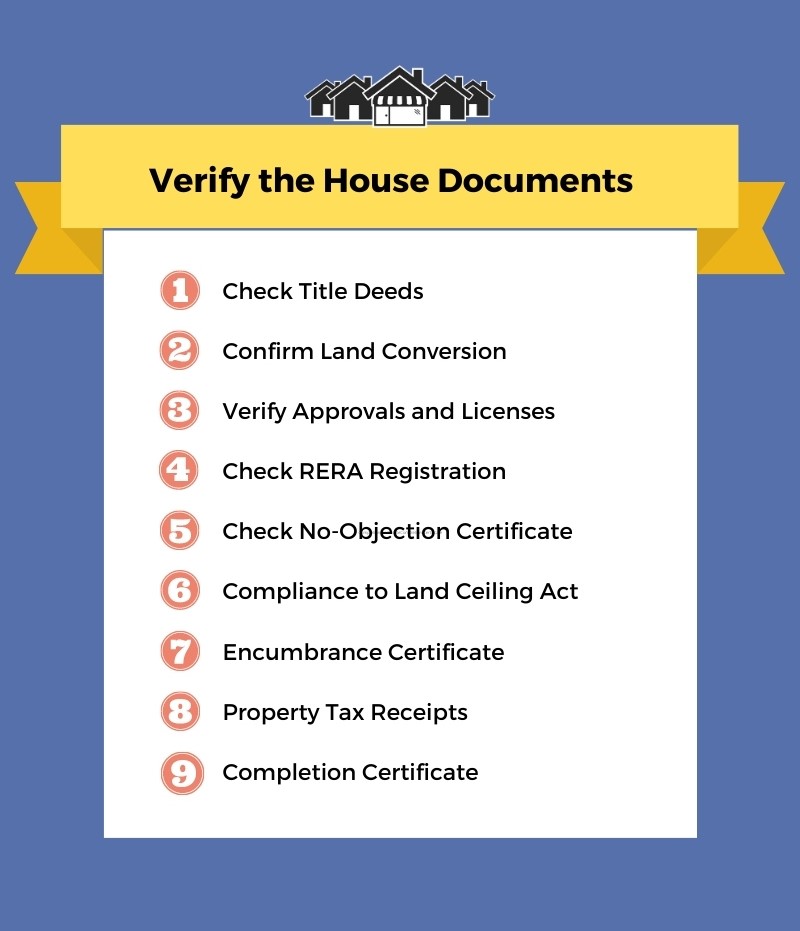 Check Title Deeds: Verify the ownership of the property. The seller should possess clear title deeds, proving they have the legal right to sell the property. The title deed should also trace the ownership history, ensuring there are no unresolved ownership disputes.

Confirm Land Conversion: The property should comply with zoning laws and land use regulations. Ensure the land is approved for residential use, not agricultural or commercial.

Verify Approvals and Licenses: The builder must have all necessary approvals and licenses from the municipal corporation, area development authorities, water supply and sewage boards, and electricity boards. These include building plans, commencement certificate, environmental clearance, etc.

Check RERA Registration: For projects with over eight units or land that exceeds 500 square meters, the builder should have registered the project with the Real Estate Regulatory Authority (RERA). Check the RERA website for project details and status.

No-Objection Certificates (NOCs): The property must have various No Objection Certificates (NOCs) from water, electricity, and fire safety departments, as well as from the pollution control board.

Compliance to Land Ceiling Act: Ensure the property is in compliance with the Urban Land Ceiling Act, if applicable in the state. This law restricts the amount of urban land a person can possess.

Encumbrance Certificate: This document ensures the property is free from any legal dues or complaints. You can obtain it from the sub-registrar's office where the property has been registered.

Payment of Property Taxes: Check if the property taxes and dues have been paid. Ask for receipts to confirm the payments.

Completion Certificate: For a constructed property, the builder should have a completion certificate, which is issued by the municipal authorities upon the completion of the building.

Hire a Lawyer: It might be a good idea to hire a real estate lawyer to help you navigate the complex legal aspects of buying a home.
Also Read: Guide to Owning a Freehold Property
---
#6 Inspect the House Thoroughly
Carry out a thorough home inspection to ensure that the construction quality is up to the mark, and the facilities mentioned in the agreement are present. Here are some key aspects to consider during a property inspection: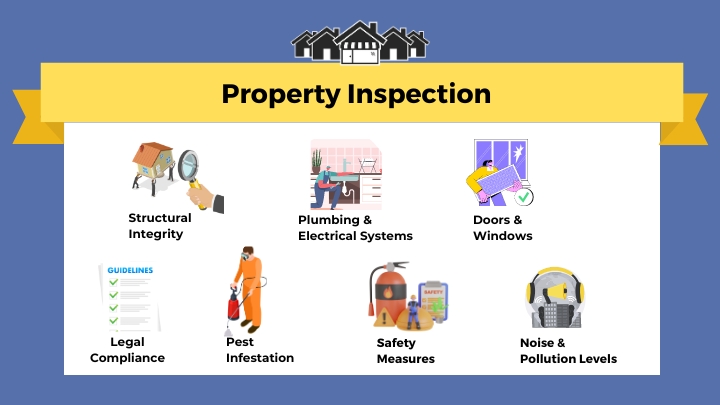 Structural Integrity: The overall structural health of the building should be checked, including walls, ceilings, floors, and the roof. Look out for cracks, dampness, seepage, or any signs of structural weakness.

Plumbing and Electrical Systems: Ensure that the plumbing and electrical systems are working correctly. Check for leakages, water pressure, pipe conditions, wiring, switchboards, circuit breakers, etc.

Doors and Windows: Check the condition of doors and windows. They should open and close smoothly, and there should not be any broken panes or damaged frames.

Ventilation and Natural Light: A well-ventilated home with plenty of natural light is healthy and energy-efficient. Check the orientation of the house and the placement and size of windows.

Pest Infestation: Look out for signs of pest infestation, such as termite damage, rodent droppings, or pest nests. This can lead to significant repair costs in the future if not addressed.

Amenities: If you're buying in a residential complex, check the condition of amenities like the lift, swimming pool, gym, clubhouse, etc. Ensure they are well-maintained.

Safety Measures: Check for safety features like fire safety equipment, security systems, and the availability of security personnel. Also, check the condition of staircases, railings, and other safety aspects.

Legal Compliance: Ensure that the construction is in compliance with the approved building plans. Any illegal extensions or modifications can lead to trouble in the future.

Noise and Pollution Levels: Check for noise and pollution levels in the area during different times of the day. If the property is near a busy street or a factory, noise and pollution levels could be high.

Hire a Professional: Consider hiring a professional home inspector who can conduct a thorough inspection and provide a detailed report. They know exactly what to look for and can save you from costly repairs in the future.
---
#7 Check the Builder's Credibility
Before investing in a property, it's crucial to check the credibility and track record of the builder or developer. Here's how you can check the builder's reputation: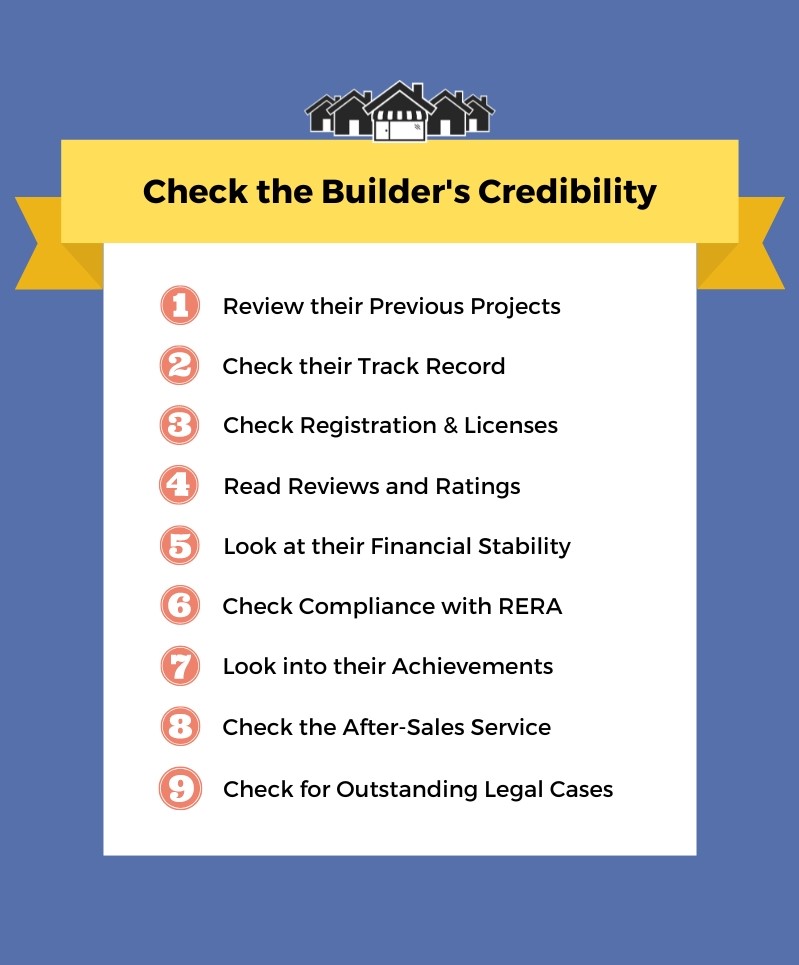 Review their Previous Projects: Review the builder's past projects to learn about their quality of construction, design style, and delivery speed. Visit their properties to check them in person.

Check their Track Record: Look at the builder's history of project completion. Delayed projects are a red flag. Ask the builder about their timelines, or talk to people who live in their completed projects.

Check Registration & Licenses: Make sure the builder has the necessary registrations and licences. You can verify the property online and find this information on their official website or by doing a quick online search.

Read Reviews and Ratings: Check out reviews and ratings from customers and real estate experts. Online platforms, social media, and real estate forums can give you unbiased opinions.

Look at their Financial Stability: The builder's financial stability is important for them to complete projects on time. You can check this by looking at their reputation in the market or by looking at their financial statements, if they're available.

Check Compliance with RERA: In India, the Real Estate Regulation and Development Act, 2016 (RERA) has brought more transparency to the real estate sector. Check RERA Registration of the builder and make sure they follows the RERA and check if all their projects are registered with RERA.

Look into their Achievements: Awards and recognitions from reputable institutions can show that the builder is committed to quality and excellence.

Check the After-Sales Service: Good builders provide efficient after-sales service and promptly address complaints and maintenance requests. You can get an idea of this by speaking to existing residents of their projects.

Check for any Outstanding Legal Cases: Check if there are any ongoing legal issues or cases against the builder. You can find this information in public records or by doing an online search.
---
#8 Negotiate the Property Prices
Negotiation is an integral part of the home buying process, and it can significantly affect the final price you pay for your home. A few tips to effectively negotiate property prices are: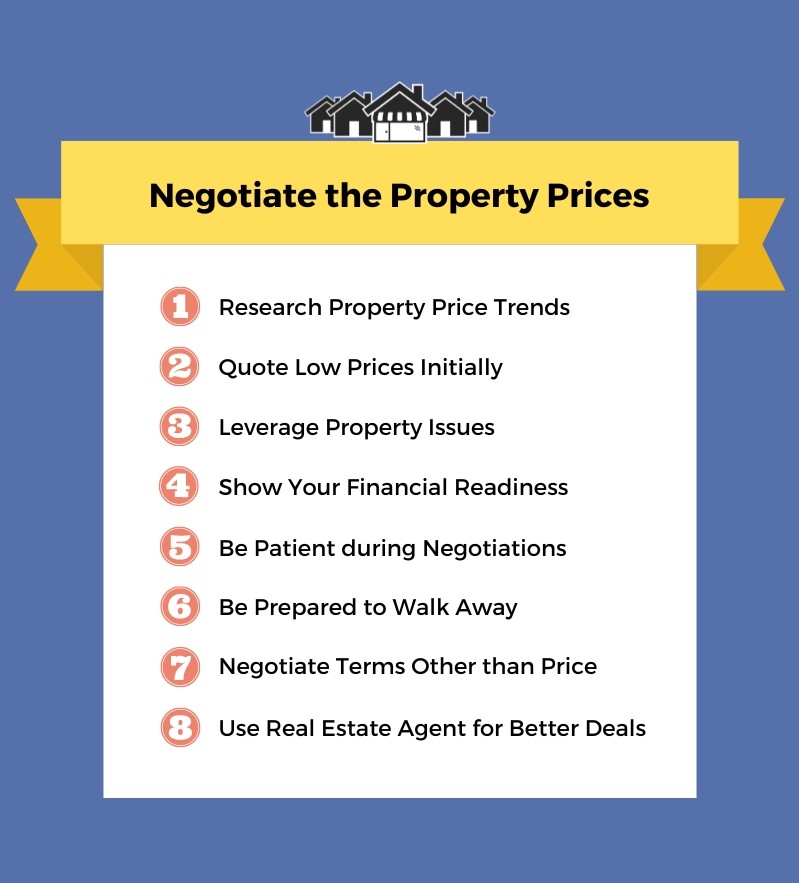 Research Property Price Trends: Research about the property prices in the area, the condition of the real estate market, the builder's reputation, and the demand for the property. Having such information will give you a solid base for negotiation.

Quote Low Prices Initially: Always start with a lower price than you can afford. This gives you room to negotiate up to your final price.

Leverage Property Issues: If you find any issues during the property inspection like needed repairs or outdated features, use them to your advantage in the negotiation. Sellers often reduce prices for properties needing significant work.

Show Your Financial Readiness: If you have a pre-approved loan or can make a substantial down payment, use this to your advantage. Sellers prefer financially ready buyers and may be more willing to negotiate.

Be Patient during Negotiations: Good negotiation takes time. If the seller isn't willing to negotiate initially, they may come around after a few days or weeks, especially if they are eager to sell.

Be Prepared to Walk Away: While you may be emotionally attached to a property, be prepared to walk away if the deal isn't right. There are always other properties, and it's crucial to make a decision that is financially sound.

Negotiate Terms Other than Prices: If the seller isn't willing to budge on price, try negotiating other terms. This could include asking the seller to pay for closing costs, including certain amenities, or making specific repairs or upgrades.

Use a Real Estate Agent: Real estate agents have expertise in negotiation and knowledge about the local housing market. Using real estate agents could lead to a better deal.
Also Read: Questions to Ask Your Real Estate Agent before Buying a House
---
#9 Draft an Agreement and Register the Property
Once you have finalized your home, the next step is to formalize the transaction through an agreement and then register the property in your name in the local municipal records. Here are the steps involved in this process: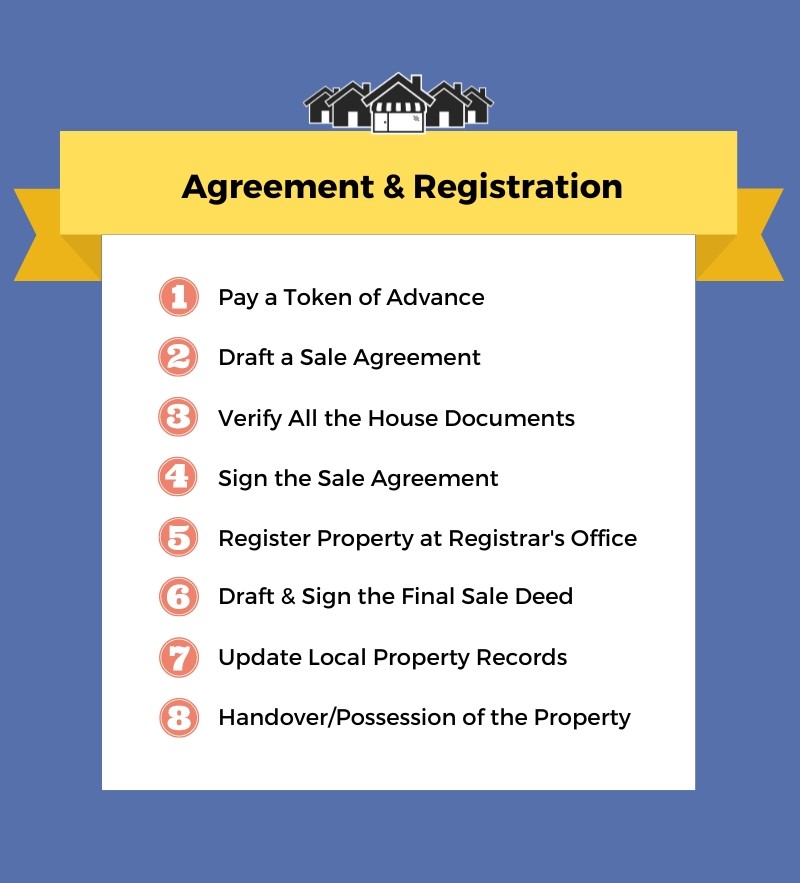 Pay a Token of Advance: You may have to give a token advance to the seller to shows your seriousness about buying the property, and in return, the seller takes the property off the market.

Draft a Sale Agreement: A sale agreement contains the terms and conditions of the sale and is usually prepared by a lawyer. The document includes property detail, total property price, mortgage payments schedule, penalties for late payment and the responsibilities of each party.

Do the Legal Due Diligence: Ensure that all legal due diligence has been done and the property is free from any legal disputes or encumbrances.

Sign the Sale Agreement: Both parties sign the agreement, and the buyer usually pays a certain percentage of the property cost (often 10-20%) to the seller.

Complete Registration at the Registrar's Office: Registration of the property involves the transfer of ownership from the seller to the buyer and is done at the local registrar's office. Stamp duty and registration fee need to be paid at this stage.

Draft & Sign the Final Sale Deed: A sale deed is then drafted and signed by both parties. This is the final legal document that proves that the property has been legally transferred to the buyer.

Update Local Property Records: The property records need to be updated in the local municipal records with the buyer's name as the new owner of the property.

Handover/Possession of the Property: The seller hands over the physical possession of the property to the buyer, along with the original documents related to the property.
Also Read: Pros and Cons of Buying & Owning a House
---
Common Mistakes to Avoid When Buying a Home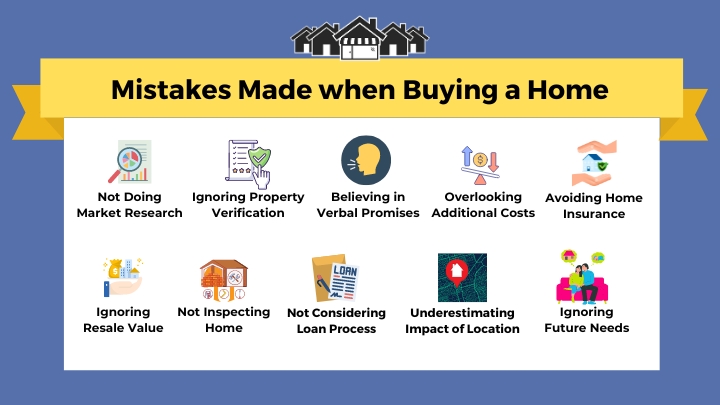 Not Doing Enough Market Research: This includes not understanding the current market conditions, checking the builder's reputation, future development prospects of the location etc.

Ignoring Legal Property Verification: Not verifying property documents like the title deed, land use permissions, or builder's approvals can lead to serious issues in the future.

Falling for False Verbal Promises: It's essential to ensure everything is in writing and clearly outlined in the sales agreement.

Overlooking Additional and Hidden Costs: This includes overlooking additional costs such as Goods and Service Tax (GST), registration charges, maintenance costs, and infrastructure development charges. These can significantly inflate the total cost.

Not Considering the Resale Value: Many people buy properties without considering their resale value. Factors like location, infrastructure, connectivity, and the reputation of the builder play a crucial role in determining the resale value.

Not Getting the Home Inspected: Home inspections are not very common in India. However, having a professional home inspection can reveal issues related to construction quality, plumbing, electrical wiring, etc., which might get overlooked otherwise.

Not Factoring in the Home Loan Process: Many people underestimate the time and complexity of getting a home loan approved. They don't consider factors like credit score, loan eligibility, different types of interest rates, etc.

Underestimating the Impact of Location: Accessibility to essentials like schools, hospitals, public transport, and the workplace are crucial for everyday living and also impact the value of the property.

Ignoring Your Future Needs: Buyers often select properties based on their current needs, without considering future requirements. This could lead to issues if their needs change, such as needing more space due to family expansion.

Not Investing in Home Insurance: While it might seem like an unnecessary expense, home insurance protects against financial loss due to damage or theft. Many buyers skip this important security measure, which can lead to hefty expenses in case of any unfortunate incidents.
---
Purchasing a home is not just a financial transaction; it's a profound personal experience that can significantly impact your life and future. From understanding your unique needs to evaluating your financial health, researching the right location, and assessing the credibility of the builder, there are multiple facets to consider. Each step on this journey is critical, and each decision should be backed by comprehensive research and due diligence.
This blog aims to make your home-buying journey in India smoother and more informed. Remember, every individual's circumstances and preferences are unique, and there isn't a 'one-size-fits-all' solution when it comes to buying a home. Listen to the advice of experts, but ultimately, trust your instincts and make a decision that aligns best with your personal and financial goals. Best of luck with your home-buying adventure!