Top Questions to Ask a Real Estate Agent Before Buying a New House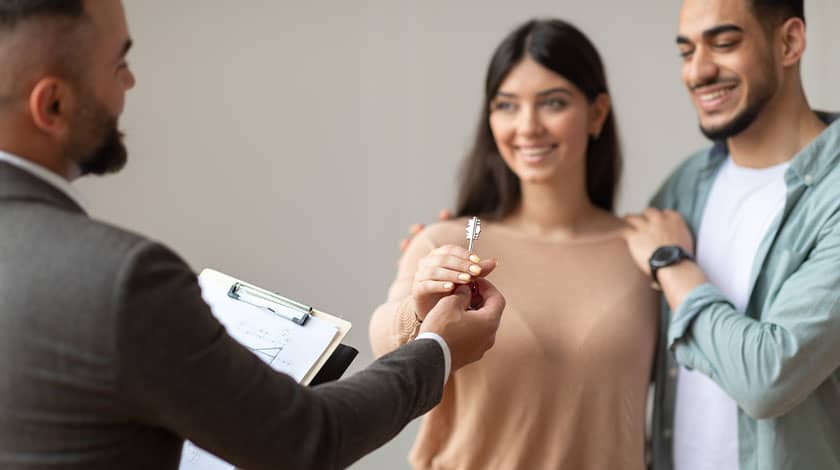 Embarking on the journey of buying a house is often one of life's monumental decisions. It involves more than just locating a space that caters to your lifestyle; it's about making a sound investment for your future. A crucial companion on this journey is your real estate agent. They wield extensive knowledge about the market, guide you seamlessly through negotiation complexities, and offer priceless insights on home buying aspects.
Engaging a proficient real estate agent is pivotal in your home buying process, but equally important is your ability to communicate effectively with them. Asking the right questions becomes critical in ensuring that your specific needs and expectations are addressed. In this blog, we equip you with a comprehensive list of essential queries to put forth before finalizing your home purchase.
Key Questions To Ask A Real Estate Agent
To evaluate your real estate agent's ability to help you find the perfect house, consider asking these questions:
1. How long have you been a real estate agent?
Experience is invaluable in the real estate industry. An experienced agent will likely have a deep understanding of the local market and a strong network of contacts.
2. What type of properties do you specialize in?
To ensure your agent can cater to your unique needs, understanding their niche is vital. Whether you're looking for a single-family home, a villa, or a sprawling estate, your agent should have proven experience in the relevant field.
3. How many clients are you currently representing?
An agent's client list can give you a glimpse into their availability and their capacity to offer personalized attention. An overburdened agent might not provide the level of service you need.
4. Can you share references from previous clients?
References are a window into an agent's strengths and potential weaknesses. Past clients can provide honest feedback about their experiences, giving you a fuller picture of what to expect.
5. Have you assisted buyers in my areas of interest?
Local knowledge is crucial in real estate. An agent who has successfully helped buyers in your desired neighborhoods will have a deep understanding of the local market dynamics, including price trends and the community vibe.
6. How does your commission structure work?
This helps you understand the financial aspects of hiring the agent. It's crucial to be clear about the costs associated with their services from the onset to avoid any surprises down the line.
Questions About the Property Market
Gaining a solid understanding of the local housing market is important in your home-buying journey. Here are some essential questions to consider:
1. What are the current conditions of the housing market in this location?
Knowing the state of the market is fundamental to determining whether now is the right time for you to buy. Your agent should be able to provide insights on whether it's a seller's market, a buyer's market, or somewhere in between.
2. What is the average time that properties in this area stay listed on the market?
This information gives you an idea of how competitive the local market is, and how swiftly you may need to make decisions once you find a property you love.
3. Can you walk me through the home buying/selling process from start to finish?
Having a clear understanding of the entire buying or selling process will give you an idea of what to expect. From home inspections to the closing, your agent should be able to explain each step clearly.
4. What are the recent sale prices of homes in the neighborhood?
This information can give you a sense of the local pricing trends and how much you might expect to pay for a home in the area. Your agent should have this data readily available.
Also read: Top Indian Cities to Invest in Real Estate
Crucial Questions to Ask When You've Found a Potential Home
Once you've identified a potential home, it's important to probe deeper into its specifics. Here are some crucial questions you should consider:
1. What is the property's history?
Understanding a home's past can provide insight into possible problems and contribute to your knowledge of its true value.
2. Have there been significant repairs or renovations?
Major renovations or repairs can affect the property's value. They could also hint at potential future costs.
3. How long has the property been on the market?
The duration a house has been listed can often indicate room for negotiation on the price. The longer it's been up for sale, the more open the seller might be to lower offers.
4. Are there any known issues with the property?
Existing problems with the house can affect both your decision to purchase and the price you're willing to offer.
5. Is the property in a flood zone or prone to other natural disasters?
Knowledge of the property's susceptibility to natural hazards can impact your insurance costs and inform your decision to proceed with the purchase.
6. Why is the seller moving?
This might provide additional insight into potential issues with the property or the neighborhood that you weren't aware of.
7. What is the age of the roof?
Roofs are expensive to replace. Knowing when the roof was last replaced can help you anticipate potential costs down the line.
8. What is the resale value in this neighborhood, and what is the expected trend?
Understanding the resale value and its future trajectory can help you gauge the potential return on your investment.
9. What are the yearly maintenance costs for this home?
Knowing the annual costs associated with maintaining the home can assist you in budgeting and understanding the full cost of homeownership.
10. How old are the major appliances and systems in the home?
The age of significant appliances and systems like HVAC, water heater, and electrical systems can indicate potential replacement or repair costs down the line.
11. What is the neighborhood like?
Inquire about the nature of the neighborhood from the seller. Are the neighbors quiet or noisy? Sociable or more private? Is it a pet-friendly community?
Also read: Guide to Buy a New Home in a New City
Questions About the Transaction Process
Understanding the home buying transaction can be intricate. Here are some insightful questions to clarify the process:
1. What are the stages of the home buying process?
Familiarity with the process will equip you with knowledge of what's to come, enabling you to be better prepared and potentially alleviating stress.
2. What kind of expenses should I be prepared for in this process?
Unexpected expenses can be a nasty shock during the home buying process. Hence, it's crucial to acquire a comprehensive understanding of potential charges from the get-go.
3. How long does the process take from making an offer to closing?
This information will aid in planning your timeline and setting realistic expectations.
4. What kind of communication should I expect throughout the transaction process?
It's important to know how often and through what channels (email, phone, in-person meetings) your real estate agent will be updating you on progress.
5. What happens if there are issues with my financing during the transaction?
Understanding potential hiccups and how they could impact your home purchase is important to ensure you're prepared for any scenario.
6. Who will be present at the closing, and what should I expect?
Closing can be a complex process, and it's useful to know who will be present (e.g., title company, attorneys, real estate agents) and what will occur during this final step.
What to ask the Realtor when you are ready to make an offer?
Making an offer is a significant step in the home buying process. Here are some key questions to ask your realtor at this stage:
1. What is the competitive landscape for this property?
Understanding the demand for the home can help you strategize your offer. If the property has multiple offers, you may need to bid aggressively.
2. What price do you recommend we offer?
Your realtor's expertise and understanding of the local market should guide you to a reasonable and competitive offer price.
3. How much earnest money should we put down?
Earnest money demonstrates to the seller that you're serious about the purchase. Your realtor can suggest an appropriate amount based on local customs and the home's price.
4. What should we expect after making the offer?
Knowing the next steps, such as negotiation, inspection, and closing, will help you prepare for what's coming.
5. How do we handle a counteroffer?
Your realtor can guide you on the best way to respond if the seller comes back with a counteroffer.
6. What happens if the appraisal comes in below our offered price?
Your realtor can explain your options in this situation, which could include negotiating a lower price or walking away from the deal.
Conclusion
By asking these questions, you can ensure you're well-informed before making a huge investment. Remember, a good real estate agent will be happy to answer all your questions and guide you through the process. Never hesitate to ask questions or for further clarification. Your agent is there to help you, and a good relationship is based on open, honest communication. Be proactive, ask questions, and keep learning.
Buying a home can be a stressful process, but with the right real estate agent and the right information at your disposal, it can be an enjoyable and rewarding journey. You deserve to have all the information you need to make the best possible decision. By asking the right questions, you ensure that your investment is sound and that your new house truly feels like home.