Top 10 Greenest Neighborhoods to Live in Pune for a Tranquil Lifestyle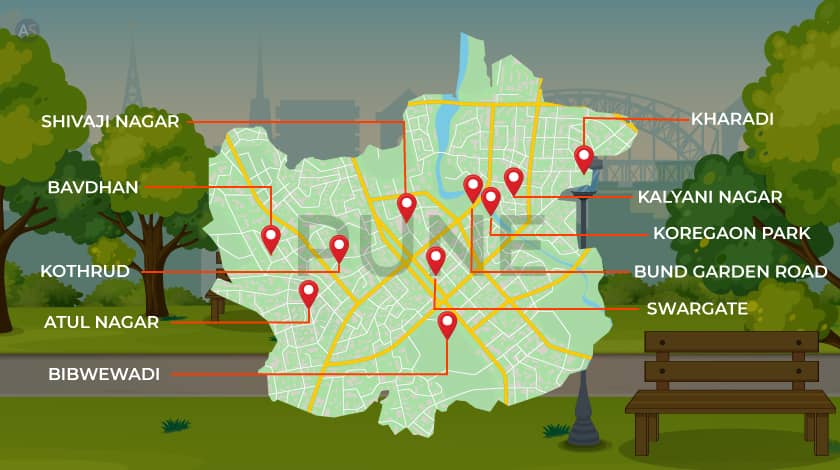 Pune is known for its natural beauty and endless green cover. Nestled among the hills, the city combines metropolitan amenities with rural green cover to create a space that is unique in this country. If you are a nature lover, it is definitely among the best options in the country if you don't want to live in seclusion away from modernity.
That being the case, if you are looking for localities that are close to nature, then you are spoilt for choice. The city has a lot of them due to its nature and geographical location. To help you out, we have gone through all of them to pick out some of the best options available.
BIBWEWADI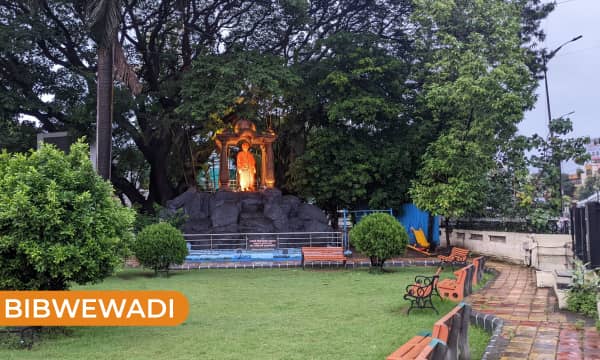 Bibwewadi is known as one of the best residential zones in Pune central Peth. You can have a luxurious life here if you are not tense about your budget as accommodation costs are quite high. But the presence of many clean and well-maintained parks and gardens and endless green cover makes it one of the best localities in Pune for nature lovers.
Green Gym and Garden: Green Gym and Garden is the best place for relaxation for all age groups, as it is surrounded by green plants and it also has lots of gym equipment which helps to do exercise to keep you fit. You can also enjoy cycling and playing cricket, and football as it is an open area.
Distance: 2.4 km
Best time to visit: Early morning and evening.
Garden Bramha Avenue: Garden Bramha Avenue is a very quiet and peaceful garden located on top of the hill where you can enjoy a jogging track and basketball play area for kids with lots of greenery. You can also plan your picnic and vacations here as it is very well-maintained and has high security.
Distance: 5.7 km
Best Time to visit: Early Morning.
KOTHRUD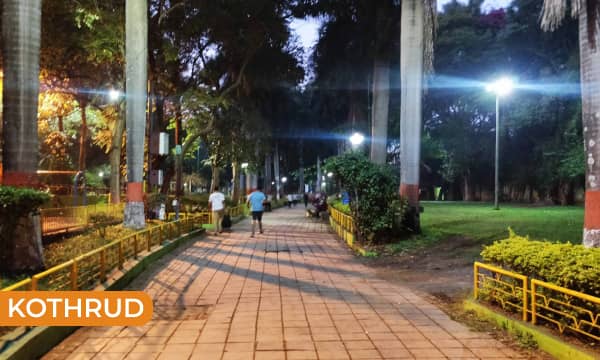 Kothrud is known as the western district of Pune city which has a population of almost around 250,000. This place has become one of the best places to live as it is covered with lots of green cover. The locality also has a number of parks that adorn its streets.
Vartak garden: Vartak garden is a small and attractive park which has a cemented jogging track that curls through the greenery and consists of tall shade trees and neatly trimmed grasses. The grass here is designed like a soft bed, and the surrounding small plants substantially subsidize the park's beauty. In addition to this, there is a safe and clean play area with swings, a see-saw, and slides made for small children.
Distance: 5.7 km
Best time to visit: 6:30 am to 10:00 am and 4.00 pm to 8:30 pm.
Throat garden: Throat garden is a well-maintained and huge garden which is perfect for people of every age. It has a vast space sheltered by green trees where you spend your free time in jogging, cycling, and meditating. It also has free gym equipment for everyone.
Distance: 1.4 km
Best Time to visit: Early Morning and evening after 4 pm.
ATUL NAGAR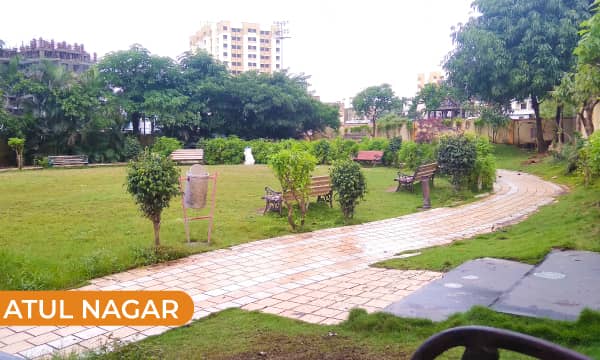 Atul Nagar is well-recognized as one of the significant parts of Warje, a residential locality in Pune. Warje is linked to all adjacent land central localities by wide roads. The number of residents around this area has increased in the past few years because of good schools, colleges, hospitals, and green areas like parks, garden lakes, etc.
Dnyaneshwari Garden: Dnyaneshwari garden is close to Atul Nagar and is covered with beautiful green and shady trees. You can go and relax with your kids, as there are many small rides and see-saws for kids and you can also enjoy jogging, cycling, meditation, etc. to keep yourself fit and healthy always.
Distance: 700 m
Best time to visit: Early morning and evening.
SWARGATE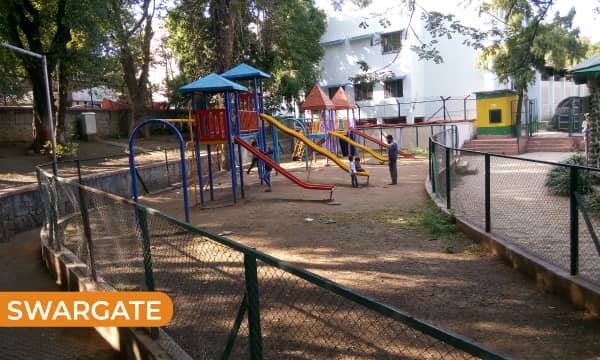 Swargate is one of the leading areas of Pune with a rich history dating back to pre-independence times, and has now become one of the most popular residential areas because of its greenery. The number of parks and green spaces in this locality far exceeds most other in Pune and is extremely well connected to all the main areas of Pune. It is also mainly famous for the Swargate Bus Station where you can get bus services from morning 4 a.m. to midnight.
Ghorpade Udyan: This beautiful garden was constructed 50 years back on a 4-acre land donated by Ghorpade, it has a beautiful walking path shaded completely from the sun. The water body and small streams of water curving around the edge of the garden are mesmeric.
Distance: 200 m
Best time to visit: Mornings and late evenings.
SHIVAJI NAGAR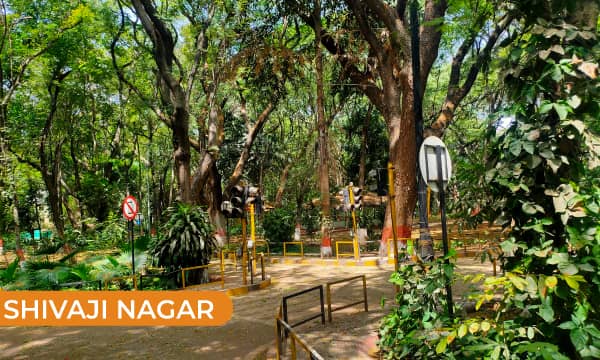 Shivaji nagar is a well-maintained residential area in Pune, which is nestled among green parks and beautiful gardens. It has become the most preferred region to live in and is well-connected with all the important localities of Pune.
Chittaranjan Vatika: This is a beautiful park run by the Municipal Corporation of Pune, and a perfect place for morning walks and jogs, and there are lots of rides for small children. There is a botanical garden with a variety of plants and flowers where you can have a relaxing time and on top of that, the botanical gardens and parks are absolutely free to use.
Distance: 1.0 km
Best time to visit: Early morning and evening.
BUND GARDEN ROAD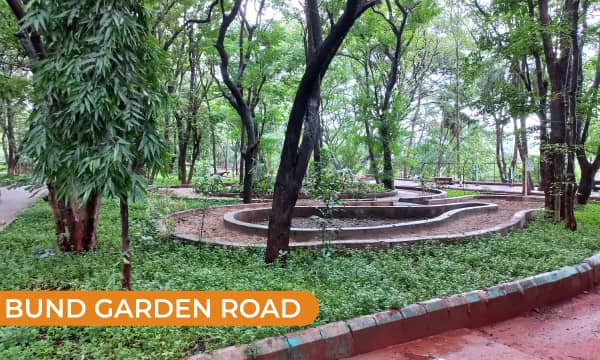 Bund garden has a well-maintained design that is ample with natural flora and abundant greenery, which makes the surrounding locality one of the best residential options for nature lovers. Another reason that makes Bund Garden road one of the locals' favourites is that it has well-connected and clean roads which easily connect with all major areas of Pune, which helps you to get all your daily life necessities near your location. 
Bund Garden: Bund garden is the best place where you can enjoy walking track laid down all over the garden, and you can also schedule your picnic with friends and family as this garden is full of greenery. People living here prefer and love visiting this garden as a quiet and calm place for meditation, exercise, and relaxation.
Distance: 1.2 km
Best time to visit: Early morning and evening.
KOREGAON PARK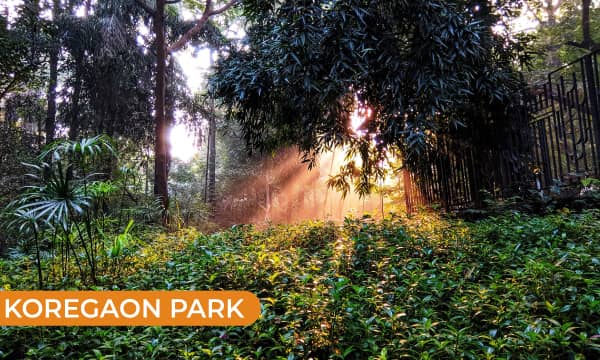 Koregaon Park, again, is one of the best residential areas in Pune for nature lovers. It has multiple parks, lakes, dams and lush gardens. Its popularity has shot up due to its geographical location and connectivity to the rest of the city. Parts of Koregaon Park have also been developed into a commercial marketplace because of which the property rates are quite high here. If you are able to spend a high price on your residence, then Koregaon park is a perfect place for you to live here with all the comforts of modern life.
Osho Garden: Osho garden is located near Koregaon Park and is famous for being the Mini forest inside a busy city. It is well-maintained and the best place in Pune for relaxing.
Distance: 1.0 km
Best time to visit: Morning from 6 am to 9 am and evening from 3 pm to 6 pm.
KHARADI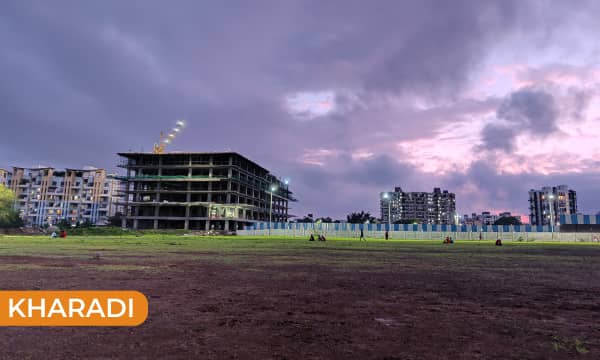 Kharadi is located on the eastern side of Pune which has been developed significantly over the past few years into a brilliant residential area. This locality was once famous for its expanse of barren land but is now cluttered with residential and commercial because of its green cover. It is situated close to the airport and other significant areas of the city such as Cyber City, Koregaon Park, and Kalyani Nagar. Owing to the growth and reasonably priced residence facilities available, Kharadi has become an excellent option to live in the lap of nature.
IT Park Ground: IT Park Ground is located near Kharadi, it is a beautiful lush green garden and is perfect for jogging, walking, meditation, and yoga. It is also best for playing outdoor games like cricket, football, etc., and spending your free time in peace.
Distance: 1.5 km
Best time to visit: Morning from 6 am to 10 and evening from 4 pm to 7 pm.
BAVDHAN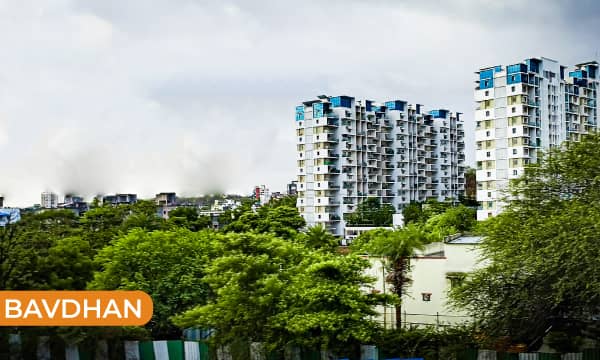 Bhavdann is nestled among three hills which are to the East west and south of the locality with lake Pashan acting as the de facto border in the North. It is the ideal locality for those who want to live in the lap of nature. Apart from being in a very calm environment, it is also positioned well geographically with, Aundh and Kothrud which are well known as one of the well-developed areas of Pune located astride. Bavdhan is one of the most desirable residential locations in Pune, not only for its green cover but also its closeness to Hinjewadi IT Park.
Geetai Garden: Geetai garden is a beautiful and attractive resort which is situated in the Badhavn hills. It is a well-maintained garden with lush green trees where you can enjoy a weekend trip or vacation with your loved ones.
Distance: 3.7 km
Best time to visit: Weekends.
KALYANI NAGAR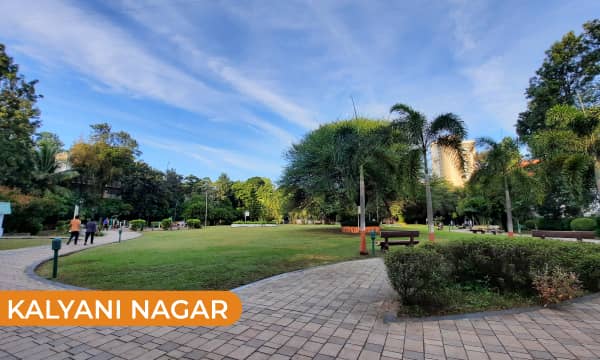 Kalyani Nagar is one of the most sought-after locations in Pune for professionals relocating to the city. This prime residential area boasts several IT parks, gardens, and offices of various companies. In addition, it has excellent connectivity to Koregaon Park, thanks to a 300-meter bridge, which ensures easy commuting for residents without facing heavy traffic. If you are planning to relocate to Pune, Kalyani Nagar should be one of your top choices due to its greenery and popularity.
Rotary Riverside Joggers Park: Rotary Riverside Joggers Park is an ideal location for relaxation, offering green grasslands, trees, a small stadium, a water cascade, and exercise equipment. The park provides excellent facilities for jogging, morning and evening walks, and yoga, making it a perfect place to enjoy daily life. With its attractive features, Rotary Riverside Joggers Park is an excellent place to spend quality time amidst nature.
Distance: 1.8 km
Best time to visit: Early morning and evening.
Relocating to a one of these localities in Pune? Get a quote and hire verified packers and movers in Pune.
Conclusion
Pune has a unique place among Indian cities. It has a cosmopolitan vibe with metropolitan amenities and the soul of a small town with lots of green cover. Since it is nestled among the hills, you always seem to be close to nature anywhere you go in the city. But the best among them regardless of the cost or location would be the ones listed in this blog. So, go out there and get in touch with nature.