A Quick Guide for Moving to Pune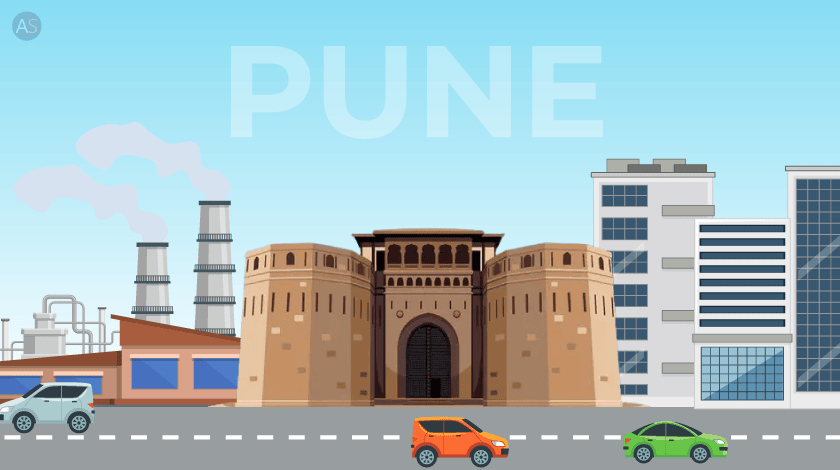 Over 1600 years old and still counting. Pune is one of the grand old cities of India. It has seen it all, and at the height of the Maratha power, it was the administrative centre of pretty much the entire sub-continent. 
While it was just reduced to a town nestled in the hills during the British Raj and the subsequent Indian rule in the 20th century, it is seeing a revival of sorts in the 21st century, becoming one of India's leading hubs for automobile manufacturing and more recently a fast developing Tech Hub.
There are plenty of reasons why you would want to move to Pune; comparatively moderate climate, great job opportunities, amazing people and low cost of living when compared to living in metros.
The city has its own challenges. Whether it is assimilating with the locals, navigating your way through its congested streets or familiarising yourself with the intricacies of the city, it is not an easy thing to do, especially if you are not a native Hindi speaker.
This blog, however, will help you in understand a few basic things about the city and hopefully help you integrate into your new surroundings better.
Relocating to Pune
Relocating to Pune is actually not that hard. It is well connected by road and airways, and although the city is fairly large, with the help of professionals, you can get it done easily. Doing it on your own has its own challenges and is not recommended. 
So, if you are looking for professional help to move, AssureShift can get your belongings there in a snap. We have many movers who have decades of experienced. You can also find movers with an office in both your city and in Pune, making it easier for you to move.
Accommodation
Accomodation in Pune is one of the reasons for its popularity, apart from the weather, the endless opportunities and the overall cost of living. It is extremely cheap compared to the average pay one earns in the city.
You can find a decent 1 BHK in the suburbs for as less as ₹6000. Of course, the costs will get more expensive in the upscale localities, but it hardly exceeds ₹60,000 for a 3BHK. 
| | |
| --- | --- |
| Type of Accommodation | Cost |
| PG | ₹ 5,000 - ₹ 15,000 |
| 1 BHK | ₹ 7,000- ₹ 17,000 |
| 2 BHK | ₹ 10,000 - ₹ 18,000 |
| 3 BHK | ₹ 15,000 - ₹ 30,000 |
Cost of Living
The biggest advantage of living in Pune is its low cost of living. You will be raking in the money of a metropolitan city, but you won't be paying the bills of a metropolitan city. You can easily live on ₹20,000 a month in the city for a person comfortably, and that is a ceiling figure. You can live on much less if you are frugal with your spending and cut down on some amenities. 
The rental costs hover around ₹7,000 to ₹20,000. Living costs apart from rent can be managed for less than ₹5,000 a month. All of this while you are pulling in a salary that's comparable to those living in Mumbai in the same position.
Transport
I would always suggest having a two-wheeler in Pune. The public transport is actually pretty extensive, I would go as far as saying it is great, but the fact of the matter is, it can be quite inconvenient. While bus connectivity is brilliant and frequent, it will take you a lot of time to reach your destination. Metro is under construction, and it should soon be available for public use.
The traffic can be a mare as well. Congestions are pretty frequent, and road works are off-putting. But in my personal opinion having your own two-wheeler trumps any form of transport in the city, and since a lot of the monuments are within an hour's drive, keeping a bike or scooter handy is more than worth it.
Food
Pune is famous for its food scene. A mixture of South Indian, Marathi and North Indian cuisine, the city's palette will keep you busy during your entire tenure there, even if you stay there forever. Aromatic Paav Bhajis, piping hot Misal Paavs, Batata Vadas, Biriyanis and a variety of chaats will smash whatever hunger you have built up working.
Climate
Due to its elevation, which is approximately 1800 ft above sea level, the city experiences moderate climatic conditions. They rarely exceed 37C and are only second to Bangalore when it comes to favourable climate among India's big cities.
Even the rainfall mostly occurs in the monsoon season, and it's not like the ones in Mumbai that wreak havoc every year. You do experience deluges, but it's not a dealbreaker by any means. Some might even love it.
Education
One of Pune's sobriquets is 'the Oxford of the East,' and for good reason. It is home to some of the most prestigious and iconic educational institutions in the country: Ferguson's College, Symbiosis, Mercedes Benz International School, MIT, and the Bishop's School.
If you are moving for educational reasons or if you are worried about your kid's education, you can rest easy. Whether it is lower education, high school or universities, Pune has you covered.
Language
The language barrier might be a problem for those who are not native Hindi speakers. Hindi, Marathi and English are the three languages spoken here. While English will suffice for most things, to interact properly with the locals, you will need to know Marathi or at least Hindi. This can save you a ton of trouble.
---
Pune is a beautiful city to live in. It is one of the most livable cities in India, and in 2012, it was the most livable city in the country. The weather is great, the pay is high, and the cost of living is low. What more would you want from a city? This guide will help you get a gist of what the city has to offer. So, keep your worries aside and enjoy the adventure you are about to embark on.