Of Punekars and Puneri's: Why Pune is Great and Why it's Not!
The Pros and Cons of Moving to Pune and Living There.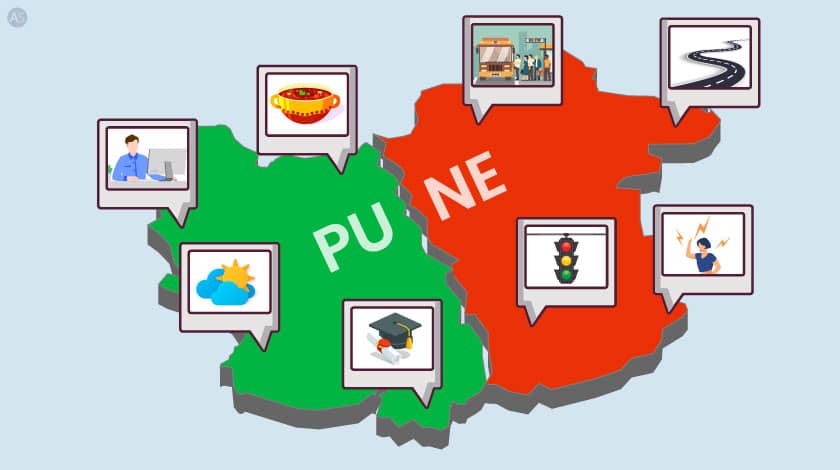 Pune has become a hotbed of opportunities recently. With a well-established manufacturing industry that is growing enormously and a startup scene that is launching the city into global records, people are moving into the city in droves to make something of their lives.
Add amazing weather, manageable cost of living and great scenery on top of it, and it's not a big secret why this is a favourable destination for many. But like any other city, Pune has its own gremlins that stop it from being the perfect city to move to. Mind you, it is still the most livable city in India and one of the top three destinations in the country to settle down in, but it isn't quite perfect, as you will learn.
So, if you are planning to move there, here are some things you will love about the city and some things that you won't.
Pros
The Weather
There are many things that will make you fall in love with this city, and the first of them is its weather. It has mild climatic conditions all year round, with rainfall during the monsoons.
Since it sits around 1800 ft above sea level, it is quite cool. The mornings especially are cool, and the temperatures soar only in the summers, and even then, it rarely exceeds 37C. 
Job Opportunities
Pune has a fairly large manufacturing industry, with most of India's prominent automotive players setting up their manufacturing arms here.
It also has a rapidly growing startup scene that is garnering investment in the millions, if not billions. So, there are plenty of opportunities for those who seek them.
Cosmopolitan Culture
Pune has a growing cosmopolitan crowd. Initially, it was due to the students settling here to study in one of the city's great learning institutions, but now manufacturing and tech jobs are pulling in way more numbers.
This has led to the adoption of a cosmopolitan culture in the city, which has influenced its growth. You will find trendy youngsters, pubs and events throughout the city.
Low Cost of Living
While Pune is a metropolitan city, and all of its amenities and facilities are at the level of a metropolitan one, its cost of living is not. The city is quite inexpensive to live in.
Whether it is rental costs or transportation costs, or even everyday living expenses like groceries etc., everything is quite manageable. You can live in Pune comfortably on ₹15,000 a month.
Great Quality of Education
Pune is known as Oxford of the East for a reason! It has been known for its educational institutes for decades. Colleges like Symbiosis and Ferguson's are living testament to it.
Great Food
Pune's food scene is among the best in the country. From hot and scrumptious Vada Pavs and Misals to tangy Pohas, the city has an array of delectable dishes to savour from. The food is inexpensive as well, so filling your stomach doesn't necessarily empty your pockets.
Cons
Public Transport System
Pune's public transport system is quite bad. It is not a big secret either. Almost every local resident knows about this.
The buses are old, outdated and as uncomfortable as they can get. The bus connections are far from extensive, and AC buses are far and few. The local train connectivity leaves a lot to be desired as well.
A personal tip; get a vehicle as soon as possible if you are planning to live there.
Traffic
Since it has such poor public transportation, the obvious choice of travel for residents living there is personal vehicles, and that leads to… you guessed it, traffic.
Pune has a grievous traffic problem. While it isn't as bad as Bangalore, Delhi or Mumbai, it is still quite bad. Bad enough to shorten your lifespan every time you step out. But then again, it comes with the territory of a big city. You will find it in any city you go to.
Substandard Road Infrastructure
Potholes, patchworks and pebbles. This is how we can describe Puneri roads. They are simply terrible. The only city that has worse roads in India is Bangalore, that's how bad it is.
The roads are filled with potholes and shoddy patchwork that leave every motorist disgruntled. It is substandard as best for a city of Pune's standing.
People's Attitude
Punekars are known for their high-strung attitude and blunt responses. They don't beat around the bush and often have a tongue-in-cheek response for everything, to the point that it can often come off as rude.
A famous example of this is the Puneri Patyas; large signboards in Marathi have blunt notices written in the wittiest of manners.
One of them hung in Sadashiv Peth (name of one of the older areas in Pune) read, "This is Sadashiv Peth and we have a tradition of puncturing any vehicle that blocks the way."
So, if you are looking for friendly folk who dress up every word they say, this is not the place for you.
Conclusion
Pune is a great place to live in. It has many things going for it, and it is as well-rounded as cities get in India. It is among the most livable cities in Asia, but like any other city, it has its own niggles that stop it short of being perfect.
While Pune is among the best city to live in, everything about the city is not rosy, some might even be a deal breaker. This blog has outlined its greatness and its shortcomings. Now you know which is which, you can make up your minds by yourselves.