Compare & Hire Packers and Movers in Siliguri
343
Siliguri
Hire Best Packers and Movers in Siliguri for 100% Reliable, Quick, & Affordable shifting. Fill the form and tell us your requirements to get Referrals of 3 Best-match Packers and Movers Siliguri along with Instant Cost Estimates. Compare charges, services, and reviews and ratings to finalize the best Siliguri packers and movers for your needs.
Get Quote From
3 Nearby Movers
Quickly Compare
& Save Min 25%
Guide to Hire Best Packers and Movers Siliguri with AssureShift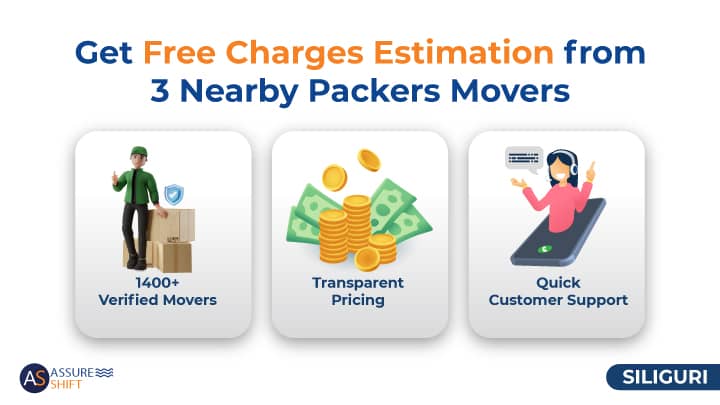 Welcome to AssureShift, a trusted name when it comes to making your entire shifting process smooth and stress-free with the best packers and movers in Siliguri!
Whether you are planning for home shifting, vehicle shifting, or even office shifting services, we are here to streamline the relocation process with our network of top professional packers and movers Siliguri.
At AssureShift, we have established a robust network of over 1200+ reliable packers movers in India, to make sure everyone across the country has access to trustworthy and professional packing moving services at budget-friendly prices.
To assure you of complete peace of mind from start to end of your move, we make sure every movers company undergoes a stringent verification process before associating with us. We thoroughly verify their company's business/GST registration, physical office presence and location, company owner details, and past performance history.
This way we ensure that our partner packers and movers Siliguri are capable of providing quality and professional services, ensuring your belongings are packed, handled, and transported with utmost care and professionalism.
Our associated movers and packers in Siliguri offer a wide array of services for local shifting, domestic relocation, and international moving. Our movers services include Home shifting services, Bike shifting, Car transportation services, Office relocation services, Fine art and antique moving services, Plant relocation services, Pet moving services, Storage and Warehousing services, Corporate shifting, Logistics services, Freight shipping services, and many more.
They also ensure on-time pickup and delivery of your items at both locations, and provide insurance service so that the safety of your goods is guaranteed against any unforeseen damages.
To quicky hire a good Siliguri packers and movers company from AssureShift, follow these 4 steps:
Post Your Requirement: Fill the form to share your moving needs, including the type of shifting, items to move, and the moving date.
Get Quick Estimates: Get referrals of 3 of our verified movers and packers Siliguri along with instant cost estimates.
Compare and Choose: Evaluate the charges quoted, services offered, and reviews and ratings to identify the best fit for your needs.
Smooth Relocation: Finalize your deal with the most suitable service provider and experience a hassle-free and smooth relocation.
We stand by you throughout your moving journey and even after that. In case of any discrepancies or issues, our dedicated customer support is here to assist you, ensuring any problems are resolved at the earliest.
Experience smooth, reliable and hassle-free moving with AssureShift - your one-stop solution to hire the best packers and movers Siliguri!
---
Why Opt for AssureShift When Hiring Movers and Packers in Siliguri?
Navigating through countless options when it comes to choosing relocation companies can be a daunting task. But with AssureShift, your shifting not only becomes effortless but also more reliable and secure.
No matter which city you are moving from or into, you get unrestricted access to a widespread network of leading movers service providers in Noida, Nagpur, Patna, Kolkata, Chandigarh, Ahmedabad, Bangalore, Delhi, Chennai, and 20+ others.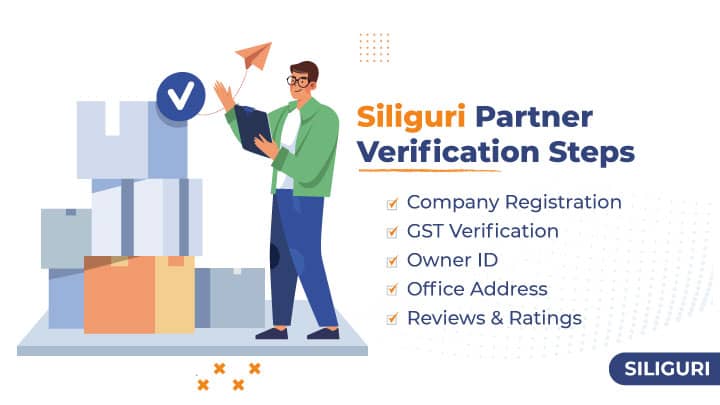 Comprehensive Repository of Movers at Your Fingertips: We provide an organized list of packers and movers in Siliguri West Bengal with complete information about their services, performance quality, contact details, and reviews and ratings. With a simple design and comprehensive listings, you can easily browse through several possibilities and get the necessary information you need to make a selection.
Ensuring Your Peace of Mind with Thorough Verification: Trust is essential when handling valuables. We thoroughly verify every packer and mover before listing them on the AssureShift portal. We verify the packers movers legal documentation like GST registration, work performance, and customer feedback to guarantee you are hiring a reliable firm.
Customized Solutions to Match Your Unique Moving Needs: We understand that everyone have different relocation needs. The relocation services provided by our partner packers movers in Siliguri can be customized for various packing and moving needs like residential shifting, car shifting, pet moving, office shifting, storage services, and so on to ensure we meet your needs with utmost care.
Top Quality at Transparent & Competitive Prices: At AssureShift, we ensure everyone has access to high-quality and best services at affordable rates. Our partner movers and packers in Siliguri provide clear, detailed, and competitive quotes, ensuring you get the best deal without any hidden shifting charges.
Unwavering Support from Beginning to End: We stand by you from the moment you decide to move until your belongings safely reach your new location. Our dedicated customer support is always available to ensure all your queries or issues are addressed promptly, providing you a smooth and stress-free moving experience.
Our packers and movers Siliguri offer relocation services in various localities in Siliguri West Bengal, including Pradhan Nagar, Matigara, Hakim Para, and more.
Hiring packers movers in Siliguri from AssureShift means choosing a seamless, reliable, and secure moving experience. You simply need to compare the packers movers charges, services, and customer ratings, to choose a packers and movers Siliguri that offers best value for your money.
---
Packers and Movers Siliguri Charges
Local packers and movers in Siliguri charges for shifting a standard 2 BHK within the city ranges between ₹4,500 to ₹14,000. The cost of domestic relocation services provided in Siliguri can vary from ₹13,000 to ₹38,000 for relocating 2 BHK from Siliguri to other cities like Delhi, Bangalore, Hyderabad, Mumbai, etc. The exact packing moving services costs depend on the specific factors and exact requirements of relocation.
| Move type/ Distance | 1 BHK | 2 BHK | 3 BHK | 4-Wheeler | 2-Wheeler |
| --- | --- | --- | --- | --- | --- |
| Local Shifting | ₹ 3,400 - 9,000 | ₹ 4,600 - 14,000 | ₹ 6,200 - 18,000 | -NA- | -NA- |
| Siliguri to Bangalore | ₹ 15,200 - 26,000 | ₹ 19,000 - 32,000 | ₹ 22,800 - 39,000 | ₹ 7,600 - 17,000 | ₹ 4,300 - 10,000 |
| Siliguri to Hyderabad | ₹ 13,300 - 22,900 | ₹ 17,100 - 29,900 | ₹ 19,900 - 35,900 | ₹ 6,600 - 14,000 | ₹ 3,800 - 7,500 |
| Siliguri to Pune | ₹ 16,200 - 26,900 | ₹ 19,900 - 32,900 | ₹ 23,800 - 38,900 | ₹ 8,100 - 17,500 | ₹ 5,200 - 10,500 |
| Siliguri to Delhi | ₹ 14,300 - 24,000 | ₹ 18,000 - 30,900 | ₹ 20,900 - 37,900 | ₹ 7,100 - 14,900 | ₹ 3,800 - 7,000 |
| Siliguri to Mumbai | ₹ 16,300 - 27,000 | ₹ 17,100 - 28,000 | ₹ 17,600 - 32,000 | ₹ 5,200 - 11,000 | ₹ 2,900 - 5,500 |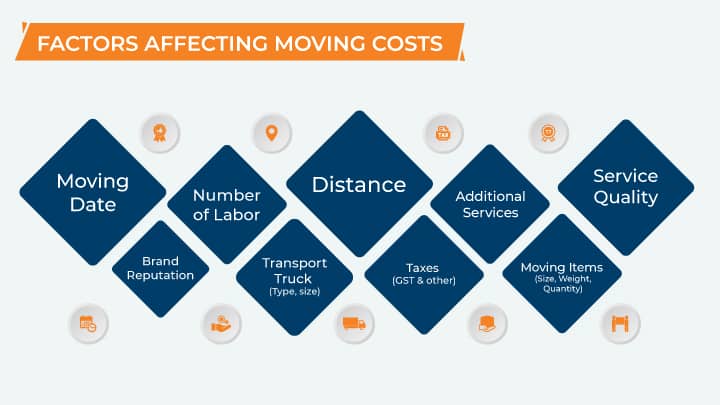 Siliguri packers and movers charges depend on various factors like the volume of moving items, residence floor level, quality of packing material needed, number of labor and their charges, expenses for logistic services, distance from origin to destination, and any other additional moving service requested. To reduce home shifting charges, consider decluttering thoroughly, choosing an off-peak time to move, and negotiating effectively with the moving companies.
---
How will AssureShift Help You Navigate Through Concerns
At AssureShift, we are committed to ensuring that your relocation remains smooth and secure even when concerns or issues arise with our recommended packers and movers in Siliguri.
We Ensure You are Fully Satisfied with the Referrals: We take great care in understanding your specific moving requirements.
Based on the details you provide, we refer the best match packers and movers in Siliguri as per your needs, to make sure their services offered align seamlessly with your expectations.
If, for any reason, you are not content with the references provided, we are more than willing to offer alternate references of moving and transport companies. This ensures that you have ample choices to select the packers movers that resonates with your expectations and moving needs.
We Guide You Through Every Step of the Move: From the moment you reach out to us with your moving inquiry until your belongings safely reach your destination, we are with you at every step.
Our team is always available to assist you with any queries, concerns, or assistance you need during the moving process.
We facilitate smooth communication and coordination between you and the moving company, ensuring that your problems get resolved quickly and effectively.
Upholding Service Quality with Regular Checks: To ensure that the quality of services remains top-notch, we conduct regular checks and evaluations of the packers and movers in Siliguri associated with us.
We assess their quality of services provided till date, customer feedback, and adherence to our quality standards.
Through our regular quality control checks, we ensure that the moving companies consistently deliver exemplary services, maintaining the high standards that AssureShift is known for.
Taking Decisive Actions for Accountability: If any concerns or issues arise during your shifting process, we take relevant and prompt actions against the concerned moving service providers.
We ensure that all our partnered packers and movers Siliguri adhere to a strict code of conduct and service standards.
Any deviation or failure to meet our set quality standards is addressed with relevant actions like suspension or termination, to ensure the integrity of packing moving services is maintained.
At AssureShift, we believe in serving customers with our unwavering support and guidance at every step to ensure smooth and positive relocation even when concerns arise.
---
Frequently Asked Questions (FAQs)
How much are the approximate packers and movers charges in Siliguri for local shifting?
The approximate charges for local shifting in Siliguri can range from ₹3,000 to ₹18,000 based on several factors, like quantity of items, quality of services, distance of shifting, and the size and type of truck used for transport.
Is it compulsory to get insurance on my belongings?
While it is not compulsory to take moving insurance, it is a better to do so in order to add an extra layer of protection and security in case of unexpected accidents or damages during the move.
How to calculate the relocation charges by yourself?
To calculate relocation charges, take these factors into account: shifting distance, quantity of items, service quality requested, the size and type of transport vehicle, number of labor needed, additional services needed, moving date, service charges and taxes, the company's name and brand.
Can I reschedule or cancel my booking with the Siliguri packers and movers?
Yes, you can reschedule or cancel your booking with the Siliguri packers and movers. However, it's recommended to inform the moving company as soon as possible to avoid any additional charges. Each company may have its own rescheduling and cancellation policy, so check their terms and conditions before making any changes to the booking.
Do packers and movers Siliguri provide storage and warehousing facilities?
Yes, many packers and movers Siliguri offer storage and warehousing services for temporary or long-term storage.
Can packers and movers in Siliguri handle the disassembly and reassembly of furniture?
Yes, most packers and movers in Siliguri provide disassembly and reassembly services for furniture. However, make sure to inform the moving company in advance if you require these services so they bring the necessary tools.
---
Embarking on a relocation journey becomes significantly smoother with the aid of professional packers and movers in Siliguri West Bengal. These experts ensure the safe, secure, and efficient transport of your belongings for various types of shifting needs like home relocation services, car transportation, bike shifting, international moving, storage & warehousing, pet moving, fine art and antique moving service, corporate shifting, office shifting services locally, intercity and internationally, among many others.
Choosing AssureShift to hire packers and movers Siliguri ensures you connect with verified and reliable packers movers companies. We meticulously verify each moving company credentials, past work performance, and adherence to quality standards, ensuring 100% reliability and your peace of mind.
To provide residential shifting with complete safety from start to end, our expert movers and packers in Siliguri follow a meticulous process involving proper planning, secure packing with the best quality packing supplies, cautious loading and unloading services with modern equipment, and safe and timely transport in appropriate vehicles.
Our Siliguri packers movers use quality packing materials like bubble wrap, corrugated sheets, sturdy boxes, and so on for secure packing and handling of items during the move. They use various trucks like the Tata 407 or Eicher 14 Feet, depending on the volume of goods for quick and safe transportation. Loading and unloading services are facilitated with equipment like hand trucks, sliders, and moving blankets to ensure 100% safety of goods and efficiency during the move.
Hiring a good moving company involves verifying their credentials, checking reviews and ratings, comparing quotes, and discussing specific requirements. It's crucial to ask relevant questions to the packers and movers Siliguri during the first conversation and pre-move survey, such as the quality of packing materials used, understanding the handling of fragile items, discussing insurance coverage, and clarifying the terms and conditions of the contract.
Prepare for the home relocation by sorting out unwanted belongings, informing relevant parties like utility providers, banks, etc., about your move, and ensuring all your documents are in order and valuables are packed and placed separately from the regular moving items.
With AssureShift, it's easy to hire a moving company in Siliguri and get instant cost estimates in 4 simple steps. Simply tell us your requirements, and get referrals of the top 3 movers and packers in Siliguri along with their initial cost estimates and contact details. Compare the charges, services offered, and reviews and ratings, and choose the best fit for your needs.
To hire local moving companies, look for local movers in Siliguri nearest to you so that you can get fast relocation services at your doorstep. For domestic shifting, look for packers and movers in Siliguri having their presence in your desired destination city as well. For example, if you are moving from Siliguri to Ghaziabad, hire professional movers services in Siliguri having a branch office of their moving company in Ghaziabad. This will help you avail quick unpacking and reassembly of goods after arriving in Ghaziabad.
To hire international movers and packers in Siliguri, at AssureShift, you can find good globally recognized logistics company who are capable of handling the complete relocation from the origin in West Bengal until the goods are carefully delivered to the doorstep in the destination country. Our overseas packers and movers in Siliguri use international standard packing supplies and provide additional insurance cover to ensure 100% safety of the items.
In case of any concerns or issues during your move, AssureShift stands by you, offering assistance, ensuring accountability from the moving companies, and providing alternate options to ensure your satisfaction and a smooth moving experience. Your effortless and secure relocation with the best packers and movers in Siliguri is just a click away with AssureShift!