Ghaziabad Packers and Movers Charges
Within Ghaziabad Shifting Charges
Get approx estimation of complete door to door packing and moving rates. For accurate costing please give us your moving details, and get quote from 3 best match service providers.
General Consideration
Few Goods
Bed, Fridge or Washing Machine, Few Kitchen Items, and Cloths
1 BHK
Bed, Fridge, Washing Machine, TV, Kitchen Items, Small Table, Few Chairs, and Cloths
2 BHK
2 Beds, Fridge, Washing Machine, TV, Dining Table, Sofa, Study Table, Few Chairs, Wardrobe, Almirah, 1 AC or Cooler, Kitchen Items, and Cloths
3 BHK
2 Double Beds, 1 Single Bed, Fridge, Washing Machine, TV, Dining Table, Sofa Set, Study Table, Computer Table, Chairs, 2 Wardrobes, 2 Almirahs, 2 AC, Dressing table, Kitchen Items, and Cloths
4 BHK
2 Double Beds, 2 Single Bed, Fridge, Washing Machine, TV, Dining Table, Sofa Set, Center Table, Study Table, Computer Table, Chairs, Dressing Table, 3 Wardrobes, 3 AC, Aquarium or Show pices, Kitchen Items, and Cloths
Ghaziabad Relocation Guide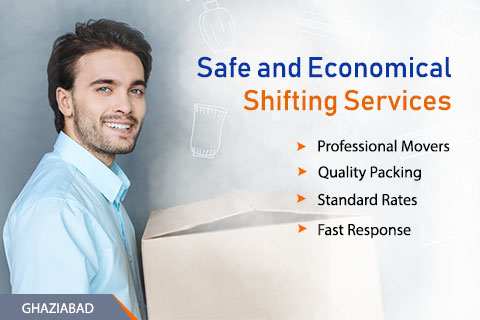 Are you planning to move in Ghaziabad? The safest way to pack and move all your belongings quickly with complete safety to your new home, whether within or outside the city, is to hire cheap and best packers and movers in Ghaziabad who provide a reliable relocation solution at affordable rates. AssureShift is the best platform to get in touch with reliable home shifting services in Ghaziabad. We will help you to hire pre-verified packers and movers Ghaziabad, by providing you complete details of the shifting companies near you. You can quickly compare charges, company profiles and reviews, and hire trustworthy relocation service company in Ghaziabad within 5 minutes.
You can easily experience the cheapest way to move is with the help of movers and packers in Ghaziabad. But you should be careful while searching for Ghaziabad packers and movers near me through unknown sources like Google Search Engine, so that you don't get in touch with fraud movers who make wrong promises and cheat clients. You should first thoroughly verify the credibility of the moving companies; check their registration certificate and identity proof documents before hiring them.
Or, you can submit your requirements and book a well-reputed Ghaziabad Movers Packers through AssureShift. As soon as you share the shifting details, you will get reference of 3 top packers and movers in Ghaziabad near you, which provide the required services at affordable cost within your budget. Compare the quotations provided by the Ghaziabad packers movers services and their company profiles and reviews before hiring the best-suited one. Our partner shifting service companies provide relocation services for local, domestic, and international shifting of complete household, shifting your bike, office relocation, car transportation, cargo shipping, and moving & storage services among many others according to your requirements.
Local home shifting services in Ghaziabad provide quick and efficient shifting services to shift your house from one locality to another in Ghaziabad. To get damage-free packing and moving services, you can rely on top professional domestic packers and movers in Ghaziabad who are capable of packing and moving your things by following extra precaution to relocate them to any new city. If you are relocating first time in Ghaziabad, we will like to welcome you in the 2nd fastest-growing city in the world, one of the main reason relocation demands has increased a lot in the past few years is that Ghaziabad is less messed up as compared to other areas located nearby. You can easily travel to any place by metro and local transport. You can also enjoy mouth-watering dishes, shopping at malls and many beautiful tourist destinations. We hope you will love your life in your new city!
Why you should hire Packers and Movers
Skilled personnel: Expert movers and packers Ghaziabad employ a qualified team who are capable of carrying out your relocation in a professional way. They follow safety measures and use suitable equipment to ensure safety while packing and moving goods and handle goods with ultimate care.
Safe packing: The best movers and packers in Ghaziabad will pack your entire belongings using standard quality packing material and deliver them without a single scratch. They follow different packing methods for different items like Furniture, AC, appliances, and other such goods that require dismantling before getting packed.
Careful loading and unloading: The shifting service provider in Ghaziabad will load and unload your items with required equipment and techniques depending on your exact requirements. After hiring them, you can rest with a stress-free mind that all your items are in safe hand.
Affordable shifting: Availing the services of the best movers packers Ghaziabad prove beneficial in terms of costs as well as ease of relocation, no matter whether you are moving within or outside Ghaziabad. They will bring the necessary things like packing material, equipment, etc. to shift your items safely. The Packers and movers Ghaziabad price are affordable, and you get hassle-free relocation services.
Services provided by Packers and Movers Ghaziabad
Household shifting in Ghaziabad: Home shifting services in Ghaziabad are experienced in packing and shifting your household goods; they provide all the required services from the time you hire them until the end of relocation. Packing, loading, transporting, on-time delivery of your items. Not only this, they will help you to unpack and arrange your new home quickly.
Local moving within Ghaziabad: Local packers and movers in Ghaziabad help you shift to your new place in the minimum amount of time. They pack, load, transport, unpack, and unload your things at a reasonable cost; your relocation charges will depend on the quantity and goods to move and the total time taken to complete the entire moving process.
Domestic Shifting from Ghaziabad: reliable intercity packers movers Ghaziabad will help you to have a secure and hassle-free shifting at your new city. They are trained in packing and moving your belongings with full safety and transport them safely over the long-distance; they also provide on-time and damage-free delivery.
Car transport services in Ghaziabad: trustworthy car movers and packers in Ghaziabad will pack and transport your car to the discussed destination at affordable prices using the suitable car carriers in Ghaziabad.
Economical Bike Shifting: Ghaziabad packers and movers will capably pack your two-wheeler using suitable quality packing material, and shift them in well-designed bike carriers from one place to another without a single scratch.
Cargo Shipping: Reliable cargo packers and loaders in Ghaziabad will pack and ship your cargo carefully at your pocket-friendly price to the destination via inter-modal transportation.
Storage/warehousing services: You can store your home as well as commercial goods in the storage provided by movers and packers company in Ghaziabad. They will provide 100% secure warehouses according to your requirement, they take inventory of all the assets and provide insurance in case of damage that occurred to your items.
Logistics Services: Ghaziabad transport services offer the best logistics services and transport for transporting goods from one warehouse to customers as per their demand. They organize the pick-up and provide timely delivery using the reliable local transporter in Ghaziabad.
Office shifting/Corporate Relocation in Ghaziabad: You can shift your office IT equipment, Machinery, Furniture, Vehicles, and other Appliances in a safe and fast manner. Office packers and movers in Ghaziabad help you pack and move your entire office without wasting and will take care of your items.
International relocation from Ghaziabad: International packers movers Ghaziabad will handle your international moving from start to end so that you can remain free of tension.
Shifting IT Equipment: Moving IT equipment is a lot more complicated and requires professional expertise. Packers n movers in Ghaziabad are fully equipped and trained to move IT equipment from Ghaziabad to any part of the city.
How can AssureShift help make your move stress-free?
The industry of packers and movers industry in India is not properly set up due to the presence of bogus movers, who are working only to deceive innocent customers. That's why we at AssureShift work to keep you safe from unprofessional relocation companies all over India.
We do a complete background investigation of each removal company in Ghaziabad before listing them on our website. We thoroughly verify their documents including license details, company registration, owners valid certificates, and legitimacy of the movers. We make sure they are fully capable of carrying out your relocation services to complete it successfully within the expected budget and time.
All you need to do tell us your entire shifting requirements, budget, and the required service, and we will recommend three trustworthy relocation service company in Ghaziabad to fulfill all your relocation needs at a reasonable price.
You will get a call from our recommended moving service provider regarding estimated shifting costs so that you can compare quickly to decide which one will be more suitable according to your budget and relocation requests.
You can request for Pre-Move Survey so that you can explain your movers about your shifting requirements more clearly and can also negotiate for the best price deal.
You can hire popular packers movers Ghaziabad whose list of services and charges you are okay with them. Just leave all the hectic task of packing and moving for our specialists and focus on the other significant tasks you need to do before moving.
List of Essential tasks you must do Before Moving
There are several tasks to be completed before you shift, to make sure you do not have a difficult time after moving into a new community. Some of these essential things are as follows:
Get rid of your unwanted items
The first things you must do before you start packing is to sort all your household items and set aside the things which you are not planning to use anymore in your new home. This smart step will help reduce the load you while moving in your new residence, but also save your money and time in this process.
Pack an overnight survival bag
Before you throw all your belongings into boxes, and pack and load them up in the truck, you should first think about how you will survive the first few days in your new abode. Since it may take time to begin unpacking all your boxes, you must keep a few of your essential things close like kids necessities, medicines, extra pair of clothes, toiletries, etc. This way, you can restart your routine without any difficulties or disturbances.
Update your new address
Before shifting, one of the most crucial tasks to complete is to change/update your new home address at all the important places so that you don't miss any vital communications through post. Some of the places where you need to update your address are Banks and credit card companies, Current employer, Insurance providers, Post office, Schools and colleges, shopping sites, and last but not least inform your relations and friends so that they can visit you.
Pack your valuables separately
Even though you hire top packers and movers for home shifting in Ghaziabad, you should not leave your valuable belongings to be packed and moved by them. No matter how trusted your moving service company is, your valuables are worth much more than money which you can't get it back at any cost. Therefore, you must pack you keep all your valuables things close by and carry them with you while shifting like important documents (educational, official, personal, etc.), Electronic devices like Laptop, Phone and their chargers, money and purse, Jewelry, Ornaments, etc.
When is the right time to relocate?
The date and time when you will plan to move will depend on whether your relocation will be an expensive or a cheap one. Packers and Movers Ghaziabad price will differ throughout the month due to peak season due to lots of people prefer to move during this time. We've mentioned below when you must avoid and which days would be the perfect time to move in Ghaziabad.
Days to avoid shifting
Weekends: Generally people prefer to move during the weekend as they have off from work and kids are also at home, so that they don't have to take leave from their work and everyone will be available at home. Due to this, genuine relocation companies in Ghaziabad remains completely booked and occupied during weekends, and they tend to charge higher shifting cost as compared to regular prices for relocating.
End of the month: Normally lease contracts end and begin during end of the month, this also known as one of the peak seasons for Moving service company, as many people move in and out of homes during this time, due to which moving companies in Ghaziabad shifting charges are high.
Cheapest time to move in Ghaziabad
Weekdays: It's always better to move during weekdays, like Monday to Thursday, so that you can hire the best moving company in Ghaziabad at lowest price due to off-season. They will be able to complete your relocation by putting extra focus on your relocation requirements.
Mid of the month: you can also plan to move during the middle of the month, as very few people prefer to relocate during mid of the month. So, if you have control to fix your moving date, then you must schedule between 10th to 25th of the month, to save your extra expense and find a trustworthy packers movers Ghaziabad as they will not be in urgency to complete other clients job.
FAQs
What type of containers will be used to transport my goods?
We understand you have earned your belongings after hard work of long years, that's why we use Sealed Weather Proof closed Containers.
How can I reduce my moving cost in Ghaziabad?
There are lots of smart ways by which you can decrease your shifting charges like Plan your move in advance, declutter all your unwanted stuff, schedule your move during off-season, get quotes from multiple moving companies near you, etc.
What are the things which cannot be loaded on the moving vehicle?
Some possessions like liquids/Oils, inflammable items will not be allowed to be loaded on to the vehicle.
What should you know about your new locality?
The most important things which will make you feel comfortable at your new community is by having a good association with your new neighbors, and you can take help from them when you need them as you will be entirely unaware about the rules and regulations. Before you shift to the new town, take a day to visit the locality and find out a few things about the place to familiarize yourself, like:
Introduce yourself to neighbors and let them know you're moving in soon;
Find out about the safety of the locality and nearby markets;
Locate important places like hospital, pharmacy, schools, etc.;
Look for the nearest grocery stores, children's park, fuel and service stations, garbage collectors, and such necessities;
Who are the Best Packers and Movers in Ghaziabad?
Agarwal Packers and Movers: Sahibabad, Ghaziabad- 201005
Om Packers and Movers: Ghaziabad, Uttar Pradesh- 201010
Laxmi Packers and Movers: Crossing Republik, Ghaziabad- 201016
Dhl Packers and Movers: Sec Sabzi Mandi, Ghaziabad- 201009
Unicon Packers and Movers: Vasundhara, Ghaziabad- 201012
Victoria Packers and Movers: Kavi Nagar, Ghaziabad- 204212
Airgo Packers and Movers: Nehru Nagar, Ghaziabad- 201001
Speedo Packers and Movers: Nehru Nagar, Ghaziabad- 201001
Real Packers and Movers: Crossings Republik, Ghaziabad- 201001
Kvr Packers and Movers: Lohya Nagar, Ghaziabad- 201001
Blue Star Packers and Movers Ghaziabad: Sanjay Nagar, Ghaziabad- 201002
Bhagwati Cargo Packers and Movers: Brij Vihar, Ghaziabad- 201011
Sarthi Packers and Movers: Sector-1, Vaishali, Ghaziabad- 201010
Speedo Packers and Movers: Nehru Nagar, Ghaziabad- 201001
Mars Global Packers Movers Pvt. Ltd: Sahibabad, Ghaziabad- 201005
We assurance you can save plenty of your money and time after hiring a suitable packing and shipping company in Ghaziabad to help you relocate at your new desired destination. The only worry is to hire trustworthy and economic one out of the several options, and the safest way is to take help well-reputed platform AssureShift. As we work to eliminate scam moving service providers from the market, so we make thorough inquiry of all company details. We put only the nearest movers and packers in Ghaziabad at one place to make your move easier by hiring best-matched Packers and Movers as most of the tough relocation work will be taken care of by the top-rated packers and movers in Ghaziabad.
9 Important Relocation FAQs
When should I start looking for packers movers?
It depends upon the type of shifting, for local shifting within the same city ideally you should start looking 4-8 days ago. Where as for shifting outside city ideally start looking 7-14 days ago. If your moving date is month end, or weekend you should begin your search little earlier.
How to find best packers and movers?
Share your shifting requirements with us and we will refer you 3 best match verified and trusted moving companies near to your locality. Talk to them, know charges estimation, compare their profile, ratings, and reviews and finalize the best option for you. Happy Shifting!
How can I reduce my shifting charges?
One of the primary factors that affect your relocation expenses is the quantity of goods you are moving. If you reduce the number of items by decluttering, your relocation charges can be reduced. You should also make sure that you plan the move well in advance and schedule the move on the right day.
It's best to take quotations from at least 3 movers so that you can easily compare the estimated charges and company profiles, and hire the most relevant moving company.
What are the things packers movers will take care off?
Our relocation experts will take care of all the process from beginning to end (Dis-assembly, packing, loading, transportation, un-loading, un-packing, assembly, and final placement). Generally, for domestic relocation outside city un-packing, assembly, and final placements are not included, and if you require those have demand.
How much time it will take to complete the move?
Local relocation from one locality to another can be completed within a single day depending on the number of items and the floor of the house it could take from 5-10 hours. For shifting outside city it depends upon the distance and from origin city to destination route transport availability, normally it takes from 4-8 days.
What is pre-move survey, and how much time it takes?
In pre-move survey packers and movers do a proper analysis of your relocation requirements like quantity of goods, type of goods, pickup and delivery demands. Survey inspector comes at your place and it takes around 10-20 minutes, whereas for shifting few items it can also be done over the phone call.
What items I should not shift with packers and movers?
The packers and movers will not shift certain items which may cause damage to the other household items or to the transport vehicle. The relocation service providers will not move these goods:
Valuable items like laptops, jewellery, important documents, etc.;
Essential items like toiletries, medications, extra pair of clothes, cleaning supplies, etc.;
Perishable food items which may get spoilt and ruin the other goods too;
Hazardous liquids like fuel, motor oil, kerosene or other flammable liquids, paints, paint diluter, batteries, etc.;
Explosive and corrosive items, etc.;
How to identify unprofessional or fake moving companies?
Fake moving companies will not have valid documents for GST registration, owner identification proofs, and so on.
They will not have a proper company website or online profiles in social media.
They will not have their own office workspace or may not have an office at all, and they may use rented transportation.
Fake packers and movers will not have professional behavior when you meet them, or they may be friendly in the beginning and change entirely during the relocation.
How much should I tip shifting labors?
In one word Yes, in India labor wages are very low and as a human being we should understand this. If they have done satisfactory job, you should appreciate that with your tip, consider tipping Rs.25 – Rs.50/Labor/Hour.
Note: In local shifting same labours will be picking up and delivering your goods, whereas in outside-city relocation there will be different labours at origin and destination and you should tip them accordingly.