Local Shifting vs Domestic Relocation - Similarities and Differences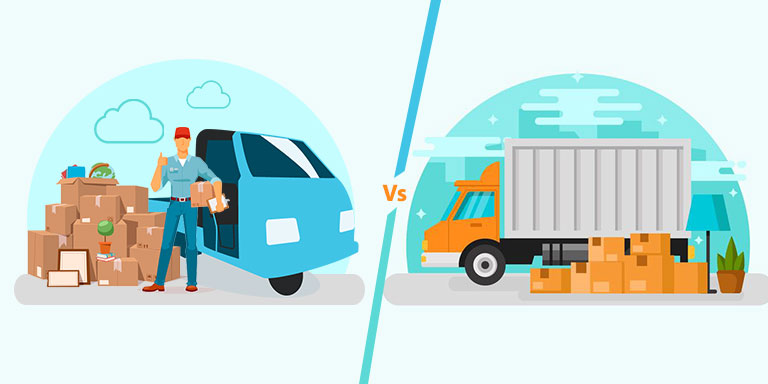 It seems like the need for moving never ends!
While some move within their own city, others move to a different city, and some others move to another country altogether. The important point to note is that the moving process for all of them is entirely different, but hiring professionals is the common method to ensure successful moves.
In India, Local Shifting and Domestic Relocation are most popular. To help you properly understand the exact differences between them, how you should plan for each, and the expenses and time involved, go through the complete guide below and make sure you prepare in the right way for your move.
The key to a successful move, irrespective of your destination, is planning.
However, the way in which both the relocations should be planned is completely different.
Taking a decision about whether you should book a transport vehicle or hire professionals for your move is a challenging task. Although you can pack all home items yourself and move them by hiring two men and a truck, it will become much more difficult to track the rest of your pre-move tasks. The cheap and best option is to book a reliable shifting service provider so that you can keep calm and get moving with no stress.
Local Shifting
Moving homes within your city is much easier and requires minimal planning since you'll be moving your goods over a very short distance.
Here are a couple of steps to ensure you have a perfect ready-to-move plan for shifting locally:
Declutter your belongings
Book a moving service provider
Pack an overnight bag
Prepare furniture and appliances
Clean new home before moving
Plan utility disconnection and re-connection
Schedule the right moving day
Take care of changing address
Familiarize yourself in new neighborhood
Domestic Relocation
Long distance moving involves extensive planning and is a lot more complicated than local shifting. Distance is one of the most important factors of an inter-city move; every step from packing until final delivery has to be done perfectly to ensure complete safety of goods while moving them.
This is how you can make a flawless plan for your inter-city move:
Make a checklist of all tasks
Look for a good moving company ASAP
Get rid of unwanted things
Compare at least 3 movers and their estimates
Pack the essential survival kit first
Note down the list of goods you're moving
Call for pre-move survey to get exact pricing
Hire the most relevant relocation service provider
Disconnect and re-connect utilities without fail
Update your address in important places
Prepare for movers before they arrive
Packers and movers are expert in performing relocation for any requirement and are capable of offering end-to-end shifting services no matter where you're moving to. However, the process followed by the movers for moving your goods within your current city and to a completely different city varies greatly.
Local Shifting
When you have to move a few Kms away from your present locality, the shifting process seems pretty straightforward – pack up your things and put them into the truck to transport them to your new home.
Although moving within the city is much simpler than moving outside the city, the professional relocation companies follow a well-laid out procedure to ensure a coordinated and successful move.
At Origin
Disassembly of large goods
Packing of important items
Loading into the moving truck
At Destination
Doorstep unloading of all items
Unpacking of items
Re-assembly of dismantled goods
Domestic Relocation
During a long distance move, the safety of goods must be ensured to a great extent since the chance of items getting damaged is extremely high. The process followed by the moving companies is as follows:
At Origin
Dismantling large goods
Packing of all items based on importance
Appropriate loading into the moving truck
At Destination
Doorstep unloading of all items
Note:
The unpacking and re-assembly services are not performed at the destination since your complete household items are moved to the destination with the help of just a transporter. You have to request the movers to provide the destination services if you need them; they will make arrangements to ensure your items are unpacked and re-assembled properly.
Your relocation costs are calculated after taking into account:
Quantity and volume of goods to be moved;
Amount of work involved in packing and moving;
Quality of packing material required;
Type of transport truck you opt for;
Distance over which the goods have to be shifted;
Additional services requested;
If you have opted for insurance cover on items;
Based on the above factors, the packers and movers charges to move within and outside the city vary drastically.
Local Shifting
The cost of moving within your city works out to a much cheaper rate, mainly because:
Too much packing is not required – it's sufficient to pack only the important and delicate items, so the packing costs go down by a big amount;
Amount of work is minimal – since everything doesn't need to be packed, and all items should be moved over a short distance, the amount of work to be done is very less;
Cheap and best transport option used – the shifting companies will suggest an economical transport option to move your goods ;
Distance to be covered is less – shifting costs will not be affected much (actually, it's not even considered) when you move just a couple of Kms away;
Domestic Relocation
Calculating the domestic moving charges will be done according to the following:
Protective packing is needed – shifting goods over long distances should be done with extra care and proper packing using high-quality packing material according to the nature of goods;
More work should be done – packing every single item, loading them carefully, and unloading at destination will take up much more time and effort during a domestic move;
Transport vehicle according to your needs – the transport charges will depend on the type of vehicle you opt for – shared (lower costs but longer delivery time) or dedicated (higher charges but quicker delivery time);
Distance to destination – the length of distance to be covered and the route taken will also determine whether the moving expenses will be high or low;
Relocation demand to destination – the higher demand to move to the destination city, the lower will be the overall shifting charges and vice versa;
Of course, the prices which are calculated based on these points are not final. There are many ways to reduce your shifting charges which are quoted by the moving companies.
Another big difference between moving to a different neighbourhood and to a completely different city (or state) is the time taken to complete the entire move from start to end i.e. planning, completing the move, and settling down.
Local Shifting

Domestic Relocation

Planning:

Minimal planning is needed; hardly takes about 1 – 2 days to plan the complete move

Planning:

Proper planning should be done to ensure full safety of goods; should start planning at least 1 month before

Execution of move:

Everything from packing at old home to unpacking at new home can be completed in 1 day

Execution of move:

Depending on amount of goods, packing will take 1 – 2 days; according to destination, delivery requires at least 1 – 2 weeks of time

Settling down:

The surroundings will not be that unfamiliar since it's in the same city; it's easier to settle down

Settling down:

The entire city and/or state will be completely unfamiliar; getting used to the new place will take longer than expected
The bottom line:
No matter where you're moving to, it's going to be difficult both emotionally and physically.
Instead of taking the entire burden on yourself, hire a professional moving company who will make your job easier. Most importantly, make a proper plan and ensure you have a safe and secure move to your new humble abode.
Get Quick Charges Estimation