AssureShift Relocation Process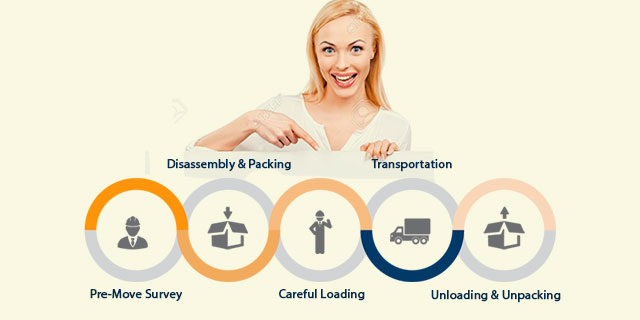 AssureShift have verified partner packers and movers in most cities of India, for local, domestic, and international moving. As you ask for any kind of shifting services, we suggest right match moving companies for your specified needs.
Hiring packers and movers via AssureShift is Fast, Simple, and Reliable. Where you can get quotes from quality movers and packers near to your locality within just 5 minutes.
Packers and Movers are the safe options to relocate from one place to another. We know that the relocation of your beloved goods is the most responsible task and we will feel grateful to serve you with our services. Always you should look for a trustworthy and reliable Packers and Movers.
The standard process followed by Assure Shift partner Packers and Movers separated as per the relocation service type:
Local Shifting Process
For local relocation, it is totally up to you that which type of service you want to customize and what type of company you want to select. But for a local relocation if you will select a local Packer and Mover, then it will be beneficial for you. A local Packer and Mover will not charge much and provide you the customize service as per your requirements. Packers and Movers associated with Assure Shift will provide you the relocation service in the following process:
Pre-Move Survey:
Generally, in local relocation service, the survey is telephonic. Packers and movers will contact you and will collect all the shifting requirements, and if necessary they will survey to collect you all the requirements and do the site visit.
Furniture & Appliances Disassembly
To shift large furniture items safely, our associated packers and movers have to disassemble them. To avoid damage that could be caused by moving them intact disassembling is done. Some items which will cover more space are disassembled to make the space on the moving vehicle or to make the goods easier to move them from the house.
Appropriate Packing
For intercity relocation service the packing is not needed too much professionally as the product does not have travel more than 15 to 30 km. So, Packers and movers will pack only the fragile items like mirrors, antique pieces, glass items, electronic appliances and so on. They will use the quality material to pack the goods like cartons, bubble wraps, tapes and more.
Careful Loading
Loading is also an essential step of a move. Our relevant experts will use the moving pads to handle your entire boxes and packed items carefully. All of your goods will be loaded efficiently into the goods carrier vehicle with the smart technique.
Secure Transportation
After customer confirmation and payment conclusion, our dedicated team will transport all your precious goods through a goods carriage vehicle to the destination location safely.
Doorstep Unloading
From this step, only local packers and movers will assist you they will precisely unload all your precious goods from the carriage vehicle without any damage. After unloading, the goods will cross-check from the checklist.
Unpacking & Assembling
After the unloading of the goods is unpacked by our proficient packers and movers, who will unpack your belonging safely, and the effects. After unpacking again, goods will check from the checklist. Now they will assemble all the goods which they had disassembled in the starting and safe place on the floor.
Domestic Relocation Process
When you are shifting from one state to another state, then this process is called as domestic relocation. It needs a lot of efforts to pack and move your goods along with lots of time, energy and money. When you are relocating for a long distance without any professional knowledge, then the process can become hectic. A domestic relocation process needs a proper planning and perfect execution. Hence if you will hire professional packers and movers from Assure Shift, then the entire process will execute safely. Packers and Movers associated with us will provide you the best Domestic relocation service in the following process:
Pre-Move Survey
For the domestic relocation Packers and movers will contact you and will collect all the shifting requirements and then they will conduct a survey to collect your all the requirements & do the site relocation and provide you the exact charges.
Furniture & Appliances Disassembly
Before loading your household goods onto the carriage vehicle, the packers and movers will disassemble your heavy furniture (like Bed, Wardrobe, cabinets, chairs, glass tables, etc.) and electronic Appliances (like TV, Computer, Home theater, Projectors, etc.). We can also take care of other related tasks like utilities and move of heavy items.
Standard Packing
Packing is a very crucial step which carried out carefully so your belongings will be fine. The safety of your belongings also depends on the material used to pack the items. Packers and movers associated with us will make sure to pack glass or mirrored items of furniture, crockery, and other fragile items by using special packing materials such as cardboard cartons, air bubble wrap, packing paper, Stretch wrap and adhesive tape, etc.
Safe Loading
Packing of the goods is only successful when the goods will be loaded carefully into the vehicle. Our associated packers and movers will use the precise techniques to load your household or office luggage safely. For the domestic relocation the loading is done safely because the distance will be long and in the long journey the chances of damaging can increase, but with careful execution, it can eliminate.
Fast Transportation
Transportation of goods from one state to another state need special care and expertize. Our associated experts will not negotiate on the safety of your goods. The goods will pick by the packers and movers themselves and afterward they will handle the goods to their associated transporters who will safely deliver your products to your doorstep safely.
Doorstep Unloading
In case of domestic relocation, service unloading is done by the transporters safely. These transporters are experienced in handling all kind of goods and will unload the goods safely. After unloading, they will cross-check the goods from the checklist the received from the packers and movers.
In the domestic relocation the packers and movers will not provide you the unpacking and shifting services as they are delivering the products with the help of their transporters but if you need these services you can ask before, and this is one factor on which prices may vary.