11 Steps to Pack and Move Your Home Theater: TV, Soundbars and More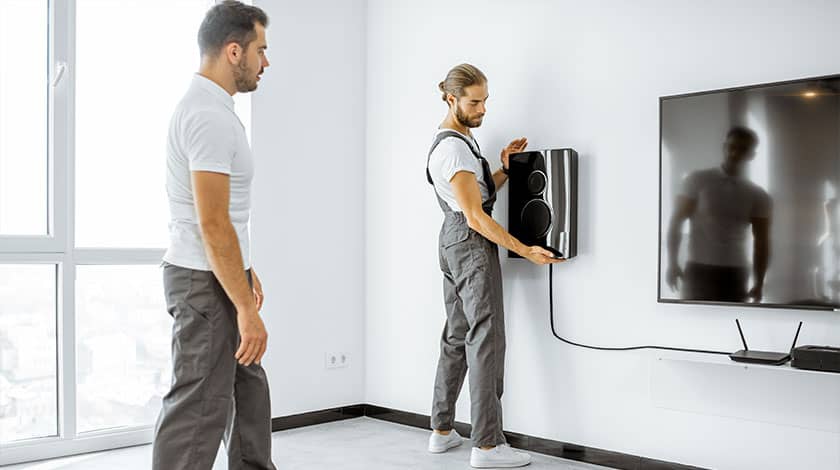 Packing fragile and expensive household goods, like a home theatre system can be quite challenging, as they include several components like a television or video projector, sound audio system, cable box, streaming device, remote control, sound bar, etc., that require special attention and care.
These items, if not properly packed, can be easily damaged during the move. If you are unsure about how to pack your home theatre system before the move, this blog will guide you on packing it securely.
What Packing Materials Do You Need?
The first step is to gather all the packing supplies needed to pack your theatre equipment securely:
Moving boxes – Look for the original boxes or get similar sturdy boxes of different sizes to accommodate different pieces of your equipment.

Packing paper and bubble wrap – Purchase sufficient cushioning materials to wrap and protect your electronics before placing them in moving boxes.

Packing peanuts – For additional protection and cushioning you can buy packing peanuts. They protect all your sensitive equipment during the move.

Cotton clothes – Old cotton clothes can be used to protect the screen from scratches and as an extra layer of protection.
Steps to Pack a Home Theatre
#1 Take Pictures
Take a photograph of everything, which includes cables, streaming media players, the TV, game consoles, Blu-ray DVD players etc., which will help later in putting everything back together easily without any issues when assembling them in your new location.
Also read: Things you must photograph before you begin packing
#2 Take Inventory and Label Everything
Before you start packing, take inventory of all the items in your home theater system, including cords, cables, remotes, and speakers. Label everything to ensure that you don't misplace or forget anything during the move.
#3 Disconnect Everything
Disconnect all of the different parts of the home theatre system and gather them. Make a list of all of the items you need to pack, which includes your TV, receiver, speakers, Blu-ray player, and so on. Disconnect all the cables before you start packing your equipment.
#4 Zip-Tie All the Cables
Organize and tie all cables and cords together to prevent tangling, and label each cable with a coloured tag that matches the colour of the equipment. You'll know exactly how to connect each wire to the device this way easily in your new space.
#5 Gather and Pack the Remotes
Designate a box for remotes in the same way that you did for cables. You can place all the remotes of your theatre, audio equipment etc., so you can find them fast when you need them.
#6 Secure All Moving Parts
Secure all moving parts, such as swivel stands, wall mounts, and soundbars, with packing tape or zip ties. This will keep them from shifting or getting damaged during the move.
#7 Prepare the Packing Box
If possible, use the original box because it was specifically designed to safeguard the equipment. Or, acquire a sturdy box large enough to accommodate padding. Fill the bottom of the box with bubble wrap and packing peanuts, and wrap the equipment with packing paper.
#8 Wrap Your TV Carefully
If you no longer have the original packaging for your TV, wrap it carefully in a protective layer of bubble wrap or a blanket. Make sure to secure the wrap with packing tape to prevent it from shifting during the move.
Also read: How to pack and move fragile items
#9 Pack the Home Theatre
Place them in the box and use sturdy boxes and padding materials, such as packing peanuts or bubble wrap to the sides and on top, for further cushioning, to protect your equipment during the move.
#10 Label All Boxes Clearly
Label all boxes clearly with the contents and room location to make it easier to unpack and set up your home theater system in your new home. and label it with its contents and write "Fragile" on the outside.
#11 Reinforce the Box with Packing Tape
Seal the box with strong packing tape around the edges and weak points to enhance the box's strength.
How To Securely Load Home Theatre Equipment?
No matter how well you pack and wrap your equipment, loading them improperly or placing it in a bad spot on the moving truck like sandwiched between a dresser and a sofa can lead to damage during the transit. Here are some tips on how to load them properly:
Before you load your home theatre equipment, select an optimum spot on the truck, such as against the back wall or against one of the sides to keep it unmoved and safe during the trip.

Place the home theatre equipment with other similar items rather than keeping them with heavy or large items like furniture. This way they're less likely to be damaged during the move.
Note: Remember to label the packed home theatre boxes as "fragile" so that you or the movers will treat them gently and not place any heavy goods above it.
Conclusion
Setting up a home theatre system can provide a cinematic experience in the comfort of your own home. However, when relocating to a new house, packing your home theatre equipment requires a bit of planning and preparation.
If you have a lot of electronics or are not confident in your packing skills, consider hiring a professional moving company to help you pack and move your home theater system safely and efficiently.
By following the measures outlined in this blog, you can safeguard your investment and guarantee that all of your equipment is secure enough to endure the relocation and enjoy your home theatre system for many years to come.