Planning to Move to Hyderabad? Here are Some Things You Should Know
A concise moving guide to Hyderabad.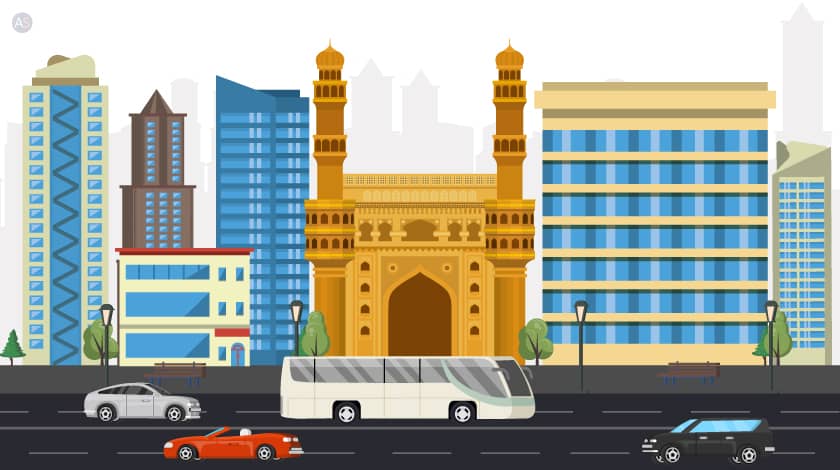 Life takes you to many places and the current state of the job market means that at some point in your life, you will most likely move to another city for better prospects. If that city is Hyderabad, then you have hit the jackpot. I can only think of two or three other cities in the entire country that could be a better place to stay.
If you are worried about the city and what living in it entails, this blog has you covered. You will get an idea of what awaits you in the City of Pearls and understand some of the nuances of the city.
About Hyderabad
Hyderabad, the city of Pearls, the home of the Nizams and now a burgeoning IT hub second only to Bangalore, is the combination of 2 cities, Hyderabad and Secunderabad.
Known for its Biriyani, unique language and its history, the city is one of the most prominent and well-developed cities in the country. It has extremely hot summers, pleasant winters, and is peppered with cyclonic depressions in the Bay of Bengal throughout the Year.
Relocation
Moving to Hyderabad is easy. Whether you are arriving by train, flight or bus you are taken care of by the presence of commuting options that rival most metros in India. Relocating here with all your belongings, on the other hand, is an entirely different matter.
While moving by yourself seems like the most cost-effective option, save yourself the trouble and hire a professional relocation company that can do the job for you. You can find the best of them on AssureShift regardless of which major city you are moving from.
Accommodation
The unique thing about Hyderabad is that, although it is a metropolitan city with every amenity you can ask for, the price tag that accompanies it is not that high. The price of accommodation will come as a pleasant surprise since it isn't all that high.
You can live in and around Hitech city, which is the beating heart of the IT sector in the city. So, finding accommodation near your workplace is neither hard nor expensive unlike Delhi, Mumbai or even Bangalore for that matter. Here is a list of some of the most affordable places to live in Hyderabad.
Commute
The commute in Hyderabad is a mixture of positives and negatives. The city buses are unreliable and downright dangerous sometimes(in the way they drive, not in terms of crime). You can expect them to not follow any sort of timetable except for the Pushpaks that are exclusively made for airport travel. These green AC buses are the best aspect of Public transport in Hyderabad. You can also use the metro especially if you work at Hitech city since it is well connected to the rest of the city through the metro.
Autos can be a rip-off since most don't have the habit of using the meter, but you can find Olas, Ubers and Rapidos across the city. Rapidos are the cheapest option among the three but your best bet would be to get yourself a 2-wheeler for daily travel. If you do buy a 2-wheeler, be extra careful on the roads, since the local driving habits are somewhat exciting. So, it can be a hair-raising experience.
Job Opportunities
Job opportunities are dime a dozen in a city that is now gaining the sobriquet 'Cyberabad' due to its rapidly growing IT/ITES industry. Many of the big fortune 500 companies have an office in Hyderabad. Hitech city and surrounding areas are now the centres of the city's IT sector and they create thousands of jobs every year.
Although Hyderabad doesn't have much of a traditional industry like Pune, Mumbai or Chennai, the IT sector more than makes up for it.
If you are planning to relocate to Hyderabad for a new job, these are some of the best places for working professionals to live in as they are located much closer to workplaces.
Cost of Living
Hyderabad, as I said earlier, has a unique place among metropolitan cities in India. You get the amenities and the pay that goes with large cities while shelling out cash that comes nowhere near any of the other metros in the country.
You can live a comfortable life with around ₹15,000 in your pocket every month. Accommodation is inexpensive and readily available and the food is cheap. The only thing you will spend on will be leisure since the city is dotted with hangouts and unique experiences.
| | |
| --- | --- |
| Expenditure | Monthly Cost |
| Rent | ₹5,000 - ₹15,000 |
| Utility | ₹1,200 - ₹3,000 |
| Food and Grocery | ₹3,000 - ₹8,000 |
| Commute | ₹1,000 - ₹3,500 |
| Entertainment and Leisure | ₹2,000 - ₹6,000 |
| Miscellaneous | ₹2,000 - ₹3,500 |
| Total | ₹14,000 - ₹39,000 |
Food
When it comes to food, Hyderabad is 'Dante's Paradiso'. It is a fusion of South Indian, Mughalai and North Indian cuisines and is called Hyderabadi cuisine. Mouthwatering Haleem during Ramadan, Tomato or Palak Pappu (a tangy lentil dish) during lunches, and the world-famous Hyderabadi Biriyani for dinner; life really doesn't get much better than this.
Hyderabadi cuisine has made a place for itself among the greatest cuisines in the world. The sheer variety and presence of exploding flavours make you wish you were a Roman. One thing you do have to note is that Andhra cuisine can be a tad spicy. Guntur, a city in Andhra is famous for its chilli and so is Hyderabadi food. Keep that in mind before you go asking for extra spicy food in a restaurant.
Dishes to die for: Haleem during Ramadan, Hyderabadi Biriyani and Pulav, Pappu, Paaya, Mirch ka Salan, and Boti Kebab.
Language
Telegu is the official language of the state and the majority speak this language. A large part of the population also speaks Urdu, but Hyderabadi Urdu is a little different to normal Urdu. They have their own unique dialect which sounds lovely, but you can survive knowing Hindi since most of the residents speak Hindi or at least broken Hindi.
Worried about adjusting to the city? Here's how you can quickly adapt to South Indian cities without too much of a fuss.
Weather
The weather situation in Hyderabad is not that great. My friend used to always joke saying Hyderabad has two kinds of weather, hot and very hot. He isn't very far from the truth. The temperatures shoot through the roof during the summers but stay pleasant during the winter. There are spots of rainfall during the monsoon but the city often witnesses rainfall and temperature fluctuations throughout the year due to cyclonic depressions in the Bay of Bengal.
Hangouts and Leisure
Hyderabad has a lot to offer in terms of leisure and entertainment. Pubs, breweries and nightclubs are plenty although they do have a closing time so the nightlife is not exuberant as in Mumbai or Delhi. The city also has the usual other entertainment prospects like escape rooms, laser tag, paintball, go-karting etc.
Hyderabad also has some unique attractions first of which is Ramoji Film City, India's biggest film city and drive-in restaurants and theatres which are quite a novelty in the country. There are also attractions like the hidden Castle which hosts a number of activities in a castle.
Conclusion
Hyderabad has a unique place among Indian cities. It is a fusion of the old Nizam charm and the modern bustling IT city that now rules the place. The city is inexpensive, has plenty of job opportunities, possesses some unique experiences and is home to food that leaves you begging for more. If you are moving here, count yourself lucky, it has everything you want… and more!
Planning your move to Hyderabad soon? Quickly hire a trusted mover in your city now!