Flat vs House: Differences & Which is Better for You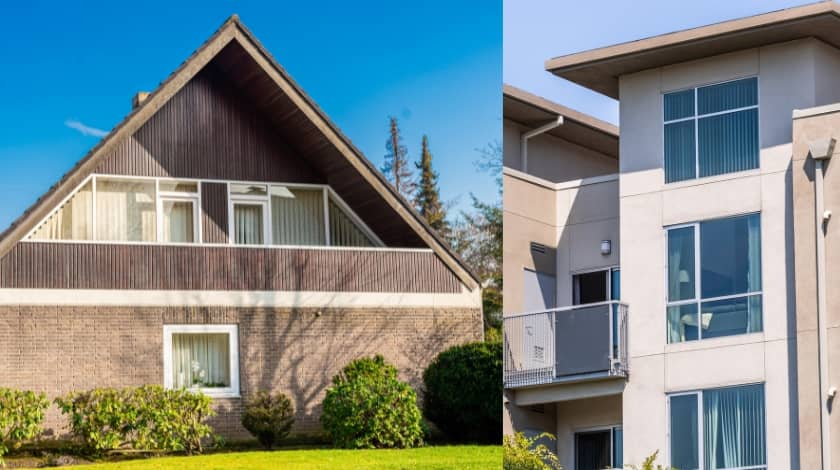 Buying a home is easier said than done. From modern intimate apartments in towering apartment buildings to traditional standalone houses to sprawling bungalows, each of them offer distinct lifestyles and caters to varied preferences and needs. This can cause a dilemma of "apartment vs house" when planning for living or investment purposes.
Although location is a vital factor in the decision-making process before buying a property, it's also important to make sure you choose the right type of property.
The choice between a apartment/flat vs house is pivotal, as it not only influences your financial trajectory but also significantly impacts day-to-day life, social interactions, and future planning.
What's the most basic difference between a flat vs house?
While both dwelling spaces serve the core purpose of providing shelter and comfort, they generally unfold contrasting lifestyles, different levels of freedom and responsibility, and financial consequences.
On the one hand, houses denote independence and unparalleled freedom over the property, and offers a tranquil environment of an unshared space with neighbours above or below your living space. However, this liberty and space comes with various responsibilities and at a hefty price during the initial investment.
Contrarily, flats/apartments symbolize community living, luring in individuals with the offer of modern amenities, reduced responsibilities, and a lower initial investment (compared to houses of similar locale and size). However, these come at the expense of freedom of space, shared walls, and adherence to apartment rules and guidelines.
Check out this Detailed Home Buying Guide before Buying Your First Home
How will this blog help you decide "house or flat which is better"?
In this blog, we delve into the intricate differences between apartment vs independent houses, discussing various factors that can make a huge impact in your decision-making process.
So, whether you're a first-time homebuyer, a seasoned investor, or someone looking to rent or buy a place that you can call 'home', start unraveling the differences between apartment vs house.
Start Reading About:
Property Maintenance and Upkeep
---
Flat vs House: Detailed Comparisons & Differences
Choosing which is better between flat/apartment vs independent house is an essential step before deciding on a place to call home, or choosing an investment that will yield a fertile future.
1. Affordability of Buying an Apartment vs House
When making an investment in the real estate market, prospective buyers are often met with a dilemma: is it better to buy a flat or house for investment purposes, where each have their own unique financial terrains.
Must Read: Is it better to Rent or Buy a Property?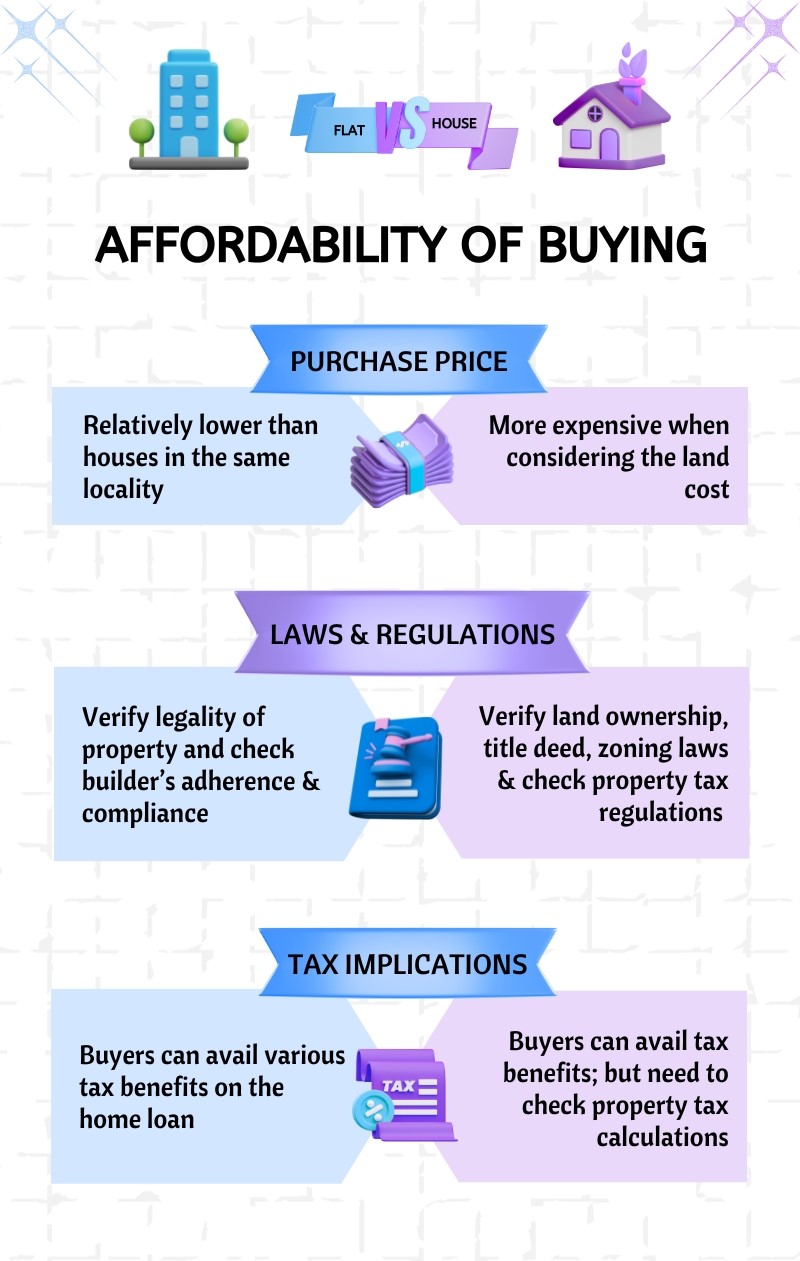 Differences in the Purchase Price of Apartment vs Individual House
Apartment: Generally, flats might present a more financially acceptable option, particularly in urban settings, where the cost per sq. ft. may be relatively lower (when compared to houses in the same locality). Moreover, flats often come with predefined amenities that are factored into the purchase price.

House: Buying a house might demand a larger budget, especially considering the land cost. Additionally, any further customizations, developments, or additions to the property are typically borne separately by the buyer, enhancing the financial output. (If you are comfortable with having an own house without the added financial burden of purchasing the land, you can go for a leasehold property ownership, in which you will own the building but not the land it's built on.)
Laws and Regulations for Buying a Flat vs House
Apartment: Acquiring a flat entails adherence to various legalities, including verifying the legal authenticity of the property, ensuring the builder's adherence to construction norms, and compliance with occupancy certificates and local municipal criteria.

House: Purchasing a house necessitates a thorough verification of the land ownership, ensuring the legitimacy of the title deed, adherence to zoning laws, and navigating through property tax regulations.
Tax Implications of Buying a House vs Buying an Apartment
Both homebuyers and buyers of flats can often avail of certain tax benefits on their home loan, under various sections of the Income Tax Act, subject to prevailing rules.
However, homeowners may face different property tax calculations from flat owners, depending on the property's locality, size, and the total property value (in the current market).
Check out: How to Calculate Property Tax & Pay it Online?
Go back to Table of Contents
---
2. Affordability of Renting a Flat vs Independent House
Affordability is also an integral part of rentals, where occupants not only weigh the immediate monetary outlays but also try to understand the legal and tax-related issues that accompany the choice between renting an individual house vs apartment.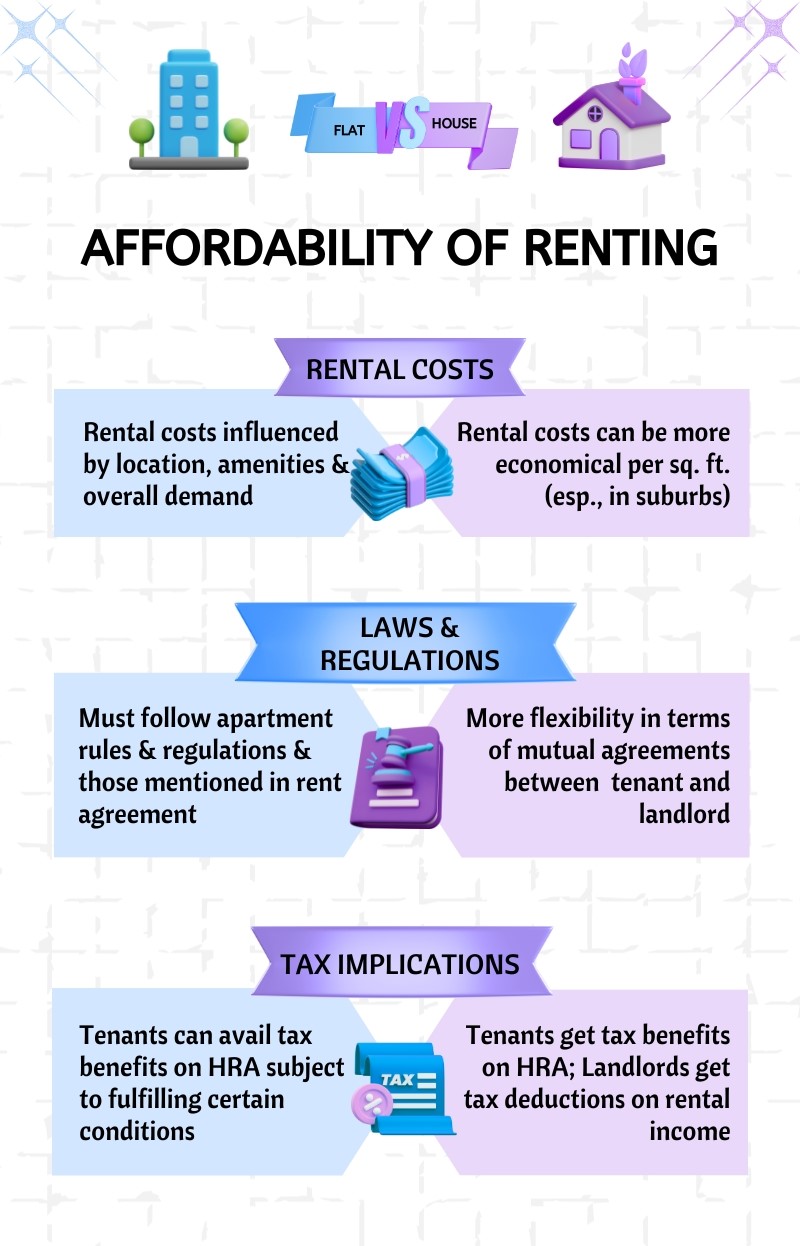 Differences in Rental Costs of Flat vs Independent House
Flats: Rental costs for flats might be influenced by factors like location, available amenities, and the overall demand in the particular area. Proximity to urban centers, daily essentials, public transport, and other conveniences often amplify rental costs.

House: Renting a house, especially in suburban or peripheral areas, might sometimes be more economical per sq. ft. (compared to a flat in a bustling urban locality). However, this comes with potential trade-offs in terms of convenience, accessibility, and amenities.
Laws and Regulations of Renting a House vs Apartment
Flats: Renting a flat requires that you follow the rules and regulations outlined in the rental agreement and as set by the apartment complex, and comply with any legal requirements like rental registration, if needed.

House: Renting a house, particularly standalone buildings, might offer a bit more flexibility in terms of mutual agreements between the tenant and landlord. Nonetheless, compliance with legal requisites, like agreement registration and adherence to local laws, remains paramount.
Know These Things Before Renting Your First Apartment
Tax Implications for Renting a House vs Renting an Apartment
Tenants residing in both apartments and homes can explore the possibilities of availing tax benefits on House Rent Allowance (HRA), subject to fulfilling certain conditions stipulated in the tax laws.
Landlords, however, may have to navigate through different tax deductions on the rental income received (irrespective of whether they are renting out a house or a flat). These tax deductions can vary based on factors like total income, property location, record of payment of municipal taxes, and other applicable deductions.
Go back to Table of Contents
---
3. Sale-ability & Resale Value of Apartment vs Independent House
When it comes to real estate investments, sale-ability (salability) and the anticipated resale value of properties are pivotal components that guide an investor's trajectory. Both flats and houses come with their own sets of merits and challenges when it comes to selling them and ensuring a robust return on investment (ROI).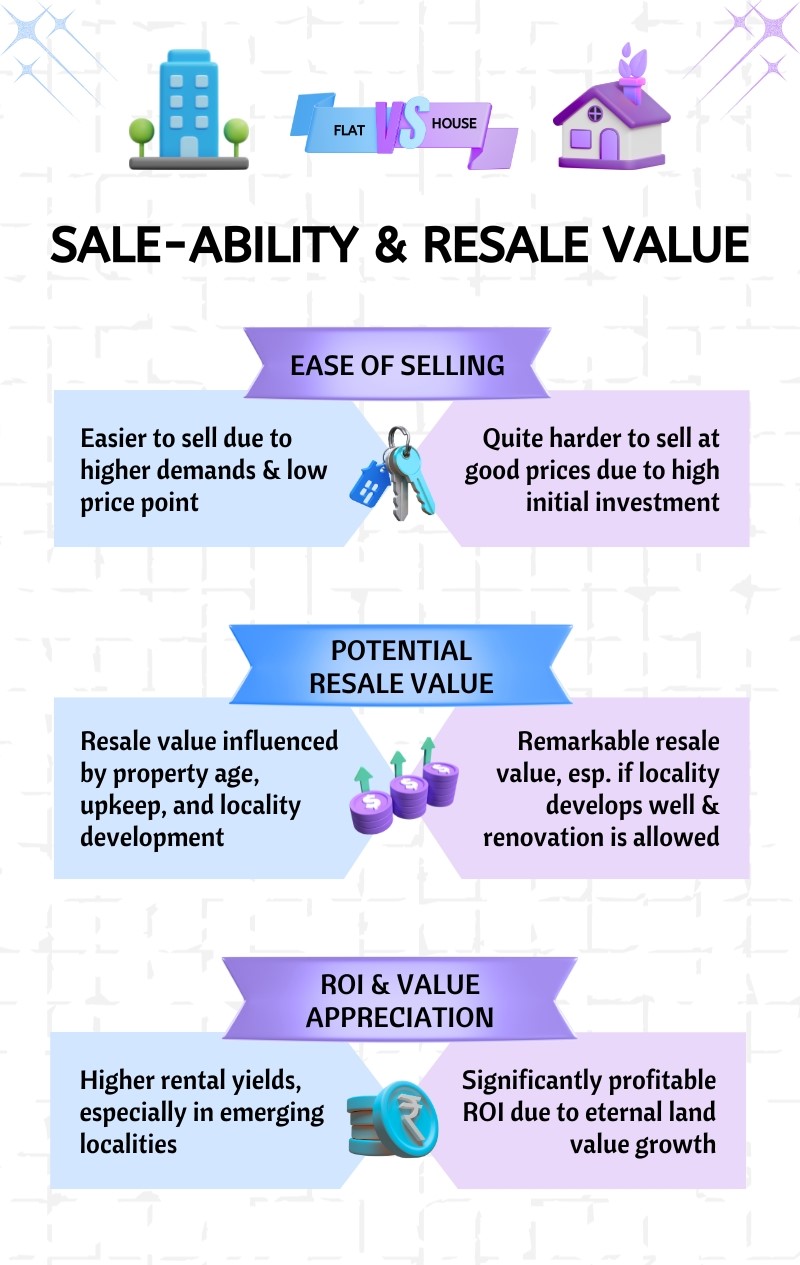 Saleability & Resale Value of a Flat
Ease of Selling: Apartments, particularly in urban and semi-urban locales, often encounter a higher demand due to the growing need for accessible and convenient living spaces close to workplaces, amenities, and urban conveniences. Their typically lower price point (compared to houses in the same locality) makes them more accessible to a broader range of buyers.

Potential Resale Value: The resale value of a flat could be influenced by its age, structural integrity, upkeep of the overall building, and developmental feasibility of the location. Well-maintained, strategically located flats could witness substantial increase in their value, but older flats might experience a depreciation in their value over time.

ROI & Property Value Appreciation: Given the typically lower initial investment value and robust rental demand, flats can offer attractive rental yields, especially in thriving or emerging localities where the demand for hassle-free, secure living spaces is on the rise. However, their capital appreciation might be somewhat limited compared to houses in rapidly developing locales, and the ROI may even depreciate as the property ages, depending on the upkeep and modernity of the building and its amenities.
Learn these Financial Real Estate Terms related to Buying & Selling Properties
Saleability & Resale Value of a House
Ease of Selling: Even though owning a house can be a good wholesome experience, selling it can take a prolonged time. The high investment amount and demand in that specific locality could make the selling process quite harder compared to flats.

Potential Resale Value: Houses often have the potential for a remarkable appreciation in its value, particularly if the locality experiences developmental growth. The potential to renovate or even redevelop can further boost the property's value.

ROI & Property Value Appreciation: The ROI on house purchase can be quite profitable, especially considering the unending value of the land. Even as the structure ages, the underlying land value, especially in a developing or already established locality, could witness a significant appreciation, enhancing the overall ROI.
In Short: Any real estate investment often depends on its potential resale value and the prospects of recouping or even profiting from the initial expense. When getting involved in the ever-fluctuating real estate landscape, it's essential to understand the sale-ability and resale potential of both houses and apartments, including taking into consideration your financial objective, investment capacity, duration, and risk level before finalizing one.
Flats might offer quicker liquidity and consistent rental yields. If seeking a short to medium-term investment with consistent returns, a flat in a prime urban location is the best option for you.

Houses stand as a testament to enduring value, boosted by land appreciation. If you have a longer-term view, betting on the constant appeal of land that comes with houses might pay off bigger ROI.
Find out Why it's Best to Invest in Real Estate in this blog
Go back to Table of Contents
---
4. Acquiring Financing & Loan for Purchase of Flat vs House
Financing choices, especially home loans, are seen as a major help in getting the money required to buy the property. Banks sanction loans for purchasing a house and an apartment in slightly different processes, as explained below.
Check the Eligibility Criteria to Avail Home Loans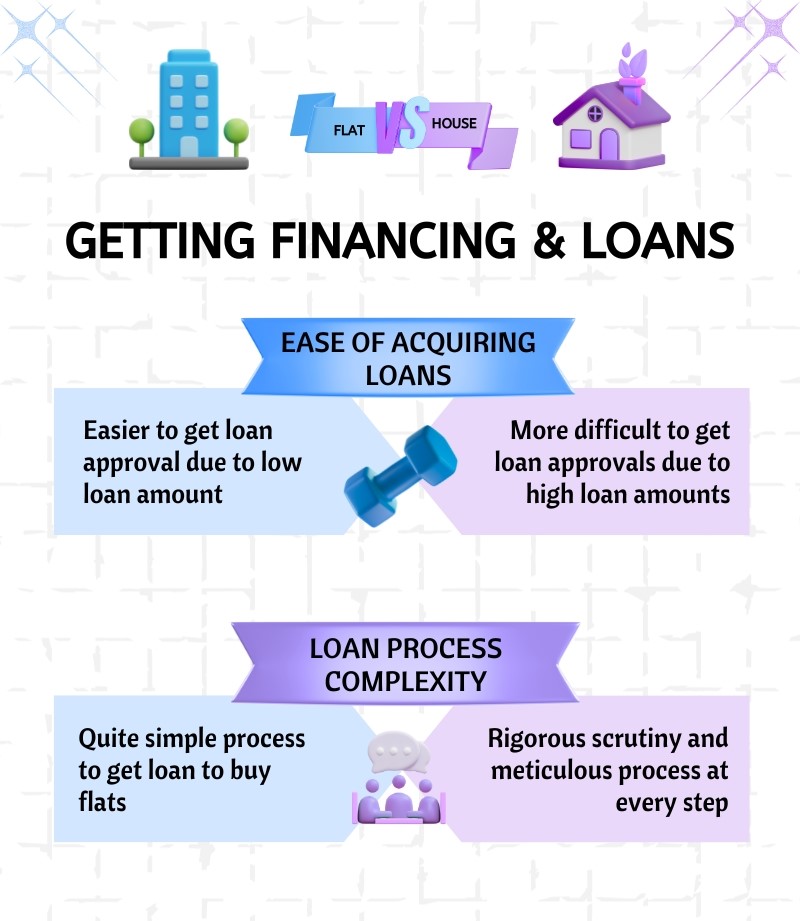 Financing & Loans for an Apartment/Flat Purchase
Ease of Acquiring Loans: The relatively lower purchase price of flats may facilitate easier loan approval, with lesser financial strain on the borrower. if the apartment is from a reputed builder or is a part of a well-known apartment complex, financing can be a streamlined as banks and financial institutions might have pre-approved projects, which can speed up the loan approval process.

Loan Process: The process to secure a loan for purchasing a flat might entail validating the builder's credibility, ensuring all legal documentation and approvals are in place, and verifying the borrower's financial stability and credit score. In the case of an under-construction property, getting a loan may require additional assurances and verifications to ensure the project's completion.
Financing & Loans for Buying a House
Ease of Acquiring Loans: The typically higher purchase value for a house may involve rigorous scrutiny of the applicant's financial stability, creditworthiness, and the property's legal clearances. Financing independent houses in established localities (or in metro cities) are profitable for financial institutions and will be considered a lower-risk investments than houses in budding localities or rural areas due to their slow appreciation and remote location.

Loan Process: Financing a house involves a meticulous evaluation of the property's legal standing, ensuring clear title deeds, no pending litigations, and adherence to all zoning laws and building norms. Due to the higher loan amounts, the borrower's financial health, employment stability, and creditworthiness undergo significant stringent checks.
Note: The interest rates for loans taken for purchase of house or flat are quite similar and will mainly vary based on the borrower's credit score, loan amount, and the lending institution's policies. However, the loan tenure and approval might be influenced by the specifics of the property.
For e.g., pre-approved projects may attract extended loan tenures, while property investment in a house in a recently developing localities or in tier II cities will involve in-depth scrutinization and slightly conservative loan terms.
If you are taking a home loan to construct the house or if you have started paying the EMIs during an ongoing house or flat construction, you can avail tax deductions on the interest paid during pre-construction period (click on the link to know what is the max deduction and how to claim it).
Go back to Table of Contents
---
5. Property Maintenance and Upkeep of House versus Apartment
Owning a living space also involves the responsibility of maintenance and upkeep, that can demand a certain level of effort and financial allocation for both independent house and apartments. However, the exact maintenance cost, and nature and extent of maintenance differ significantly between both types of properties.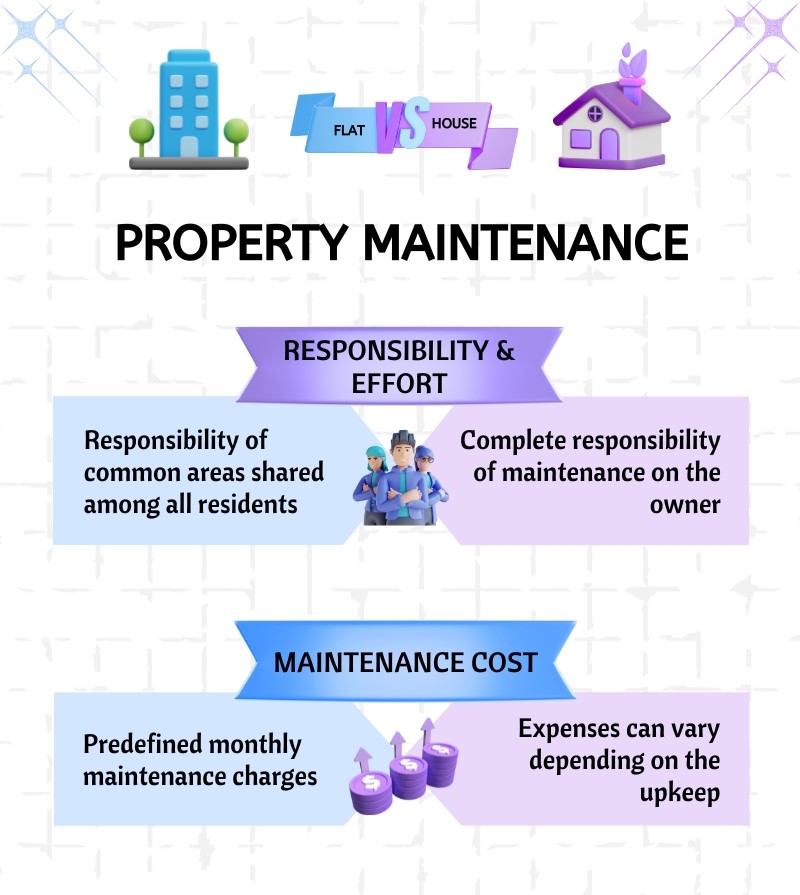 Maintenance & Upkeep of Apartment Properties:
Responsibility & Effort: Maintenance of the internal living spaces remains the responsibility of the owner or tenant. However, responsibility of the upkeep of external and common areas are shared between all the residents and is managed collectively through housing society associations or maintenance teams, easing the individual burden and ensuring regular maintenance.

Maintenance Cost: Flats usually come with predefined monthly or annual maintenance charges for the maintenance and upkeep of common areas and other shared amenities. The maintenance cost of internal living spaces (like appliance repair, painting, interior upkeep, etc.) still remains the responsibility of the apartment owner or tenant.
Maintenance & Upkeep of Independent Houses:
Responsibility & Effort: The complete responsibility for maintenance of the house falls on the shoulders of the homeowner, be it regular wear and tear, safeguarding against pests, managing utility repairs, attending to structural damages, or dealing with any unforeseen damages or issues that may arise.

Maintenance Cost: The maintenance expenses can typically be higher as the home owner is solely responsible for upkeep of all aspects of the property. Furthermore, any enhancements or upgrades to the property can make the overall cost of maintaining a house quite substantial.
In Short: Maintenance and upkeep stand as continual companions to property ownership, influencing not only the aesthetic and functional appeal of the dwelling but also affecting the financial health of the owner.
Houses offer sole responsibility of the maintenance and upkeep to the homeowner, generally at higher costs.

Flats provide a maintenance system that's supported by the community, reducing the financial burden on an individual.
Go back to Table of Contents
---
6. Amenities and Facilities Available in Flat vs House
Amenities and facilities stand out as substantial determinants that profoundly shape the daily lifestyle and convenience of inhabitants. Both flats and houses possess their own distinct offerings in this realm, curating diverse living experiences that appeal to varied preferences and needs.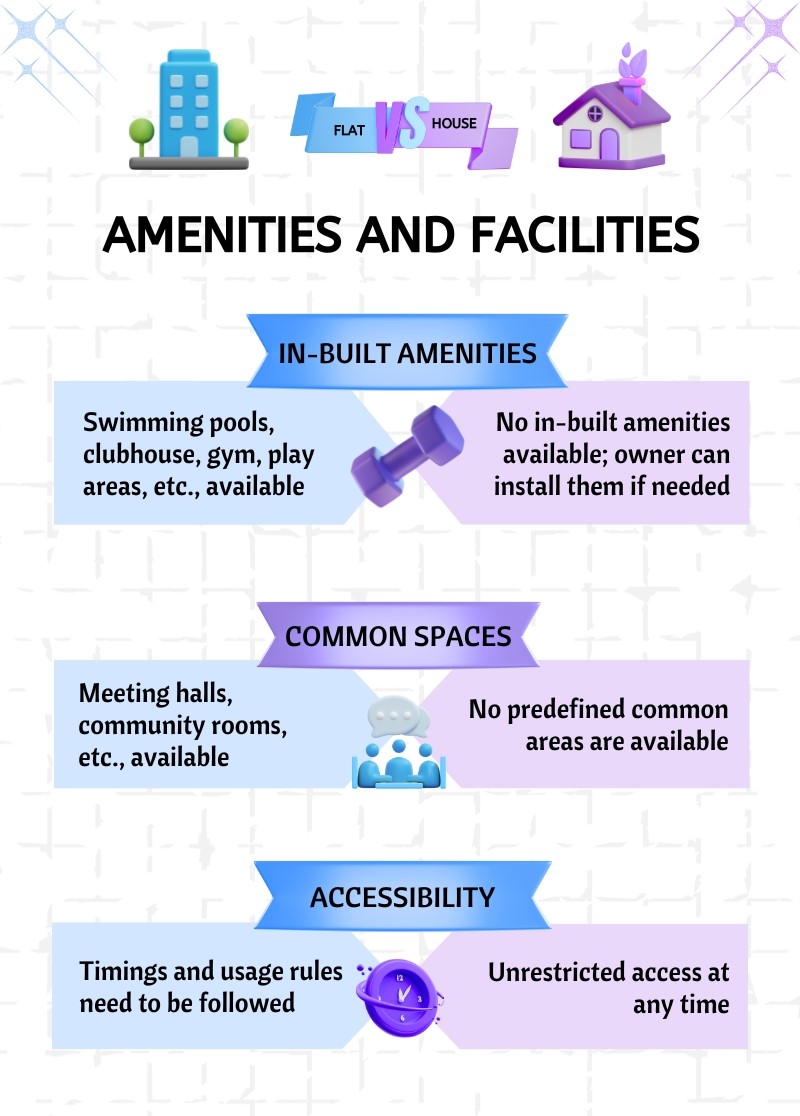 Amenities and Facilities in Apartments:
In-built Amenities: Flats often come with a suite of in-built amenities, especially in a modern suburban complex, including a clubhouse, pool, gym, power back up, play areas, and sometimes even a convenience store.

Accessibility: Accessibility to modern day amenities in an apartment complex is shared amongst all residents. Timings and usage rules are typically standardized to ensure fair access for all residents and can be subject to availability and communal rules.

Common Spaces and Other Facilities: Apartment societies they thrive on community living and typically feature various common spaces like gardens, terraces, meeting halls, etc. All these facilities are designed to foster social interactions, host gatherings, and facilitate shared living and community harmony. The upkeep of these common areas may involve maintenance charges and are usually managed collectively through the residents welfare association.
Amenities and Facilities in an Independent House:
In-built Amenities: Houses often grant the freedom to design and incorporate amenities for personal use as per the owner's wishes and budget. From installing a private swimming pool to creating a personalized home gym or theater – the possibilities are endless where your visions for the space can be brought to life.

Accessibility: As the amenities are private, they will be available with unrestricted access at any time. However, the catch is that the homeowner is responsible for the maintenance and upkeeping of the amenities.

Common Spaces and Other Facilities: Independent properties generally do not come with predefined common areas, except plotted developments (e.g., Villa) in certain gated communities. Gardens, terraces, or yards of an independent home are typically private, and any communal interaction or shared spaces in the gated community would need to be self-organized and managed amongst neighboring house owners.
In Short: Your choice between an independent home vs flat boils down to your specific preferences, lifestyle desires, and managerial inclinations.
An independent property, be it a standalone home or independent villa property, typically offer the autonomy of owning and managing the amenities by yourself, with exclusive access and control over them.

Apartments generally offer numerous amenities crafting social interactions, leisure activities, and lifestyle conveniences, in which the maintenance is managed by the maintenance team or the residents.
Go back to Table of Contents
---
7. Utility Management in Apartment vs Individual House
Utilities intertwine with our daily lives, subtly shaping our routines, lifestyle, and expenditures. Both flats and houses offers subtle distinctions in utility management, offering different experiences and demands upon their residents.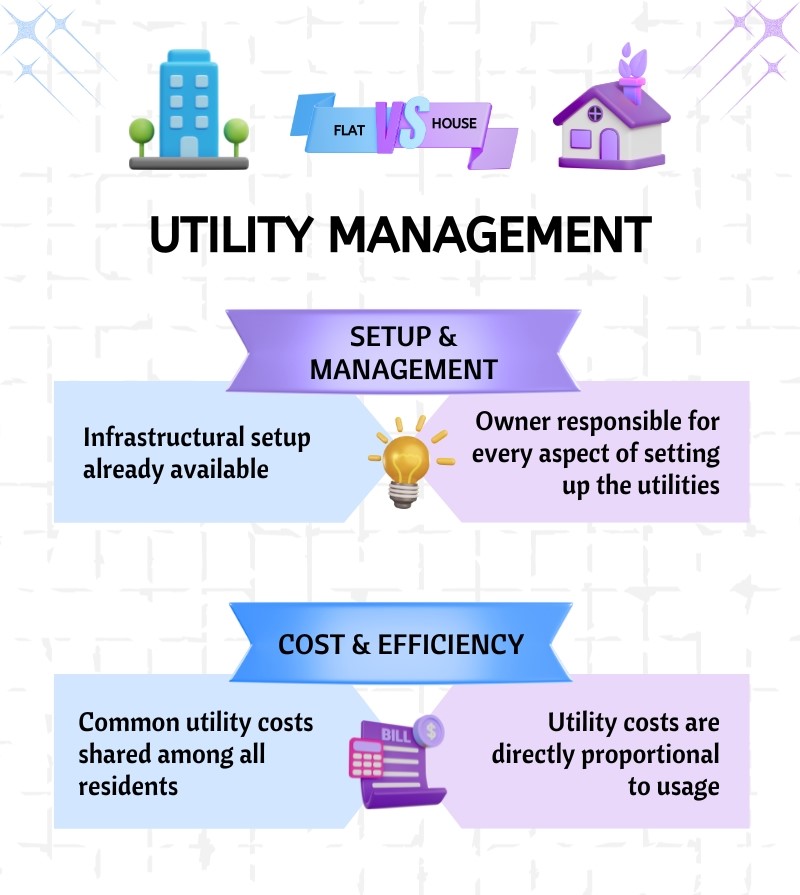 Utility Management in Flats:
Utility Setup & Management: The process of setting up basic utilities is often straightforward, given the pre-existing infrastructural setup and shared resources. Residents are responsible for their internal utility usage and management. However, management of shared utilities is often streamlined and partially overseen by the managing committee or society. E.g., common area lighting, water supply management, and waste disposal are typically managed collectively.

Cost & Efficiency: While the residents are responsible to pay for their own internal utility usage, the common utility costs in flats is paid collectively by all the residents. Flats in modern complexes or luxury apartments may come with energy-efficient solutions and waste management systems in place, but residents might have limited choice in selecting alternative providers or implementing new systems.
Utility Management in Independent Houses:
Utility Setup & Management: The responsibility of setting up utilities within a house and managing them reside entirely with the owner. Every aspect of utility management falls within the owner's purview – be it getting electricity connection, water supply, installing meters, organizing waste management, ensuring consistent services, managing any disruptions or issues, and contingency planning for unexpected issues like power outages like installing a small power back up or storing water in case of shortages.

Cost & Efficiency: The cost incurred for utilities in a house is directly proportional to the usage. Sometimes, the owners have the flexibility to choose their service providers and manage usage to control costs. Owners also have the freedom to invest in and setup energy-efficient solutions like rainwater harvesting systems, solar panels, etc.
In Short: Utility management can be an underestimated factor in the property selection process, as it can deeply overlap and affect daily conveniences and monthly expenses to a great extent. Thus, it is essential to consider it thoroughly before making a final decision.
A house allows owners to setup and manage their utilities with much more liberty and as per their personal requirements. However, it demands proactive involvement, management and occasionally high investments in case of implementing sustainable practices.

Flats offer the convenience of partially shared responsibility among residents and sometimes enhanced efficiency through collective systems. However, there is little to no choice to opt for alternatives or implement sustainable practices.
Go back to Table of Contents
---
8. Security Arrangements Available in Flat vs Individual House
Security of the property provides not only a tangible safeguarding but also bestows mental peace to the inhabitants. The aspects of safety and security are different for both house and flat, each presenting their unique attributes and challenges.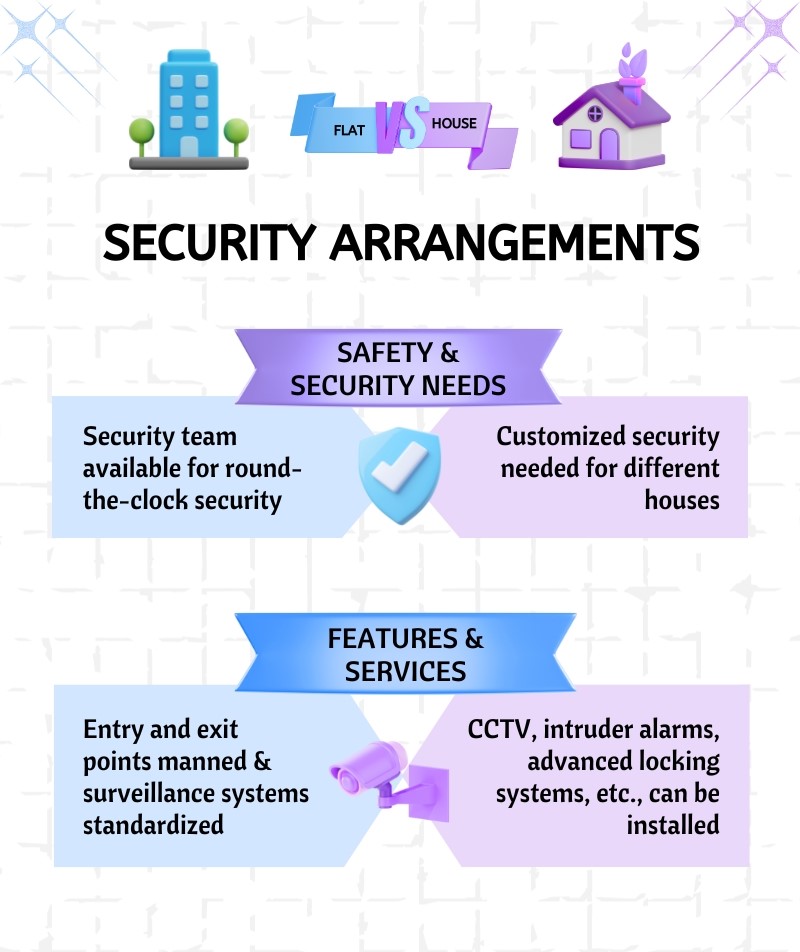 Security Arrangement in an Apartment:
Safety & Security Needs: Flats within a residential complex offer an added layer of security due to the proximity of neighbors and, typically, a security team who oversees the premises round-the-clock. Residents contribute to a common maintenance fund, which finances these shared security amenities and services, making it economically efficient and systematically organized.

Features & Services: Apartment buildings usually come with an assortment of security features and services. Entry and exit points are commonly manned by security personnel, and surveillance systems are a standard provision. Access control systems, visitor management, fire safety mechanisms, and in some instances, security services teams, provide a robust security infrastructure.
Security Arrangement in an Independent Property:
Safety & Security Needs: Standalone properties demands security that is tailor-made to safeguard the property and its inhabitants against unauthorized intrusions, thefts, or other potential safety threats. Homeowners have to carefully plan and arrange a proper safety net involving security systems, surveillance cameras, and/or security personnel.

Features & Services: Security features in a house largely depend upon the owner's initiative and investment. This might encompass installing advanced lock systems, intruder alarms, CCTV cameras, and outdoor lighting to deter unauthorized activities. Some house owners may also opt to hire professional security service providers for monitoring and emergency response services.
In Short: Security is a lot of different things like physical safety features, organized services, and the comforting feeling of mental peace linked together in a very complicated way. These security-related insights will become part of your judging system and help you make a decision that meets both your security needs and management preferences.
In a house, the owner shapes the security framework and installs protections systems that fit their own requirements and budget.

In a flat, a security system is already present and it is meant to be used by everyone, and is controlled through shared governance and expenditure.
Find out what are the Essential Questions to Ask Your Landlord before Renting a Home
---
Flat or House Which is Better for You: How to Select?
Choosing between a flat and a house often involves navigating through a maze of personal preferences, financial considerations, and future aspirations.
To assist you in anchoring your decision-making, let's explore some comprehensive strategies: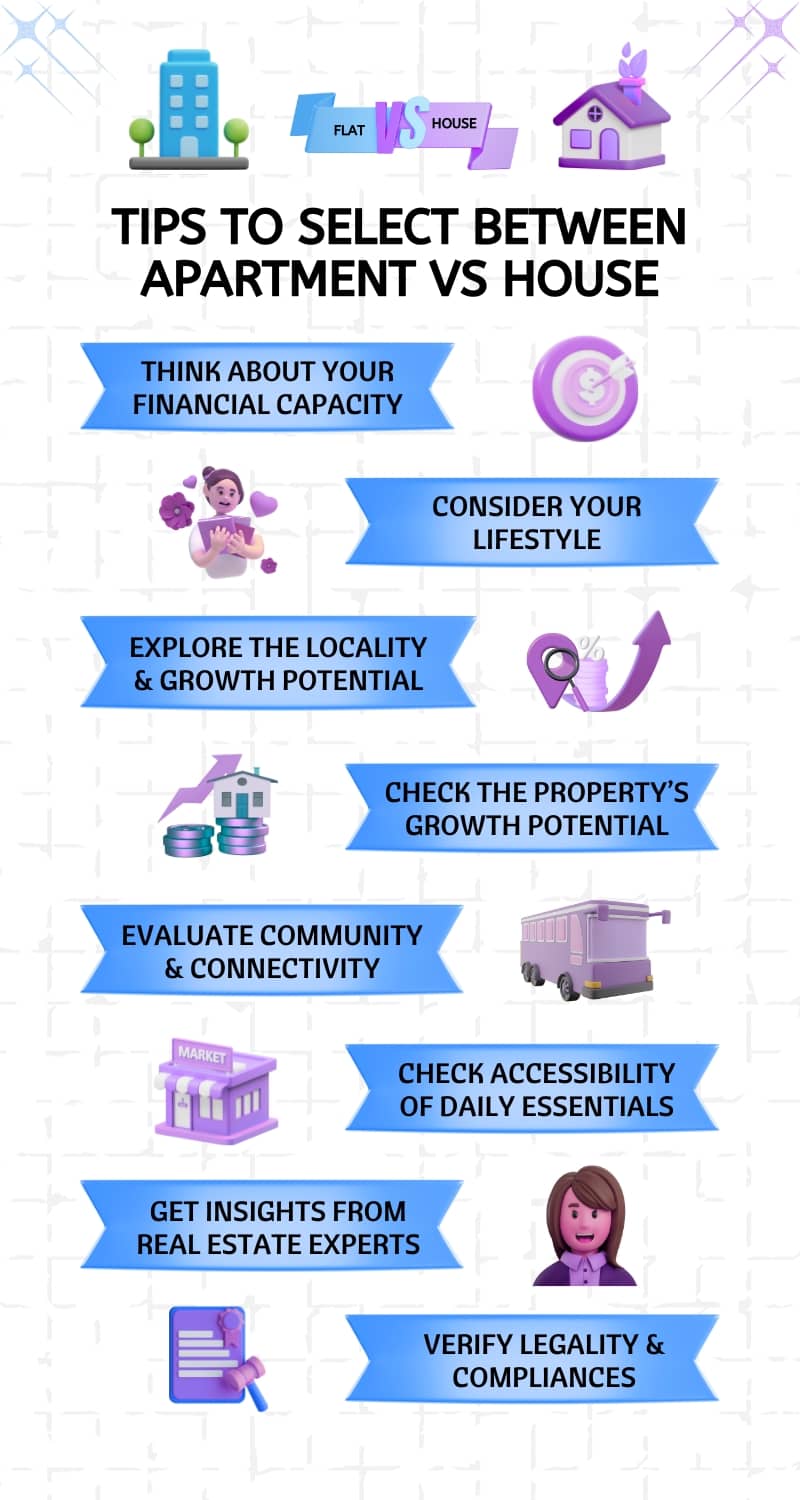 1. Think about Your Budget and Financial Capacity: Navigating through your home-buying journey, your financial framework will inevitably guide your decisions. Engage in a meticulous analysis of your financial health, considering not only the initial purchase cost but also future maintenance, loan EMI capabilities, and unexpected expenses.
2. Consider Your Lifestyle and Envision Future Plans: Your home should be a reflection of your life's journey, catering not just to your present needs but also accommodating your future plans. Whether it's the burgeoning family space provided by a house or the community-centric living in a flat, align your choice with your lifestyle and forthcoming endeavors.
3. Explore the Locale and Verify Developer's Background: Dig deep into the neighborhood's potential growth, accessibility, and amenities. Simultaneously, a thorough verification of the property developer, focusing on their track record, customer feedback, and previous projects, will pave the way for a secure investment.
4. Get Insights from a Real Estate Expert: Embarking on this monumental journey, the insights from real estate experts before buying a home can illuminate your path, providing clarity on market trends, legal intricacies, and hidden gems in the property market.
5. Research the Property's Growth Potential: Consider the long-term appreciation potential of the property. A locale that is earmarked for future development, or a property that offers scope for enhancement and renovation, could be a prudent choice for sustained value.
6. Weaving in Comfort and Convenience: Reflect on the ease and accessibility of daily essentials, educational institutions, healthcare facilities, and recreational zones. The proximity to these elements should harmonize with your daily life, ensuring that comfort and convenience are not compromised.
7. Evaluating Community and Connectivity: The societal environment and the connectivity offered by the locality could substantially impact your living experience. While flats might offer a built-in community, houses provide a different social dynamic. Gauge what resonates with your social preferences and mobility needs.
8. Legalities and Compliances: Ensure that the property is enveloped by legal clarity and complies with all regulatory norms. From clear titles, approval from local authorities, to adherence to building codes, every legal facet needs meticulous examination.
Here is everything you need to know about RERA Approvals & RERA Registration
Go back to Table of Contents
---
FAQs on House or Flat Which is Better?
Embarking on a journey to find your perfect dwelling, be it a flat or a house, often unfolds a carpet of queries and questions that demand attention and consideration. Let's walk through some frequently asked questions to illuminate the path to your home-owning adventure.
1. Which is a better investment: a flat or a house?
There isn't a universal answer as it heavily depends on individual preferences, financial capacity, and future plans. Flats might offer a modern lifestyle and potentially higher rental yields in urban settings. Houses provide independence and typically more space, often appreciating over a longer period, and might be suitable for those looking at a long-term investment.
2. What to prioritise when choosing between a flat and a house?
Key factors include budget, location, size, future plans, and lifestyle preferences. Prioritize based on your immediate needs (like proximity to work or schools) and future considerations (such as potential for property value appreciation or adaptability to life changes).
3. How do location and community impact the choice between a flat and a house?
Location influences accessibility to essentials and your daily commute, while community impacts social life and daily interactions. Flats in urban areas might offer vibrant community living and better accessibility to city life, whereas houses might offer a tighter-knit community and possibly a quieter environment, sometimes at a little distance from urban centers.
4. Should I buy an apartment or house?
Consider your lifestyle, budget, and future needs. If you prefer closer access to amenities, a community lifestyle, and possibly a lower initial investment, an apartment might be apt. For those preferring more privacy, control over their property, and potentially larger living space, a house might be suitable.
5. Should I rent an apartment or buy a house?
This decision hinges on financial stability, duration of stay, and lifestyle choices. Renting might be viable for short-term stays, or if you prefer flexibility and lower initial costs. Buying is a substantial investment and might be suitable if you seek long-term stability and have the financial capacity.
6. Why Do Some Prefer Independent Houses?
Reasons might include a desire for larger space, more autonomy in property modifications, privacy, and potentially a personal outdoor area (like a garden or yard). Independent houses also offer a distinct kind of lifestyle and can be altered or expanded in the future according to evolving needs.
7. Is it easier to get a bank loan for buying a house or flat?
It might be comparatively straightforward to secure a loan for a flat in a recognized project due to the builder's existing relationships with banks and financial institutions. For houses, especially in non-gated communities or rural areas, additional documentation and checks might be required. Nonetheless, loan approval generally depends on your financial health, documentation, and the property's legal standing.
8. What are the disadvantages of living in an apartment?
Some potential downsides might include limited space, restrictions on modifications, potential for higher noise levels due to proximity to neighbors, potential monthly maintenance fees, and often limited personal outdoor space. These factors, however, are offset for many by the conveniences and lifestyle offered by modern apartment living.
Go back to Table of Contents
---
Whether you're planning for a space to call home or thinking about building a secure financial future through real estate investment, the choice between a flat and a house delicately intertwines with your personal, financial, and future aspirations.
Flats entice with a modern, connected lifestyle, offering amenities, security, and often a heartening community spirit, especially resonant for those who seek the pulsating energy of urban landscapes. Whereas, houses enchant those whose hearts seek independence, solitude, personal space, privacy, and the liberty to create their living spaces as per their interests and tastes.
For the blossoming investor, considerations of liquidity, rental yield, and short-to-mid-term returns might gently tilt the scales towards flats, especially in urban jungles.
Remember to take a deep look into your current financial situation, future visions, and intrinsic desires, to take the right decision between an apartment vs house and ensure proper alignment with your life and financial tapestry.