Showroom Shifting Services
Get secure and smooth showroom shifting services to any city in India with AssureShift. Fill out the inquiry form with your requirements and get instant quotes from the top 3 showroom shifting movers and packers. Compare and hire a reliable moving partner in 4 easy steps and get an end-to-end quality relocation service at the most economical rates within the scheduled time.
Guide for Showroom Shifting Services
Showroom shifting service is a complicated process due to the involvement of a large number of delicate items, heavy furniture, decorative items, electronic appliances, and products that need to be carefully moved to a new location with extreme care.
Hiring a reputable showroom moving service is the best way to handle the consignments and meet the requirements on time.
At AssureShift, our verified moving partners take full responsibility for providing stress-free relocation services from initial pickup to on-time delivery across India.
Our expert movers have years of experience and the necessary equipment to carry out secure showroom relocations, from providing free quotations to conducting a pre-move survey, making an inventory list, quality packing, labelling, loading, transporting, unloading, and unpacking at the new location.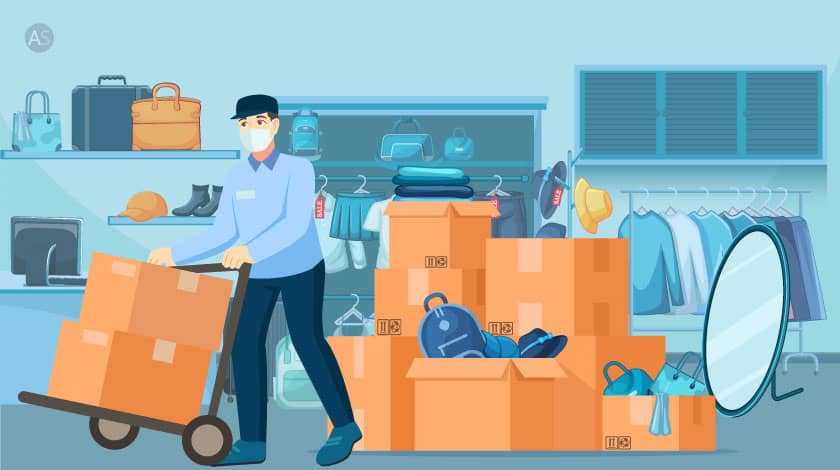 Share with us your moving requirements by filling out the enquiry form and get references and price estimates from the top 3 movers and packers. Compare charges, services, profiles, reviews, and ratings to hire the one that best suits your moving requirements and budget.
Contact our customer support team if you face any issues or have any queries at any stage of your move.
Process of Showroom Shifting
Get end-to-end quality showroom relocation services from our skilled movers and enjoy a stress-free moving experience.
1. Pre-move survey: The movers visit the showroom location, make an inventory list, note the shifting requirements in detail, and provide accurate cost estimates for the move.
2. Disassembling: All the bulky furniture and heavy electrical appliances are disassembled for easy moving.
Packing: The goods are categorised and packed securely using high-quality packing materials like bubble wrap, bubble wrap, huge boxes, double and triple-layer cartons, etc.
3. Labelling: The packed goods are labelled for easy identification depending on the kind of item, weight, and so on.
Loading: The goods are loaded onto suitable moving carriers using the latest tools and handling equipment like moving dollies, customised panels, straps, sliders, hand trucks, moving straps and ropes, etc.
4. Transportation: A suitable size truck is chosen to transport goods securely, considering the weight, bulkiness, and dimensions of all goods.
5. Unloading: The goods are safely unloaded to your new location using appropriate handling equipment and tools such as customised panels, moving dollies, straps, hand trucks, and so on.
6. Final inspection: Movers will carry out post-move inventory checks to guarantee that no items were overlooked during the relocation.
Take note:
Inform the moving company during the pre-move survey if you require unpacking or reassembling services, as these services can incur additional charges.
Additionally, you can inspect the goods for damage and seek compensation, if any.
Add-on services for Showroom Relocation
Storage/Warehousing: Our movers provide customised and insured storage rooms to meet your storage requirements, with monitoring systems, limited access, and round-the-clock security to keep your belongings safe.
Insurance Coverage: Our professional moving firms provide insurance coverage to assure the entire protection of your possessions from start to finish of the moving procedure. In the event of damage during transport, you may easily claim compensation.
Preparation Tips before a Showroom Shifting
Plan to relocate during a slow season.
Make an inventory checklist.
Move out clearance items
Prepare a floor plan.
Pick the right moving date.
Communicate with your customers.
Update your new addresses.
Hire a reliable moving company.
Get your new store ready in advance.
Set up your utilities like electricity, water, phones, and the internet.
Hiring Guide for Showroom Shifting Service
Fill out the moving form with your requirements.
Get 3 best-match moving company references and estimates.
Compare prices, company profiles, and reviews.
Hire a suitable mover and let them take care of the rest.
---
Shifting a showroom is a difficult undertaking that requires much planning and preparation and, if performed alone, can result in significant consequences.
Hiring professional showroom shifting movers and packers is the best solution, as they perfectly handle your move from initial pickup to delivery with the utmost care, ensuring zero damage at the most economical prices.
At AssureShift, our team of experts provides start-to-end quality relocation services, from a pre-move survey, making an inventory checklist, disassembling, quality packaging, labelling, secure loading, safe transportation, on-time delivery, unloading at your doorstep, and final inspection.
Our expert movers securely pack all items using high-quality packing materials like bubble wrap, corrugated sheets, double and triple-layer cartons, etc. and use the latest handling tools and equipment like dollies, sliders, moving straps, etc. to securely load the packed goods onto appropriate size moving carriers to prevent any damage during transportation.
You can avail of value-added services such as warehousing, insurance coverage, premium packaging, wooden crates, online tracking, etc.
All you need to do is fill out the enquiry form with your moving requirements and get referrals and price estimates from the top 3 verified showroom shifting service providers. Compare moving companies with their moving charges, services provided, profiles, reviews, and ratings to select and hire a reliable and suitable partner offering value-for-money services.
Get in touch with our customer support team for any queries and get an instant and effective resolution.