Kolkata Packers and Movers Charges
Within Kolkata Shifting Charges
Get approx estimation of complete door to door packing and moving rates. For accurate costing please give us your moving details, and get quote from 3 best match service providers.
General Consideration
Few Goods
Bed, Fridge or Washing Machine, Few Kitchen Items, and Cloths
1 BHK
Bed, Fridge, Washing Machine, TV, Kitchen Items, Small Table, Few Chairs, and Cloths
2 BHK
2 Beds, Fridge, Washing Machine, TV, Dining Table, Sofa, Study Table, Few Chairs, Wardrobe, Almirah, 1 AC or Cooler, Kitchen Items, and Cloths
3 BHK
2 Double Beds, 1 Single Bed, Fridge, Washing Machine, TV, Dining Table, Sofa Set, Study Table, Computer Table, Chairs, 2 Wardrobes, 2 Almirahs, 2 AC, Dressing table, Kitchen Items, and Cloths
4 BHK
2 Double Beds, 2 Single Bed, Fridge, Washing Machine, TV, Dining Table, Sofa Set, Center Table, Study Table, Computer Table, Chairs, Dressing Table, 3 Wardrobes, 3 AC, Aquarium or Show pices, Kitchen Items, and Cloths
Kolkata Relocation Guide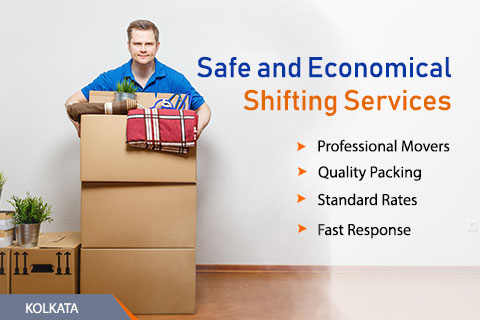 Change is a big part of life; and, moving into a new home is the first step into a new chapter and bright future. Shifting homes is an exciting time as you'll be waiting to begin a new life filled with great memories. However, it's not only a difficult task but also extremely stressful if you take it on yourself; and, taking the help of professionals will help you move in the least amount of time and effort. But, the fact of the matter is, you should be careful before hiring packers and movers Kolkata so that you don't give your household items to the wrong guys. AssureShift is the best online platform to find reliable moving companies in Kolkata (we'll show you how to do that below).
Living in a home for a long period of time may lead to accumulation of household things, and packing and moving all of them yourself is a risky operation. Handling fragile items or bulky furniture without prior experience may lead to high-stress levels and you'll spend a lot more money on damages than expected. Therefore, the best option to save time and money is by taking the help of professional packers and movers Kolkata. They have the necessary experience and skills to complete your entire relocation in half the amount of time, without you having to do any of the hard work. Moreover, they provide insurance coverage on all your home goods so that you have peace of mind knowing that your things are in good hands.
However, the main challenge you'll face while hiring moving companies is identifying certified movers and packers in Kolkata and hiring the right one according to your requirements. The 2 easiest methods that come to mind when you need information about anything is asking family/friends or turning to the Google search engine for help. Although the suggestions you get from your acquaintances can be trusted, it's not that easy to trust the list of packers and movers in Kolkata provided by Google, since these companies cannot be vouched for. To ensure you hire reliable packers and movers in Kolkata, you need to first do thorough research and find out as many details as you can about the packer and movers.
Background checking of all the packers movers Kolkata details will take up a lot of your time, so you can rely on AssureShift to provide you a quick and easy option to find and hire reliable relocation services in Kolkata. We offer a list of packers and movers in Kolkata after verifying the company details like GST, PAN, office set up, and other details to ensure they are a capable and competent service provider. We also do a regular check of the service quality they provide to customers by taking feedback at the end of their move. You will find reviews and rating written by our customers about their shifting experience with our referred packers and movers. If any customer faces problems or bad behavior from the moving companies during the relocation, we take appropriate action against the movers like suspending or blocking their profiles. Our partner packers and movers provide relocation services for local household shifting, intercity home relocation, international home moving, office relocation, car transport Kolkata, bike shifting, storage services, and cargo shipping among others.
You have to submit your requirements according to which we will refer 3 best packers and movers in Kolkata near you. You can get the estimated charges of shifting from them within a few minutes. After comparing all the company profiles and quotations you can hire the best suited moving company for your requirements and budget. You'll find quick and economical options of packers and movers in Kolkata for local shifting from one locality to another. AssureShift also offers reliable domestic relocation services in Kolkata who help you move to a different city from Kolkata, and finding a relocation service provider having an office in Kolkata when you're moving here will help you receive better services.
Kolkata, a city that's the best example of good amalgamation of old world history and modern charm, is the second largest city in India after New Delhi. The famous Howrah Bridge is one of the largest cantilever bridges in the world and the only one in our country! You can experience different modes of transport within Kolkata apart from the usual bikes, auto, cars and buses, like metro railways, Trams, horse-carts, and even hand-pulled rickshaws! Also, the street food is to die for in Kolkata; you'll get the cheapest and tastiest options of the famous Kolkata Kaati Rolls, 'Fuchka' (Bengali version of the well-known Pani Puri), and of course the yummy Rosogolla (whose birth place is West Bengal). We hope you're all ready to go out and experience the amazing lifestyle of Kolkata, and all set to eat the mouth-watering food that's waiting for you.
Points to note when hiring packers and movers in Kolkata
Hiring good packers and movers Kolkata is not as easy as it sounds, due to the presence of many fake and unprofessional movers who can make your shifting experience a complete nightmare. They will attract customers by quoting lowest prices and make sure they do everything possible to convince the customers to hire them. Once hired, the chances of such moving companies disappearing with all your goods are high as they may only be looking to make easy money from innocent customers.
For all these reasons, it's essential that you check all the details about the moving companies before hiring them to make sure you hire reliable packers and movers in Kolkata. Always remember to never just look for low price quotations.
Given below are some of the points you should look out for before hiring packers and movers in Kolkata:
1. Do they have a valid website and social profiles?
Whether you find a list of packers and movers in Kolkata through your friends or by searching for "packers and movers Kolkata" on Google, you should first check if they have a good online presence. That means, a convincing website of their company (which does not look fake) with proper listings of the services provided by them, and proper office address and phone numbers.
You can also search if they have a valid social media profile on Facebook, Google+, Pinterest, etc. Also, it's a positive sign if they have a profile on any reference portal which gives double surety that the moving company is trustworthy since there's a parent company who's ready to vouch for them.
2. Are they registered with Govt of India?
All relocation services in Kolkata should be registered with the Govt. of India with a valid GST certificate and PAN card. The importance of checking the registration documents of moving companies before hiring them is so that there is a record of tracking down the house shifting services in Kolkata in case anything goes wrong during the move.
Therefore, you should remember to request all the movers packers Kolkata to show their registration documents. Any company who hesitates to do so or shows documents which look untrue (or made up) should not be trusted.
3. Are they capable and experienced to perform your move?
Capability and experience go hand in hand. If the household packers and movers in Kolkata have a good amount of experience, they'll have necessary knowledge and skills to perform any kind of move. However, if it's a relatively new company, not all of them will be fully equipped and trained to carry out various tasks. If you have specific requirements like handling of fragile items, disassembling furniture and appliances, or moving your vehicle, you should first check with the mover and packers in Kolkata if they have enough experience and proper skill and equipments to perform those tasks as you need.
4. What do their previous customers say about them?
Apart from all these things that you have to check personally, it'll also help if you find out what other people have to say about those relocation services in Kolkata whom they hired. Finding honest packers and movers Kolkata reviews on MouthShut, Facebook, Trustpilot, and AssureShift, etc. will give you a better idea about who is more dependable.
How safe is it to hire packers and movers in Kolkata through AssureShift?
Since there is no proper verification authority in India to check documentation of the relocation service providers, AssureShift has taken the responsibility of checking such details. We do a complete background authentication of their registration documents and list only the certified packers and movers in Kolkata when we are 100% sure that they are a valid company and have the necessary arrangements to provide good services.
Complete verification of documents
We perform extensive background check of the house shifting services in Kolkata via telephone as well as in person from our Verification Department. We check all their documents including GST certificate, owner's PAN card, company website, office setup, and transport arrangements.
Regular feedback from customers
We contact the customers after their move to find out how their shifting experience was with the packer and movers in Kolkata whom they hired through us. By getting honest packers and movers Kolkata reviews and ratings from customers themselves, we find out the quality of packing and moving services provided by the relocation companies to ensure those standards do not go down.
Appropriate action in case of unprofessional behavior
If we receive any complaints about the moving companies from our customers, we take strict action against that particular packers and movers company in Kolkata by either suspending or blocking their profiles. By doing so, we ensure the proper working and maintenance of the code of conduct by the Kolkata movers and packers.
Support from start to finish
Our expert customer care team will be available from beginning to end of your relocation process. In case of any queries or problems you face during shifting, you can contact us any time to get a quick resolution. Until the end of your move, we will support you throughout your relocation process.
How to know accurate charges for shifting homes?
To find cheap and best moving companies, within your budget and for your requirements, you can contact AssureShift where you'll find certified packers and movers in Kolkata. Tell us your requirements and get referred 3 top packers and movers in Kolkata. Within a few minutes, you can get their estimated shifting charges and find out a more accurate price list as explained below:
Share your exact requirements giving details about:

List of items you want to move;
Origin and Destination;
Date of your move;
Contact details;

Get references of 3 best packers and movers Kolkata matching:

Your shifting requirements;
Near to your locality;
Within your budget;

Take the quotations of packers and movers Kolkata charges from them:

Explain your specific requirements to them in detail:

Quantity and volume of goods;
Origin and destination distance;
Floor and lift availability;
Disassembly and re-assembly of furniture;
Sophistication of items;
Quality of packing required;
Date of move;

Get the estimated movers and packers Kolkata charges according to your relocation needs;

To get more accurate prices – Request for a pre-move survey:

If you are unable to explain all shifting details over the phone or if you have too many specific requirements (tell the movers to conduct a pre-move survey at home);
The household packers and movers in Kolkata will do complete inventory of home goods;
You will be able to discuss your requirements in detail;
They will provide you with the written invoice of the final packers and movers Kolkata charges;
Once you get the price list for shifting from different home shifting services in Kolkata, compare them along with the company profiles and check who provides the services you require. Hire the packer and mover Kolkata who will better suit your shifting needs and budget.
List of Things to do Before Moving
There are a number of tasks to be completed before you shift homes, at both places, to make sure you do not have a difficult time after moving. Some of these important things are as follows:
De-clutter your home: One of the first things you should do before you begin packing is to sort through your household items and set aside the things which you have not used from a long time or those which do not require any more. This will help you to not only reduce the load you will carry into your new home, but also save your money in the process.
Choose the right day to move: Moving on a particular day will decide whether your move will be expensive or economical. Kolkata packers & movers will be fully booked during the weekends and month-ends since most people prefer to shift when they are off from work; because of this, they will charge high prices. Therefore, try to schedule your move during the weekdays or mid of the month so that you can save money and time.
Manage utilities: No one would like to live in a house without basic necessities, or pay for such services which they did not use. Therefore, make sure you manage the utilities at your new home so that you have everything set up before you move in. Also, remember to disconnect the utilities in the old place so that you don't end up wasting money unnecessarily. These are the utility departments you should contact Electricity and water, LPG Gas connection, Milk and newspaper, Internet and Telephone, and TV Cable or Dish connection.
Change address: Before moving, one of the most important but easily forgettable steps is to change/update your new address in important places so that you don't miss out on crucial communications through post. Places in which you should update address are Bank and credit card Company, Insurance providers, Post office, Current employer, Schools and colleges, Subscriptions and shopping sites, and last but not least inform your friends and family.
Pack an overnight Bag: Before you put all your things into boxes and pack them up, you should first think about how you're going to survive the first few days in your new home. Considering you may take some time to begin unpacking all your boxes, you should keep a few of the essential things close by so that you need to have to start removing everything just to find your toothbrush. Therefore, make sure that you pack some of the basic necessities such as Extra pairs of clothes, Toiletries, Medications, Some basic cleaning supplies, kids favorite toys and snack, and food, water bowls and a few toys of pets.
Keep your valuables separate: Even though you hire reliable packers and movers in Kolkata, you should not shift your valuable belongings with them. No matter how trustworthy they may be, your valuables are worth much more than money and are irreplaceable. Therefore, you should make sure you keep these important things close by and carry them with you while shifting like important documents (educational, personal, official, etc.), Electronic devices like Laptop, Phone and their chargers, Wallet and purse, Jewelry, and Ornaments.
Prepare your new home: It's a good idea to make your new home ready to live in, by doing a complete cleaning and repair of the house before all your boxes arrive. A new home is like a plain canvas which you can personalize, by decorating and arranging everything according to your liking.
Be ready for the movers: Moving day will arrive sooner than you expect; so, you need to be prepared before the household packers and movers in Kolkata arrive. Although the movers are perfectly capable of taking it from here and completing the job they are paid to do, your work is not yet done. There are some critical tasks that you need to take care of, to ensure a smooth and safe move:

Take pictures of all the items and boxes, to claim in case of any damages, at the end of the move.
Clear the pathway from door to the vehicle to ensure a safe way in and out of the home while loading items.
Reserve a convenient spot for the truck to be parked close to your house, for the entire duration of the loading process.
If the house is located on the upper floor, reserve the elevator or ensure the staircase is free during loading-unloading.
Guide the movers through the house while removing goods from the house so that walls are not dented or scratched.
Services provided by Packers and Movers Kolkata
Household relocation in Kolkata – home shifting services in Kolkata are fully experienced in moving household goods; they provide all the services from packing to loading to transporting and also help you unpack and arrange your new home. They even do the dismantling of appliances and furniture by following proper guidelines and using appropriate tools.
Local moving within Kolkata – local packers and movers in Kolkata help you shift to your new place in least amount of time. They pack, load, transport, and unload your things at affordable prices; and your shifting expenses will depend on the quantity and volume of goods to move and the total time taken to complete the process.
Domestic Shifting from Kolkata –reliable domestic packers and movers in Kolkata help you have a safe and stress-free shifting to the new city. They are experienced in packing and moving your goods with full protection and transport them safely over the long distance; they also provide on time delivery.
Expert Bike Shifting – packers and movers at Kolkata efficiently pack your two-wheeler using good quality packing material, and shift them in bike carriers to move your bike quickly from one place to another without a single scratch; they ensure on-time delivery.
Car transport services in Kolkata – trustworthy car movers and packers in Kolkata transport your car to the specified destination at affordable prices using the suitable car carriers in Kolkata.
Cargo Shipping – dependable cargo movers & packers in Kolkata pack and ship your cargo safely at affordable rates to the destination via inter-modal transportation.
Storage/warehousing services – store your home and commercial goods in the warehouse provided by the packers and movers company in Kolkata. Even though the warehouses are 100% safe, they take inventory of all the goods and provide insurance in case of damages. They also ensure security arrangements are properly in place.
Logistics Services in Kolkata – Kolkata transport services offer reliable logistics services and transport for shipping products from one warehouse to customers. They coordinate the pick-up and provide timely delivery using the best local transporter in Kolkata.
Office relocation/Corporate Shifting in Gurgaon – shift your office IT equipment, Furniture, Vehicles, Machinery, and other Appliances in a quick and safe manner. Office packers and movers in Kolkata help you relocate your entire office without wasting too many billable hours and will take care of every small detail.
Shifting IT Equipment – moving IT equipment is a lot more difficult and requires professional expertise. Packers n movers in Kolkata are fully equipped and trained to shift IT equipment from Kolkata to any part of the city or India.
Data Centre Migration – relocating a data centre must be handled with extreme care considering the amount of valuable data and the company's revenue at stake. Professional packers & movers in Kolkata are equipped and have the skills to shift the data centre carefully.
International relocation from Kolkata – international movers Kolkata will handle your overseas relocation from start to finish so that you can remain free of tension.
FAQs
How can you reduce your moving prices?
Packers and movers charges in Kolkata will mainly depend on a couple of factors, and you can do a few simple things to reduce your moving expenses. Some of these tasks which you should take care of to have an affordable move are:
Plan the entire moving process at least a month before the actual shifting date.
Start looking for Kolkata movers and packers earlier so that you have enough time to find good house shifting services in Kolkata.
Take quotations from at least 3 companies and negotiate the estimated packers and movers Kolkata rates to get best deals.
Sort through all your household items and separate the things which you haven't used or will not be using anymore.
Schedule your move on the right day so that you don't have to pay double prices during peak times.
Ensure a proper place is available to park the truck close to home so that not too much effort is required for loading and unloading.
What is the difference between services for local shifting and domestic relocation?
The common packing and moving services whether you are shifting locally (within the city) or outside the city (domestic relocation), are as follows:
Dismantling large furniture and appliances in Origin;
Handling of sophisticated and fragile items;
Packing job at home in Kolkata of all the household goods according to requirements;
Safely loading all the items into the transport vehicle;
Transporting your things to the Destination within the scheduled time;
Unloading all the goods into the new home;
The shifting process will differ after arriving at destination:
Unpacking of all the items and Re-assembly (of any dismantled furniture and appliances) will be provided.
Additionally, the movers will even help you set up your new home if you request them to.
Note - be prepared before shifting to your new locality
During Domestic Relocation
Unpacking and re-assembly will not be performed since they will shift your items to the destination with the help of .
Therefore, if you require services at the destination too, you should inform the beforehand so that they will make necessary arrangements for the same.
What should you look for in a long-distance packer mover?
When you are shifting to a different city, your items have to move over a long distance, and therefore, they will require different material and methods of packing. So, you should make sure of the following when you look for long distance movers:
Reliability of the moving company;
Affordable movers and packers Kolkata price;
Use of good quality packaging materials in Kolkata;
Presence of the Kolkata packers movers branch office in your destination city;
Before you begin the domestic relocation process, plan in advance and be ready for the upcoming long-distance move.
What to know about the neighborhood before moving there?
One of the main things that will make you feel comfortable at your new home is by having a good rapport with the neighbors, whom you can ask for help when you need it. Before you shift to the new neighborhood, take a day to visit the locality and find out a few things about the place to familiarize yourself, like:
Introduce yourself to the neighbors and let them know you're moving in soon;
Find out about the safety of the neighborhood;
Locate important places like hospital, pharmacy, schools, etc;
Look for the nearest grocery stores, fuel and service stations, children's park, and other things;
Who are the most popular packers and movers in Kolkata, West Bengal?
Agarwal Packers and Movers Kolkata – New Alipur, Kolkata – 700053
VRL Packers and Movers Kolkata – Rabindra Nagar, Dunlop, Kolkata – 700108
Euro Packers and Movers Kolkata – Bonhooghly Government Colony, Kolkata – 700108
Om Packers and Movers Kolkata – Chandni Chawk, Bowbazar, Kolkata – 700072
Easy Packers and Movers Kolkata – Shibrampur, Sarsuna, Kolkata – 700061
Indian Packers and Movers Kolkata – Acharya Jagadish Chandra Bose Road, Kolkata – 700017
DHL Packers and Movers Kolkata – Barrackpore Trunk Rd, Dunlop, Kolkata – 700108
AB Packers and Movers Kolkata – Upen Banerjee Road, Kolkata – 700060
Om Sai Packers and Movers Kolkata – Baguipara, Baguihati, Kolkata – 700059
Leo Packers and Movers Kolkata – Mukundapur, Ramakrishna pally, East Jadavpur, Kolkata – 700099
Shifting homes may seem extremely difficult especially when you are thinking about doing it alone. Professionals who are well-experienced and trained can do the same task in half the amount of time and will ensure that you will not have to lift a finger. You just have to make sure that you are hiring the right house shifting services in Kolkata so that all your items are safe until they are delivered to the destination. Do thorough research about the company and check the reviews and ratings written by previous customers to understand how the packers and movers company in Kolkata carry out their services in reality.
On the other hand, you can save all the time of research and directly hire certified packers and movers Kolkata through AssureShift. As soon as you share your requirements, you will get reference of 3 top movers and packers in Kolkata within your budget and relevant to your shifting. Compare the quotations of packers and movers charges in Kolkata provided by them, along with the company profiles and hire the best-suited relocation service provider.
Now that you don't have to be stressed about the shifting process, you can take care of the important things that you should do before you leave your old home. On the day of the move, just remember to be prepared before the packers and movers Kolkata arrive home so that you can have a speedy and smooth relocation. Happy moving!
9 Important Relocation FAQs
When should I start looking for packers movers?
It depends upon the type of shifting, for local shifting within the same city ideally you should start looking 4-8 days ago. Where as for shifting outside city ideally start looking 7-14 days ago. If your moving date is month end, or weekend you should begin your search little earlier.
How to find best packers and movers?
Share your shifting requirements with us and we will refer you 3 best match verified and trusted moving companies near to your locality. Talk to them, know charges estimation, compare their profile, ratings, and reviews and finalize the best option for you. Happy Shifting!
How can I reduce my shifting charges?
One of the primary factors that affect your relocation expenses is the quantity of goods you are moving. If you reduce the number of items by decluttering, your relocation charges can be reduced. You should also make sure that you plan the move well in advance and schedule the move on the right day.
It's best to take quotations from at least 3 movers so that you can easily compare the estimated charges and company profiles, and hire the most relevant moving company.
What are the things packers movers will take care off?
Our relocation experts will take care of all the process from beginning to end (Dis-assembly, packing, loading, transportation, un-loading, un-packing, assembly, and final placement). Generally, for domestic relocation outside city un-packing, assembly, and final placements are not included, and if you require those have demand.
How much time it will take to complete the move?
Local relocation from one locality to another can be completed within a single day depending on the number of items and the floor of the house it could take from 5-10 hours. For shifting outside city it depends upon the distance and from origin city to destination route transport availability, normally it takes from 4-8 days.
What is pre-move survey, and how much time it takes?
In pre-move survey packers and movers do a proper analysis of your relocation requirements like quantity of goods, type of goods, pickup and delivery demands. Survey inspector comes at your place and it takes around 10-20 minutes, whereas for shifting few items it can also be done over the phone call.
What items I should not shift with packers and movers?
The packers and movers will not shift certain items which may cause damage to the other household items or to the transport vehicle. The relocation service providers will not move these goods:
Valuable items like laptops, jewellery, important documents, etc.;
Essential items like toiletries, medications, extra pair of clothes, cleaning supplies, etc.;
Perishable food items which may get spoilt and ruin the other goods too;
Hazardous liquids like fuel, motor oil, kerosene or other flammable liquids, paints, paint diluter, batteries, etc.;
Explosive and corrosive items, etc.;
How to identify unprofessional or fake moving companies?
Fake moving companies will not have valid documents for GST registration, owner identification proofs, and so on.
They will not have a proper company website or online profiles in social media.
They will not have their own office workspace or may not have an office at all, and they may use rented transportation.
Fake packers and movers will not have professional behavior when you meet them, or they may be friendly in the beginning and change entirely during the relocation.
How much should I tip shifting labors?
In one word Yes, in India labor wages are very low and as a human being we should understand this. If they have done satisfactory job, you should appreciate that with your tip, consider tipping Rs.25 – Rs.50/Labor/Hour.
Note: In local shifting same labours will be picking up and delivering your goods, whereas in outside-city relocation there will be different labours at origin and destination and you should tip them accordingly.