How to Use Space Efficiently in a Small Home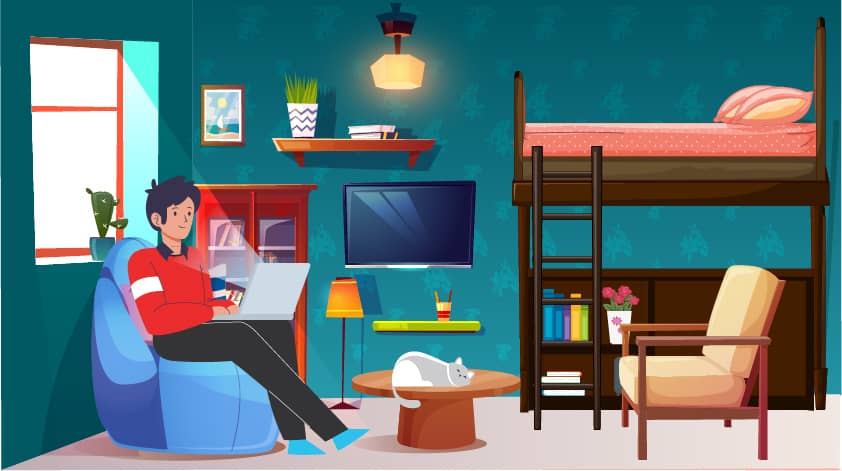 Just because you don't have a large home or you're moving into a small one, you don't have to compromise on style. As the famous saying goes, "the devil is in the details," when it comes to square footage, the details are in the small spaces.
Setting up a small home doesn't always need to result in making it look cluttered, messy, and not to forget, cramped for space. It simply requires design creativity of the next-level and great attention to detail to know what goes and what doesn't in the available space.
Whether you want to live a minimalist life or trying to turn your oh-so tiny apartment into your personal getaway, use every square inch of your home in clever ways. Here are some simple space hacks you can follow to make your tiny place look stylish.
Use the Wall Spaces!
One of the most underused and underrated spaces in a house are the walls. They can be used to full efficiency in a small home and make sure you have enough space in the room while keeping the floor clutter-free.
Keep all bigger items, such as couches or bookcases, next to the wall instead of the center in a small room. Or better yet, install bookshelves on the walls so that you have much more space on the floor. This renders a sense of depth to the room.
Use Foldable Furniture!
You should invest in folding furniture of different kinds for a small room to allow more space to move around. You can consider using a loft bed so that it creates sufficient room for a desk and chair, and your bedroom can double up to be a home office. It's a nice and comfortable modern furniture arrangement.
You can also make the best of the smaller nooks and corners at home with folding tables or chairs. A foldable wall table would also be a fine addition to the kitchen space which adds to the kitchen's functionality and takes up virtually no space at all.
Use Skirted Furniture
When you run out of space and want a pretty set of sofas in your living area, using skirted furniture could be an amazing idea. The skirted furniture has its underneath covered which gives extra space to store things under them. The advantage is it makes the room look elegant, spacy, airy and helps in storing things with a neat view!
Use Nooks & Corners to Store
There will be plenty of awkward space in your living room where you can place any furniture, affixing a corner shelf (which could be a DIY corner shelf) or affix nooks on the walls for hanging decorations or lights to add some extra effect to the room and in the trendiest manner.  
Use the Spaces Above & Behind Doors
 A few inches above the doors the shelves can be used to store the books, storage baskets, suitcases, etc., and manage the space. Affixing hooks behind the doors to hang the tote bags, coats, towels, jewelry, handbags, etc.  Hooks can be fixed on the inner side of the cabinets to hang things inside the wardrobe or kitchen cupboards so that things do not look clumsy and crowded.
Store Below the Stairs!
A common example of a small unused space is right below the stairs which can turn out to be reasonably aesthetic. You can install a nice set of cupboards or bookshelves below it and adorn them with thematically chosen showpieces or framed pictures and portraits.
You can also create a chest of drawers in the latest and trendy stylings and give your home a neater look. You can comfortably store unclassified stuff of different types, such as stitching kits, postcards, unused electronics, or books. The wood finishing can be made to compliment the prevailing décor scheme at home. Shaker style cabinet fronts can also deliver a nice and neat look in the regard.
Bonus tips to make your room look spacious
De-clutter Everything!
Another fine idea that works in this regard is to get rid of the things which you haven't used in a long time nor planning to use anytime soon. This not just makes the interior environment more spacious but makes the utility items more accessible. You also get to decide what you want to keep, and what to part with. De-cluttering will further induce positive energy and vibes within the living environment.
Let There be Light!
Light makes a world of difference to the aesthetics of a space making it look much bigger and spacious. Make sure you allow enough of the natural light to come in; use light curtains and make your room a cozy place to stay. Alternatively, you can use pendant lighting, wall scones, or string lights to make a small space look spacious and comfortable.
Choose the Right-sized Rug!
Small rugs make a room look equally smaller. It's always best to use rugs that cover most of the floor space and induce grandeur within the living environment. The size of the rug can be such that the entire furniture will sit on it or it can fit wall-to-wall.
Paint Light Colors!
Homes tend to look more spacious when lighter paints are used for walls and furniture. They reflect light and make one comfortable. Using indoor plants is again one of the finest ways to add a sense of spaciousness to your living environment.
---
Giving your place a new look from scratch is necessary and you need to have a proper plan of how you want your personal space to be. Arranging everything in a small space could be difficult but you can make your room look lively, spacious, and filled with positive vibes using a bright shade and trendy lights.
Search for customized and foldable furniture that fetches you enough space and serves your purpose as well. The perks of having foldable furniture are that you can always remove them or fold them up and utilize the extra space. Good designs of cupboards and shelves give an upper hand in arranging more stuff and give a neat and stylish look to your adobe. Also, match your rug/carpet with your backdrop colour and gel it well according to the theme! 
It often takes a little more than a few smart implementations to ensure that small spaces at home add to the beauty and charm of the living environment. Now that you have an idea of where you can add new things to make your home look sassy, let go of your old stuff. Rearrange and give your room a new makeover!