Best and Affordable Residential Areas to Live in Noida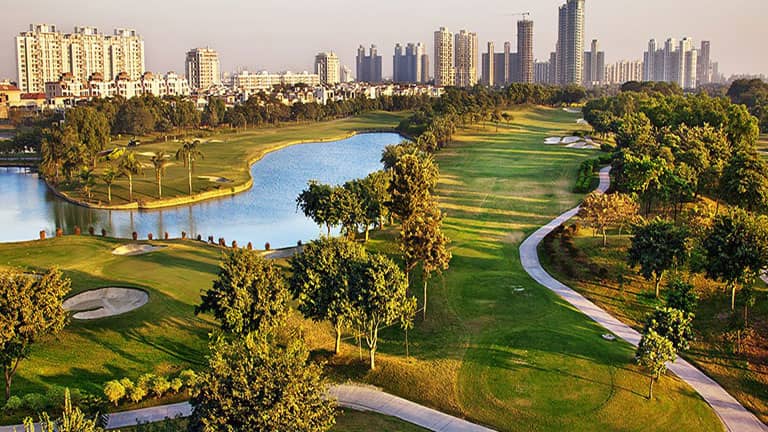 Hey! If you're searching for your new dream home in Noida, then you are in the right place! We will provide a few details of the city, as it's difficult to understand complete details of Noida if you're relocating here for the first time. In simple words, we'll help you choose from a list of economical residential areas where you can live relaxed life at a reasonable budget.
Noida is known as a part of Delhi and one of the well-planned cities with excellent roads. It was rated as the cleanest city in Uttar Pradesh, with it's modern infrastructures, best-in-class accommodation, and all the daily life requirements available near you. Noida is home to several well-known IT hubs, institutions, organizations like the media sector, hospitals, film, and many more which has made the city popular. Noida has also become the most preferred city to relocate due to the lush green around Noida compared to neighboring cities.
Noida is continually growing on a large scale due to rapid economic growth as well as urbanization, and the Noida Authority is one of the wealthiest communities in India. You can avail 24/7 transport facilities with the help of metros, local buses, autos, etc. Metros and local bus service are considered as the best and cheap option by which you can travel anywhere within Noida without facing massive traffic.
The city also provides many options of entertainment, such as shopping malls, buzzing nightlife, theatres, beautiful parks, pubs, multiplexes, and mouth-watering dishes at their fancy restaurants. However, the fun doesn't end here; there are bowling alleys, indoor gaming arenas, and outdoor theme parks. You can also visit museums, art galleries, lakes, memorials, etc. to have an entertained weekend with your loved ones.
When it comes to finalizing a suitable residential area in Noida, people get confused due to the increasing population and high property rates. Their lack of knowledge about the place and limited time to do in-depth investigation about their new residential area, results in wrong selection of the place. It's important to select a society located near to your daily requirements and also one that's safe. No need to be stressed as we are here to guide you as to which locality will be more suitable for you to have a peaceful life within your expected budget and without any interruption.
---
Top 7 Affordable Residential Areas in Noida
Sector 62
Sector 62 is known as prime residential markets situated centrally. Here you can find well-maintained residential and commercial areas are separated effectively. The Blue Line passes through Sector 62. This locality lies close to the business hubs, including schools, hospitals, malls, and many more; that's why it has become one of the first choices for families as well as students to have all the facilities nearby at competitive prices.
Some essential things in Sector 62:
School: Indus Valley Public School, Fr. Agnel School, Mohan International School, Karl Huber School, KLAY Prep Schools and DayCare, SS International School, and many more.
Companies: TopCubit IT Services Pvt. Ltd., MothersonSumi Infotech & Designs Limited, Innodata India Pvt. Ltd., etc.
Hospitals: Fortis Hospital, Noida, Chaturbhuj Hospital, Shivam Hospital, Akanksha Nursing Home, etc.
Religious places to visit: Noida Ayyappa Temple, Baba Balak Nath Sidh Peeth, Temple JIIT, etc.
Nearby Parks: D park Sec-62, B Block Park, Joggers Park - Sector 62, etc.
Malls: Green India Place, Future mall, etc.
---
Sector 137
Sector 137 is one of the well-developed residential area, where you can get the best connectivity with other regions within NCR by the help of are NMRC buses. This area is also known as an excellent place where lots of shopping malls, restaurants, Movie theaters, where you can experience your best time with your loved ones.
Some essential things in Sector 137:
Schools: Sugar Pie Play School, S K S World School, Noida School Of Education, etc.
Companies: BitVyas, Cloudnayak IT Solutions, Arasko IT Solutions, and many more.
Hospitals: Felix Hospital, Dr. Sanheeta's OPD, Sai Healthcare (Multi-Specialty Clinic), etc.
Best Places: Royal Cuisine, Psycedelic World, etc.
Parks: Noida Authority Sector 137 Park, C Block Park, etc.
Malls: Supertech Mart, Vivante Street, etc.
---
Sector 19
Sector- 19 has become the first choice, especially among bachelor's, new couples, as you can quickly get well-furnished  1 BHK at very affordable rates. You can enjoy from food joints to pubs restaurants and malls, full of entertainment this place is surrounded by attractive parks as well for your recreation. Sector 19 has become of prominent residential areas as it has good metro connectivity and a good number of shopping places.
Some essential things in Sector 19:
Schools: Marigold Public School, Little Scholar School Noida, Rayz International Preschool, Prudence Junior Noida 19, etc.
Companies: Efextra Solutions, Scopegen India Pvt. Ltd, and many more.
Hospitals: IndoGulf Hospital & Diagnostics, Max Multi Speciality Centre, Noida, Global Clincs Noida, etc.
Best Places: Dainik puja path Noida, Sanjay Lake, Boating Lake, etc.
Parks for refreshment: Children Park, B Block Park, etc.
Malls: Vijay Shopping Mart, Senior Mall, etc.
---
Sector 76
Sector 76  is one of the best suburban areas to have a comfortable life at an affordable cost. The rental range of properties is quite cheap here, and you will get a good number of well-furnished apartments. There are several bus facilities that provide excellent connectivity to other regions of Noida. You can find facilities like nearby markets, playgrounds, gyms, hospitals.
Some essential things in Sector 76:
Schools: Broadways International School, Angel garden play school & daycare, Pika Kidz Noida Sector-76, Rudrashala, and many more.
Companies: JSJ Associates, Rose I.T. Solutions Pvt Ltd, Infosys Limited, etc.
Hospitals: Mukta Homeopathy Clinic & Pharmacy, Kunj Medicos, Advance Poly Clinic & Path Care, etc.
Parks for recreation: Ragani Park,  E Block Park, etc.
Malls: Virgo Fashions, Supermart, Amrapali Market, etc.
---
Sector 44
Sector 44, also known as one of the top-rated residential areas situated nearby to the main road, this locality offers you the best accommodation with all the facilities at affordable prices. You can also visit all the famous places with the help of metro connectivity. You will get the availability to all the sites by shared autos, rickshaws, etc. It has an all-around infrastructure with a good number of schools, hospitals, and malls so that you can have a hassle-free life.
Some essential things in Sector 44:
Schools: Amity International School, Shailja Convent School, Ashoka Mission Public School, Amity Global School, etc.
Hospitals: Holy Child Hospital, Aims, Shanti Hospital, and many more.
Best Places: Sol Y Luna, Handi Mitra Di, Mahadev temple, etc.
Nearby Parks:  A Block Park, Walking Park, etc.
---
Sector 22
Sector 22 is a highly developed residential area of Noida, as it has been highly peopled for a long time due to the presence of good PGs for students and bachelors, well-furnished apartments for the family at reasonably priced rates. So, you can afford a better lifestyle within your estimated budget with all the facilities available near to your place.
Some essential things in Sector 22:
Schools: DSR Modern School, Somerville School, Ideal Public School, RD Public School, etc.
Companies: Topsbit IT Solutions, We Sure IT Solutions, CHS IT SOLUTIONS PVT. LTD, and many more.
Hospitals: ESI Hospital, Surbhi Hospital, Tripathi Clinic, Aastitva Medical Centre, etc.
Parks: B Block Park, Park I-Block, A-block park, etc.
Malls: Zishan Specific Mall, Mannat Complex, Kv Enterprises, etc.
---
Sector 39
Sector 39 is known as one of the best residential areas to live in Noida for everyone at pocket-friendly accommodation rates. You can have balanced life with easy access to nearby markets, hospitals, schools, parks, local markets, etc.
Some essential things in Sector 39:
Schools: Ryan International School, Ryan Shallom, V S School of perfection, etc.
Companies: AquadSoft Noida, Webcoir IT Solutions Pvt Ltd, and many more.
Hospitals: Cancer India, District Government Multi Speciality Hospital, Shriya Medical Clinic, etc.
Parks: RWA Sector 39 Park, H Block Park, ONGC Park, etc.
---
We agree that finalizing a perfect residential area in Noida is quite tricky because of its growing population and the increase in property expenditure. To make sure you get complete support, we have done broad exploration to find some of the most affordable residential areas to live in Noida, where you can have all the facilities essential for daily life. We hope that the localities mentioned over will help you select a suitable dream residence where you can live a happy life with loved ones.